A new revolution is looming on the horizon for Jeanneau: Sun Fast 30 One Design is the new sailboat from the French shipyard that brings offshore racing closer to all those who want to enjoy sailing fast, in comfort, and in a sustainable manner.
A real checkmate for those who claim that sailing is only for the few who can afford it, Sun Fast 30 One Design is not only affordable, but has been designed by the Union Nationale pour la Course au Large (UNCL) in partnership with three major international sailing clubs: the Yacht Club de France, the Royal Ocean Racing Club (UK), and the Storm Trysail Club (US) with the aim of encouraging offshore racing and initiating a new generation.
As a result, this 30-foot sailboat featuring exceptional performance (partly derived from the bigger Sun Fast 3300, specifically designed for sailing competitions) combines sportiveness and environmental respect thanks to the partnership of VPLP Design/Multiplast that have entirely created it from recycled and recyclable resin.
Sun Fast 30 One Design is the first standard boat made in Elium® resin. The hull and deck are constructed according to the vacuum infusion moulding method developed by Arkema for optimal sturdiness and lightness. This resin demonstrates superior mechanical performance to that of thermosetting polyester resin, with the unique and revolutionary additional property of being recyclable. Constructed with 20% recycled resin, Sun Fast 30 One Design is 100% recyclable.
This boat certainly takes a furthest step ever in the history of Jeanneau which, since its inception in 1957, has always made efforts to accompany all who love the sea in their pursuit of happiness and sensations on the water. Sailboats like the Sangria, Fantasia, JOD 35, Pierre 1er and Sun Odyssey 54DS have served as markers in the evolution of the brand, in its constant pursuit of innovation, performance and unparalleled feeling with the sea.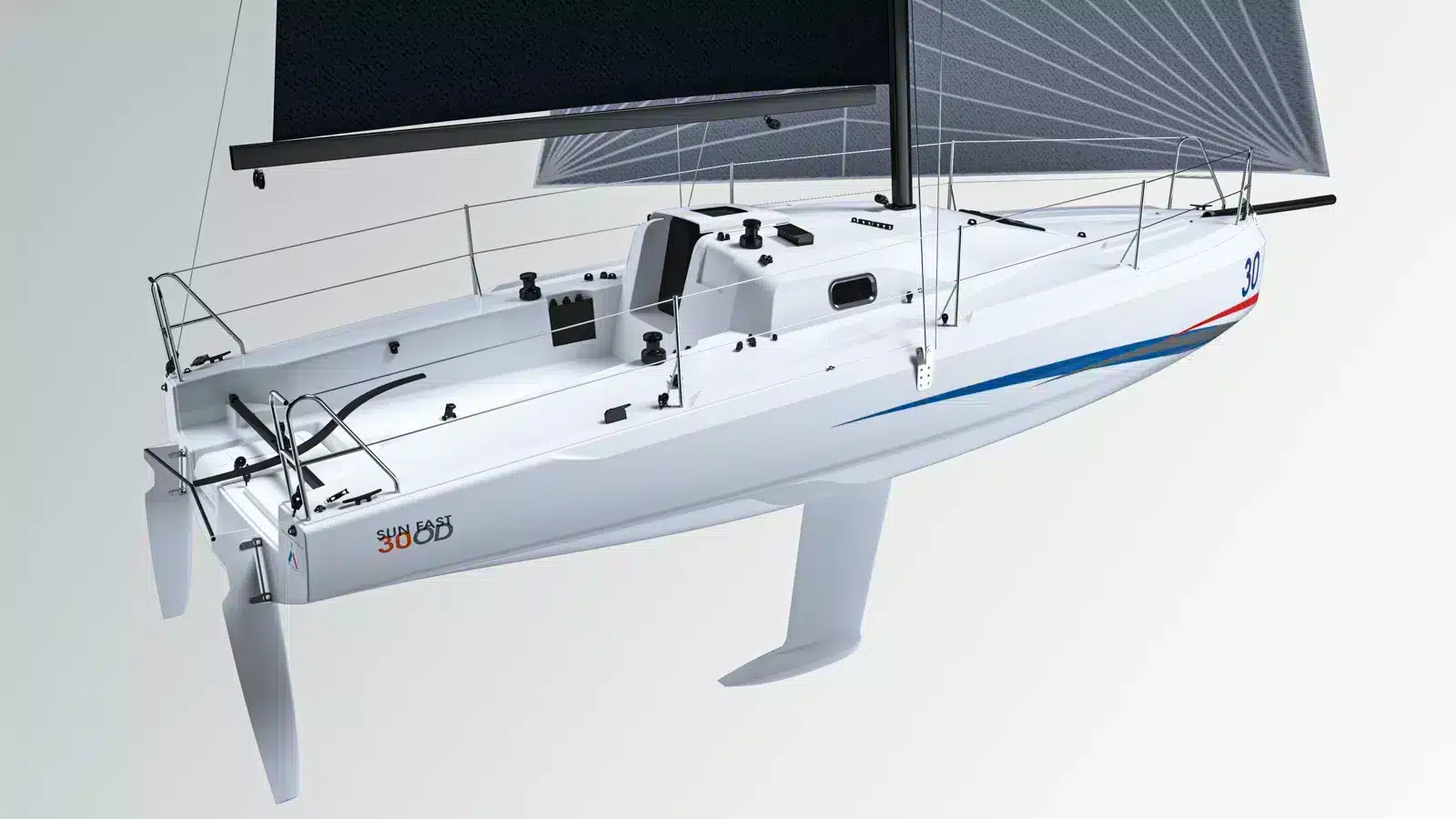 The ecosystem of the three big international sailing clubs will allow the Sun Fast 30 One Design to enter a programme of races between the Mediterranean and the Atlantic, as well as transatlantic races with mixed crews. It's the beginning of a new era: this new 30-footer is innovative, powerful, versatile and entirely eco-friendly, made in France and in recyclable material, thus incorporating the values of circular economy.
At a reasonable price (with limitations on materials and number of sails, electronics and autopilot), the Sun Fast 30 One Design features ease of use and transport (under 3 metres in width). Deck plan and rigging can be easily handled double-handed or fully crewed. Clearly defined hull chines marked by a rounded bow (semi-scow), a cast-iron keel fin with a lead bulb and a 2-metre draught, twin rudders, planing surfaces, rigidity and stability are all strong points of the Sun Fast 30 One Design.
Boasting a carbon mast and reasonable sail plan, this new One Design is responsive and easy to handle, delivering out-of-the-ordinary performance. Equipped with a square-top mainsail, a reefable J2 and J3, it can carry a downwind gennaker and two asymmetric spinnakers (A2 and A4) on a retractable bowsprit to adapt to a wide spectrum of sailing conditions.


With its long, open cockpit, the deck plan is built for the pure pleasure of sailing, despite the limited number of sails and materials according to the strictest rules of Jeanneau. The Sun 30 Fast will be offered in two versions: One Design and Club. A Y-bridle, a galley module, chart table, and saloon are present in the One Design version. The Club version, which is more streamlined and more financially accessible, allows amateurs access to offshore racing without the need for the high-end equipment of the One Design version. Both versions are equipped with two fold-down bunks, and a 10 HP Nanni diesel engine.
With this new monotype, Jeanneau is trying to write a new chapter in the sailing history, providing both the market and sailors (including beginners) with a high-quality, fast, easy-to-handle product designed to fully enjoy emotions at sea while respecting the environment and sustainability.
| | |
| --- | --- |
| LOA | 10.40 m – 34'1" |
| LH | 8.99 m – 29'5" |
| Draft | 2.99 m – 9'9" |
| Displacement | 2 700 kg – 5 952 lbs |
| Fuel Tank Capacity | 25 L – 7 US Gal |
| Accommodation | 2+2 (optional) |
| Engine | 10 CV – 7,4 kw |
| Sail area downwind | 137 m2 – 1 474 Sq Ft |
| Sail area upwind | 59 m2 – 635 Sq Ft |
| Architecture | VPLP Design |
This article is also available in:

German

Portuguese (Brazil)