The International Yachting Media Digest: the passion for the sea is a form of elegance

The fourth issue of The International Yachting Media Digest is now online. The issue closes 2019 and inaugurates 2020, celebrating the passion for the sea as well as the most interesting novelties of the international yachting market.
If you are reading our magazine – which, we remember, is the only free yachting media in the world – for the first time, you will immediately notice the pureness and spectacularity of images, starting from the full-page one of the Ocean Alexander 84 R, which opens the selection of the luxury boats we saw at the last international boat shows. A yacht with an exaggerated skydeck that makes the good life fans dream.
The International Yachting Media Digest: a reading with a hidden non-negligible detail
The added value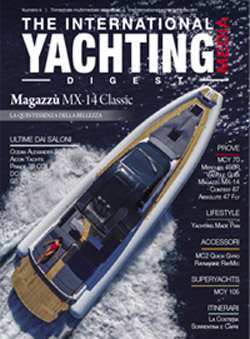 of our magazine is that, as digital, it can be browsed with absolute ease with just one click on the side arrows. This is made possible by an airy layout combined with essential yet elegant graphics. Moreover, articles are not interspersed with advertising pages which, it is undeniable, would end up interrupting and disturbing the reading. Pages, instead, run smoothly as on a flat sea and texts, written by our journalists with absolute technical expertise, are flowing and never wordy.
Like the three previous ones, this forth issue devotes ample space to sea trials because our readers don't want to see only beautiful pictures of beautiful boats but want to know whether a masterpiece like the MCY 70 is really capable of sailing in displacement mode with disarming and innate agility or not.
The boat is not just passion: it's a way of life
There's much lifestyle in this fourth issue of The International Yachting Media Digest: after all, the boat is a true way of life. We will show you the new Yachting Made Pan cookware line, a high-prestige collection that combines high-level cooking performance and elegant design, worthy of a starred chef cooking on board a superyacht.
There is also a special section dedicated to the most innovative and cutting-edge marine accessories of the market, such as the MC2 Quick Gyro X7 boat stabilizer, designed for small-sized boats, and the Raymarine RayMic kit, which allows to use your VHF system in Wireless mode for greater comfort when maneuvering.
An illustrated guide to the most important boating knots
Finally, for those who would like to review the ABC of boating, the issue offers a guide to the 10 most important boating knots: a sort of illustrate manual that can be browsed from any mobile device in the event you have completed your mooring maneuver but have some troubles with lines.
We invite you to browse the fourth issue of The International Yachting Media Digest, the only free yachting magazine in the world, with curiosity and desire to discover: the sea always gives new horizons.
Link to visit the website and download all the issues of The International Yachting Media Digest for free
Link to browse or download the last issue for free