Absolute 62 Fly Sea Trial
It's in the wonderful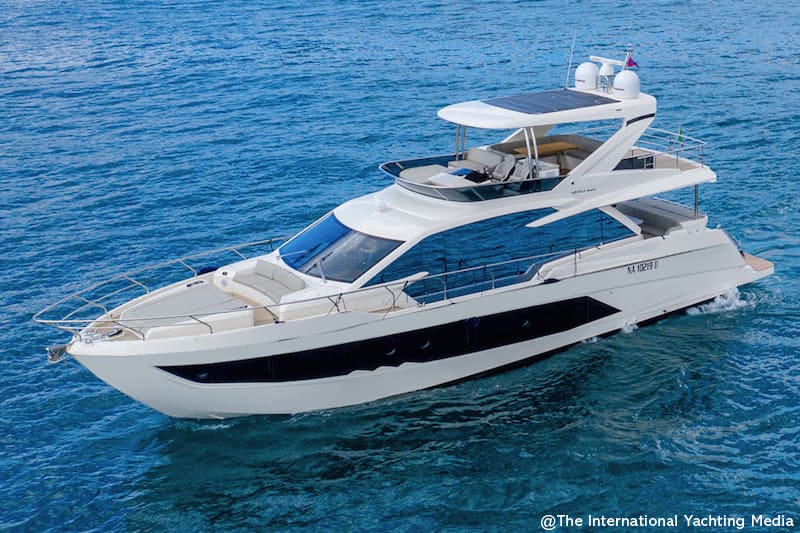 setting of the Gulf of Naples that the sea trial of the Absolute 62 Fly is about to take place. Wonderful places where the relationship between land and sea has forged both coasts and sailors over the centuries. And so it was even in the recent days when a strong mistral has plagued these coasts with extraordinarily high waves.
Today, however, the sun is shining and, fortunately, what is left of that sea is just a long residual wave of about one meter and half that, despite its dimensions, doesn't worry a big yacht like that one we're going to test.
With almost 19 meters of length and 5 meters of width, the Absolute 62 FLY is a definitively important boat. Fitted with twin Volvo Penta D11 IPS 950 engines, 725 HP each, she is a yacht that, since her presentation, has intrigued us very much. So much that, as soon as we heard about this possibility, we literally rushed to test her.
Absolute 62 Fly Sea Trial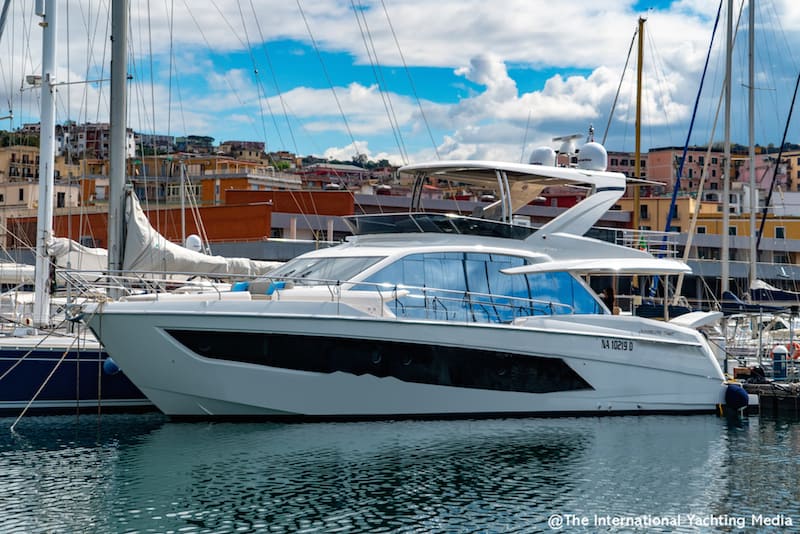 Today is a special occasion for this Absolute 62 Fly. Our sea trial, indeed, will take place in conjunction with the delivery of the yacht to his owners.
Valeria and Edoardo are special, very nice and extraordinarily elegant people who have known Absolute only afteR having owned other big boats. They are highly experienced boat owners and it is a pleasure to observe them arranging the large amount of small and big things that everyone of us, when changing a boat, realizes to have.
But the Absolute 62 Fly shows a great propensity to welcome everything and, in the blink of an eye, everything finds its own place and we're ready to cast off.
Edoardo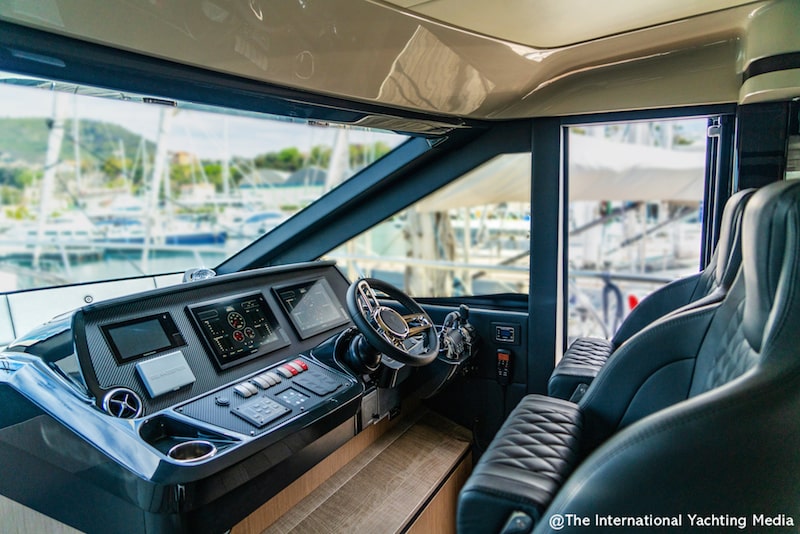 has always had yachts with shaft drive transmission and this is his first maneuver with IPS. I observe him while he puts his hand on the steering joystick; with, as if he had always done it, he leaves the berth with the wind abeam as it was the most natural thing in the world. The 19 meters of the yacht ease out the relieving ropes at a safe distance and, at the same time, I see a smile appear on Edoardo's face.
It is undeniable that this technological solution makes boat owners more autonomous and independent. Until a few years ago, boats of this size would have required the presence of a captain on board while today any experienced family or just one sailor on board is enough to use the boat without any problem.
We leave the dam, disengage the joystick and start to sail while waves unsuccessfully try to embarrass the boat that, already at 5-6 knots, proves to be very stable.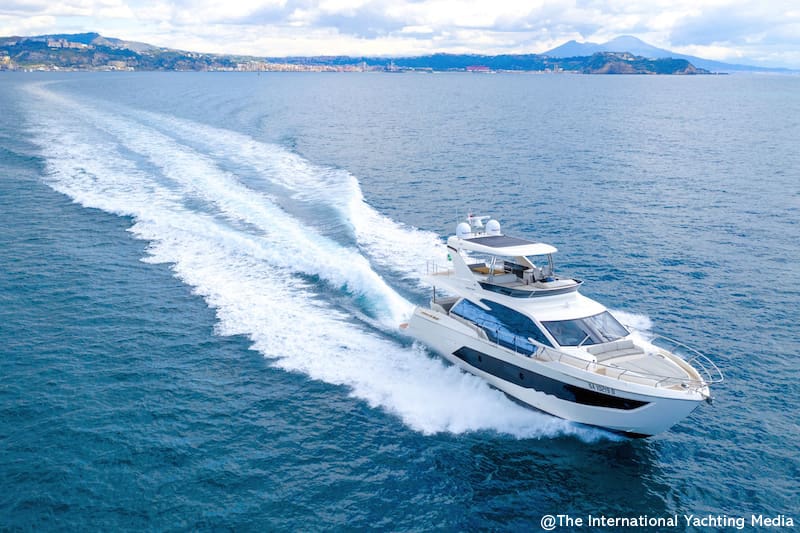 We accelerate a little and realize that, at 8-9 knots, we are using just 30 liters of fuel per hour, which, compared with the overall dimensions of the Absolute 62 Fly, immediately shows the qualities of a hull that has been specially designed for these engines.
Another proof of the high quality of this project comes when we increase revs. At only 12 knots, we can reach the mininum planing speed with the yacht perfectly balanced and without having to use flaps.
We go on accelerating and get 20 knots, the ideal cruising speed that this boat reaches at just 1,950 rpm while, surprisingly again, the overall consumption is little more than 160 l/h. At this speed, comfort is total, the bow cuts through the waves without any shocks or impacts. It is like driving a grand tourer on a motorway.
We perform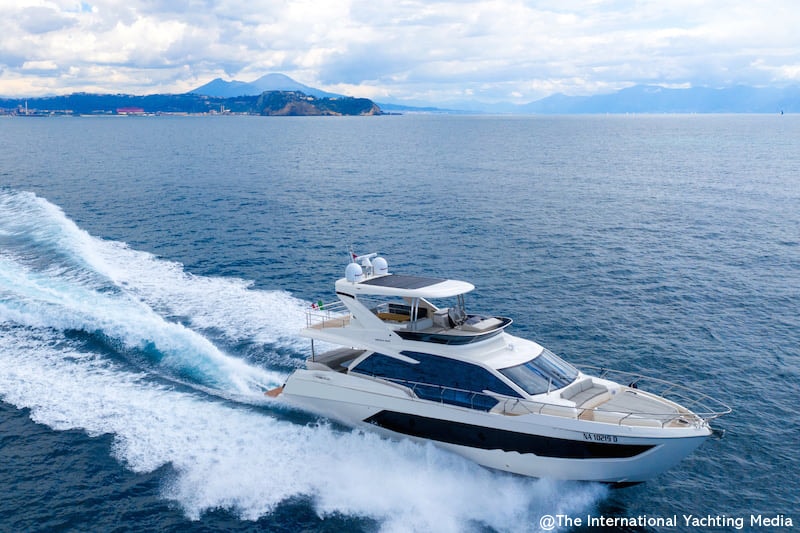 a series of turns while the Absolute 62 Fly is totally unperturbed even when we get our wake that, made massive by waves, would have "upset" any more important boat.
At full throttle, we reach a speed of over 33 knots. An extraordinary performance for a boat like this and another indisputable sign of an extraordinary project engineering.
After all, it is sufficient to observe the complacent look of its experienced boat owner to have a confirmation of that and to understand that the Absolute 6 Fly is a really well-conceived yacht.
Absolute 62 Fly Interiors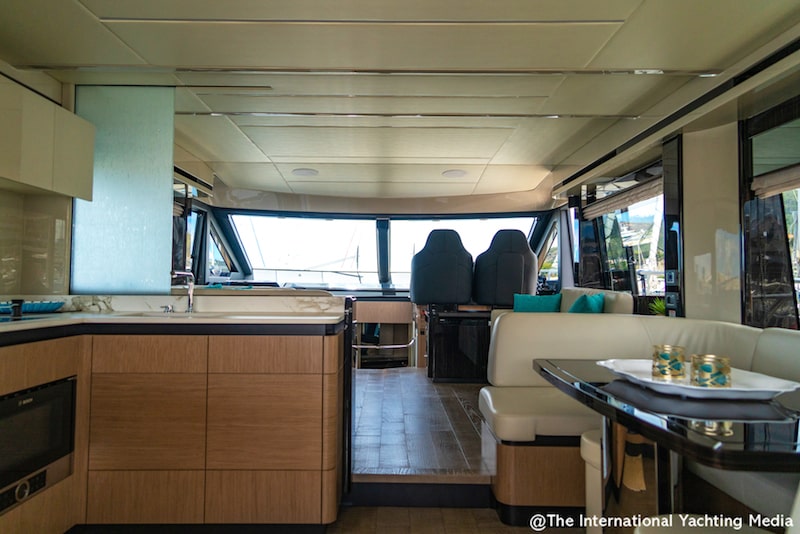 Refined matches and successful contrasts are the common denominator of this boat that, as the whole Absolute Yachts' product line, is characterized by a very high construction quality.
Wood essences, leather and fabrics are all selected carefully and used skillfully. Noteworthy is the constancy of quality that Absolute guarantees in any environment, even the most hidden one.
Impressive is the sense of space that you can perceive as soon as you cross the threshold of the cockpit. From the aft sofa to the pilot station there are about twelve linear meters of salon that, multiplied by a width of about four meters, develop an area of almost fifty square meters!
However, it's not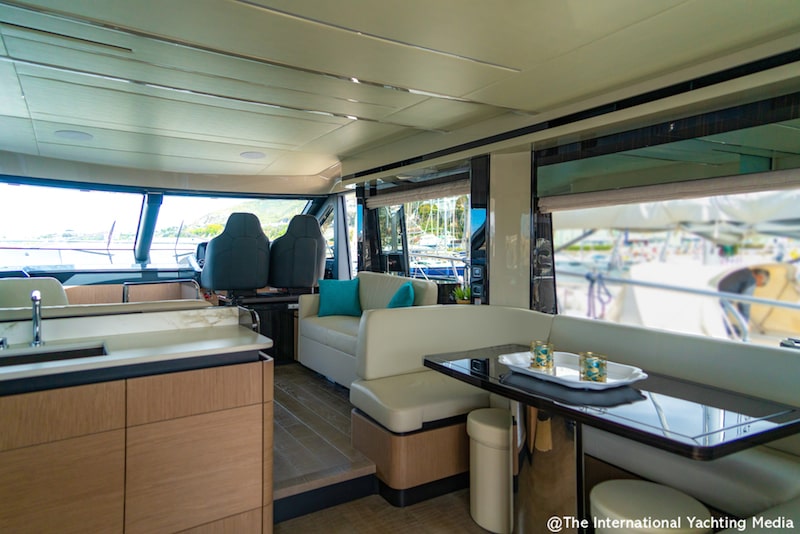 just dimensions that strike; here, everything is positioned exactly where it should be. The galley is situated next to the large glass door and combines the possibility to prepare meals there where smells are extracted more quickly with the characteristic of being positioned in the place closest to both the outdoor and indoor lounge and the ladder leading to the flybridge.
Equipped with a hard top and a sunroof, the latter develops another huge space; in short, a penthouse where to spend days in the open air, always sheltered against sunlight and night moisture.
Going down into the night area, we get a hallway that, through very smart sliding doors, give access to three guest cabins.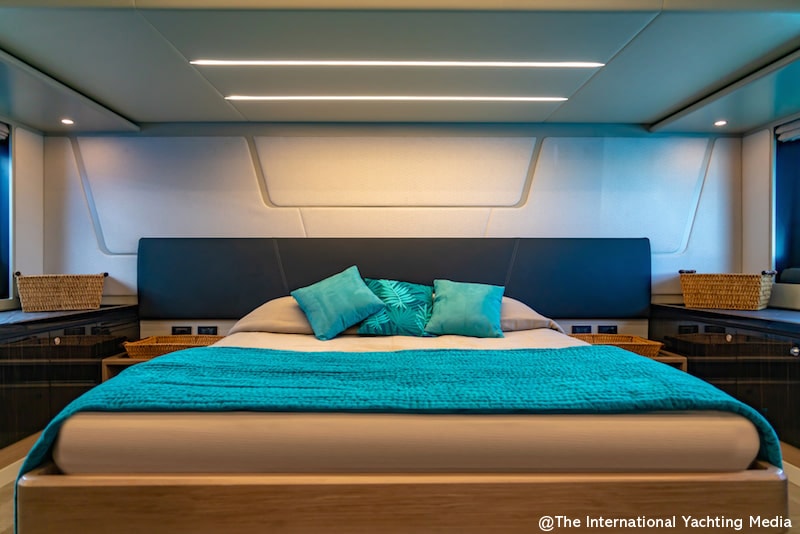 The master cabin is simply huge; full-beam, it uses the over five meters of width in order to create a real master suite. The central bed is king size, with a stern-oriented headboard.
On both sides, there are two extra-large bedside tables, a two-people sofa and, on the starboard side, a boiserie / desk with large dimensions. The bathroom is very large and has an equally important shower box.
The VIP cabin is positioned diagonally in order to obtain an additional huge cabin that, without sacrificing fittings, has been designed by Absolute Yachts in a very luxurious refined way and equipped with a high-level en-suite bathroom.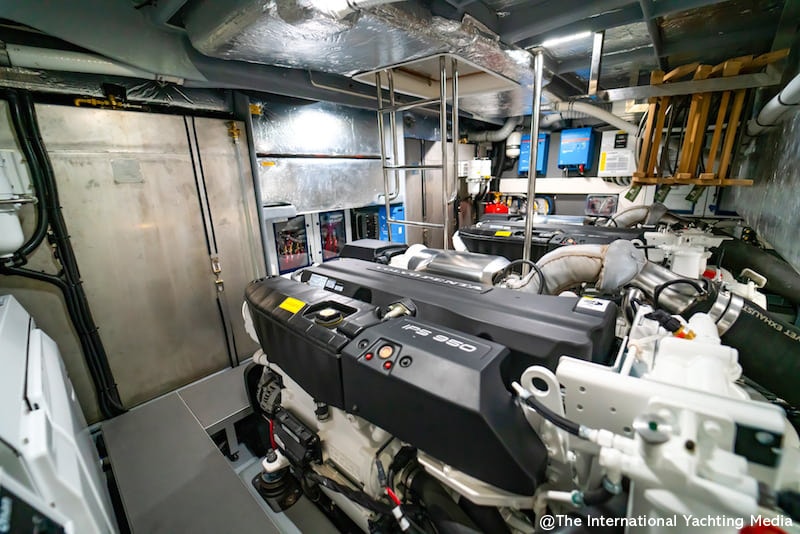 The night area is completed by a double cabin with three single beds that, when necessary and through a genial mechanism, can offer a third double bed.
The stern of the Absolute 62 Fly offers a real beach area that, having a four cabin equipped with bathroom and twin beds, is open to multiple purposes. Indeed, it can be used as a normal crew cabin (with very high living standards) or as a support compartment for bathing activities.
If I were the owner's son, I wouldn't miss the opportunity to enjoy a studio apartment that, equipped with sea-level terrace and private entrance, would certainly be the most beautiful place where to spend summer holidays.
Especially if we consider that this new Absolute 62 Fly needs no crew to sail all around the world.
Absolute 62 Fly Performance
| | | | |
| --- | --- | --- | --- |
| RPM | Speed | l/h | l/nm |
| 600 | 5.3 | 10.0 | 1.9 |
| 800 | 6.9 | 18.8 | 2.7 |
| 1,000 | 8.8 | 32.8 | 3.7 |
| 1,250 | 10.9 | 66.0 | 6.1 |
| 1,500 | 12.1 | 107.8 | 8.9 |
| 1,700 | 14.8 | 142.2 | 9.6 |
| 1,800 | 16.2 | 162.0 | 10.0 |
| 1,900 | 19.3 | 166.8 | 8.6 |
| 2,000 | 21.8 | 194.2 | 8.9 |
| 2,100 | 23.1 | 204.0 | 8.8 |
| 2,200 | 24.8 | 220.0 | 8.9 |
| 2,300 | 27.1 | 238.0 | 8.8 |
| 2,400 | 31.2 | 268.0 | 8.6 |
| 2,500 | 33.2 | 286.0 | 8.6 |
Test Conditions: sea from slightly choppy to rough – 12-knot wind – 10 passengers  on board -fuel 50% – water 75%
Technical Specs
| | |
| --- | --- |
| LOA | 18.65 m |
| Max Beam | 5.05 m |
| Max Passengers Capacity | 16 |
| Fresh water Tank Capacity | 680 l |
| Fuel Tank Capacity | 2,600 l |
| CE Type-approval | B |
| Engines | 2 x D11-IPS950 da 725 HP |