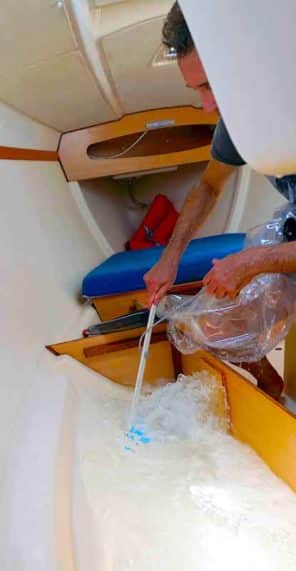 Strolling around the aisles of the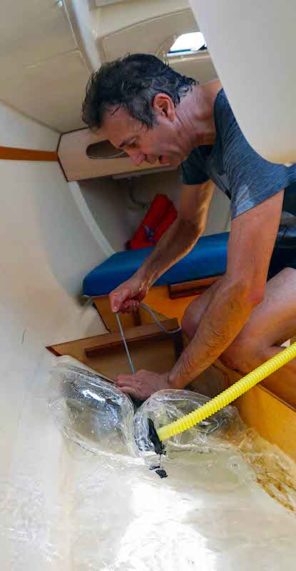 accessories area at Nautic in Paris, I was attracted by the small crowd attending the demonstration of this marine accessory. I stopped and found out a simple yet genial idea.
It's a safety device to be used in case of hull breach in order to seal waterway and go on sailing.
Named Air Bob, this product is simple, user-friendly and, above all, it can be used even when the boat is already flooded.
But let's proceed step by step and see how it is made. Air Bob consists of a thermoplastic polyurethane doughnut-shaped balloon. It is transparent, very thick and tear-resistant.
In the middle of Air Bob, there is a hole with a small rope inside equipped with a stick whose length is more or less similar to the diameter of the device. The whole is completed by a "lid" of the same diameter than the balloon, at the heart of which is positioned a clam cleat to haul in the rope.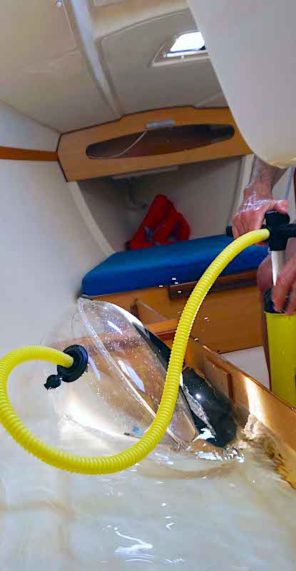 In case of emergency, the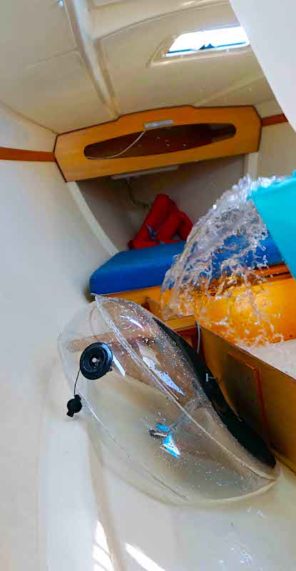 stick is passed through the hull breach, placed against the damaged surface, and the rope is tensioned and locked on the plate. With the Air Bob still deflated, the rope is hauled in and stopped, taking care not to compress the balloon against the hull.
At this point, you only have to inflate Air Bob. This way, the hull breach will be immediately stopped because the balloon adheres to the interior surface of the hull, creating a perfect barrier against water.
Easier said than explained. A safe fast way to secure our boat after accidental bumping or collisions.
After having applied it, we can therefore go on sailing to the closest port where our boat can be definitively repaired.
The following video clearly shows how Air Bob works. At Paris Boat Show, the device was offered for sale at EUR 190, available in different sizes.
Nautinov