On Saturday July 7th, at 11:00, Alex Luther and his Chasing Canguro team arrived in Cervia and finished their marathon after having
skied a total of 3,699.3 kilometres from Tangiers to Italy in 10 days, 2 hours, 17 minutes and 36 seconds.
He had never skied before but Alex Luther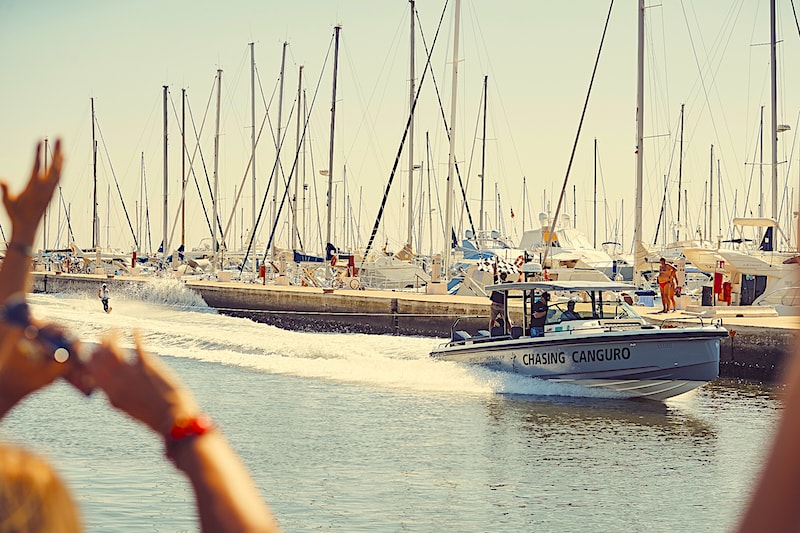 has made his romantic dream come true: to re-create the greatest achievement of his grandfather, Henry Luther, the Australian marathon water-skier who rose to fame in the 1970s.
Henry Luther passed away then Alex was aged just 7 but his memory was so vivid and close that Alex started to read up and find out more on the life of this extraordinary athlete.
So, thanks to his family photo album, pennants, congratulatory telegrams, photos, articles and newspapers clippings, Alex learned to admire and love his grandfather and he decided to emulated him in one among his greatest achievements: the water ski marathon.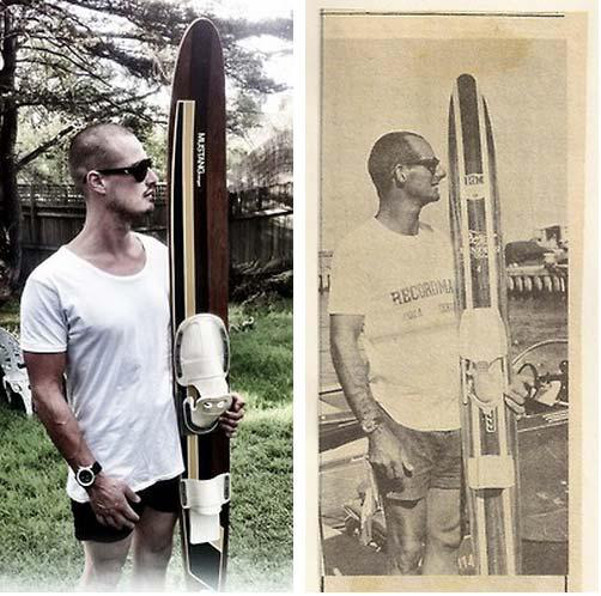 Henry Luther had set the record in the 1970s when, going from the tip of northern Africa and hugging the coasts of Spain, France, Monaco and Croatia, had got Italy after having covered a distance of 5,010 km in 10 days, 5 hours and 36 minutes.
On that occasion, in addition to the world record, Henry was given the nickname "Canguro" – Italian for kangaroo – in honor of his Australian origins.
Alex Luther therefore decided to retrace his grandfather steps, he founded the "Chasing Canguro" team, he learned how to water ski and trained for a long time. Finally, just a few days ago, he left from Tangier for his challenge.
During his marathon, Alex was accompanied by an Axopar 37 Sun-Top and twin Mercury Verado V8 300hp engines that – record in the record – underwent a hard stress test, considering the high average speeds at which Alex has skied.
Alex, indeed, skied about 370 kilometers a day (200 nautical m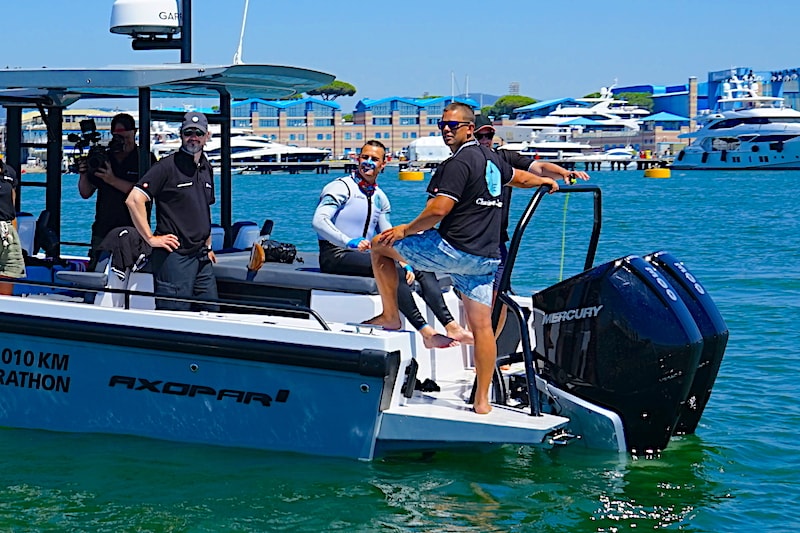 iles) at an average speed of 30 knots.
The man and the machine have faced a marathon where everything was subject to a terrible strain. Alex wore a special dorsal support which contributed to better distributed the weight of his body.
Particularly harsh were the weather and sea conditions the team, the boat and engines had to handle in the last days. The fourth leg in the Gulf of Lion was indeed very hard but everything went well and Alex arrived in Monaco just in time to receive the personal congratulations of Prince Ranieri.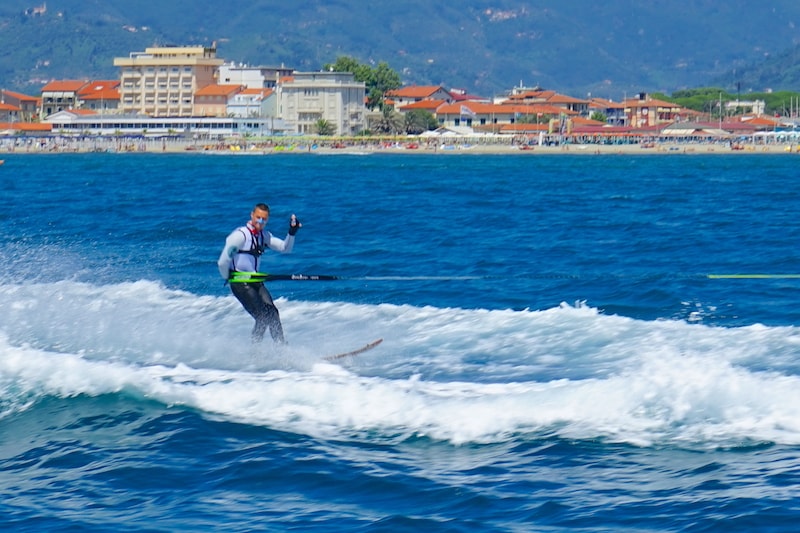 During this leg, Alex skied for 11 consecutive hours. " My biggest challenge was to ski for 7 hours and sail across a cape in 5-meter waves", claimed Alex Luther " It was really hard to find the strength to go on". On that occasion, the athlete experienced a knee injury and his hands were covered with blisters.
We met Alex in the middle of his marathon, when his team landed in Viareggio, Italy, at 14:00 last Saturday. We shot the following video that clearly shows the value of the challenge:
https://www.facebook.com/tuttobarche/videos/1973820922636925/
When Alex went ashore, we knew a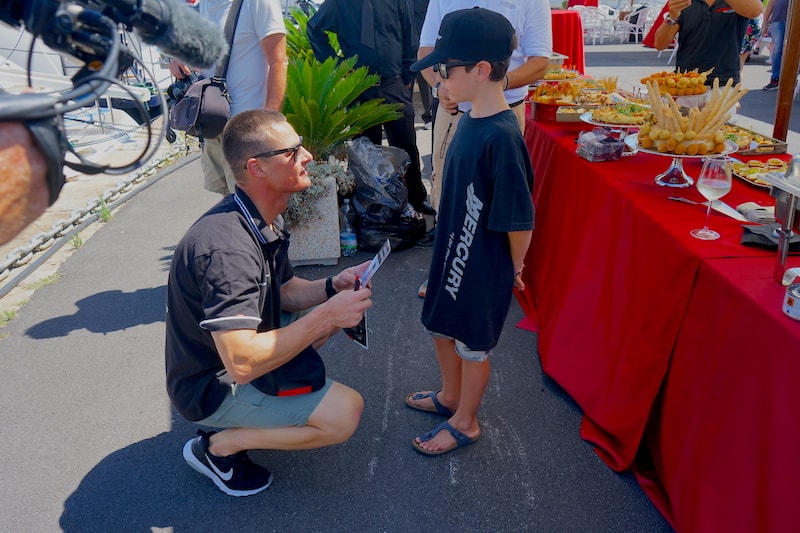 very determined man of great humanity and modesty.
" I want to thank Axopar and Mercury for the support they gave me throughout the race" told Alex " I thank my team, my family and my friends. Thanks, everybody!"
Alex Luther 's marathon
| | | | | | |
| --- | --- | --- | --- | --- | --- |
| Day | Leg | Distance | Time | Average Speed | Knots |
| 1 | Tangier-Adra | 264.4 | 05:13:57 | 50.5 | 27.3 |
| 2 | Adra-Alicante | 326.3 | 06:03:47 | 53.8 | 29.0 |
| 3 | Valencia-Barcelona | 293.5 | 06:29:55 | 44.7 | 24.1 |
| 4 | Barcelona-Monaco | 558.3 | 10:57:40 | 49.6 | 26.8 |
| 5 | Monaco-Viareggio | 245.5 | 05:05:50 | 48.2 | 26.0 |
| 6 | Viareggio-Civitavecchia | 287.7 | 05:30:14 | 52.3 | 28.2 |
| 7 | Civitavecchia-Marina di Camerota | 405.8 | 08:22:56 | 48.4 | 26.1 |
| 8 | Marina di Camerota-Crotone | 452.0 | 08:37:00 | 52.5 | 28.3 |
| 9 | Crotone-Francavilla | 441.4 | 08:34:18 | 51.5 | 27.8 |
| 10 | Francavilla-Pula | 295.8 | 05:01:49 | 53.1 | 28.6 |
| Arrival | Pula-Cervia | 128.2 | 02:17:36 | 56.2 | 30.3 |
| | | | | | |
| Total | | 3698.9 | 72:15:02 | 51.2 | 27.6 |