We find out as we test their flagship model, the Allures 51.9, on a blustery day in Cherbourg, France.
The Allures sailboats, also this Allures 51.9, are designed and constructed in the same French shipyard as Garcia, so you appreciate the incredible craftsmanship and pedigree of blue water cruisers going into the range of Allures yachts. From the beginning, it retains Allures' niche of using aluminium hulls with glass fibre decks and superstructures, which, the yard maintains, gives the optimum combination of low maintenance and less weight higher up. Priorities for this design were a full beam aft cabin and a spacious, long cockpit. At 7m long, the latter offers formidable social, sailing and aft deck zones. The range consists of 2 models, 45.9 and 51.9 (from 45 to 51 feet), intended for adventurous sailors looking for a reliable, safe, comfortable and easy-to-handle blue water sailboat singlehanded or with a reduced crew.
With a glut of 50ft yachts launched this year, there's something for everyone – as long as you want and can afford a 50-something foot yacht. If you're after a go-anywhere cruiser, the Allures 51.9 firmly ticks that box, but just because she can sail across oceans doesn't mean she's any less of a coastal cruiser.
The grey aluminium hull might not be to everyone's taste, but it's insanely beneficial; it won't crack or craze, it doesn't fade or need polishing, or like most owners nowadays, you can have an excellent colourful wrap as this particular 51.9 has.
I don't have anything against fixed keels, but there are times when I wish they weren't so deep or so fixed. The centreboard makes a host of harbours and anchorages more accessible to this boat than to many smaller yachts. She's also a comfortable yacht to live on board. What's not to love about her? Surprisingly little.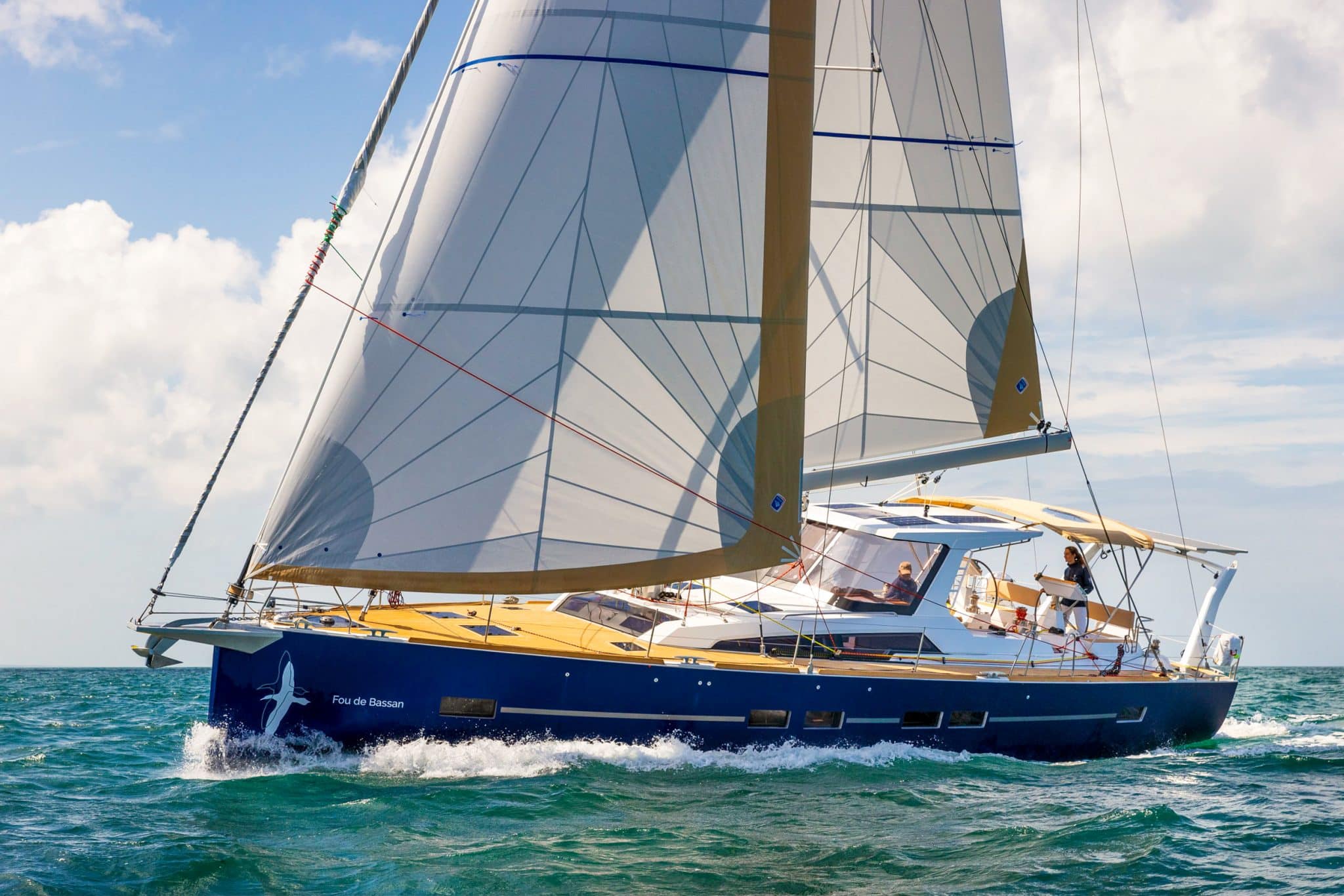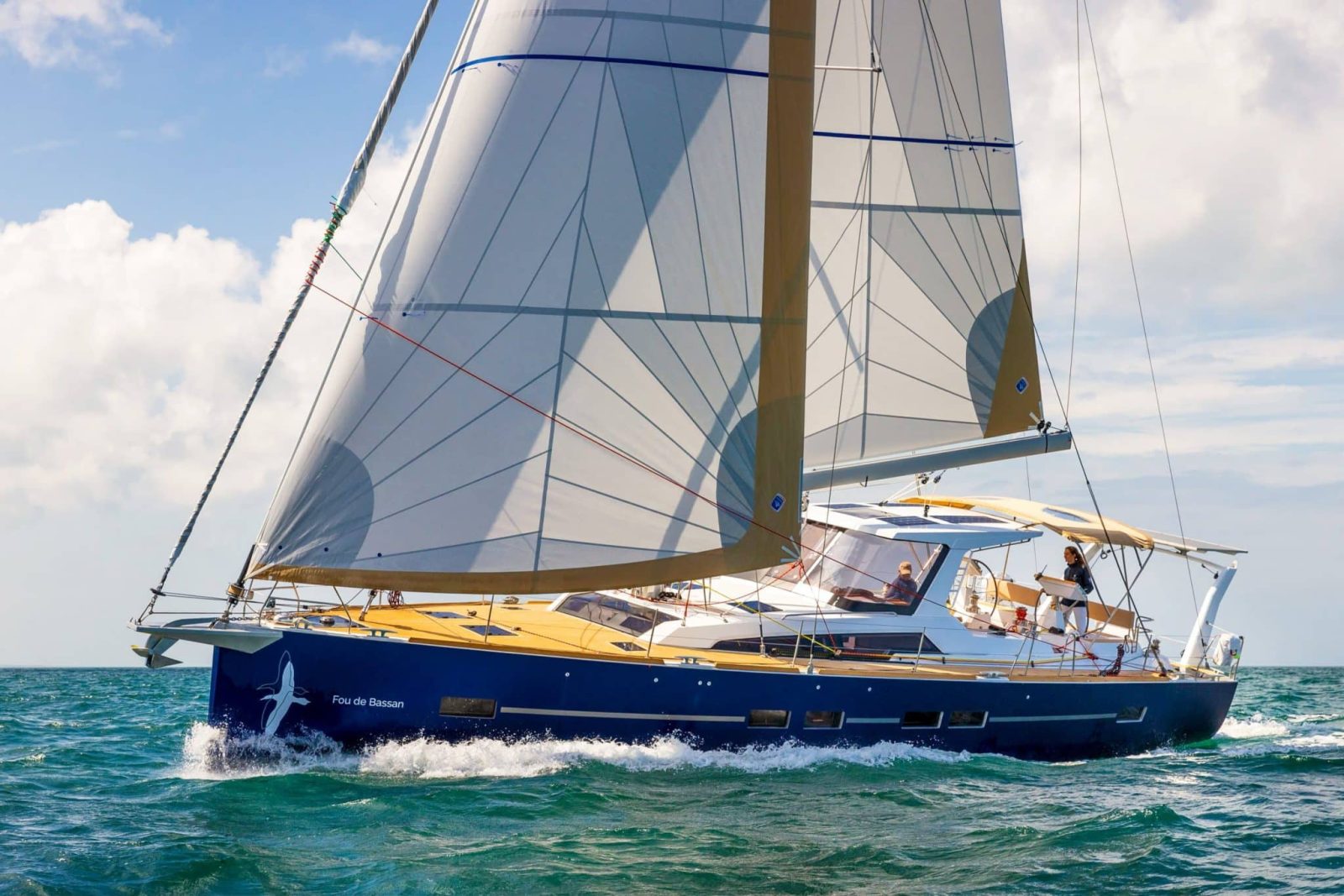 The day started well with 18-22 KTS of wind; as far as I'm concerned, perfect sailing weather. We had 1-1.5 metres of swell as the tide changed with 2KTS of tidal flow. This particular Allures 51.9 had just been put in the water two days ago, so we had a team of carpenters, mechanical and electrical engineers on board, plus a skipper to test all the systems as the long but thorough process of getting this Allures 51.9 ready for the owner. You would have thought the boat would be a little crowded, but there was plenty of space for everyone, down to the intelligent way Allures designed the cockpit area or, as the team kept referring to it, the three cockpit zones.
In lighter conditions, she won't win many prizes for speed and agility without extra sails, but as cruisers go, she's excellent. We set full mainsail and genoa, and she came into her own as the wind increased.
She has a long skeg, which protects the prop and gives her good directional stability. Her centreboard can reduce her draught from 3.1m to 1.34m; with the board fully down, she wasn't particularly high-winded, feeling most comfortable around 35-38° off the wind close hauled.
On a fetch, she makes good speed, and as the wind increased to 18-22 knots AWS, she was soon charging along in excess of 8.5 knots which by any means is a result as she is not a light boat weighing in at 18.4T and around 22T fully loaded.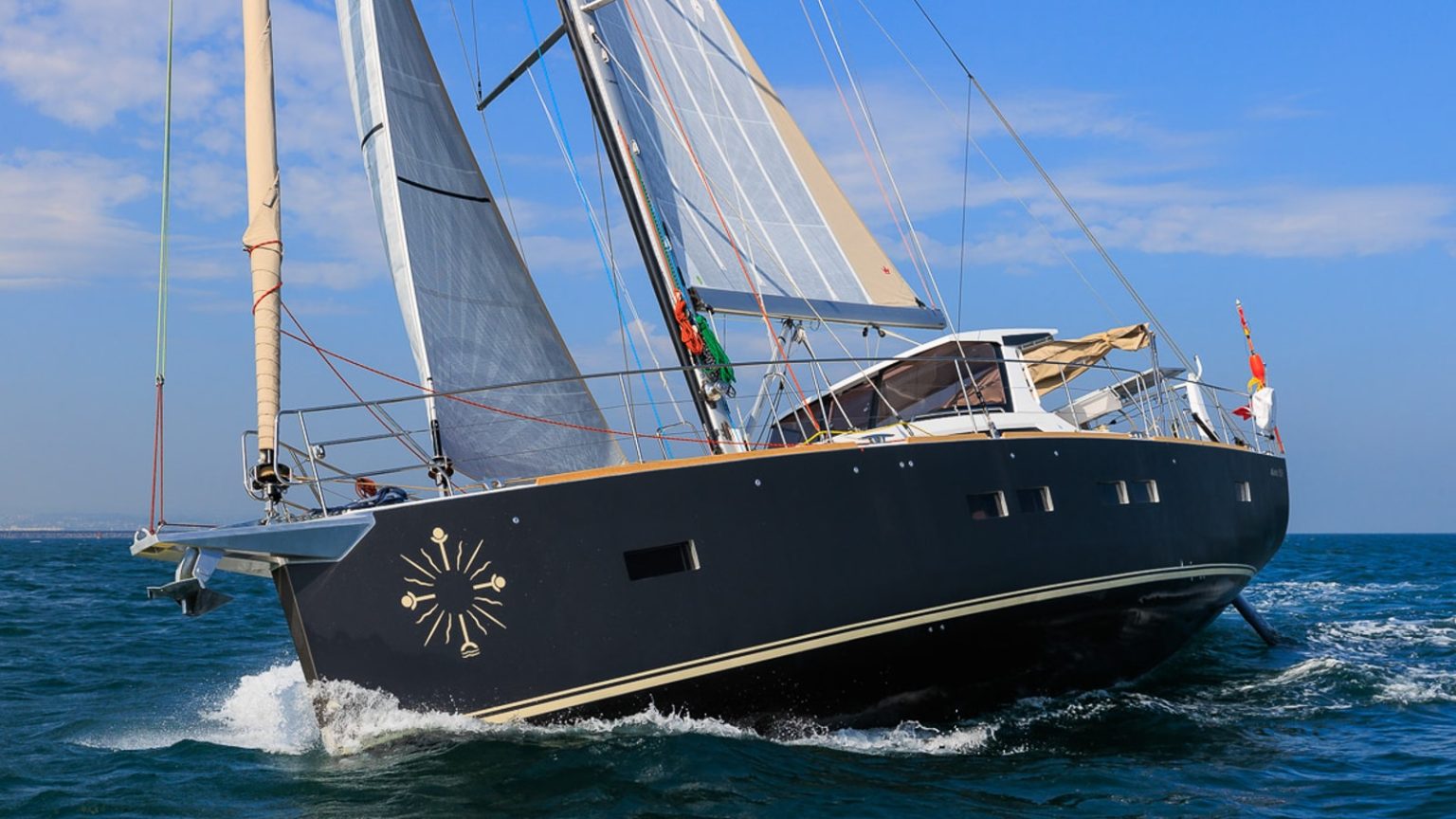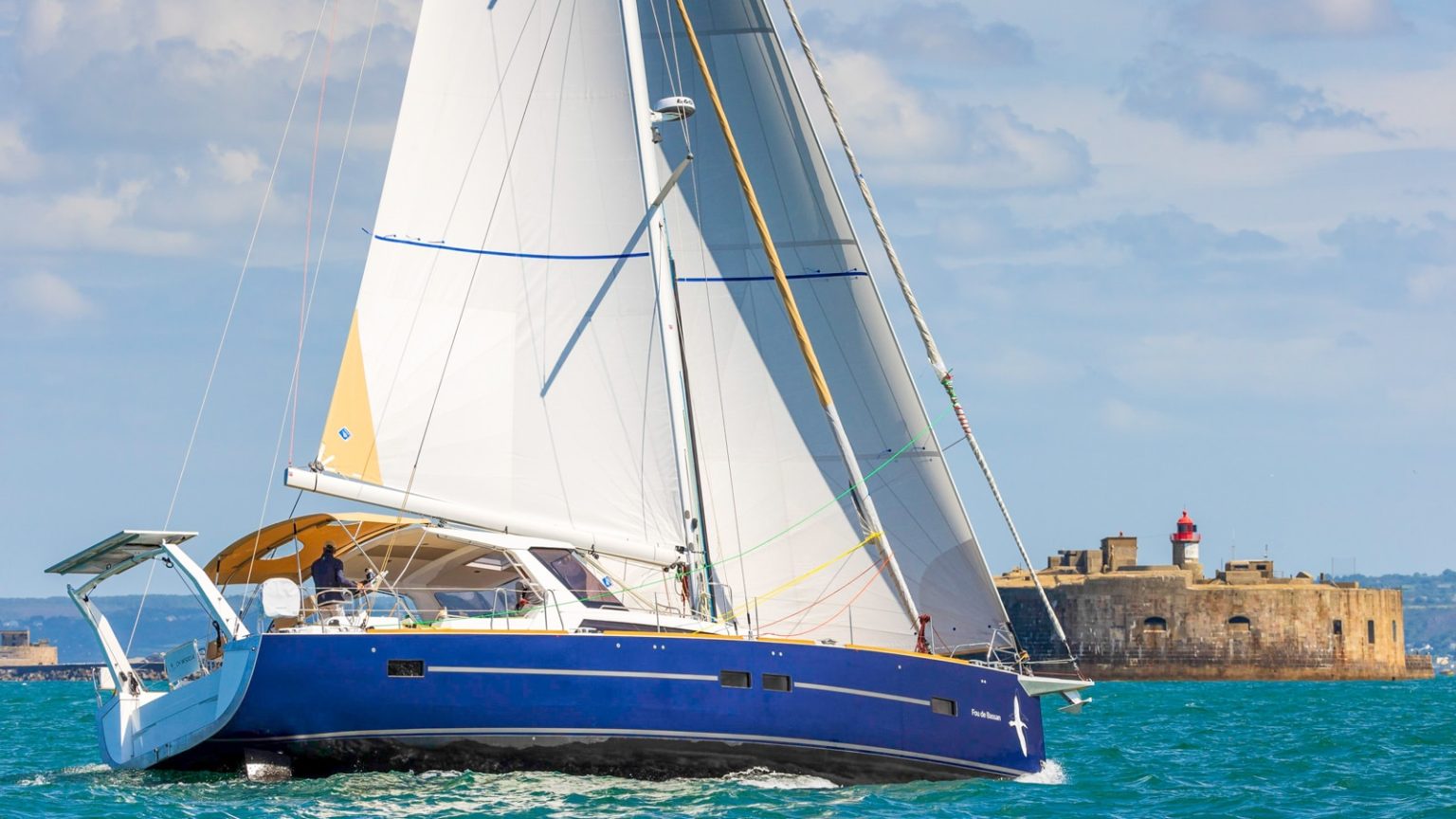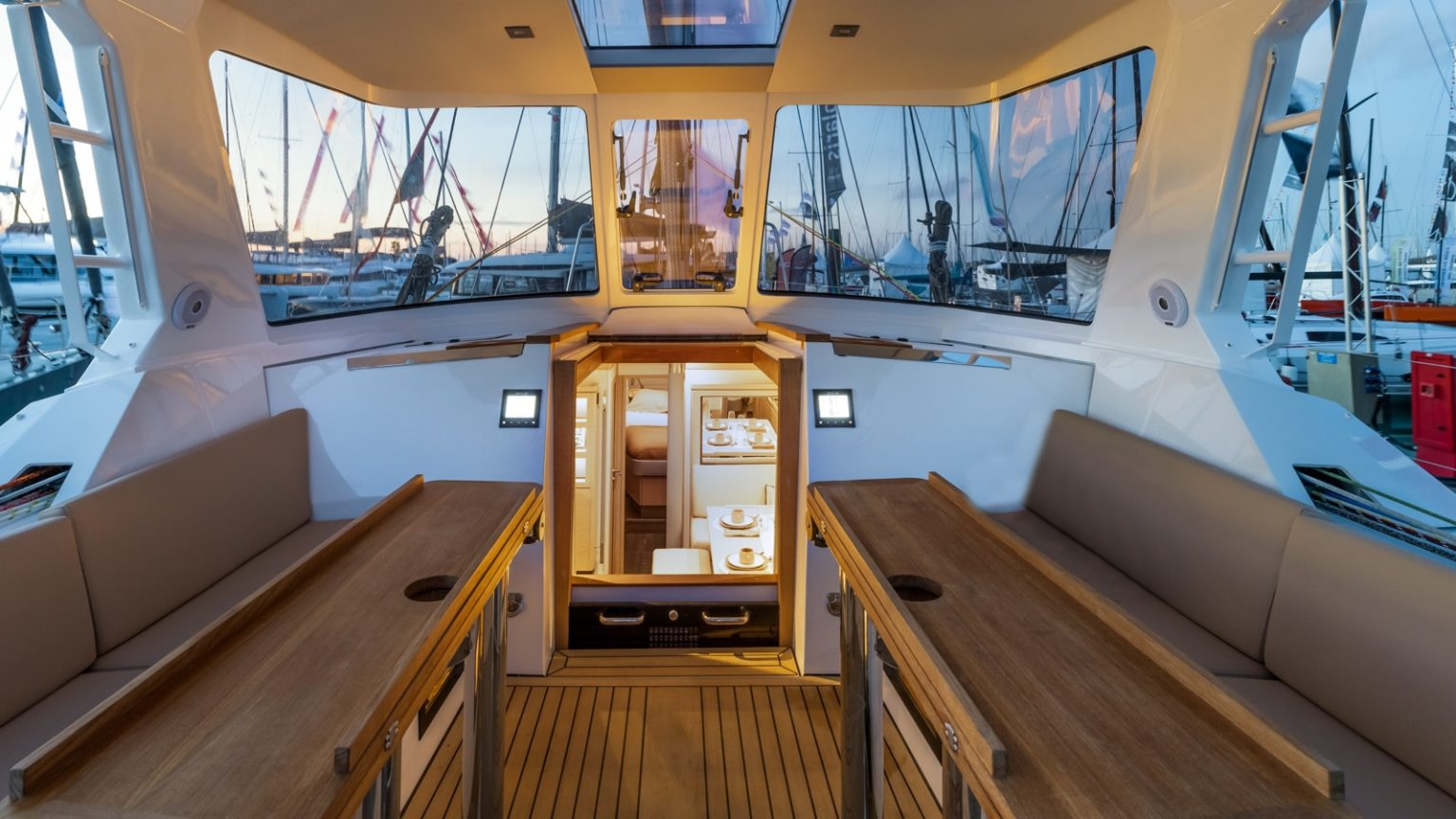 The cockpit is one of the best I have seen and worked in, with three decisive zones;
Zone 1 aft, you have a voluminous sun deck and colossal storage lazaret, with room for bikes, paddle boards, dive tanks, outboard motor and so on. Both to port and starboard, there are two more lockers (and access to steering) and extra storage. This locker also is part of your 1st and 2nd water-tight bulkheads ensuring high levels of safety.
Like most yachts, there is a sizeable drop-down transom (bathing platform), giving excellent access to the water.
Zone 2 is where the magic happens; twin helm stations and all the working multi-speed self-tailing winches are located. On both pedestals, you have the options of chart plotters, autopilot, electronic engine controls, bow and stern thruster, multi-repeaters VHF, light switches, and the list goes on. All the sheets for the sails and fullers, reefing line, etc., are brought back to this area with plenty of tail bins by the primary and secondary winches to keep your workspace tidy and clear. This area is a skipper's dream.
Zone 3, guest and relaxation area, here you will find ample seating for 8 to 10 people sizeable split cockpit table, you have a clear walkway through the entire cockpit, but the table wings fold up to provide a generous table for you and your guests easily seating 8 for those all essential sundowners. This is a very well-protected area, and this particular owner had chosen to have the hardtop option installed, which I can tell you, with the chilly spring northerly wind we had on test day, was extremely welcome as I was agreeably cocooned here, warming up as the engineers were running through the systems. The Allures 51.9 comes with the mainsheet arch as standard and a spray hood, but the hardtop option for extended cruising is well worth your sanity for those colder climates.
Moving forward on this 17M yacht is straightforward with inboard and outboard shrowds and a wide walkway, high guard rails, and hand holds/ rails everywhere. The foredeck is huge with flush hatches, so there are no trip hazards giving you easy access to the chain and sail locker. There is a handy ladder for you to descend into the depths of this locker if need be. I felt safe and navigated this boat with ease. The Allures 51.9 is equipt with 30kg spade ancker and 80m of 12mm chain.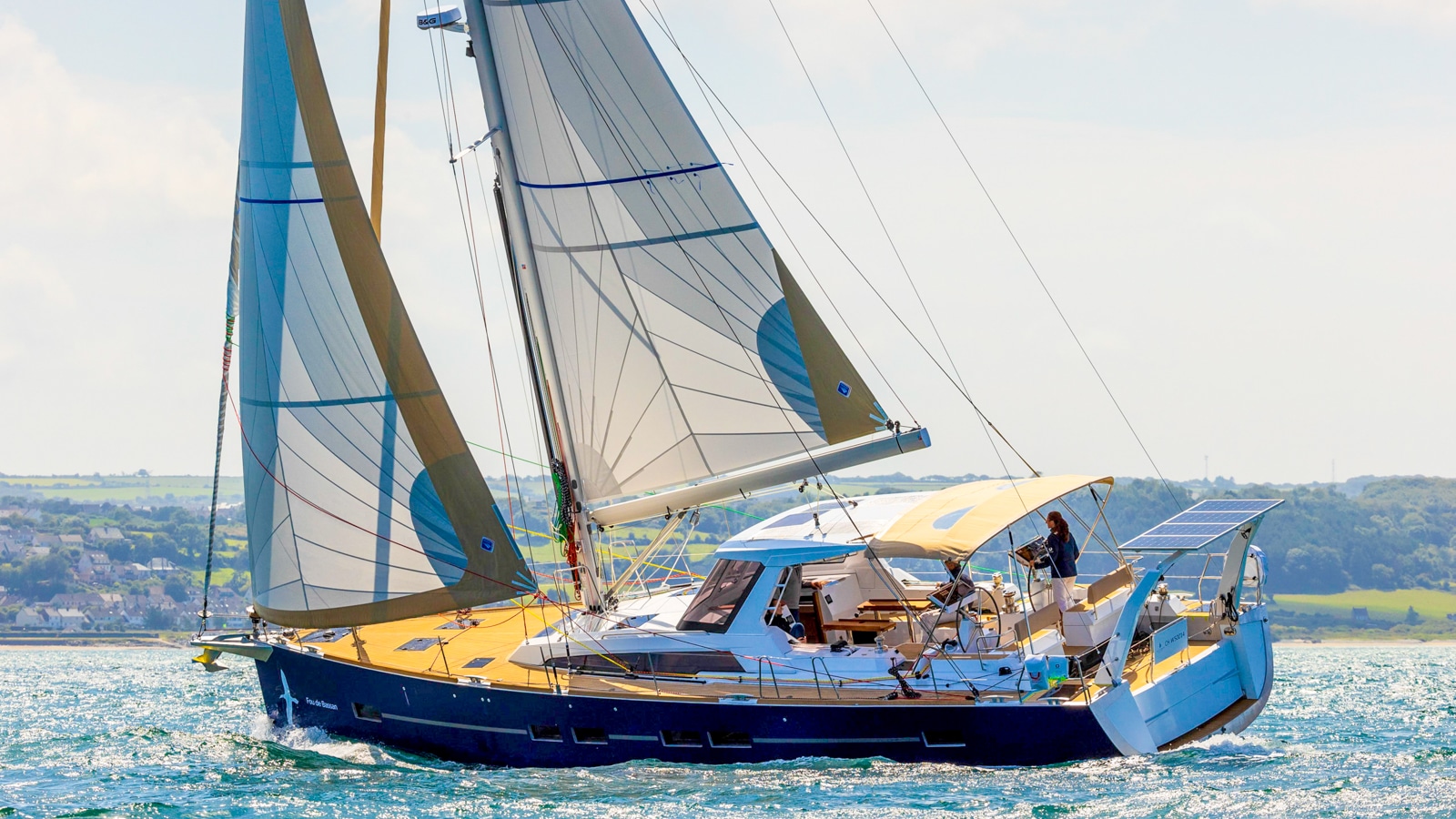 Allures 51.9 Rig & Sailplan
This yacht had a large genoa forward a gib and the possibility for an inner staysail – helpful when cross-tacking or with winds over 25 knots TWS; the mast has extra support from running backstays while it's in use.
The genoa can be tacked without furling by experienced sailers, but to make the operation smooth, I found it much easier to furl and unfurl the sail as you might get into a bit of trouble otherwise.
With fewer crew, furling most of it before tacking is the better option.
The fixed bowsprit can take a code zero, jeneca as we had on the day of testing or furling asymmetric to increase the off-wind sail area.
Stepping down the five companionway steps, you are greeted by what can only be described as an outstandingly modern, clean-lined interior. Large, bright windows open up this luxury living space.
This makes her bright and contemporary while retaining traditional values like a functional living space with plenty of valuable handholds everywhere.
The layout sees the main saloon offset to starboard with L-shaped seating outboard and a long drop-down table that can be converted into a large double berth (day bed). The table can easily seat 6 to 8 people with the help of two puff-style chairs ( which also give you access to the centre board mechanism. The choice of materials is rich and varied depending on your preference.
There's good stowage under the seats but less outboard due to the hull's foam insulation (65mm). However, this is less important as the general storage around this Allures 51.9 is generous, as you will see, especially in the technical area.
To port, you have a chaise long-style seat adjoining to the chart table and, further forward, a designated chart table chair. This is your command station, come home-office space, which I love having a workspace and chart table in one as an online blogger and YOUTUBER. It tics all the right boxes for me.
The swivel chair helps you stay connected with everyone on the boat, whether at the helm, in the galley or salon, making it both practical and social. Here you have the option of another chart plotter, multi-function display, VHF radion, fusion stereo and your onboard digital display for your electrical and fuel systems, to mention a few. A command station gives you that extra peace of mind to check on your systems or work comfortably while on passage or at anchor.
Looking aft, you step down from the saloon to the port side and enter the galley, if you can call it that. It is almost better equipt than my kitchen at home. This galley is designed to be used in any sea condition yet gives you all the mod-cons we demand today: dual stainless fridges, microwave, dishwasher, coffee machine, and storage; you can fit every kitchen tool and appliance invented. The galley has a standard four-burner gas hob, but you can upgrade to induction. As you have plenty of space on this 17-metre (51ft) yacht for solar, it would be a worthwhile option to tick. Fresh water is not a problem, as the watermaker can fill the 620L water tank within an hour or two.
The amount of light entering this boat really does show off the modern light oak interior; small details can be missed at first glance, like the band of polished aluminium set into the cabinets and woodwork around the boat; the handholds are covered in light grey hand-stitched leather.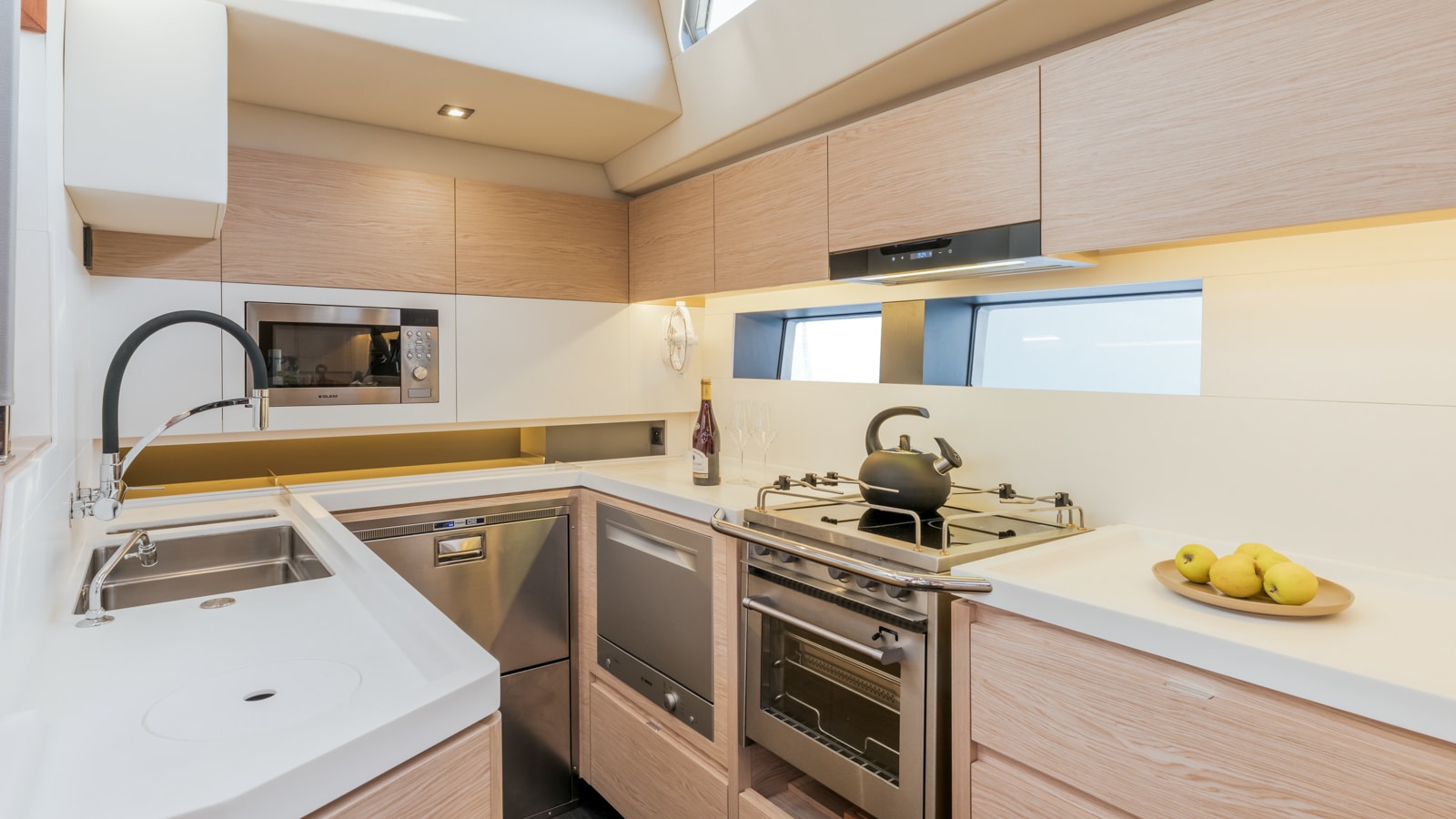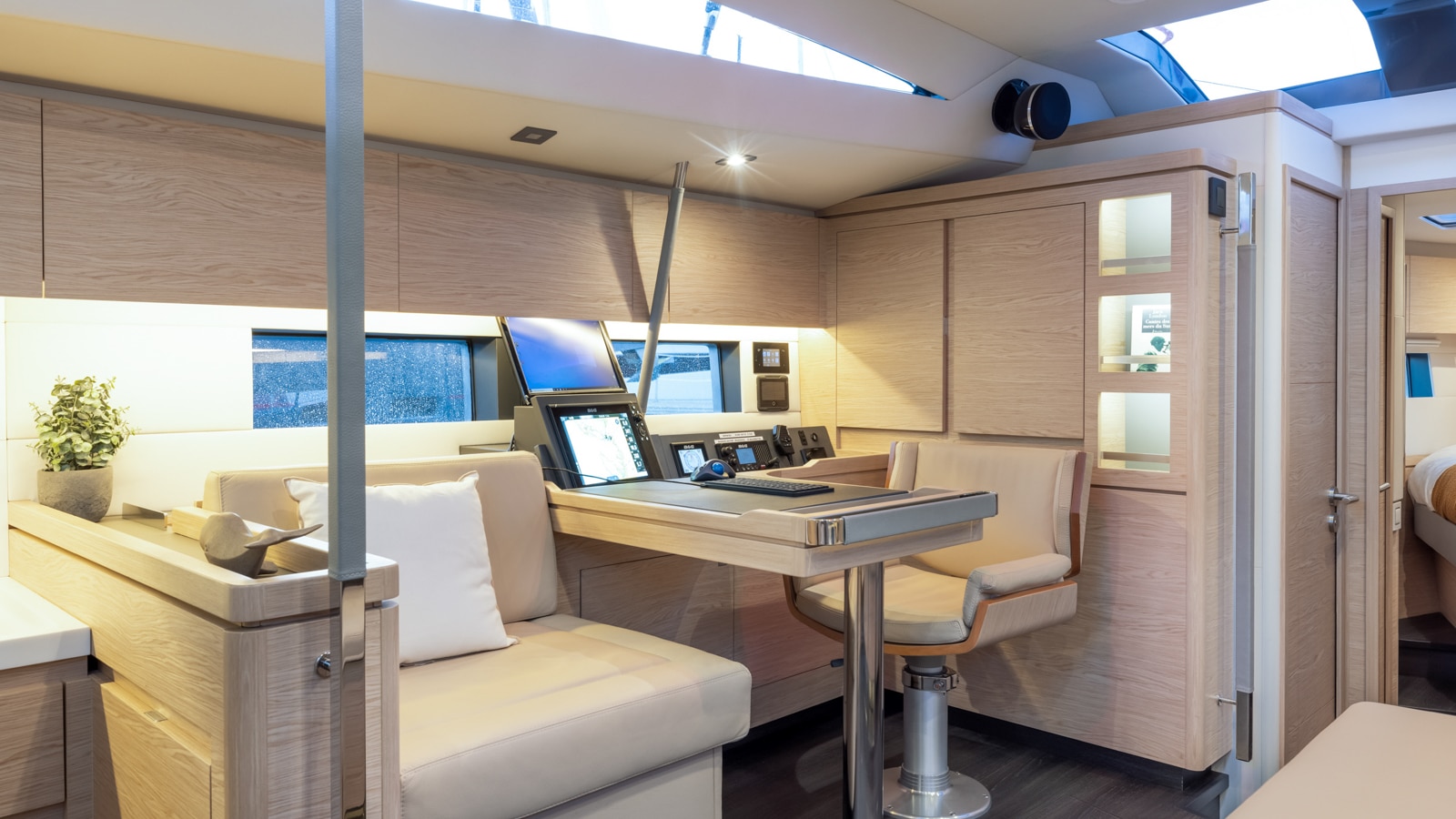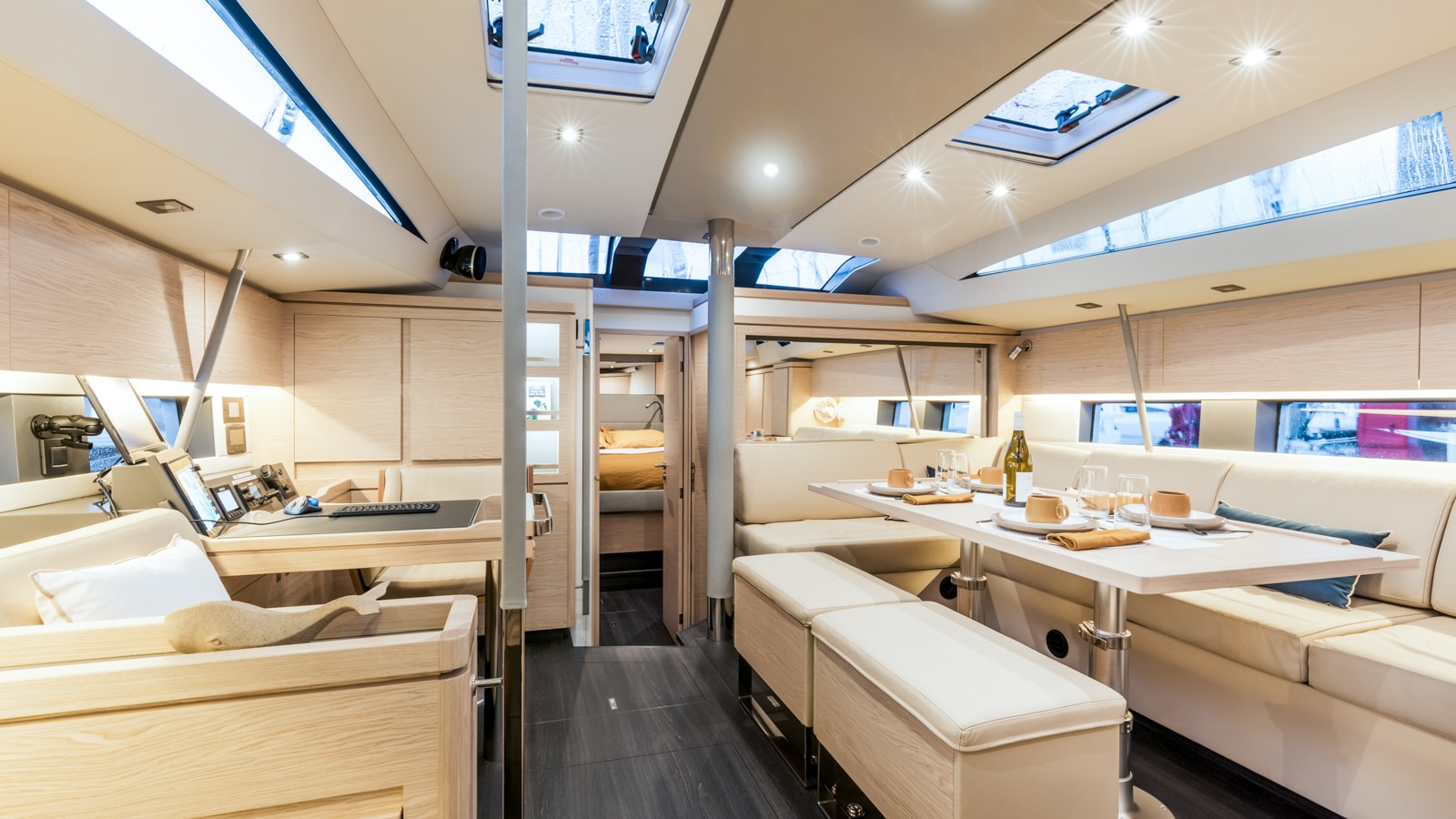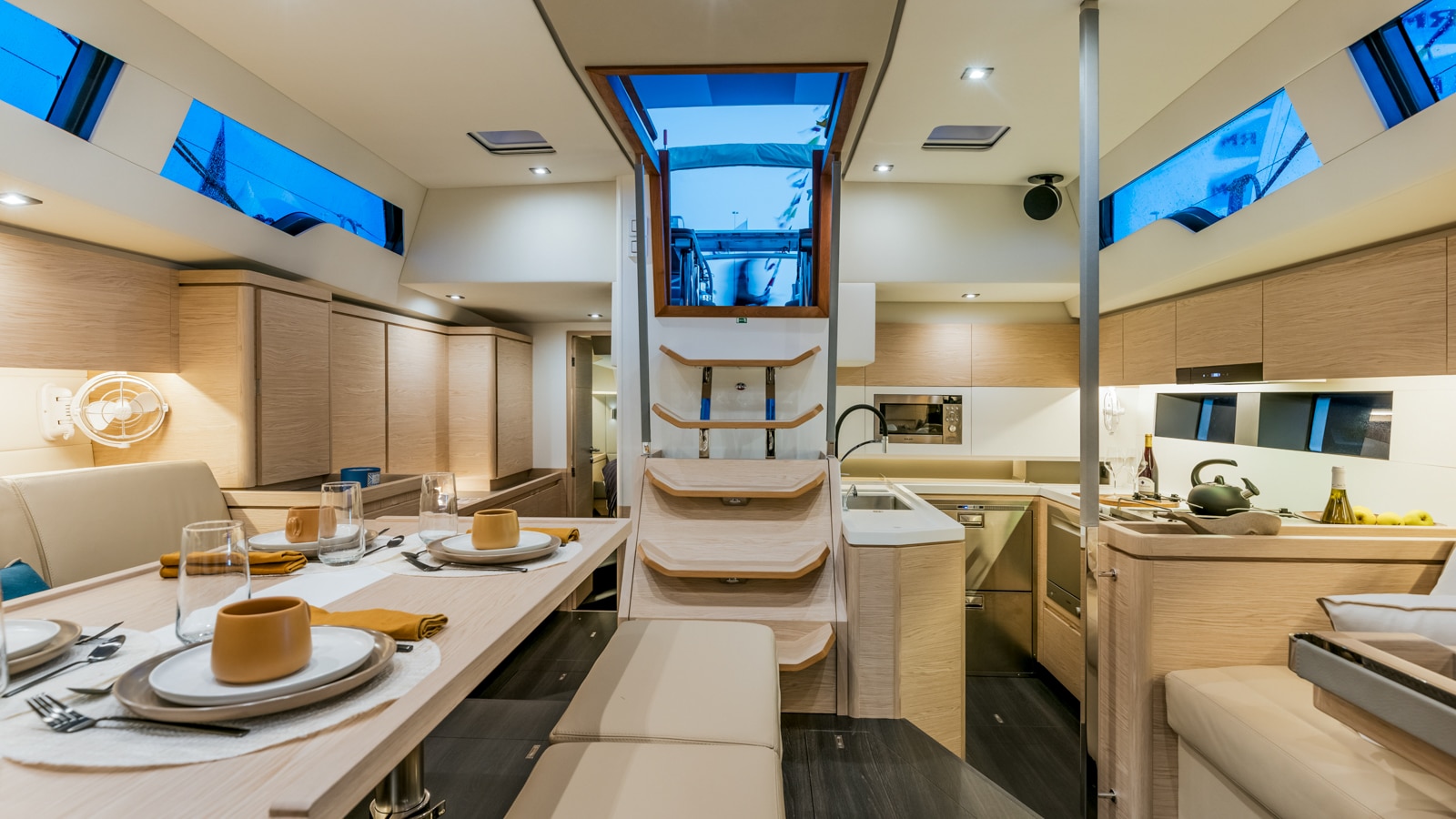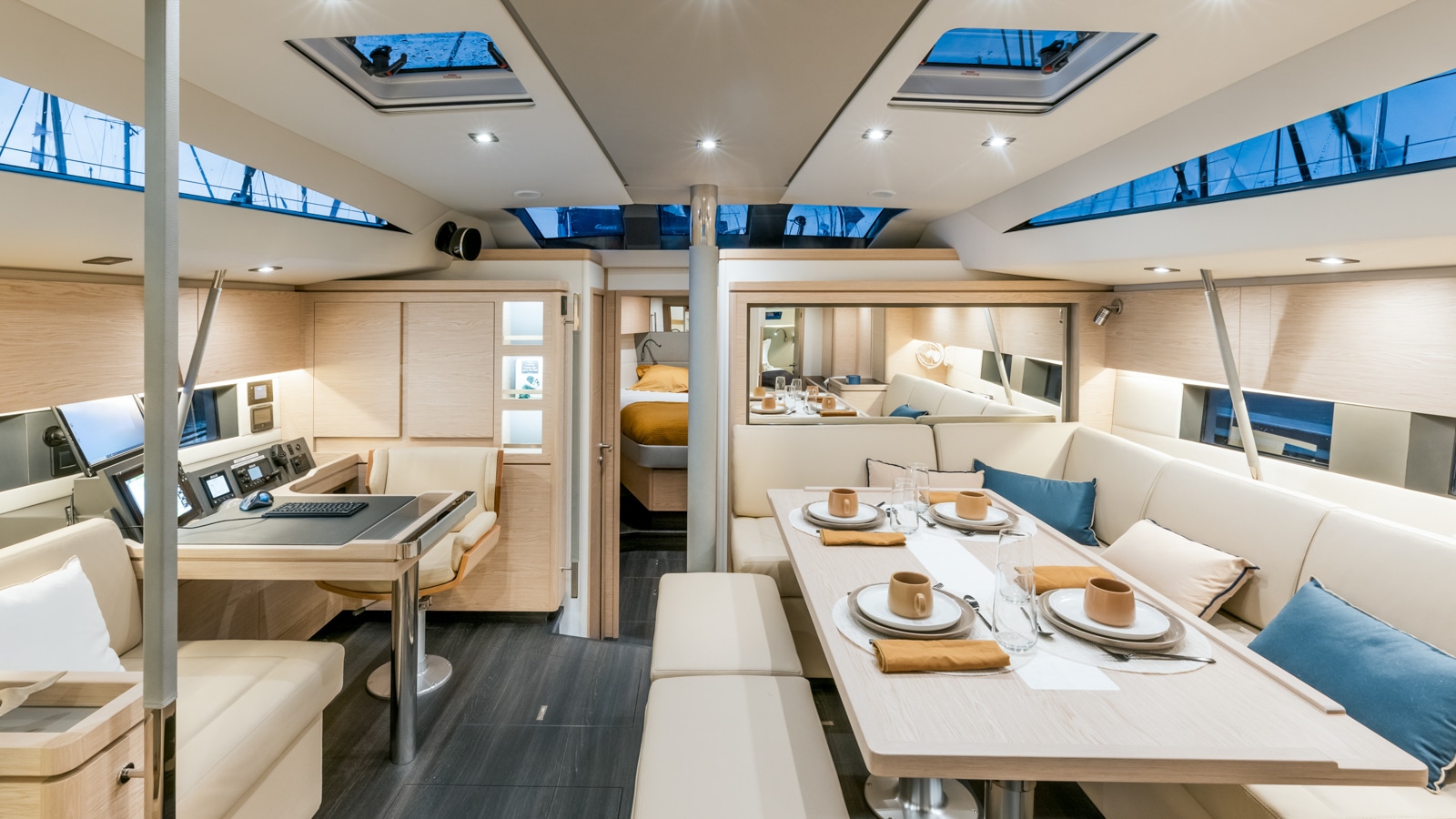 The VIP cabin of Allures 51.9
Moving forward, you have a twin bunk cabin on the starboard side; both bunks are larger than a standard single and equipped with their own reading lights and fans. This small cabin has its own opening hatch for ventilation. An excellent space for your kids or additional crew if you want. There is some storage in here, but it could be better. Just across the passageway, you will find the heads and separate shower, as expected on a sailboat this size. This bathroom can be used as the day heads, shared with the two forward cabins or with the second door used exclusively as the VIP on sweet heads for extra privacy. Electric fresh or salt water flush for the heads and plenty of stowage for all your gubbins. There is a seat set into the shower, which is an excellent safety feature for showering while underway at sea.
The forward VIP cabin is precisely that, light, spacious and a touch luxurious with its walk-around double bed. Eight overhead lockers, an ample single hanging cupboard with draws and a huge draw at the foot of the bed. Twin opening hatches and electric fans help to keep this space well-ventilated if you don't have the reversible air conditioning option installed. This is another one of those must-have options if you are going to seriously circumnavigate the world. The hull windows are just the right size and height to give you fantastic views from your bed; imagine waking up with the sun shining over white sandy beaches, the distant dark green of palm trees, and the expectation for your days diving at a coral reef or enjoying an importune BBQ on the beach, perfect, except for one thing Allures have done such a good job insulating the hull (65mm) of the 51.9 that it's very likely you won't hear the gentle lapping of the sea against the hull, but a sacrifice I am willing to make.
Returning to the salon heading aft, I am reminded why these are such good seaboats; she is a very stable craft with all the wait central (18.4 tones). This is helped by having the fuel tanks (730L) and your water tanks (620L) below the salon floor, providing easy access for any maintenance.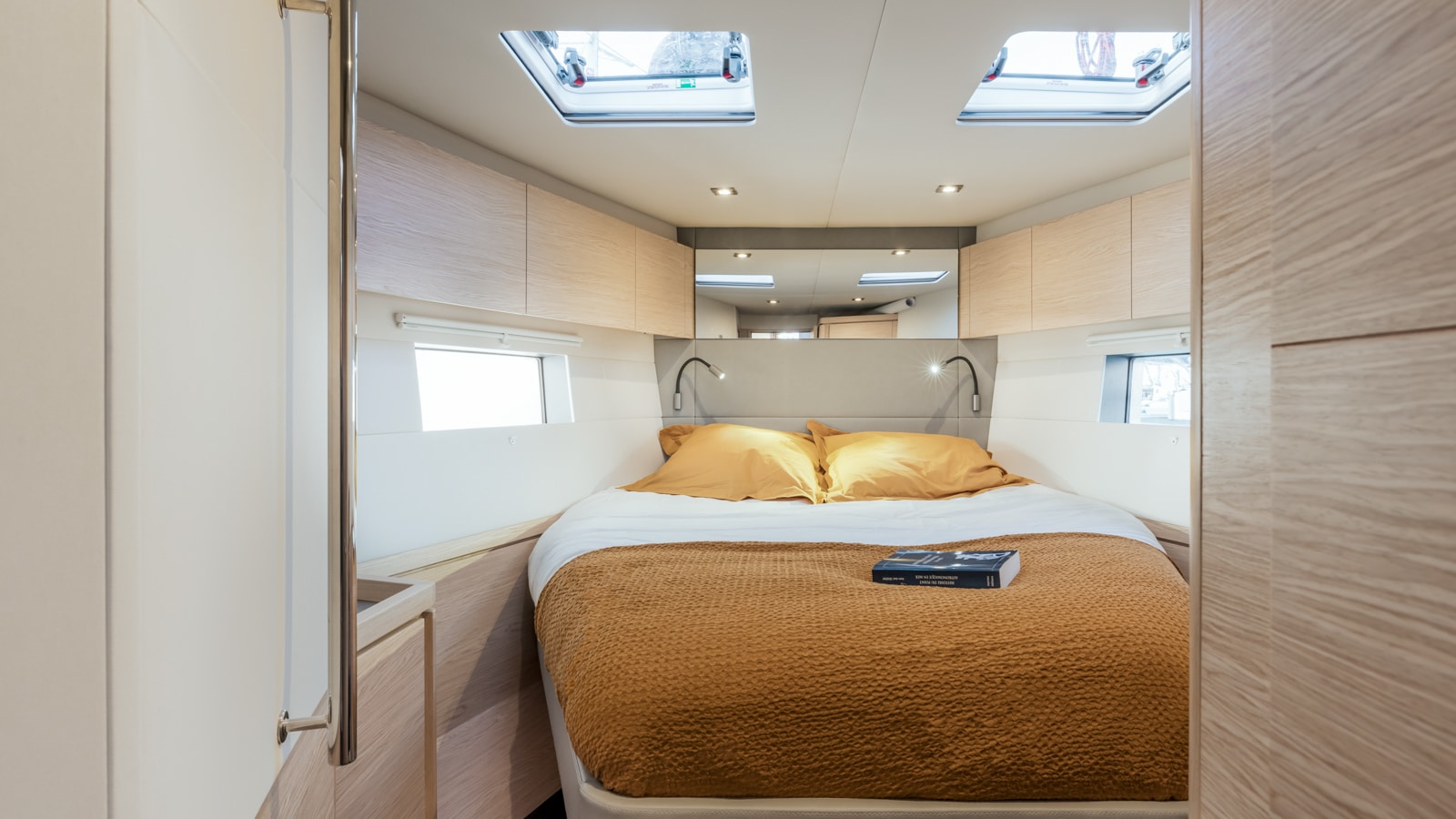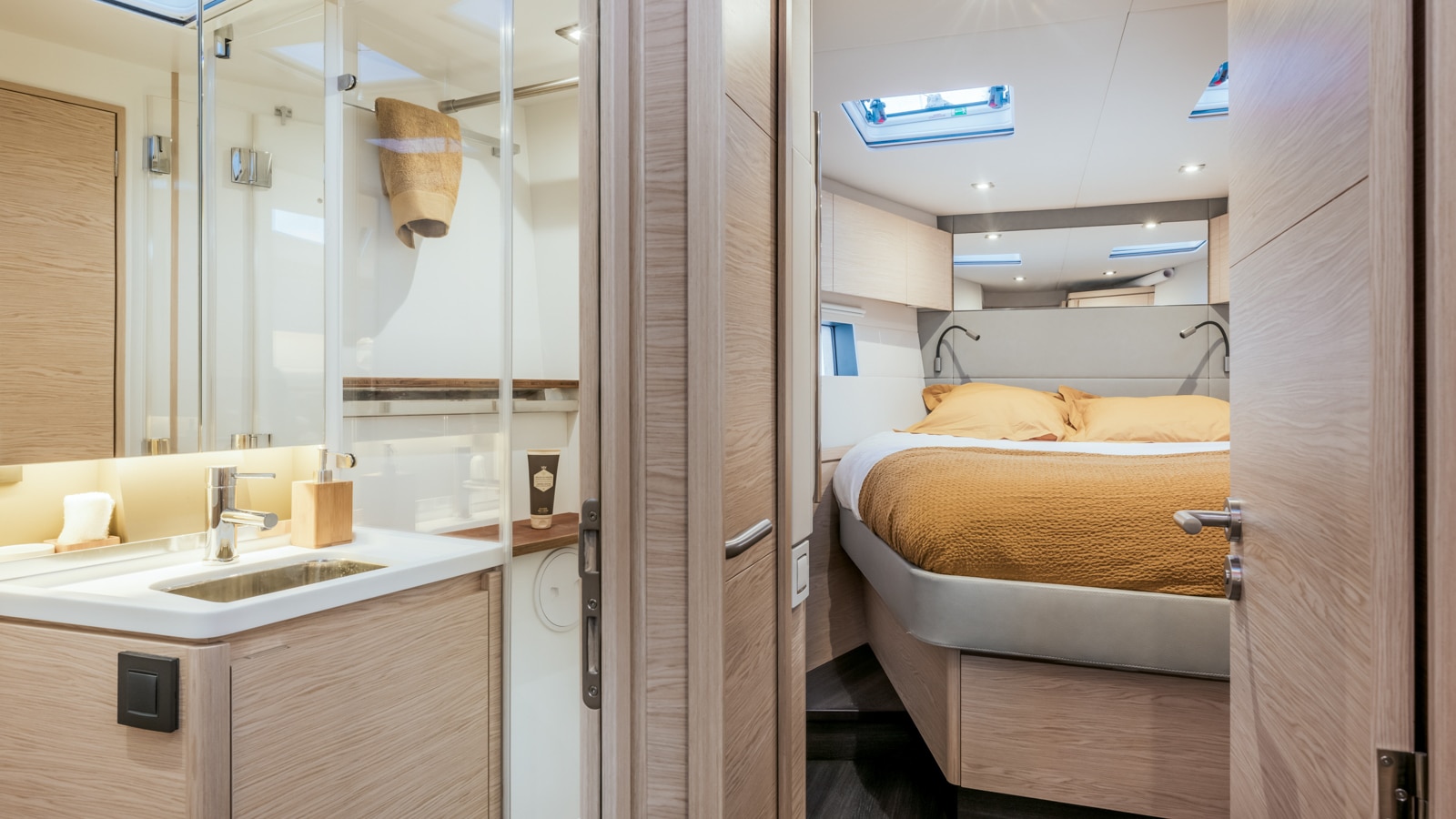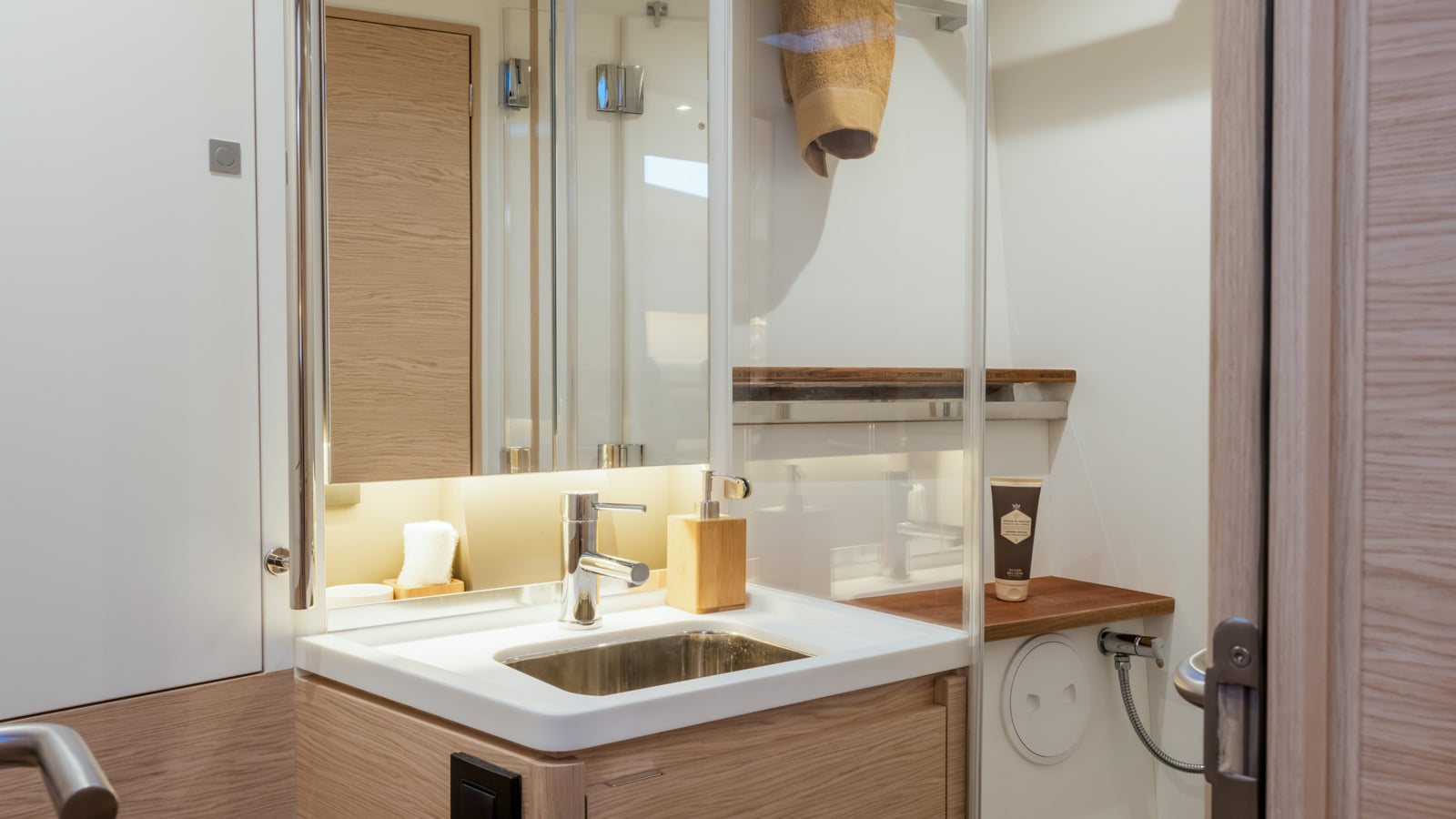 One of the stand-out areas of the Allures is the technical space, accessed on the starboard side aft of the salon and forming the corridor to the owner suite. Allures have dressed this space up for the 51.9 by making it blend in with its surroundings, and all the cabinetry is in the same light oak finish hiding the spare parts, draws, wet locker, extra fridge or freezer and washing machine. There is plenty of room for your tools and any other bits and bobs you might collect for your next adventure. To port, you will find the door for the engine and tec room. The soundproofing and insulation (65mm) are as good as the hull insulation, and I will admit that coming back to the marina, there was some engine noise, as can be expected, but not enough that it would disturb your sleep if you were of-watch on passage. She comes equipt with a Volvo penta D3 110 HP diesel, 40L water heater, fuel & water filters, generator and the list goes on. What is noticeable is how clearly marked all the electrical cables, water pipes, and manifolds are. A well-lit area that was designed with sailors in mind, and access for the generator (Fp generator 5000i) is by lifting three of the companionway steps allowing you complete access.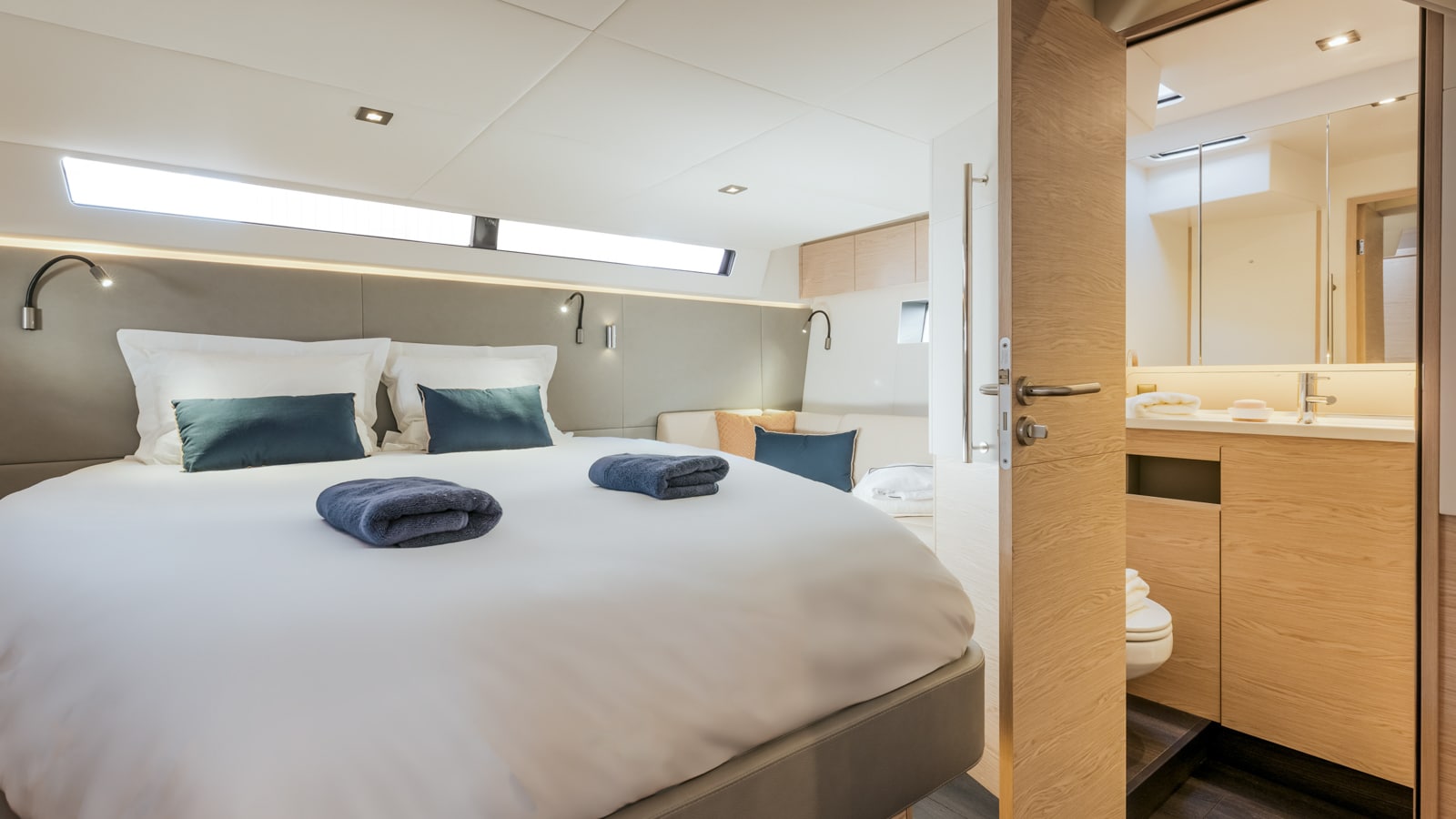 The beam of this yacht is genuinely visible here at 4.82M and a standing height off well over 2M. Only a few yachts at the 50ft mark can boast this amount of space and comfort; in fact, only one or two comes to mind, and one of those is a French manufacturer as well. Entering the cabin, you are greeted with light from the nearly complete beam-length windows above the island double bed. As you face the bed, there are two good-sized hanging lookers to your left (starboard side), four overhead lockers, an air-con controller; mains plug and USB chargers. Draws under the bed, and the bed also lifts on gas struts to provide even more stowage. To your right (port side), a lovely lounging chair offers a spot to relax as you soak in your surroundings, pinching yourself occasionally, knowing how lucky you are; four overhead lockers and stowage behind your lounger for books and personal things as well. You also have your own plugs and USB chargers on this side of the bed. This cabin also has its own ensuite heads and separate shower mirroring the forward heads. The choice of materials and fittings grant this cabin a true feeling of luxury.
Would I buy one? The strait answer is yes; I would love to own an Allures 51.9. It has everything I want in a cruising yacht and much more. She feels indestructible on the water and, with some extra canvas to increase her sail area for light wind days, she'll lift her skirts and go whatever the weather.
She might not be the most responsive boat on the helm, but when she gets going, you feel like nothing can stop her.
I love that she's got an aluminium hull because it requires just the amount of upkeep I have time for – absolutely none!
Seeing her approaching will scare most GRP boat owners into action and looking for extra fenders.
The accommodation is spacious, comfortable and versatile; there is room for maintenance and running repairs, relax, be social or hideaway.
The thought of making a morning coffee, sitting at the Salone table, looking out across some remote anchorage.
Is she for you?
If you're looking for a serious sailboat capable of coastal, offshore and bluewater sailing, the Allures 51.9 should be on your shortlist.
She has layout options to satisfy a couple or a family and can easily be sailed short-handed over long distances. Add to that the ability to dry out or navigate in just over a metre of water gives you a formidable package, even without all the advantages an aluminium hull brings to the table.
With the GRP deck, aluminium round-bilge and centreboard, she's unique.
Like most yachts, she could benefit from a few minor tweaks here and there, which any owner would have their views on, but Allures can adapt to and incorporate your ideas.
Fact and Figures Allures 51.9
| | |
| --- | --- |
| Price as tested | 978.420 euro+vat  |
| Hull Length | 16.67m/ LWL 15.57M |
| Beam | 4.82M |
| Draught | 1.34m/ 2.92m |
| Displacement | 18.4T |
| Sails Upwind | 118.6M |
| Diesel | Volvo D3 110 HP |
| Water | 2x300L |
| Engine | 2x350L |
| RCD category | A |
| Designer | Berret- Racoupeau Yacht Design |
| Builder |  Allures Yachting |
| Website | www.allures.fr |
This article is also available in:

German

Portuguese (Brazil)