At the FLIBS, Cantiere del Pardo has presented three walk-around models: Pardo 38, 43 and 50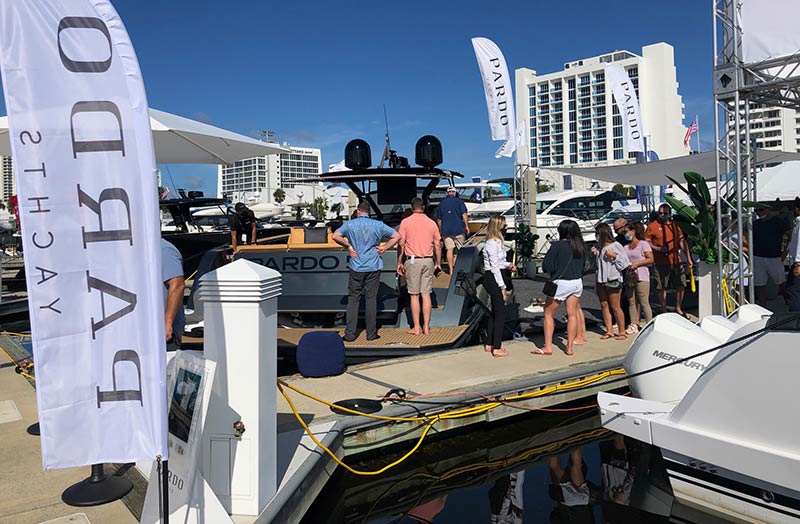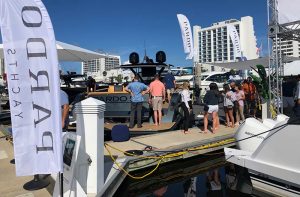 Cantiere del Pardo SpA, in cooperation with the expertise of Zuccheri Yacht Design, showed three distinctively Italian yachts at the Fort Lauderdale International Boat Show, demonstrating the ship builder's signature angular lines and fine eye for detail. Pardo's motoryachts give a nod to the brand's history of building graceful sailboats, then segueing into the market's increasing call for stylish performance yachts.
According to Danylo Koval, GM of Pardo Yachts Miami, the show was a success. "We had excellent traffic well qualified buyers and closed several sales", he said. Koval also reported orders for dealers, including the Great Lakes.
The three walk-around models, 38, 43 and 50, showed varying degrees of space, centered around the same design premise: spacious layouts both on the deck and in cabins below, fine wood decking and veneer cabinetry, Silvertex upholstery, versatile seating and plenty of storage and entertainment spaces.
Pardo began the line with the 43 and 50, then scaled down with the newest 38, to meet a more entry level buyer or a down-sizing existing yachter–both markets with a keen interest in modern European design and performance.
While the Pardo 38 sported triple Mercury 300 outboard engines, (capable of 42 knot top speed and 34 knot cruising speeds), higher horse powered outboards are possible; Volvo V6 gasoline engines are the standard option, with Volvo D4 300 or 440 engines as another. The Pardo 43 showed twin Volvo IPS 500 engines (370 HP, top speed 37 knots, cruising 30 knots), with options for IPS 600 (440 HP) pr IPS 650 (480 HP) engines. The Pardo 50 has twin Volvo IPS 600 engines (440 HP, top speed 34 knots, cruising 27 knots) with 700 or 800s as an option. The angular bow line and convex deep-V hull with variable dead rise, enable Pardo Yachts to plane easily and quickly and to maintain comfortable speed and handling.
The deck layouts rise from the Flexiteek swim platform-stationery on the 38, optionally electric on the 43 and optionally hydraulic with integrated steps from the aft deck, on the 50. All step up to broad walk-arounds and spacious aft decks with large sun pads and lounge seats surrounding extendable dining tables. On the 38, the seat backs flip over and the table electrically drops to create the sun pad; the 43 and 50 both offer dining and sun worshipping options simultaneously. The 43 has flexibility to face fore or aft with the flip of the backrest while the 50's U-shaped dining or lounge seats transform into a waterfront theater when the optional 42" TV is electrically lowered from the T-top.
Cantiere del Pardo: the unique Italian style at the 2020 FLIBS
Summer kitchens provide entertainment and food preparation areas, tucked away in cockpit cabinetry, complete with refrigerator, freezer, storage, sinks and cooking surfaces. All models have spacious bow sun pads, smartly upholstered in automotive stitched or smooth Silvertex, remaining cool and durable under any marine conditions. Signature rectangular fenders have dedicated convenient storage under the transom.
The carbon fiber hardtops and Parema Italian windshields protects the glossy black fiberglass and carbon fiber cockpits and helms which are equipped with state-of-the-art technology including optional Quick Bow Thruster, Zipwake, and joystick controls with Volvo engines. Strategically placed cup holders and recessed areas for incidentals storage create a clean and organized dash.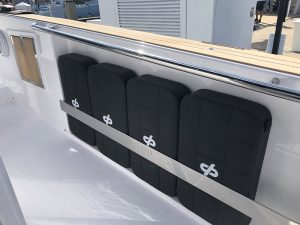 Storage is abundant, especially in the larger models. In the 43, the sun pad lifts offering copious space for luggage and provisions while in the 50, the space opens to reveal a garage for a tender, PWC or water sports equipment.
Below deck, Pardo Yachts defy space constraints by providing large cabins complete with a berth, wood cabinets for storage and modern heads with porcelain sinks. The larger models have separate showers in the head and two sleeping cabins; in the 43, a storage area can optionally become the second cabin. In the 50, both cabins cleverly layout with large en suite heads and showers and even have room for a separate "skipper cabin." All below deck spaces have unexpectedly tall head room, LED lighting and natural light from rectangular portholes.
Pardo has created a range of elegant yachts ideal for day cruising or island hopping – a striking sight at dock, on the sand bar or challenging the open water. For the day, for the weekend or for an extended stay, Pardo escorts in prestigious Italian style.