Catana 53 : a 110-mile-long sea trial
After seeing with my own eyes and touching with my own hands the hulls under construction, I didn't hesitated and I invited myself on board the Catana 53 for the transfer that, after the Cannes Yachting Festival, would have taken her to the Genoa Boat Show.
In Canet en Roussillon, that is in the shipyard where both carbon-infused Catana and fiberglass Bali crafts are built, I had the pleasure to see how these catamarans are built. The sophisticated lamination processes are carried out under vacuum for both the two brands, which results into a considerably lighter weight. After seeing the entire building process, I understood why the Catana 53 had proved to be so efficient during the sea trial that now I want to tell you.
The skipper of the shipyard, the legendary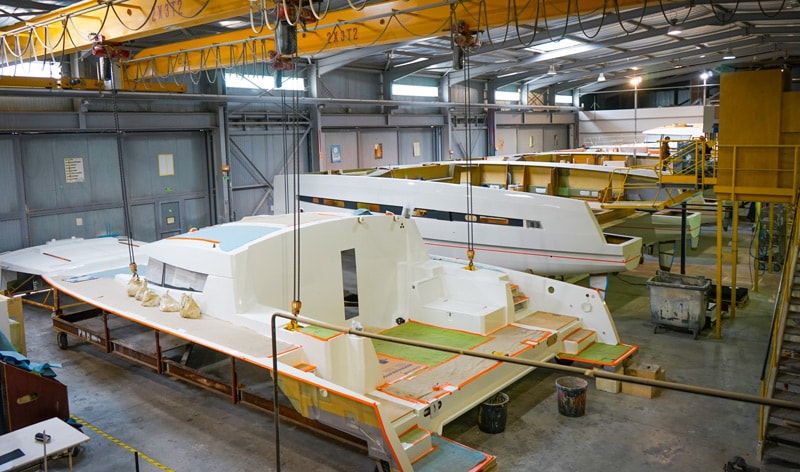 Mr. Wilfrid, was on board and had to pursue the only goal his, equally legendary, owner, Mr. Oliver Poncin had set: "the Peruvian customer who will come with you must order a catamaran just like this".
This precise goal characterized and transformed our transfer into a real "crossing". Almost immediately, in fact, I noticed that, instead of joining the fleet of Adria Ship – the Italian importer of Catana, Bali and Elan – Wilfrid had planned a different ad hoc route for the aspiring buyer.
So, while the 12-meter Elan GT 5 sailed along the coast and had to handle with some rain, the Bali 4.3, 4.5 and 4.1, instead, opted for an offshore navigation but had to face a real rainstorm.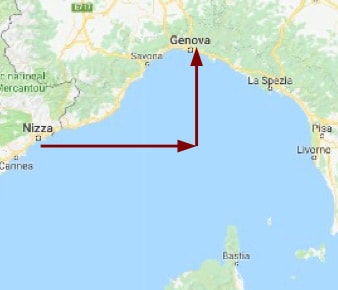 When the Catana 53 left the port of Cannes, Wilfrid decided to set course to East, as if he had wanted to sail to Livorno, but, once in Corsica, he headed to North, in the direction of Genoa.
I think that this was a very clever commercial strategy in order to: look for more wind, cross the sanctuary of cetaceans and show that the Catana 53 would have arrived not too much later than the other crews that, sailing along the coast, had reduced their route by many miles. And it was just like that, also because one of the other three catamarans had to take shelter in Imperia to save itself from a violent storm and low visibility conditions.
In addition to me, also two Adria Ship's sellers had climbed on board to test the sailing performance of this catamaran. The rainfalls raging throughout the area hadn't compromise our travel and, on the contrary, our navigation was characterized by fair winds which let me find out the amazing performances of this Catana boat.
I had already heard that, with the drop keel downwind, th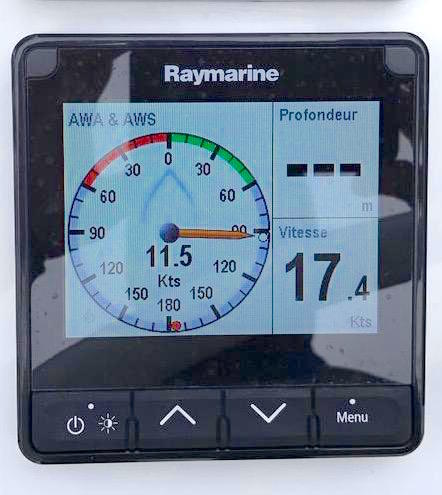 e angle reduced but I didn't believe that we could enjoy so much with an angle oscillating between 36 and 37 degrees.
Buy, maybe, we achieved the highest level of performance when, in crosswind, we started running on the quarter, so much so that, after a first moment when I was almost falling sleepy, I heard Wifrid shouting "nineteen!" and I quickly took my smartphone to shoot, after just a few minutes, the boat planing at 17.4 knots in a true wind of 11.5 knots. Unfortunately, I had missed the 19-knot exploit but I will not certainly forget those extraordinary 17 knots which are not the speed any wind-propelled boat, with a high level of comfort on board, can achieve.
I immediately remembered that, when a motorboat almost touches 10 knots, passengers risk to do the wave while, on fast trimarans sailing between 20 and 40 knots, you can't even pee; but, after this reflection, I cheekily drank another Prosecco flute and I was impressed by the fact it was perfectly stable on the table at that speed.
Maybe because of the leaping dolphins which accompanied us during our travel, maybe because of the Prosecco which helped us tasting our light meal, I don't remember a joyous, exciting and disengaged crossing like this, also thanks to the autopilot that, at full sail and with wonderful planes, worked unceasingly the whole way.
Taking care of our Peruvian potential buyer, we shared turns at the wheel and, chatting with the skipper, I found out many other small secrets of that wonderful boat.
It was obvious that, with a displacement of 14 tons and a sail pan extensible from 165 to over 200 square meters, the Catana 53 would have "flown" at more than 17 knots, making us forget that we were sailing with all the amenities one can ask from this catamaran, similar to a 140-square-meter mansion.
Moreover, they pointed out to me that the drop keels not only were over 3 meters long but they also featured a wing section, very similar to the foil of some racing yachts, which inevitably resulted into an interesting "foiling" effect and an incredible reduction in water sprays over the hulls of the Catana 53.
I was told that the model on board we were sailing had already been sold to a customer that, having chosen the three-cabin version, had customized the dinette – which, in a catamaran, is fittingly called "salon" – with eight refrigerators. Was he too thirsty or  hungry? Or, more realistically, was he planning very long non-stop crossings?
I have to confess you a secret: Wilfrid, the skipper, was the one that slept the most but, when we finally entered the Marina della Fiera in Genoa, we woke him and, with no hesitation, we entrusted him with the responsibility of the mooring maneuver.
While we were wearing our sailing jackets and jumpers, he, as a true Breton, was in shorts, t-shirt and barefoot. After rubbing his eyes, he immediately took the wheel and, alternating the two engines, he performed the maneuver so fast and so well that he was allowed to come back in his berth without really stopping his slumber: we could say a "dreamy" maneuver.
Technical Specs
| | | |
| --- | --- | --- |
| Overall length | 53′ | 16,18 m |
| Beam | 28′ 38" | 8,65 m |
| Draft boards up | 4′ 7" | 1,43 m |
| Draft boards down | 11′ 81" | 3,6 m |
| Light displacement | 14 t | 14 t |
| Main sail area | 1076 sq ft | 100 m² |
| Up wind sail area | 1776 sq ft | 165 m² |
| Down wind sail area | 2228 sq ft | 207 m² |
| Engines power | 2 x 75 hp | 2 x 75 cv |
| Fresh water capacity | 211 us gal | 800 l |
| Fuel capacity | 211 us gal | 800 l |
| Refregerator capacity | 52,2 us gal | 160 l |