Dellapasqua used boats for sale : wide range of deals directly from the Ravenna-based shipyard

For more than 60 years, the Dellapasqua DC International Yachts is a guarantee of quality and reliability, which are two elements that can be found in both new and used boats. The Ravenna-based shipyard, in fact, offers various used boats for sale which are revised in every single part by specialized professionals to become absolutely unmissable deals.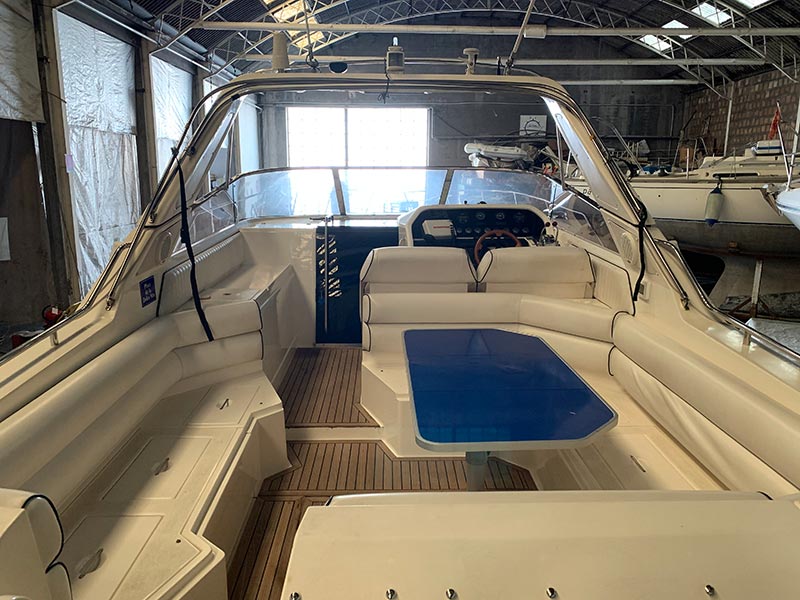 " Buying from a private seller often means buying a pig in a poke – naval engineer Alessandro Marzana Dellapasqua explains – Buying from our shipyard, instead, means taking advantage of a dedicated sales service, where we guarantee the complete operation of the used boat, which we sell revised and guaranteed, since we assist the owner even after purchase and in the event he wants to make some changes or refitting activities on his own boat".
But there's more. Unlike what commonly happens with private sellers, Dellapasqua DC, in fact, also offers the possibility of exchange. As a result, the range of boats offered by the Italian shipyard is very wide, ranging from fast and high-performance motorboats to classic gozzi and 16/18-meter yachts.
Moreover, Dellapasqua DC offers an additional sales service: the customers that have winterized their boat and want to sell it can ask Dellapasqua for advertisement through all the communication channels available, thus acting as an intermediary between the two private owners.
Dellapasqua used boats for sale: sporty yachts, cruisers and elegant gozzi
DC 10 S – Year 2007, powered by 2 x 370 hp FPT, wide cockpit, spacious dinette, 2 cabins and two bathrooms, optional accessories: new Mase generator, air-conditioner, bow thruster, hydraulic gangway, extended stern platform, full instrumentation.
Sunseeker 39 Martinique – Year 1992, powered by 2 Volvo Penta 231 HP sterdrive engines, around 500 engine hours, excellent conditions, restored in 2019. Accessories: extended stern platform, bow thruster, electric stove, 2 cabins, 1 bathroom with convertible indoor dinette.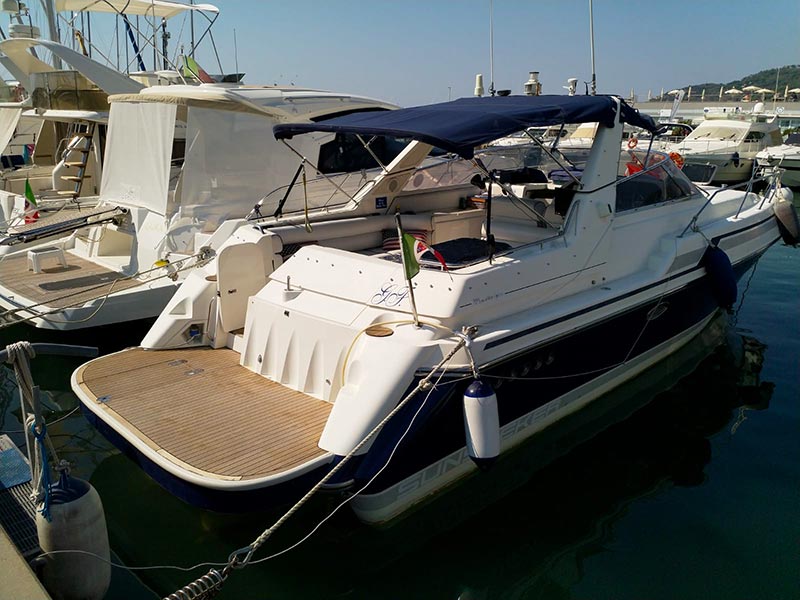 DC 12 Fly – Year 1997, powered by 2 x 400 hp Aifo, very wide and spacious cockpit and dinette, 3 cabins, 2 bathrooms, extended stern platform, hydraulic gangway.
Cicala Bertinetti – Year1990, refitting 2015, powred by 2 x 300 hp TD Diesel Caterpillar with surface propellers, berths 2 + 2, 1 bathroom.
Sciallino 33 – Year 1989, 10 meters long, powred by 2 x 200 hp diesel Volvo engine, timeless gozzo with classic lines.
DC 13 Elite – Year 2009, powered by 2 x 550 hp FPT with just 124 engine hours, 2 cabins, convertible dinette, 2 bathrooms. Accessories: bow thruster, Mase generator, air-conditioner, electric hard-top, folding hydraulically-operated gangway.
DC 16 Fly – Year 2006, powered by 2 x 770 hp FPT e DC 16 Fly, year 2002, powred by 2 Caterpillar 660 hp engines. Both with 3 cabins, 3 bathrooms and crew cabin.
DC 11 SL – Year 2009, powred by 2 x 450 FPT, used only for trade fairs with just 10 engine hours: practically like new. Five berths, 2 bathrooms and large dinette. Accessories: Mase generator, air conditioning system, hydraulic gangway, complete electronic instrumentation.
These are only some of the boats you can find in the shipyard of Marina di Ravenna. The following is the link to the complete range of used boats: http://bit.ly/UsatoDC
Dellapasqua DC International Yachts Srl
Via del Marchesato, 11 – 48023 Marina di Ravenna (RA)