Discovery Yachts : Discovery 54
It is no coincidence that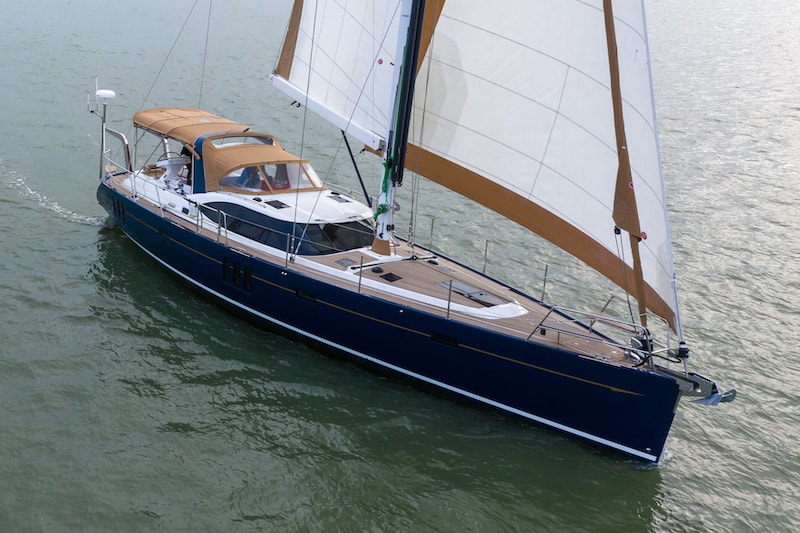 the Olympic jib is called "Solent". When sailing in this famous stretch of sea, improvisation is not allowed. Stormy winds, cross sea and strong tidal flows put both crews and boats through the mill.
It is therefore not surprising that local boat manufacturers build sturdy genuine boats, designed to sail in total comfort even in the harshest conditions.
For over 20 years, in Southampton, Discovery Yachts has been manufacturing luxury custom boats where these important features are complemented by the possibility to enjoy short-handed sailing.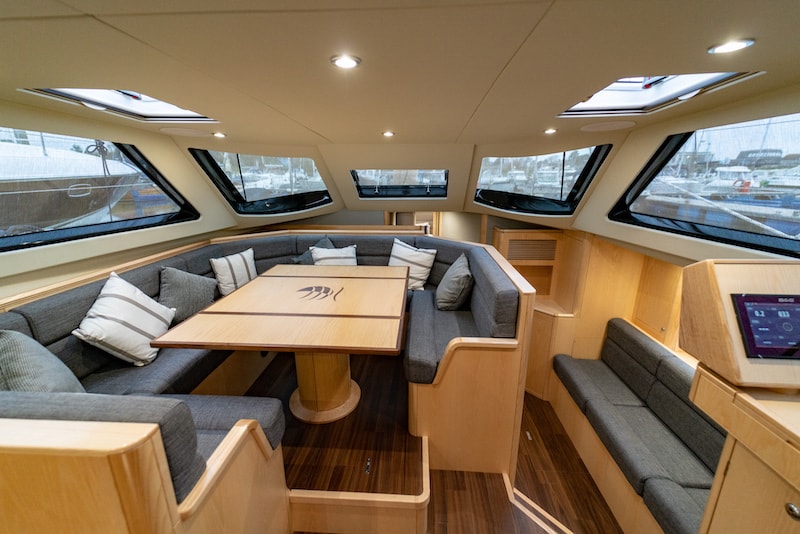 That's how those that are among the most famous and refined all-time blue water cruisers are created. Sailing yachts with legendary seaworthiness that owners choose as their "definitive boat" to enjoy their long comfortable journeys around the world.
You will therefore understand that we couldn't miss the opportunity to test, right in Solent, one of these masterpieces: the Discovery 54.
Discovery 54 Sea Trial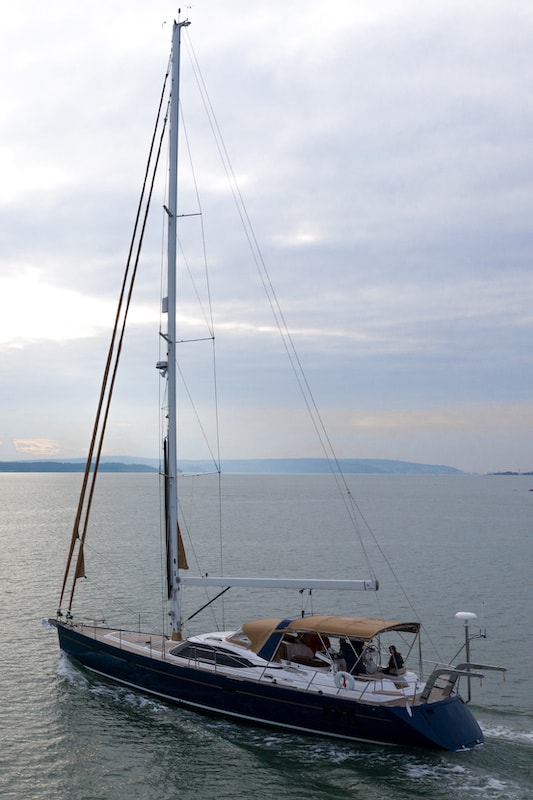 The thermometer marks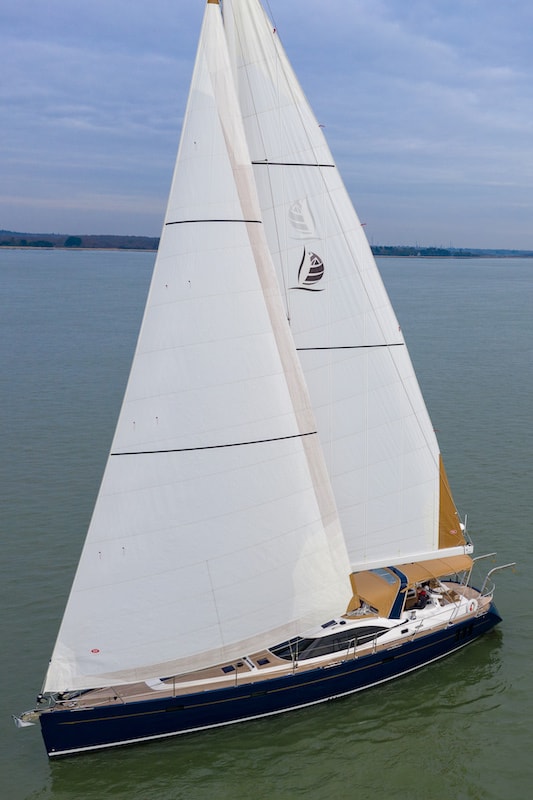 2 degrees while I walk on the jetty of the Lymington Yacht Haven Marina.
Fortunately, the Solent gives us a clement weather day today and, although it is not sunny, sea storms are not expected to come in this area.
After all, in windy conditions, all sailboats are fast but, today, the predicted 7/8-knot wind will give us the opportunity to test our yacht under almost Mediterranean conditions.
The Discovery 54 is just around the corner. Blue hull, not excessive freeboard and sleek lines are an extraordinarily sexy combination for a sailboat, and this yacht certainly doesn't go unnoticed.
The rised saloon is pronounced yet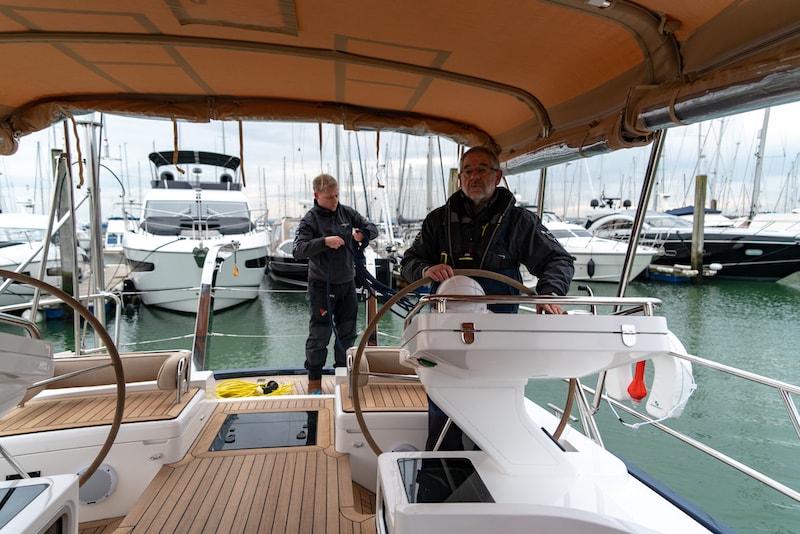 never excessive, its structure perfectly integrates with the overall design and, despite the presence of the many (yet essential here) closing covers, it renders the image of a "Gran Tourer of the seas", fortunately very far from the "Swedish" one that we are used to relate to the concept of blue water cruiser.
After all, if you want to travel around the world, it's to fill your eyes with beauty and sailing on board a boiler certainly wouldn't help you.
I climb on board using the convenient sturdy boarding ladder positioned amidships and, if I was impressed by appearance before, now I'm literally struck by the cockpit arrangement.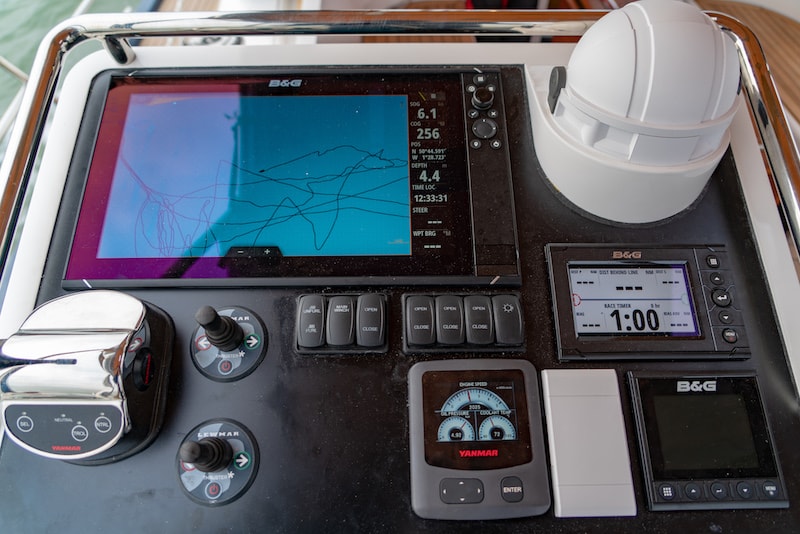 With this boat, Discovery Yachts revolutionizes the concept of central cockpit and creates a well-conceived innovative arrangement that condenses safety features without sacrificing neither the beauty of twin wheels nor the space on board.
This exterior design results into two cockpit benches that, free from a bulky wheel, can seat 6-7 people around a central table that, when closed, offers a precious circulation on board. The twin helm stations, equipped with all the yacht maneuvering control systems you need, are positioned in the middle of the stern and guarantee excellent forward visibility, even with the "winter dress" our boat wears today.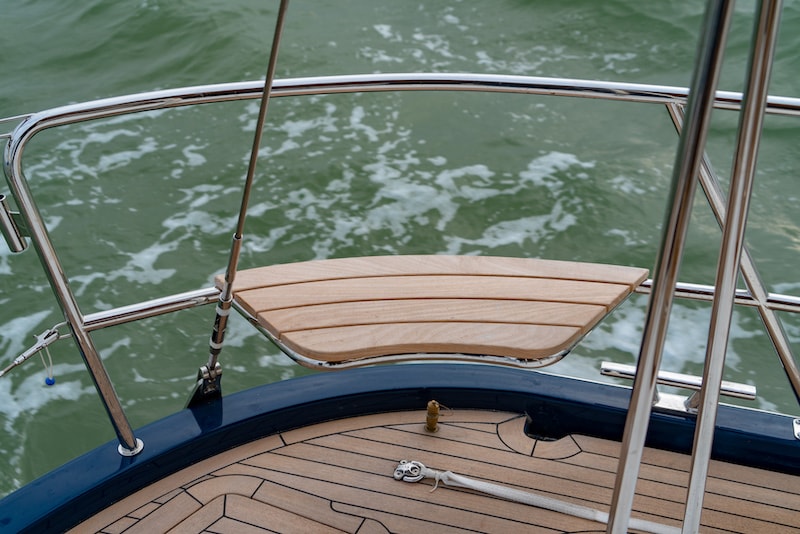 All this is made possible without sacrificing the section of the aft deck that, serving as a sun pad, accommodates comfortable functional quarter seats. In short, a great design work that makes life on board simple and efficient.
Tony Bertram, the nice and highly experienced captain of the boat, leaves the berths without difficulty. Bow and stern thrusters make steering very easy and the boat evolves without hesitation.
The Discovery 54 is fitted with a double rudder blade and a skeg, the best in terms of safety and route stability for offshore sailing; the installation of docking systems is therefore a small price to pay to sail around the world without any problems.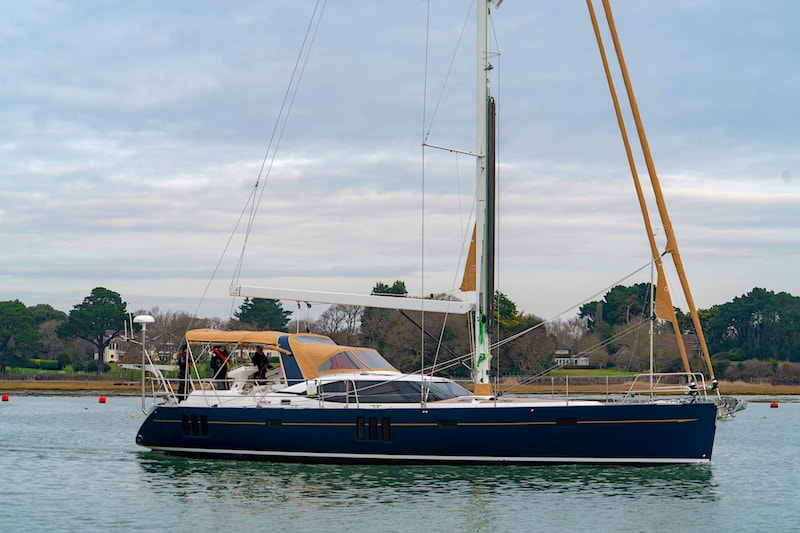 We sail the dredged channel that takes us out of the port while the Yanmar 160HP is slightly audible. With such engine option, despite a weight in running order of 25-26 tons, the yacht sails at an average speed of 8 knots without blinking an eye.
As we are out of the port, we find a current of about 2-3 knots; it flows from west to east and we have to consider it to sail and measure our sailing performances.
Like everything on this yacht, mainsail and genoa, too, are electric and hoisting the sails is a piece of cake. The wind is pretty weak, there are not more than 8 knots of true wind, maybe too few for a boat of this size.
In less than 3 minutes,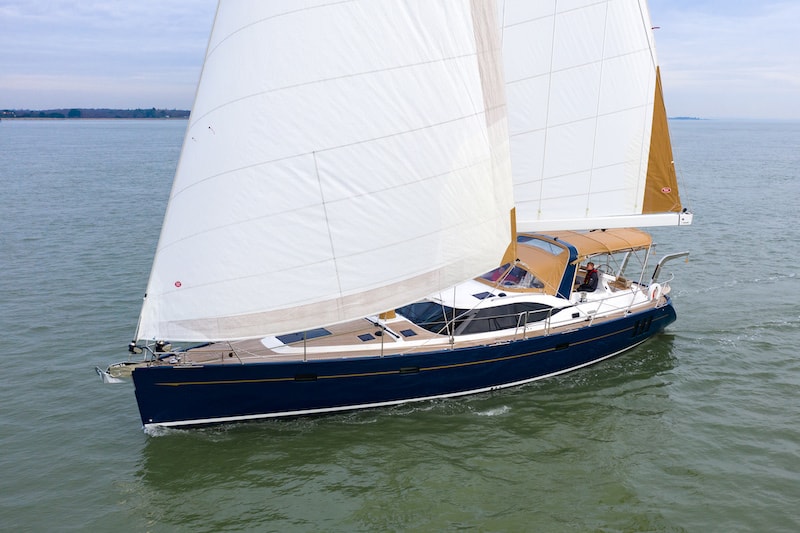 we have all the sail aloft and the Discovery 54, unexpectedly, immediately starts to move. We sail with the current in order to produce a little apparent wind and the yacht speeds up quickly: 5, 6, 6.5 knots…without never slowing down.
I trim the sails and, again, the yacht makes me perceive an acceleration, I hug the wind up to 30-35 degrees on the apparent wind, I lower my eyes and I read 8.1 knots.
Yes, it's true, we're sailing with the current but I'm honestly shocked since running at an effective speed of 5.5/6 knots in a 7/8-knot true wind is a respectable performance for a blue water cruiser. This hull is really great.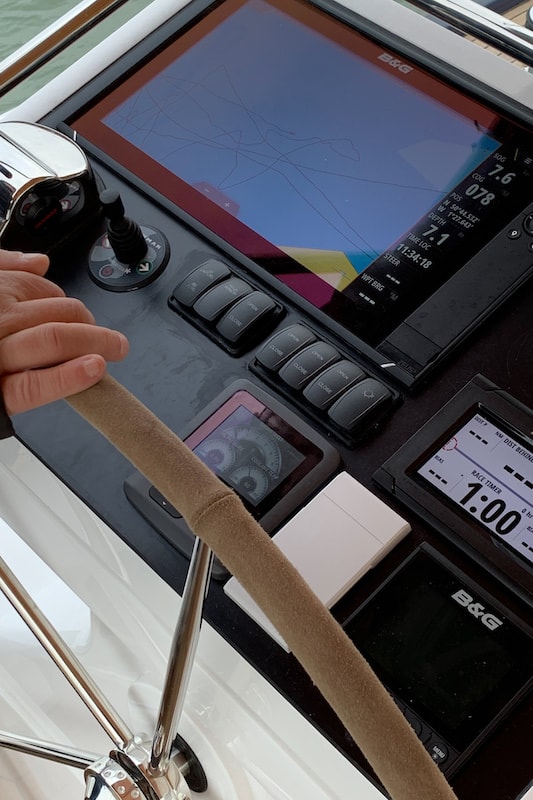 In addition to speed, what,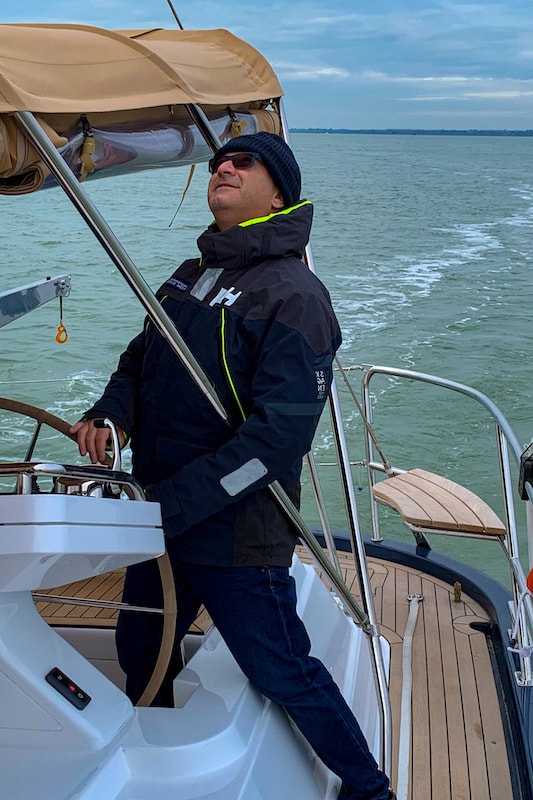 however, amazes me the most is the capacity of this yacht to hug the wind. Boats of this type usually express their best performance when sailing in a close reach; the Discovery 54, instead, hugs the wind very well.
While we sail close-hauled, I leave the wheel, the Discovery 54 keeps her route like nothing happened with extraordinary route stability. The autopilot has little to work on this yacht and, during long-distance journeys, this is a very important feature.
We tack and we bear away. Upstream, the apparent wind weakens drastically; nevertheless, we are still sailing at 3.6 knots between 80 and 90 degrees from the apparent wind that drop to 2.8 knots at 130 degrees.
Calculating the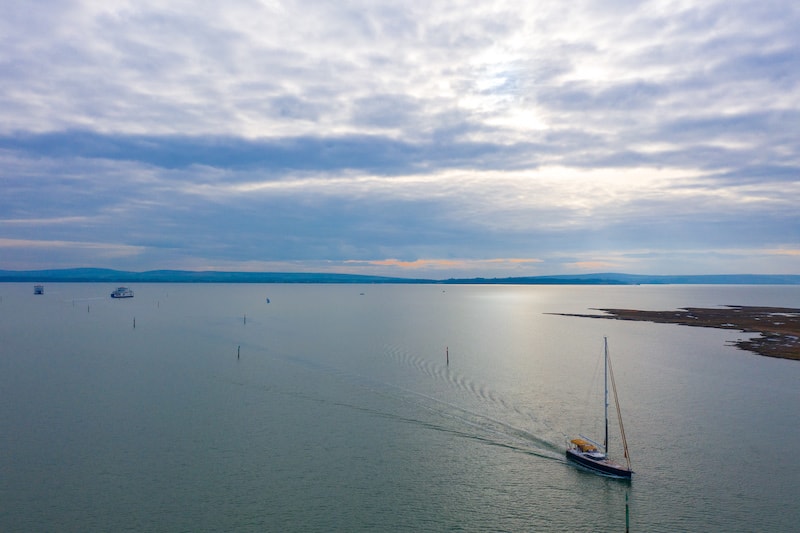 current's effect, we find out that the Discovery 54 is running at an effective speed of about 5-5.5 knots, an undeniable sign of a well-balance boat that can sail fast at all sailing points .
I let my travel companion take the rudder, I sit and try to rationalize what happened before details vanish from my mind. I walk to the table and I realize that we have sailed close to the wind with one of the smallest heeling I've never experienced: the Discovery 54 is very stable.
While we are rolling our sails with the engine off, a ferry boat passes by us – one of the many that link the Isle of Wight with the coast – but its waves have a really small effect on our yacht. The boat doesn't roll, it's almost like being on a catamaran.
We restart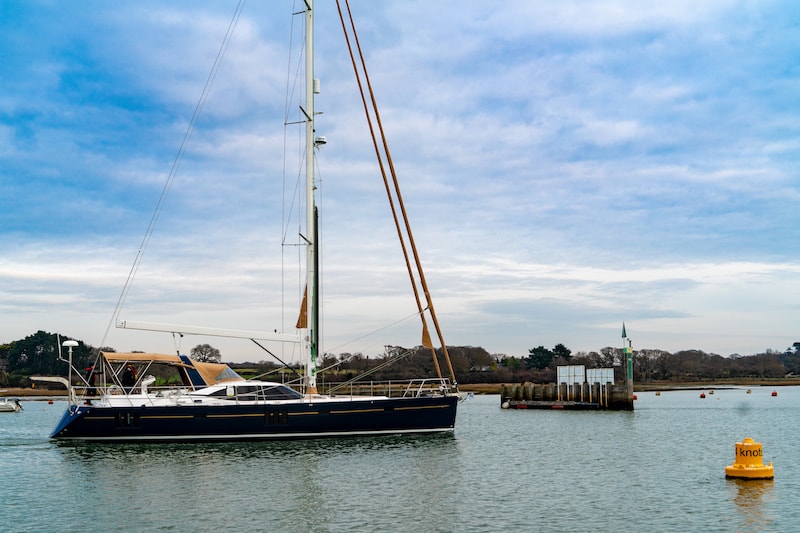 the engine and head towards the port.
This yacht is simply perfect, she successfully synthesizes all the features needed by those who want to spend a lot of time on their boat.
Stable, surprisingly fast and safe, the Discovery 54 combines successful design and extraordinary attention to detail. Essentially custom-built, she is actually light years ahead of many other and more widespread models.
Maybe that's why I don't want to get off; sailing on boats like this is a privilege that doesn't happen so often.
Discovery 54 – Performances
Sailing
Motoring
Apparent wind angle
SOG in Kn
SOG in Kn
Engine RPM
Speed in Kn
with the current
against the current
no current
30
8.1
650
3.4
40
7.6
1,000
3.8
50
7.1
1,250
4.1
60
6.5
1,500
5
70
6.5
1,750
5.9
80
3.6
2,000
7.3
90
3.5
2,250
8
100
3.4
2,500
8.5
110
3.2
2,750
8.9
120
3.1
3,000
9.1
130
2.8
Sea Trial Conditions: 7/8-knot NNW true wind, flat sea, current from 2 to 3 knots, 5 passengers on board, fuel tank at 70% , water tank at 30% , adjustable three-blade propeller
Interiors and Construction
Discovery Yachts is a shipyard that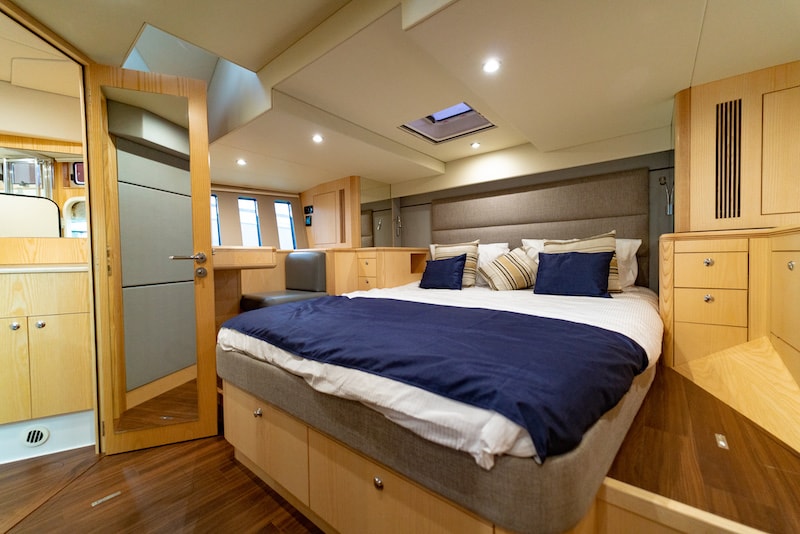 builds extra-fine boats. Taken over and relaunched some years ago by Sean Landgon, a great expert in the field, the company currently manufactures Discovery and Southerly Yachts that differ from each other only in the use of retractable keel.
The shipyard builds its boats as they were unique pieces. The staff is skillful and works in teams, each of which builds one single boat at a time.
The owner can customize his boat in all its aspects. The result is a step-by-step construction where the owner is directly involved in the building process and has the opportunity to meet the staff at regular meetings.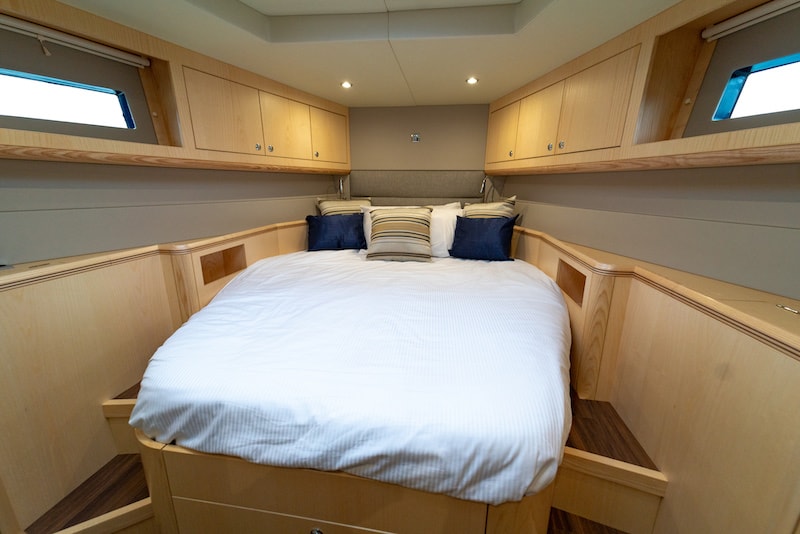 As simple as transparent, this system not only guarantees a very high level of quality but also allows to make changes even when yachts are still under construction.
The interiors of these boats are therefore so customized and different from each other that there is no sense talking about layouts. On the contrary, it makes a lot of sense talking about the craftsmanship behind these boats. Shipwrights of rare craftsmanship work here and it's a pleasure to witness their work.
Consequently, Southerly and Discovery Yachts aren't cheap at all but, if you consider what we have just written, you will realize that the price of these boats is significantly lower than the value behind them.
Discovery 54's base price, with many options already included, is £ 1,145,000 , not so much for a genuine custom yacht.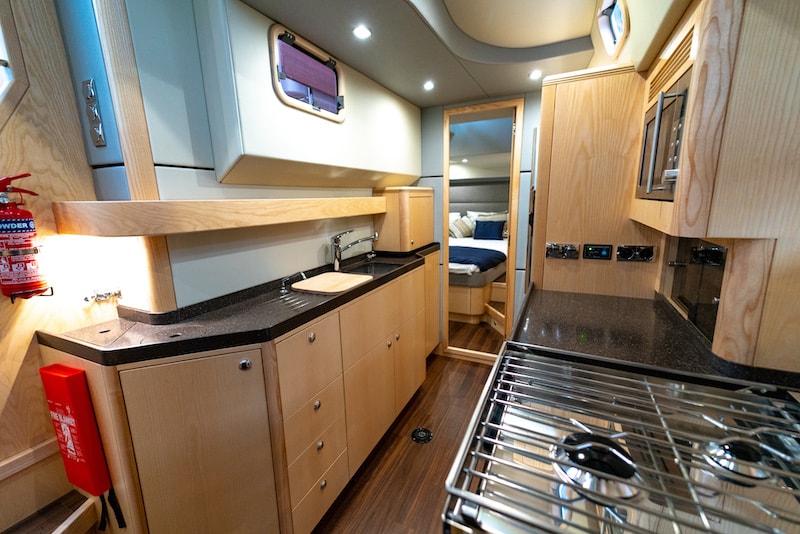 Moreover, if you compare it with their second hand value, assuming you find one, then you will see that their price drops very little over time.
How would I define one these boats briefly?
You can call them blue water cruisers, luxury yachts, seaworthy boats… you can use any title that comes to your mind even if, as you will have certainly understood from my words, they are simply perfect sailing yachts.
In other words, definitive boats.
https://www.facebook.com/tuttobarche/videos/2253038234934815/
Technical Specs and Dimensions
Overall Length:
16.83m
55'2"
Length Waterline (Heeled):
14.93m
49'0"
Beam:
4.8m
15'7"
Draft:
2.23m
7'3"
Displacement:
24,860kg
54,806lbs
Air Draft:
24.43m
80'1"
Main:
83.06mq
894ft²
Self-tacking jib:
51mq
549ft²
Furling genoa 140%:
97.30mq
1,047ft²
Engine:
Yanmar 160hp
Fuel:
970 litres
213 US Gals
Water:
800 litres
176 US Gals