Ocean Alexander Divergence 45 Sea Trial
She is named Divergence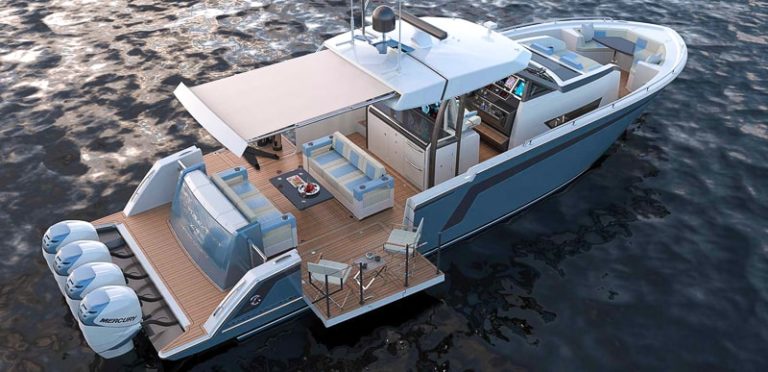 45 and her name already suggests she is introducing something completely new. Born within a shipyard like Ocean Alexander, specialized in the manufacture of yachts and superyachts from 70 to 120 feet in length, this luxury open 14-meter yacht has immediately drawn our attention.
We are talking about a highly innovative boat that, whereas on one hand it offers the level of finishes that Ocean Alexander usually uses for the construction of its superyachts, one the other hand it introduces a series of novelties that definitively distinguish it from the rest of the market.
Designed by Evan Marshall, one among the most renowned designers of megayachts, the Divergence 45 is a particular centre-console design.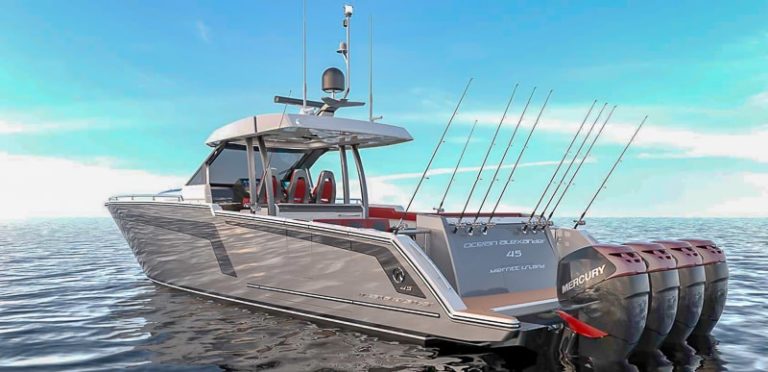 Indeed, the Divergence 45 can be literally "configured" to be a superyacht chase boat or the ideal sport yacht for your daily outings, a luxury "fishing machine" or the perfect boat for your diving excursions.
The possibility of choosing between more than 400 chromatic variations as well as the opportunity to customize on-board equipment, say a great deal about the intentions of this project that makes "transformation" one of its main strengths.
Even if, at first glance, the reason why people will buy her is already clear: she is beautiful and charming. So beautiful that we've wanted to test her.
Ocean Alexander Divergence 45 Sea Trial
It's early in the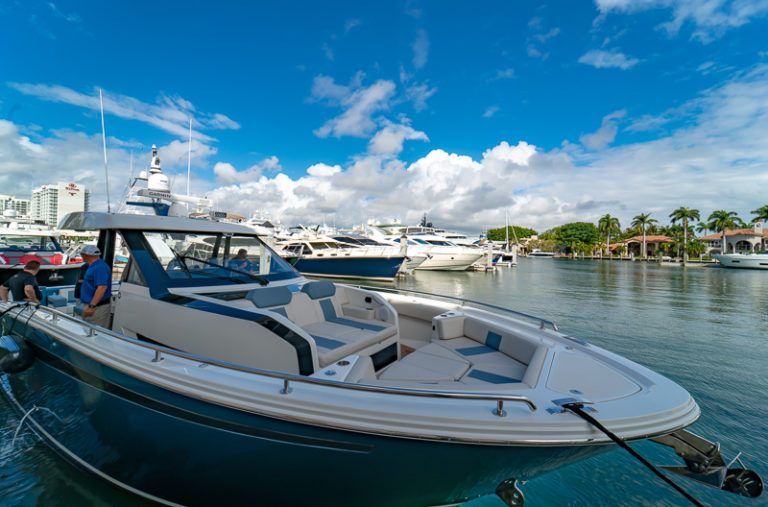 morning when I get Pier 66 Marina in Fort Lauderdale.
Two Divergence 45 are waiting for me; left in the care of Marine Max, one among the most important dealers of America, they are moored laterally and show off.
The visual impact is great, the bow is high and strong, the outline is intriguing. Aft, four matching Mercury Verado 350 complete an overview that is an open invitation to use this boat.
The captain opens one of the two side openings and, without jumps or acrobatics, with just one step I'm on board and immediately start to study the spaces of the Divergence 45.
The deck plan of this Ocean Alexander is simply perfect. It's an uncompromised walk-around, the surface has no steps and you can move from aft to forward without any interruptions on the same level. The large beam provides wide side decks and an incredibly welcoming pilot house.
Evan Marshall has managed to ennoble the classic walk-around design, taking it to an upper level. The Divergence 45 is luxury, elegant and terribly functional.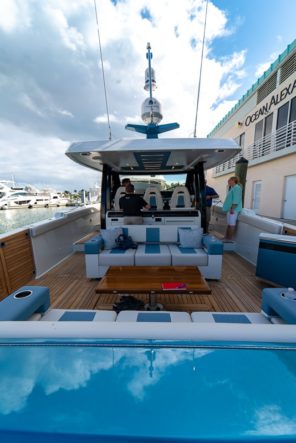 Just look at the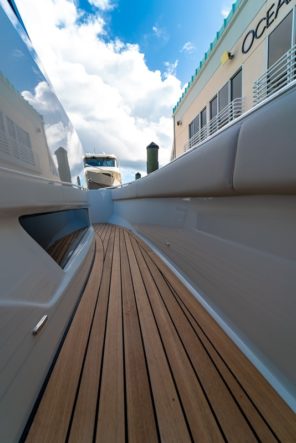 arrangement of central elements to realize that: the bow sofa, the pilot house, the two sofas in the lounge and the aft structure are all elegantly aligned and, as we will see later, hide many innovative unexpected solutions.

But I'm looking forward to testing this boat, so I urge guests to get comfortable while the captain starts the four outboards we have at the stern.
We release mooring lines and go out of a rather difficult lateral mooring quite easily. On board, there is the best of Mercury electronics: Joysting Piloting and Active Trim and, with these solutions, the Divergence 45 can be steered even by a beginner.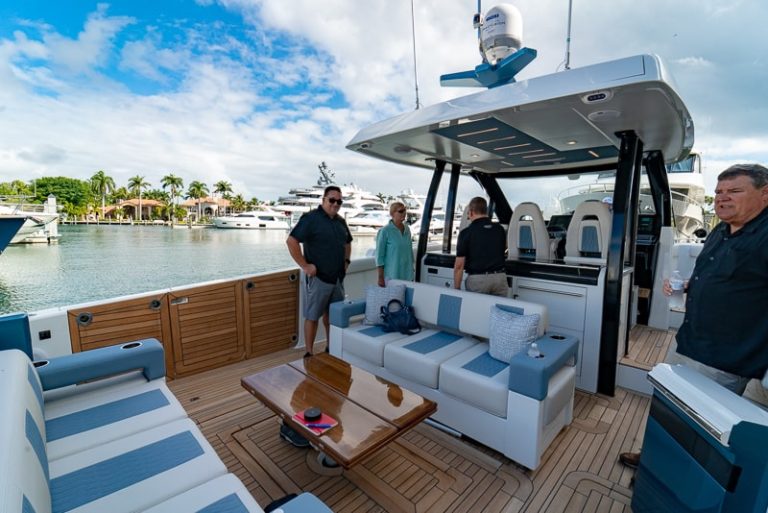 We sail down the inland channels until we reach the ocean. There, we find a residual wave that, still significant, is a couple of meters high: the ideal conditions to test this boat.
On board, there are seven passengers but the boat seems to be empty, there's room for a lot of people that can move freely and completely undisturbed.
I take note of this important characteristic while I take the helm and, given sea conditions, I ask passengers to sit down and hold tight.
I put out to the ocean and, sailing at 6-7 knots, the Divergence 45 advances on waves unperturbed, she is stable and comfortable. I accelerate until the boat starts planing at about 14 knots; then, the hull leans against the water and I find myself in a new dimension.
Everything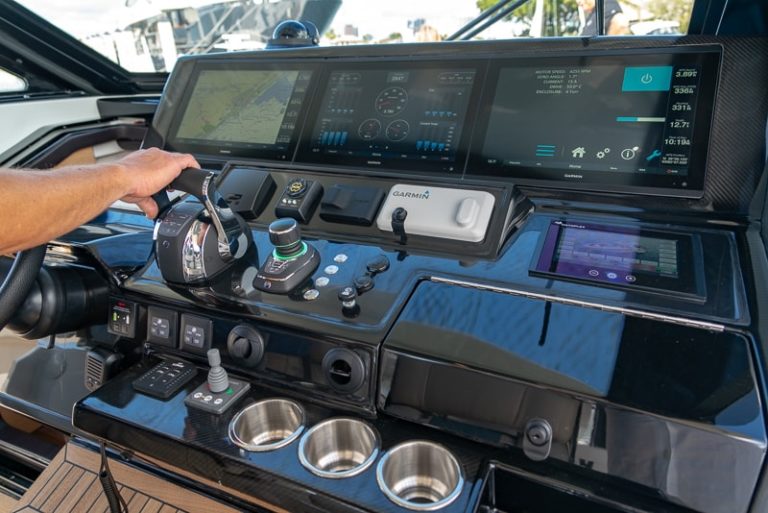 becomes soft and progressive, the hull cuts through the big waves without hesitation and without any impacts. Under these sea conditions, I would never have expected that.
I keep on accelerating, I reach 25 knots (almost 30 mph) while waves simply run beneath us without provoking shocks and without making this Ocean Alexander have doubts. I turn around and look at the passengers. They are chatting in total comfort as we are sailing in calm waters.
I tell them I'm going to perform a series of tight turns, so I start to run fast. The Divergerce 45 lists, gets the trajectory and sails as she is following a couple of imaginary rails. I counter-turn suddenly and she follows me without hesitation and it's just like a MotoGP motorcycle in a chicane.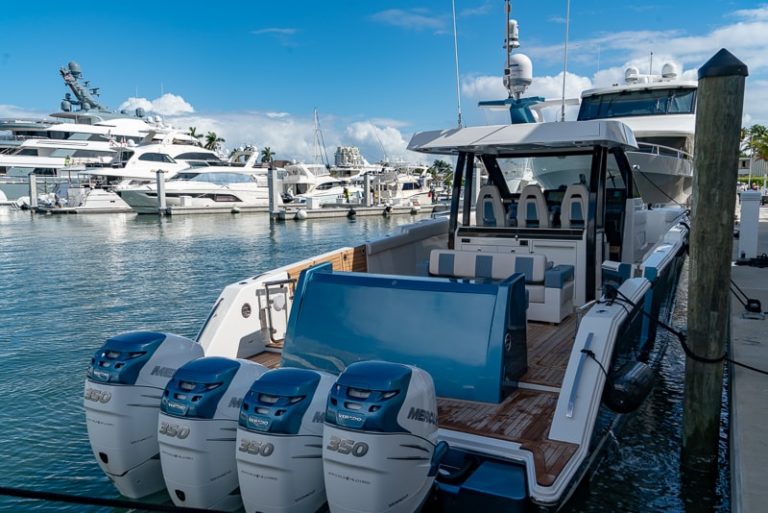 I insist in the attempt to find a limit that, despite all my efforts, speed and waves, I don't find. This hull is excellent, there's no more to say. I get back on a rectilinear course and, at the same time, I see passengers relaxing.
I want to test the top speed. On board other boats, under these sea conditions, I wouldn't even think to try. I push on the throttles and the Verado, great as usual, promptly react and go from 4,000 to 6,000 rpm.
The Divergence 45 faces waves that, at over 30 knots (35 mph), start to show their impact, always without any uncertainty.
We keep on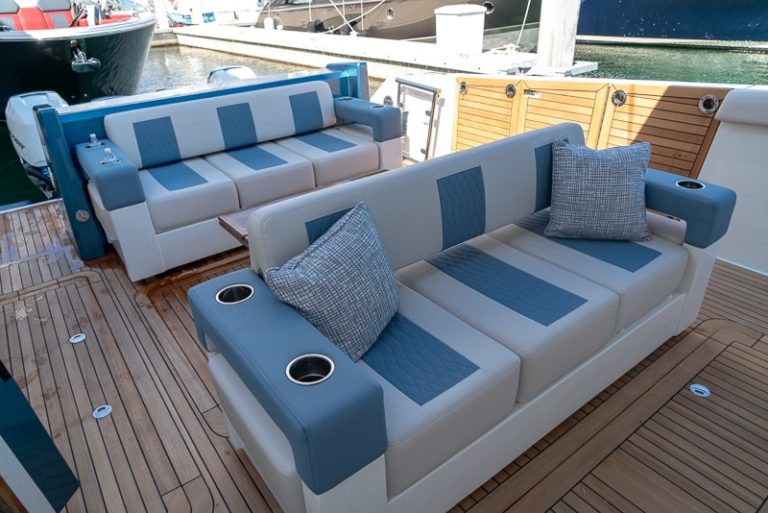 accelerating while the GPS rattles off increasingly important numbers; then, we reach the top speed while the Active Trim does a great work.
We're at 41.5 knots ( 47.7 mph) and waves impact is clear.
The boat jumps from the the tops of waves and touches the water immediately after. The Divergence 45 advances without hesitation, landings are soft, the route doesn't change. A hull like this enables you to navigate in total comfort and, above all, in total safety.
I slow down and, even if I wouldn't want that, it's time to come back. A last look at the passengers confirms that they, too, have had a good time and, like me, they don't want to get off.
I leave the captain take the helm, I look around, the boat is dry and not even a drop of water has entered.
What a boat, guys! What a boat…
The transformism of the Divergence 45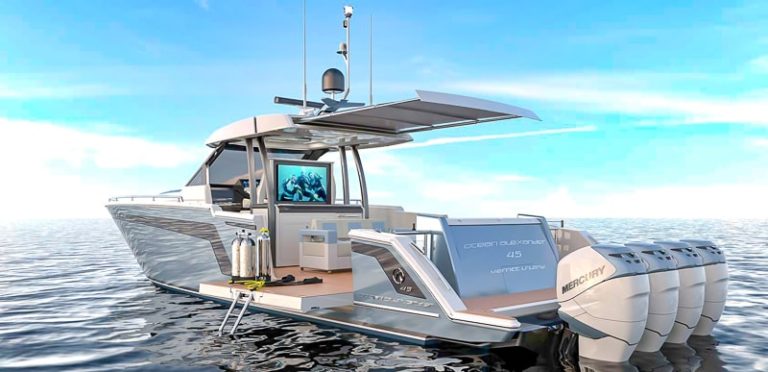 A deck plane able to replicate the functions of a mega-yacht, that's the Ocean Alexander Divergence 45.
Two foldout balconies take the overall length of this open boat to almost six meters and transform it into a beach area that is the envy of a 30-meter boat's one.
The two sofas are genial and, through a simple mechanism, they go from facing towards each other to a version where they are both forward-facing.
Thanks to the huge LCD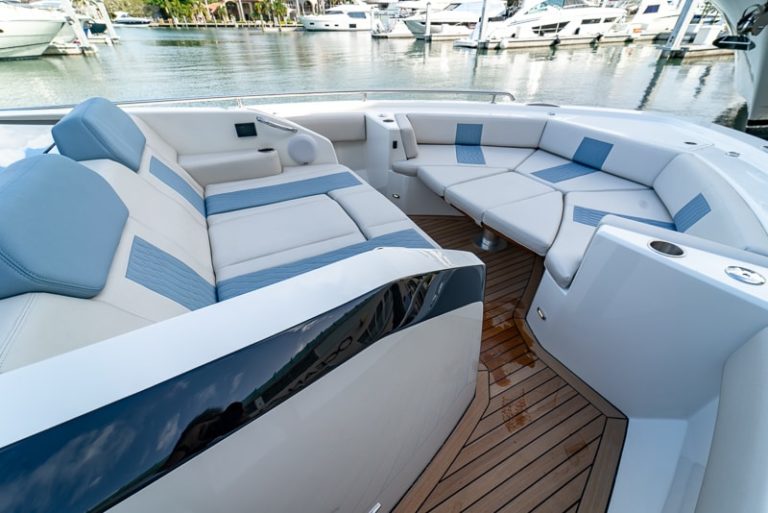 screen on the bar cabinet, this transforms the area into a large outdoor cinema that can seat up to 10 people in total comfort.
At the bow, we find a real Portuguese bridge that, similar to those you can find on a mega-yacht, can accommodate passengers during navigation, cuddle them in the shadow for a cocktail or welcome them for sunbathing.
Carbon poles allow to install elegant sunshades or act as guardrails for the terraces that therefore turn into real balconies suspended on the water.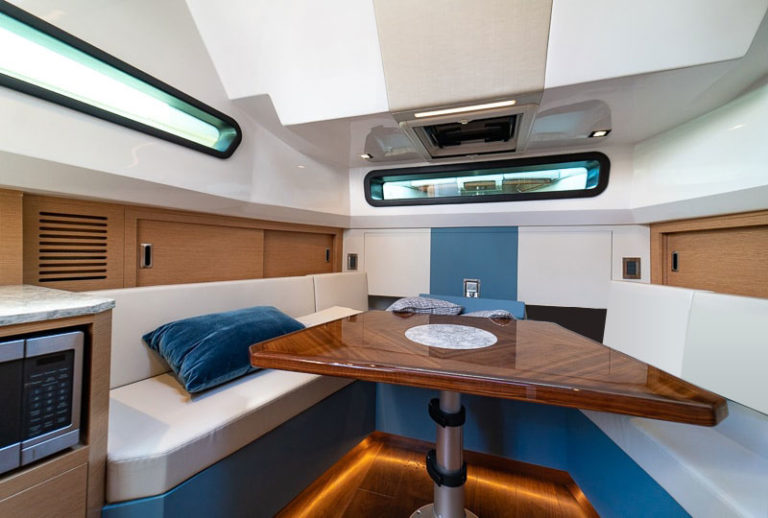 Below deck, the cabin is huge, equipped with a large convertible sofa in the middle, a separate bathroom and a kitchenette perfect for daily use.
Ocean Alexanders offers the Divergence 45 in two basic versions: one is inspired by underwater activities while the other is dedicated to fishing but, believe me, this is just the tip of the iceberg because this open luxury yacht is so customizable and versatile that is practically able to meet any owner's needs.
Divergence 45 : the sea trial in numbers
| | | | | | | |
| --- | --- | --- | --- | --- | --- | --- |
| RPM | MPH | Knots | gal/h under power | gal/h | l/h | l/nm |
| 600 | 5 | 4.3 | 0,6 | 2.4 | 9.1 | 2.1 |
| 1,000 | 6 | 5.2 | 1,1 | 4.4 | 16.7 | 3.2 |
| 1,500 | 7.9 | 6.9 | 2 | 8 | 30.3 | 4.4 |
| 2,000 | 10.4 | 9.0 | 3 | 12 | 45.4 | 5.0 |
| 2,500 | 11.7 | 10.2 | 4 | 16 | 60.6 | 6.0 |
| 3,000 | 12.9 | 11.2 | 5.1 | 20.4 | 77.2 | 6.9 |
| 3,500 | 14.5 | 12.6 | 7.5 | 30 | 113.6 | 9.0 |
| 4,000 | 18.4 | 16.0 | 9.1 | 36.4 | 137.8 | 8.6 |
| 4,500 | 25.1 | 21.8 | 12.5 | 50 | 189.3 | 8.7 |
| 5,000 | 36.7 | 31.9 | 18.5 | 74 | 280.1 | 8.8 |
| 5,500 | 41.4 | 36.0 | 21.2 | 84,8 | 321.0 | 8.9 |
| 6,000 | 47.7 | 41.5 | 25.2 | 100.8 | 381.6 | 9.2 |
Divergence 45 – Technical Specs
| | | |
| --- | --- | --- |
| Maximum Length (with engines, trimmed down) | 47'5" | (14.45 m) |
| Length Overall (hull only) | 44'8" | (13.61 m) |
| Waterline Length | 37' | (11.29 m) |
| Maximum Beam (bulwarks closed) | 13'9" | (4.19 m) |
| Expanded Beam (bulwarks open) | 19'1" | (5.82 m) |
| Draft, Hull (engines trimmed up) | 30" | (76 cm) |
| Draft, Hull (engines trimmed down) | 37.5" | (95 cm) |
| Air Draft (VHF antennae down) | 16'2" | (4.93 m) |
| Dry Displacement (ESTIMATE, base) | 26,100 lbs | (11,838 kg) |
| Dry Displacement (ESTIMATE, w/ engines) | 28,900 lbs | (13,109 kg) |
| Loaded Displacement (ESTIMATE, w/ engines) | 33,950 lbs | (15,399 kg) |
| Deadrise | 18 degrees | |
| Fuel Capacity (Gasoline, engines) | 607 gal | (2,298 L) |
| Fuel Capacity (Diesel, generator) | 60 gal | (227 L) |
| Water Capacity | 100 gal | (379 L) |
| Holding Tank Capacity, Waste | 40 gal | (151 L) |
| Maximum Load (est., engines, passengers & gear) | 7,000 lbs | (3,175 kg) |