The Franchini Mia 63 is undoubtedly the most awaited 20-meter yacht of the market. Her innovative and beautiful lines had already received significant public attention 8 months ago when, during her presentation at the Cannes Yachting Festival, it became clear that this yacht was intended not only to break the mold but also to lay down new standards in terms of design and usability.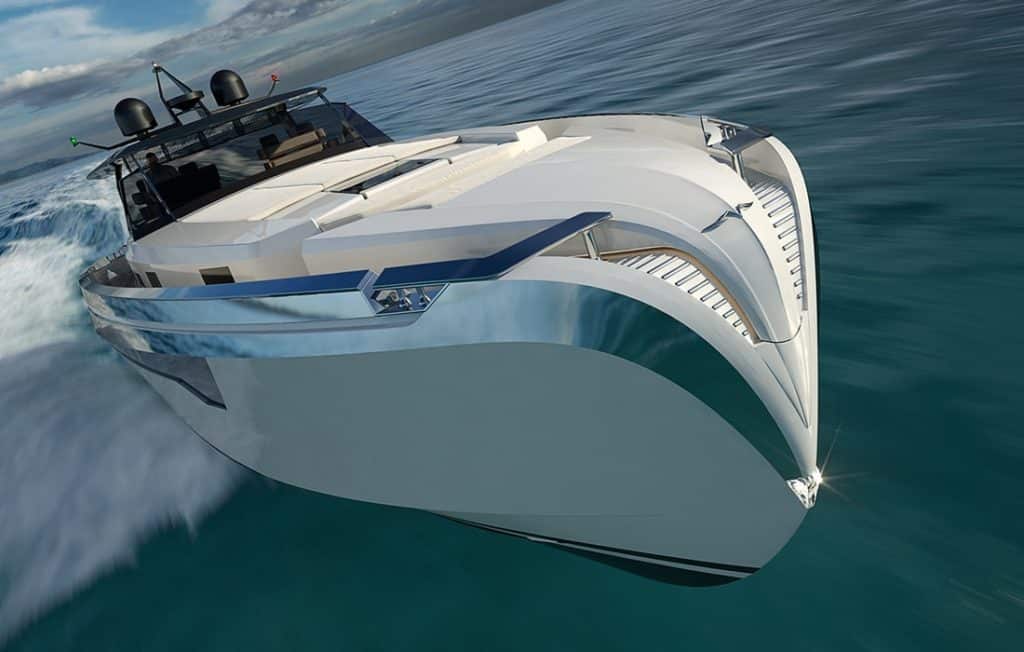 The pencil of Massimo Franchini has managed to trace the contours of an extraordinarily unique boat, which simultaneously combines the beauty of a runabout with the livability of a motor yacht, the functions of a small-sized superyacht with the sporty lines of a speedster.
The Franchini Mia 63 is a boat completely different from the others, her construction went on at a rapid pace and we could not but interview her creator, Massimo Franchini, who, like us, is looking forward to seeing her touch her natural element: the sea.
Massimo Franchini
L.D.A The moment has come.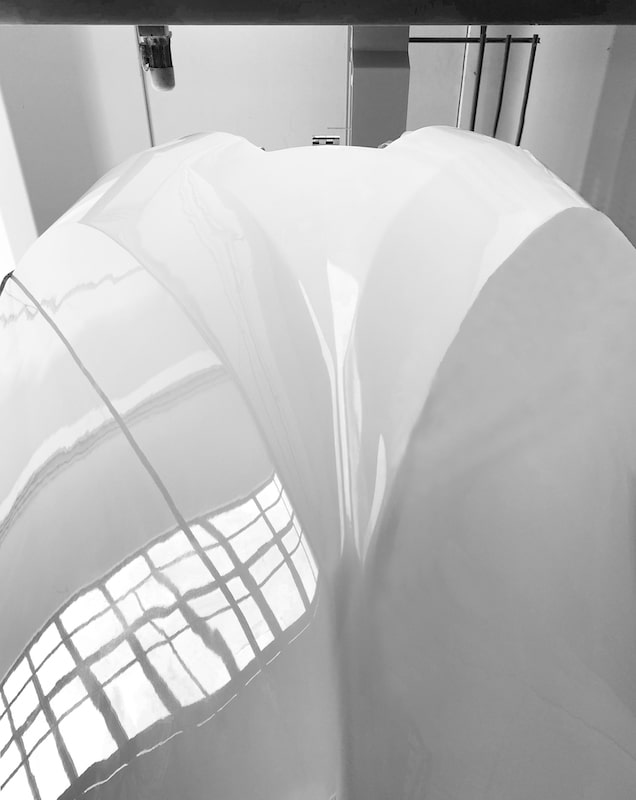 Massimo, how are you spending these last weeks before the launch?
M.F. "There's much expectation, on my part of course but also on everyone's part and this implicitly intensitifes nervousness. Fortunately, this long period of forced stop did not compromise our agenda that is fully respecting our original "schedule" without any problem. The boat exists and is almost complete".
L.D.A The "most beautiful bow of Cannes" is a great responsibility and we have seen you more than once under there, looking at it and studying it. How much have you worked on it and how many times have you revised it?
M.F.  "I retouched it only once, after the first polisher hand. I looked at it and stopped the work for a day, putting aside all renderings and technical drawings, and then I asked for a few yet important touches, those that only expert hands can give. Then, I looked at it and I felt satisfied, now it's exactly how it should be".

L.D.A. But Franchini Mia 63 is not just a bow. It's a large open boat with a length of almost 20 meters. Did construction respect the original drawings? Are we really about to witness the birth of a runabout of this size?
M.F. " After having dismantled scaffolding, we were finally able to admire the boat in its entirety. From a distance, it might seem small, which is the irrefutable sign of a well-balanced graceful design. Getting closer, instead, it gets bigger and you can finally realize the real size. When climbing on board, this "magnifying less" effect amplifies and you realize that both interiors and exteriors are incredibly much bigger than expected".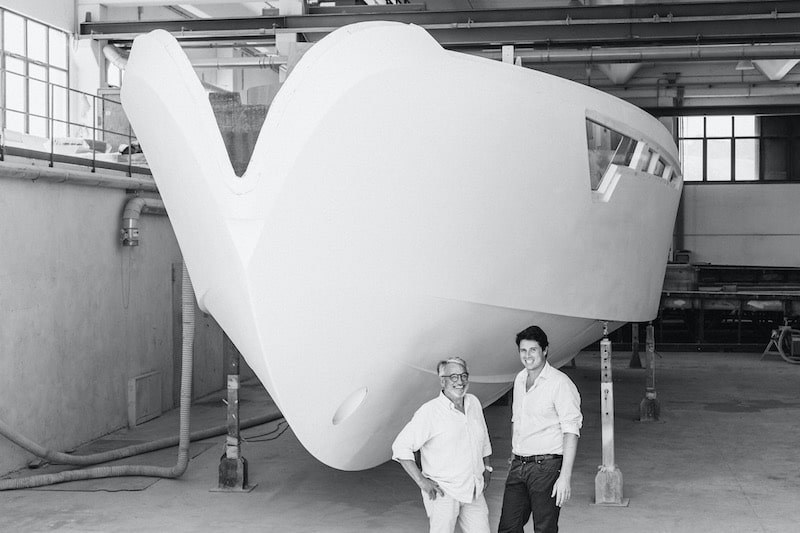 L.D.A. Actually, only a few details were unveiled about interiors, just some renderings which suggested that the shipyard's philosophy was oriented towards a performing "semi-custom" concept. How are the interiors of the first Franchini Mia 63? What layouts and what essences did you use?
M.F. "For the first unit, we have opted for a complete configuration which represents maximum comfort and livability. Three cabins, three bathrooms and a crew cabin that is an authentic fourth cabin with separated entrance, private bathroom and shower bow.

The Master Cabin is intended to the be the "must" of the boat. So, we have created an elegant suite where, to be honest, the walk-in closet is probably exaggerate in size. After all, the current trend it to leave many stuff on board and the stowage space is never enough. We have worked hard on lighting solutions and this contributes to make the spaces look even bigger.
Indoor spaces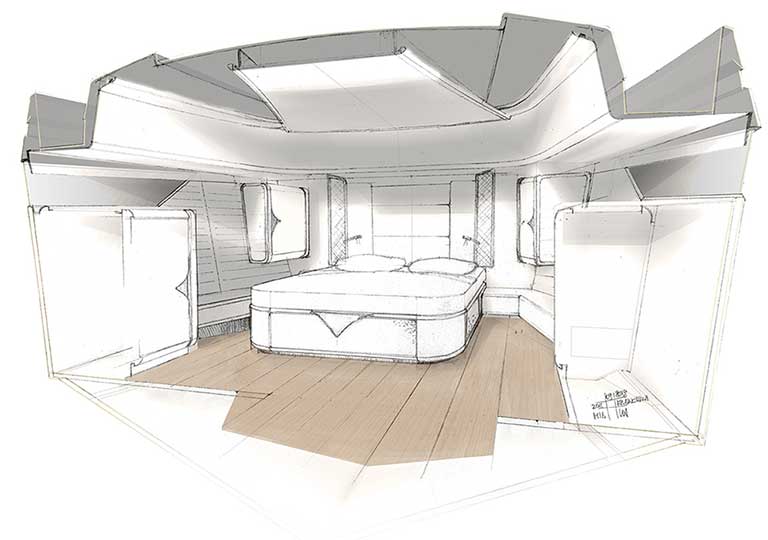 are the result of a thorough study intended to innovate spaces by making them less "trivial". Corridors and common linear prospectvives have therefore been removed. While maintaining a common thread, spaces have been arranged in order to be compeltely different from each other. Since what we want is a boat that can astonish the passenger every time he climbs on board.

As for interior essences, we have chosen a precious canaletto walnut wood that, despite a strong personality, goes very well with many types of furnishings and decorations, including the most exuberant ones. It's undoubtedly a good base for interior design customization, in accordance with our custom philosophy.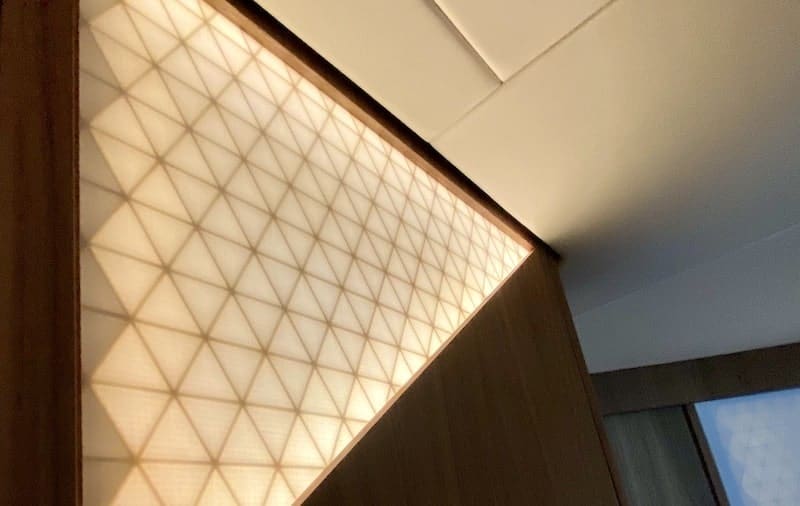 We have used contrasting wood and white textures, combined with an enveloping "Armani" brown which contributes to innovate the style without exaggerations. This innovation is instead more evident in the materials used for inserts, where we used onicom panels that are honeycomb panels made of wood and resin which become translucent and which, combined with some backlit walls, become the characterizing element of the interior décor and give an unparalleled feeling of space.
The stern accommodates a huge garage for a jet tender from 3 to 45 meters and all the water toys you can take on 20-meter open yachts.
L.D.A. Hearing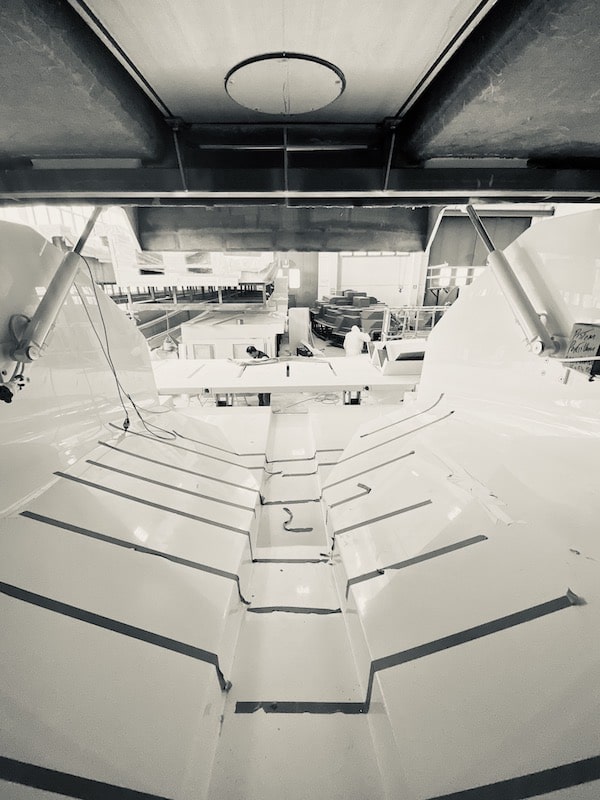 you talk and re-reading the article we wrote in Cannes, I realize that the Franchini Mia 63 has many of the elements common found in the superyacht segment.
The bow houses a huge Portuguese deck which, equipped with 4 carbon poles and a darkening top, creates a boat in the boat; the master cabin includes a walk-in closet and the stern accommodates a tender garage for water toys…. these are all elements common found on bigger boats, arent' they?
M.F. "That's exactly the position of our Franchini Mia 63, which actually looks a lot like a small superyacht. This is confirmed by the master bathroom, which is a separate environment with independent areas and a shower box in the middle"
L.D.A. Let's talk about more technical aspects. What about propulsion and performance?
M.F. "The first Franchini Mia 63 will be powered by two Volvo IPS 950 engines which, although not exaggerated compared with the overall boat size, are expected to deliver a top speed between 30 and 34 knots thanks to the excellent hull of the boat. For a more exiciting cruising experience, IPS 1350 engines are equally available". 
In conclusion, this Franchini Mia 63 does not cease to intrigue us. I look forward to getting my hands on her, and you?
Franchini Mia 63 Technical Specs
| | |
| --- | --- |
| LOA | 19.20 m (63 ft) |
| LH | 18.20 m (60 ft) |
| Max Beam | 5.24 m |
| Draft | 1.40 m |
| Fresh Water Capacity | 1,000 l |
| Waste Water Capacity | 400 l |
| Fuel Capacity | 3,000 l |
| Engines | VOLVO IPS 950 |
| Unladen Displacement | 21,000 Kg |
| Laden Displacement | 27,000 Kg |