Goodbye Tullio Abbate: the legend of motorboating died at the age of 75 in Milan
Coronavirus took away a legend of motorboating. Tullio Abbate, famous all around the world for having represented the myth of marine speed and the excellence of fast Made in Italy powerboats for over half a century, passed away yesterday at the age of 75. Mr. Abbate had been hospitalized for days at the San Raffaele Hospital in Milan and fought to the last against Covid-19.
Born in Tremezzina, on Lake Como, son of the unforgettable Guido Abbate, he opened his first shipyard in 1969. His passion for boating dated back to his early teens. " I was 14 when I joined my father's shipyard – Tullio said – He was a giant, I hung on his lips. At that time, he installed Fangio's Alfa Romeo engine on a motorboat. The result was " Laura", the boat with which Margio Verga set the world speed record arriving at 226 Km/h. My father sent me to France, where I studied French and knew the greats of Formula 1, such as Stewart and Clarke and entrusted me to GB Guidotti to introduce me to the world of speed "
Watchword: speed
Speed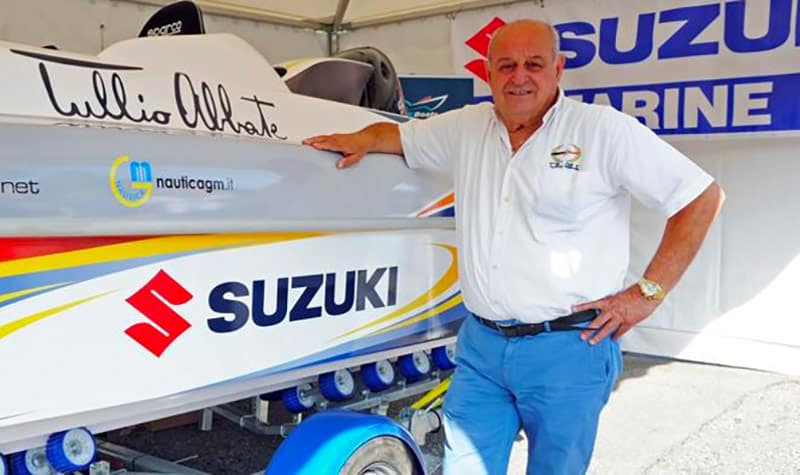 was the watchword which accompanied him through all his life. It is no coincidence that he held several records.
As a pilot, Tullio Abbate won everything there was to win: European championships, world competitions and the Centomiglia del Lario, so dear to him and won eleven times.
" I'm a lake man and I would never abandon this corner of the world – he confessed – This is the birthplace of the Sea Stars and the Offshore 36, the Executive and the Exception, a boat that changed the history of boating. Speed and safety are my cardinal points"
A man of great humanity, Tullio Abbate built sincere friendships with many sports champions, from Gilles Villeneuve to Ayrton Senna, from Michael Schumacher to Diego Maradona.
GoodbyeTullio Abbate,

a long history of elegant boats
Sport, of course. But the first true love, we said, has always been motorboating, so much so as he accepted the challenge, widely won, to continue his father's career as a boat manufacturer.
The Mezzegra-based shipyard built over 8,000 boats, most of which of small size, combining high technology, Italian design, traditions, elegant lines and classic details.
Among the boats signed by Tullio Abbate, we mention Sea Star, Elite, Mito, Sunshine 28, Soleil 35, Villa d'Este Special, Superiority 52. A long success story that will continue to be written by his children.
Tullio Abbate, the king of speed, was defeated by a stronger opponent. " This time, even Daddy Guido would have no criticisms to move – he said in an interview – The circle closes and I go back to where I started. I go back to him. With a unique boat and with the smell of glue under my nose". Bon voyage, Tullio.