The new Ice Cat 64 promises remarkable performance and great volumes on board

When looking at her from the side, the sporty look of her lines catches the eye.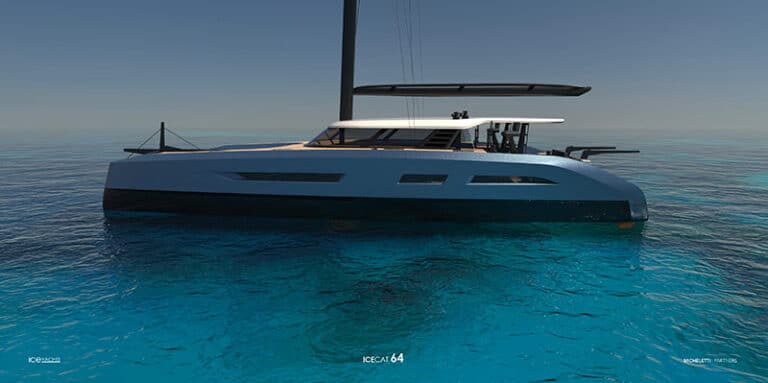 Not surprisingly, the Ice Cat 64 promises remarkable performance and much more: thanks to a thin hull that significantly minimizes friction and a topside that widens above the waterline, the boat offers generous volumes inside.
On board the Cat 64, speed and comfort do not cancel each other but complement each other, creating an unprecedented multi-hull model which represents the best response to the cubit shapes which, unfortunately, we are used to. Through a clever optimization of volumes, both on and below deck, the Cat 64 benefits from 12% more usable space, compared with the previous and successful Cat 67.
In addition to being spacious and fast, the Ice Cat 64 is also beautiful and stands out for her undisputed class and elegance. Her sleek, streamlined, clean and essential lines are the result of a joint collaboration between interior and exterior designer Lucio Micheletti, Felci Yacht Design, which took care of the waterlines, and Giovanni Belgrano di Pure, author of the composite structures. Three giants of naval engineering recruited by the shipyard that produces the largest sailing catamarans ever built in Italy.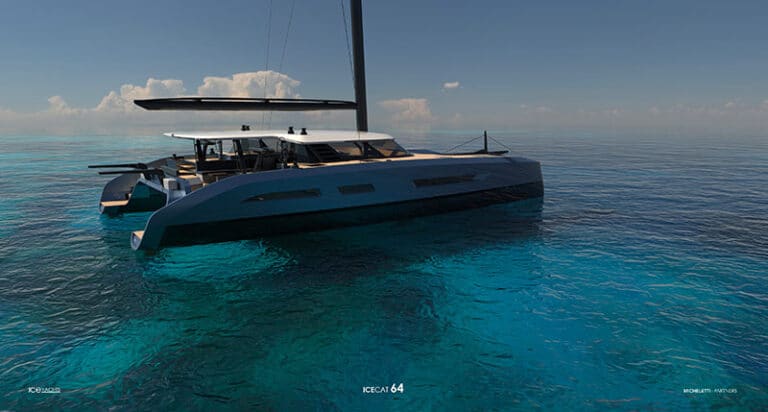 The best of quality is therefore synthesized in the new Cat 64 which, announced after the launch of the 72, is described as a new point of departure, not an end, by Ice Yachts CEO Marco Malgara.
"Our best boat is always the next one, even if there is no doubt that this model is one among the best in the collection – explains Mr. Malgara – The Cat 64 is the ideal option for anyone looking for a perfect compromise for his definitive boat. As an owner and a builder, I make a spasmodic search for the absence of defects. In short, in a boat, I am always looking for perfection ".
Like all the other Ice models, made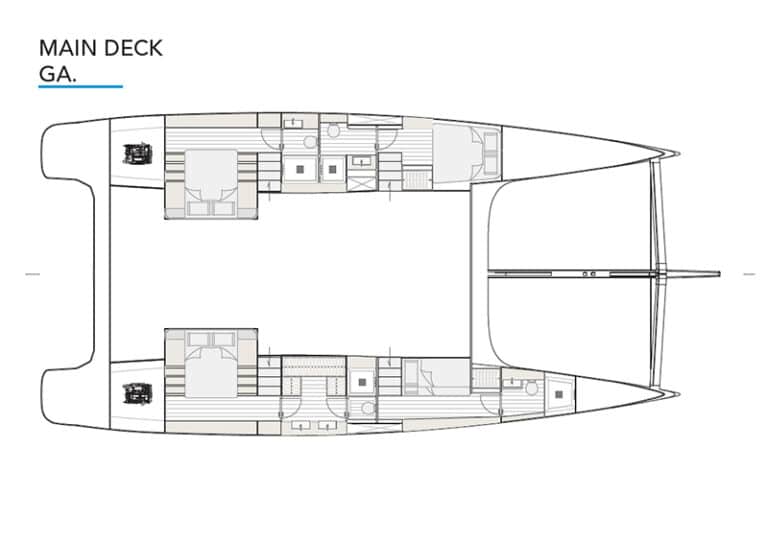 through sophisticated construction techniques of epoxy composites and vacuum infusion, the Cat 64 is 100% custom, starting with the interior layout that can include 4 or 5 cabins, with the possibility to locate the galley in one of the two hulls and not in the dinette, therefore destined to benefit from an even more generous space.
An abundance of volumes that, with the typical stability of a catamaran, can travel at cruising speed of around 15 knots and a top speed of 29. Sailing performance, Ice Cat 64 performance.

Ice Cat 64: Technical Specs
| | |
| --- | --- |
| Length | 19.50 m |
| Width | 9.8 m |
| Min Draft | 1.05 m |
| Max Draft | 2.90 m |
| Displacement | around 24 t |
| Engines | 2 x Volvo D3 110 hp Saildrive or V-Drive |