Without the interior design and the possibility to be experienced, a boat would be only half a work
The interior of a sailboat is something particularly fascinating. When you decide that a sailing boat is also to be used as a living space, the whole project changes.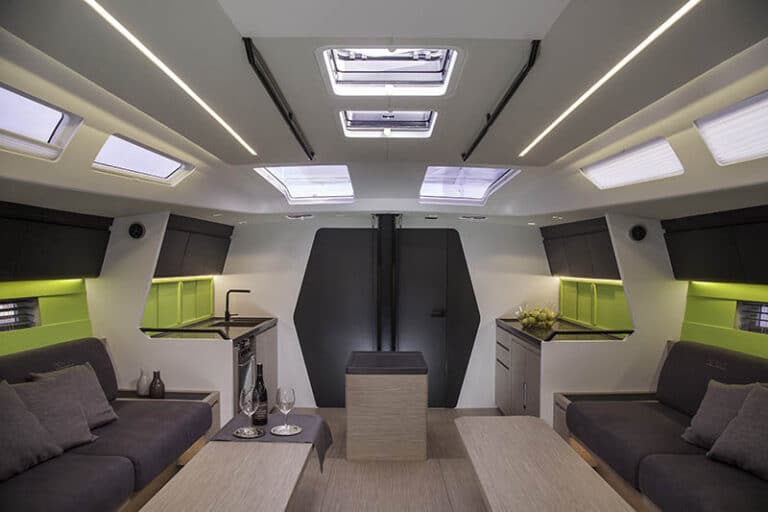 External functionalities must begin to dialogue with internal needs; the hull no longer performs only hydrodynamic functions, which are already quite complex, but becomes a container: a "shell" needed to create spaces that will become vital and almost domestic. In a way, a boat without the possibility of being lived in is like an unfinished work of art. After all these years spent balancing all these elements in a project that is unique, I must say that it was very fascinating to have to add these additional functions of "home" to the problems of the sailing boat, understood as a "means of transport" or even a "racehorse". Not an easy task because expectations are different for everyone. So those who love sailing tend not to be willing to give up anything that might have an external function, or affect absolute performance, in order to give the boat a chance to be experienced differently.
This is how we were born, as well, hard-core racers, sailors to the core and even functionalists by extraction. We have changed; the mental, life and design process has changed.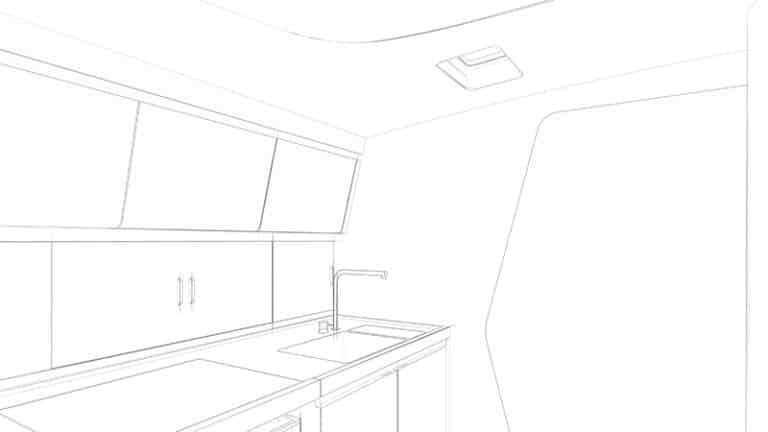 Today we experience the sailing boat as a whole, whose shape is not only the hull, with its waterlines and its problems, and we recognize ourselves in external shapes characterised by taut curves, powerful and visible muscles, dynamic geometries.
These shapes, almost as if they were an element that was born autonomously from a simple deck, are the volumes that reinforce the character of our hulls, that allow us to enter and live inside in connection with the outside, as in a house with a garden. And our garden, the sea, belongs to everyone, and must be looked after and preserved. This is our mantra.
We don't like luxury, which is so often praised and associated with products in our sector, if it is an end in itself. We try not to create luxurious boats, but elegant ones,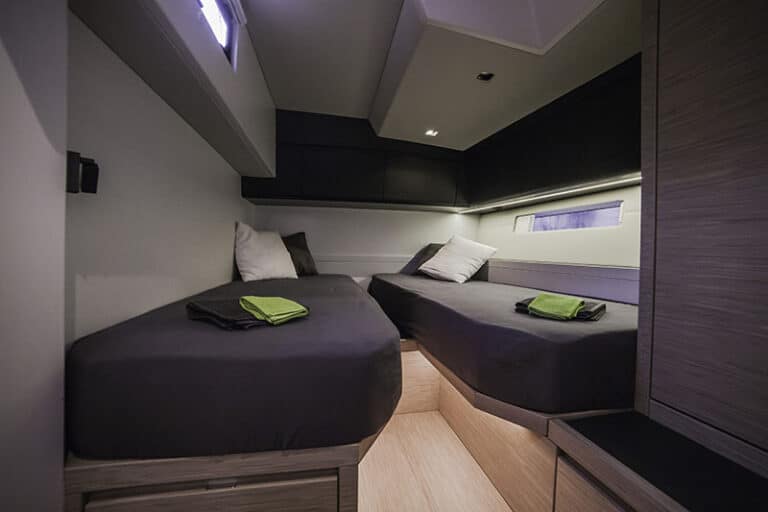 in the conviction that we should always operate by stripping down, simplifying, cleaning, both inside and out. In the end, this is the most difficult way of designing, in the purity of lines and content.
Interior design development is a complex phase. The customer can be a stimulus and a spur towards the search for the unprecedented and the next step, but it can also become a limit to the success and coherence of a project. When the client, or rather the enthusiastic friend, decides to entrust us with his dream and to let us help him realise it, we must be able to understand him and take advantage of the opportunity to create something great, something that can represent, in its purity, a complete thought in harmony.
This was the case with Massimo Lentsch, an eclectic businessman from Bergamo, owner of the ICE 60 Before the Storm. His determined and clean vision of sailing made him approach this world with a disenchanted eye, far removed from fashions and traditions. This approach led to a strong understanding and the result gave us all great satisfaction. The basic choice was complete symmetry, simplicity and functionality.
From the point of view of geometry, the basic philosophy was to try to hide as little as possible. So where the geometry allowed it, the structures remained visible, or the furnishings changed their traditional shape to come closer to it. Structural materials were left exposed, or we chose to use them freely as furnishing elements. So conscious choices made lightly, on pain of radical rigidity that would have "hardened" the final effect.
The interior colours and materials dialogue with the outside. Massimo's decision to use a strong colour, such as fluorescent green, is also used in some of the "soft touch" panelling in the interiors, giving strength to the whole.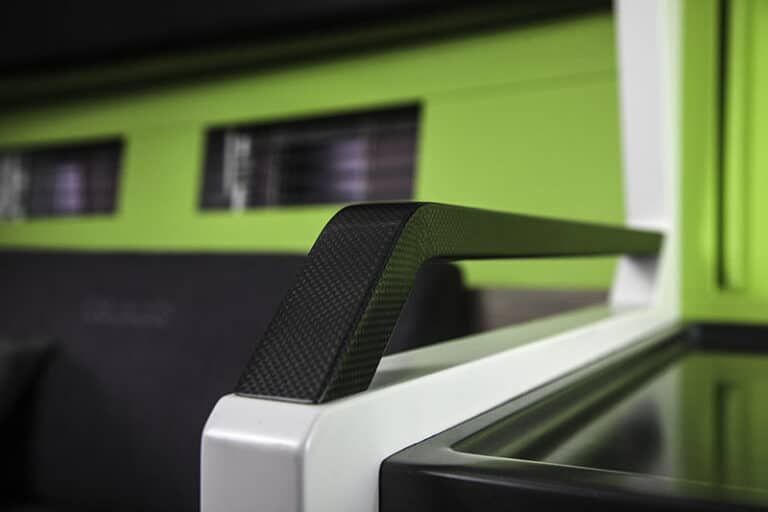 There is a dialogue with carbon, the material used throughout the boat, which becomes a decorative material, or the main bulkhead left exposed, cut to the ideal shape so as not to compromise the maximum efficiency of the interior design, and taken up in the lines of many furnishing elements, such as the high wall units, which recall the hat boxes of a jet.
And then there are the many details, all made to a specific design, which, in addition to their practical purpose, are also decorative elements, created in the spirit of the whole project.
Combining different materials in a dialogue with each other, we have created, for example, the interior handrails in burnished steel and exposed carbon, or the handles for closing the galleys, made from carbon moulding, and the tables,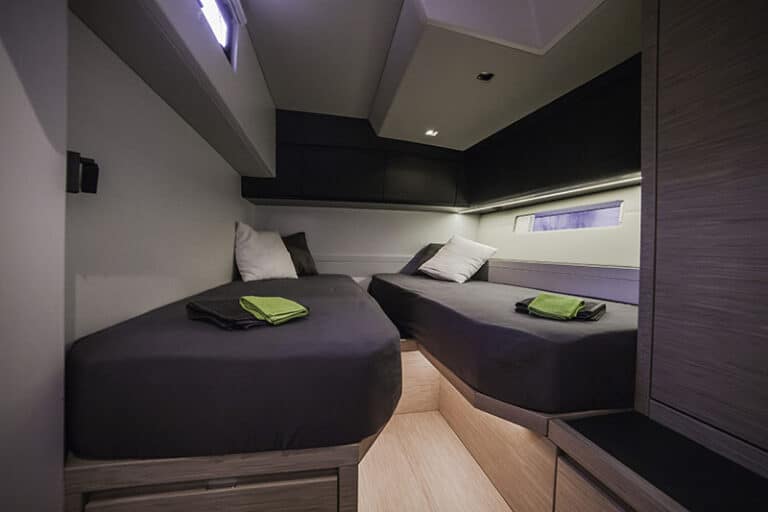 which can be transformed from lounge to dinner tables by changing height and size. The entire layout follows the desire for symmetry, which is not easy to maintain, especially when you're looking for a widespread use of space.
The three cabins and three heads make it possible to keep the volume of a luxury boat, without any particular restrictions, as does the transverse galley with central island, worthy of a panoramic seaside flat.
It's a total project, which transversally touches form, materials and functions, exactly as we always imagine a real project should be. The final result of the interior design is unconventional, strong and, in our opinion, effective. Its functionality will make it beautiful to use as well as to see, and its use will certainly highlight the efforts of thought in every detail, part of the whole.