Italyure 38 is a timeless boat, conceived and designed to become an icon, to be admired in all her splendour like a star, a sort of Audrey Hepburn with her wealth of vintage charm, but with an absolutely modern style.
That is the feeling one gets when faced with this boat from the Italyure Yachts shipyard, presented for the first time in March 2021, conceived with the idea of creating something that would be multi-purpose, carefully designed and aimed at offering the most space available on board and great comfort when underway.
Will they have succeeded? Judge for yourself.
Italyure 38, spacious and with all you need aboard
A mix of past and present, which therefore tends to make it an evergreen: this boat does not follow styles or fashions, but simply has a style all of its own. The yard offers three different versions: Classic, Comfort and Sport, the last being the one we tested, the only one of the three with outboard engines: two Suzuki 350 hp.
Aesthetically, the boat is immediately striking in its modern and elegant style as soon as you step aboard. Elements such as the structural fibreglass bracket, the sporty and eye-catching T-top, the latest generation of navigation equipment, LED lighting and the powerful Bluetooth music system make it unique and irresistible.
The Italyure 38 has the perfect size for entertaining family and friends. Externally, the boat has plenty of space both fore and aft. More specifically, the aft deck features a fold-down table that can be converted into a practical and comfortable sundeck, which can be fully shaded on the hottest and sunniest summer days by a retractable awning.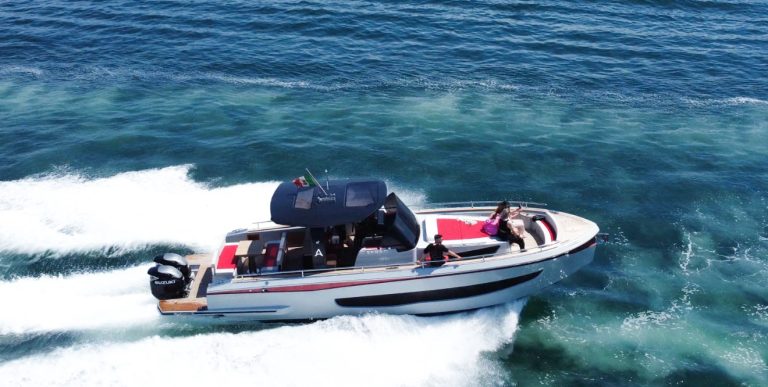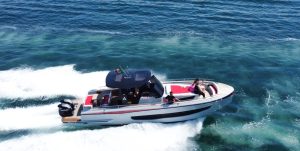 On the other hand, the bow deck features two comfortable seats with a large table that can seat up to 6 people, with possibility of fitting an awning to shade the entire bow area. The deck is embellished with high quality teak finishing laid over the entire walking surface. The central console has everything the skipper needs within easy reach, such as electronic engine controls, GPS, stereo controls, and the bow thruster. What's more, the outdoor area has a glass-ceramic hob and a fridge; an ice machine can be fitted on request.
Going below deck, in this Sport version, the Italyure 38 has the owner's cabin positioned in the bow, separated by a dividing bulkhead and access door, beyond which there is a head with a shower cubicle in toughened glass and a Corian shower tray. The same material is used for the cabinetry equipped with a fridge, hob and microwave, which can be fully customized to suit the owner's needs. Lastly, the guest cabin, with two single beds or a single double bed, can be customized according to the owner's needs. Italyure 38 was created with the idea of offering a multi-purpose craft that allows for safe navigation in full comfort and with the possibility of being fully experienced both externally and internally.
Italyure 38 Sea Trial
Let's start by saying that this boat is designed to be durable and with little maintenance required. It is built using the vacuum infusion technique and extensive use of carbon fibre, which results into an obvious weight saving, without compromising sturdiness: just think that one of the first Italyure 38s built, sold to a charter company on the Amalfi Coast, traveled 720 hours in its first year of navigation without experiencing any problems on board.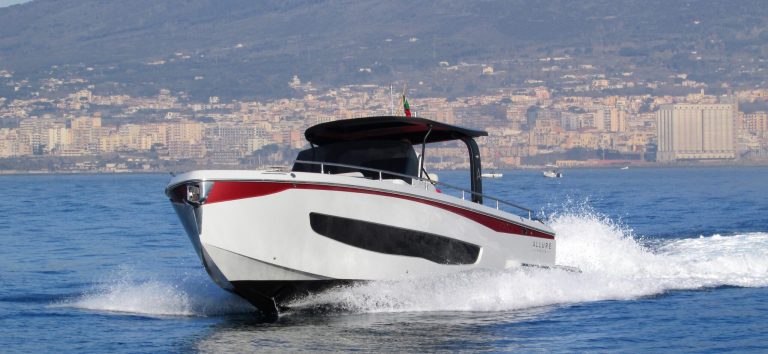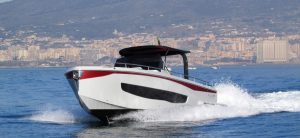 We climb aboard, with 700 horsepower behind us. With her two Suzuki 350s this Italyure 38, I believe, can give us a lot of satisfaction, a nice thrust that we want to push to the maximum, but as always we start from the bottom and it is interesting to note how the boats gets up on plane at around 1,800 rpm at a speed of 8.5 knots, while at 14 knots and around 3,200 revs the hull is already out of the water.
We are sailing in the beautiful Gulf of Naples on a day of long waves, not very high but quite treacherous, the classic wave that makes you crash into the sea, but not today. Because the hull's work is impeccable: we are talking about a deep-V hull which, as I said, keeps the sea absolutely brilliantly without letting a splash of water get on board. We reach 22 knots and, at around 3,800 revs, we are consuming about 96 l/h; despite this, two people could comfortably sit at the bow and chat without the water touching them.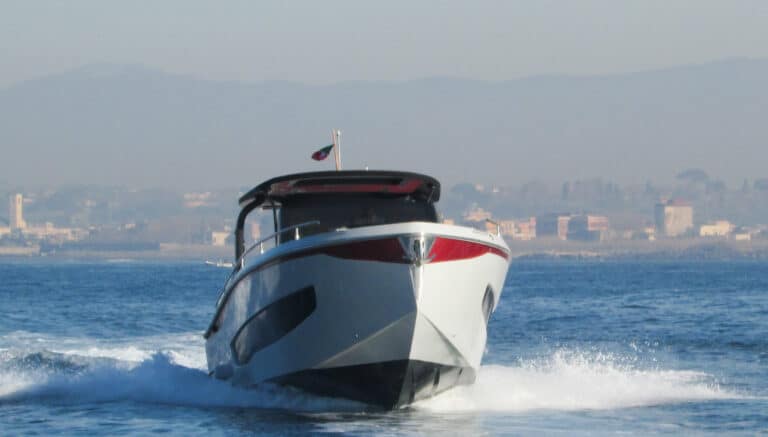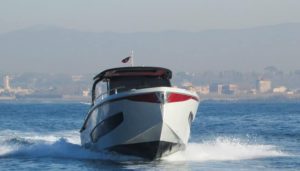 But as we were saying, this is the Sport version, so the throttle goes down more and more because you feel like pushing it all the way down seeing how this boat reacts: zero jolts, zero creaks, and very smooth wave impacts. At 4,000 rpm we touch 24.5 knots, which quickly rise to 30 knots around 4,500 rpm with a consumption of 127 l/h, but there's more: I know that Italyure, in this set-up, can touch 40 knots, but it has to be checked and so we push on to the end. At 5,300 rpm it climbs to 37 knots, at 5,450 rpm it reaches 39 knots, and shortly after, without almost noticing it, 40 knots appear; even at these speeds the driving position combined with the excellent protection offered by the windscreen protects us impeccably. The test stops at 5650 rpm, at a speed of 40.3 knots with a consumption of 229 l/h. Great.
What else to say? This boat with a design by Maurizio Marzocca and built to the highest standards of craftsmanship is not only beautiful, it also performs absolutely well at sea. It is easy to use, it is practical, very spacious despite being homologated as a registration-free boat (with all that this entails in terms of less bureaucracy and lower running costs) and truly exciting in terms of seaworthiness. A boat that seduces at first sight.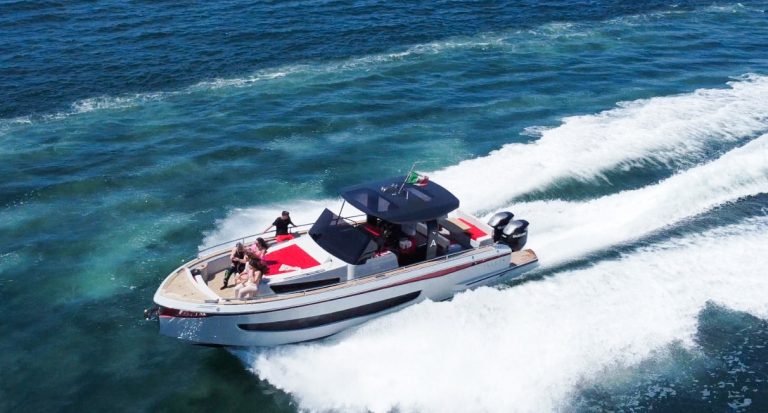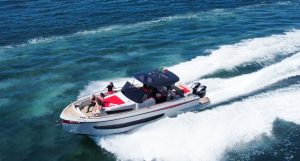 Technical Specs
| | |
| --- | --- |
| Boatyard | Italyure Yachts |
| Design | engineer Maurizio Marzocca |
| Length | 11.64 m |
| Width | 3.64 m |
| Thrusters | 24×15 1/2″ – 3 DP blades |
| Weight | 7.5 t |
| Material | GRP Infusion & Carbon Fiber |
| Fuel Capacity | 750 L |
| Water Capacity | 230 L |
| Engines |  FB Suzuki 2 x 350 hp |
Test Data
| | | |
| --- | --- | --- |
| RPM | Knots | Consumption (l/h) |
| 1500 | 7.4 | 17 |
| 1900 | 8.9 | 32 |
| 2400 | 10.4 | 46 |
| 2800 | 11.9 | 55 |
| 3000 | 12.7 | 71 |
| 3700 | 21.2 | 96 |
| 4000 | 24.5 | 105 |
| 4500 | 30 | 127 |
| 5100 | 35.2 | 166.8 |
| 5300 | 36.9 | 170.4 |
| 5450 | 39 | 210 |
| 5650 | 40.3 | 229 |
This article is also available in:

German