Karnic SL 800 by Selva
After having visited her at Pars Boat Show, we had described her as "the boat of surprises" and we said that we would have sea trialed her soon. As you will see below, the occasion didn't take long to come and saw the Karnic SL 800 by Selva perform very well.
Karnic SL 800 by Selva Sea trial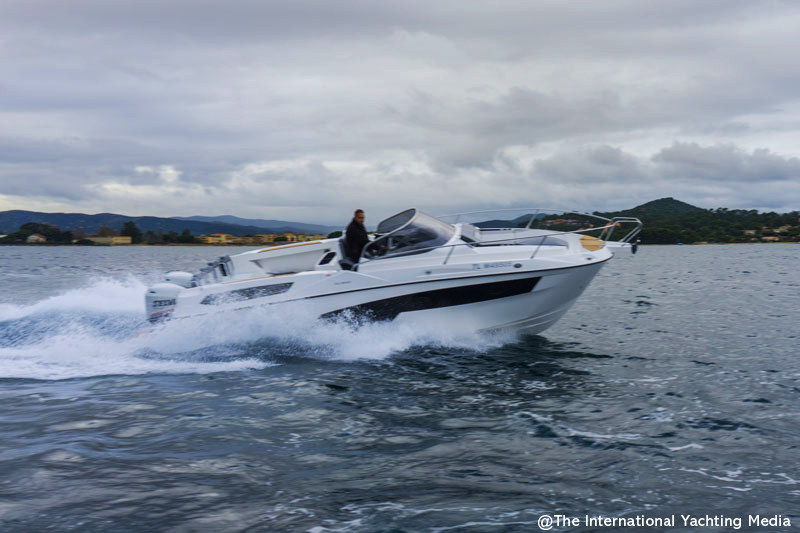 We're in France, in the stretch of sea in front of La Londes Les Maures, a small town on the western border of the Cote d'Azur.
The day is not the best one to enjoy a Mediterranean open boat, the sky is cloudy with intermittent rain sprays. The sea, too, is not looking too good, rippled by rough crisscross waves but, exactly for this reason, perfect to fully understand the real performance of this Karnic SL 800 out of the comfort zone.
I climb on board and I'm immediately impressed by the height of topsides that give me a sense of protection and great sturdiness.
For our test, the Karnic SL 800 is fitted with twin Selva Blue Whale outboard engines, 250 HP each. The total power we have – 500HP – is much for a cruiser that weighs just a little more than 2,600 kg. I wonder whether we will really have the opportunity to use it today.
As usual,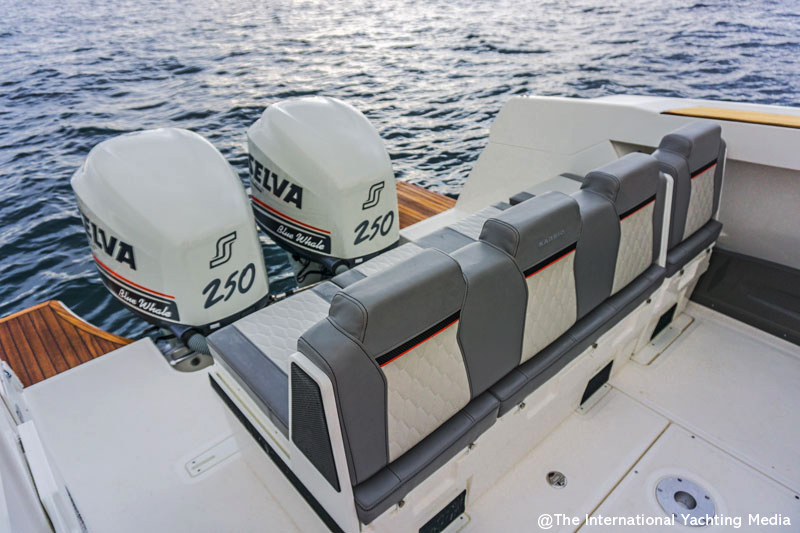 I start to test speed and fuel consumption. So, I push gas throttles down and, at just 11 knots, the boat gets up on plane.
At 3,500 rpm, the boat runs at over 20 knots with a fuel consumption of just 44 l/h, which means that, at little more than 2 l/nm, you can cover a lot of miles with a very little amount of fuel.
I speed up and the Karnic SL 800 astonishes me again at 4,500 rpm when, despite a speed of almost 30 knots, she has a consumption of 70 l/h (about 2.3 l/nm)!
These are the ideal "numbers" to sail fast, the fuel indicator slowly goes down and destinations get closer.
The hull of this Karnic SL 800 is performing very well, we're sailing at 30 knots on this cross sea and the feeling is always that everything is under control.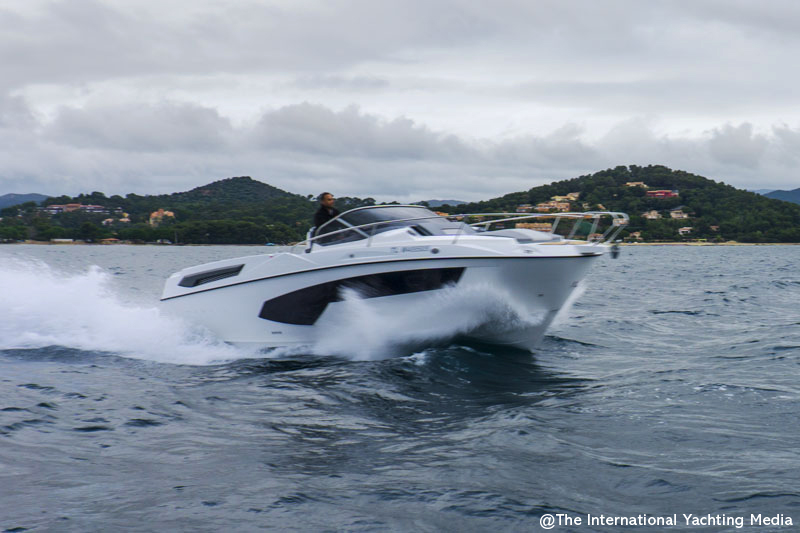 I decide to increase throttle and, adjusting the trim, I take engines to the limit, namely 6,000 rpm, reaching a speed of 45 knots. An excellent speed for a powerboat of just 9 meters sailing under harsh conditions.
Bringing the throttles back, I always have the certainty that, if the weather had been fine with calm or slightly rough sea, the Karnic SL 800 would have been able to run some knots faster.
To carry out my acceleration test, I decide to head for the big waves, very close to the coastline. I stop, wait for the right moment and, finally, I start at full throttle. The Karnic SL 800 pushes me against the seat and reaches 40 knots within just 16.8 seconds.
Given the first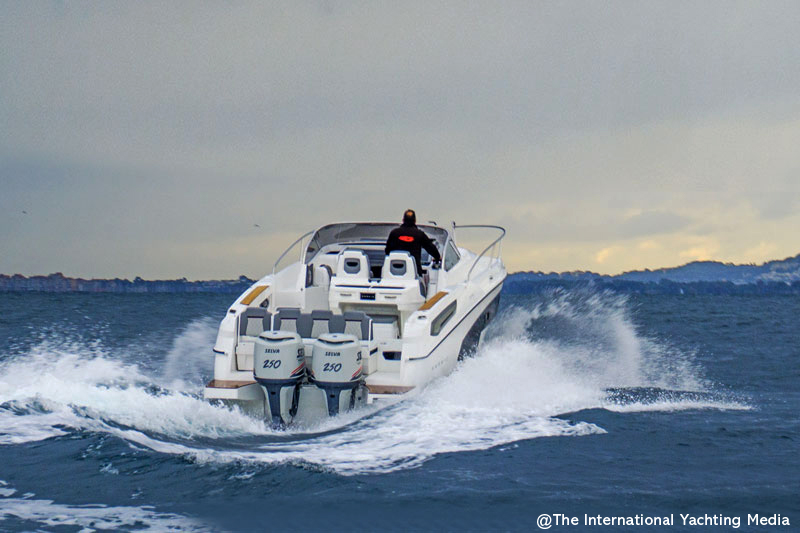 good impressions, I decide to exploit the wave motion to stress the boat.
So, I put the bow towards the direction where waves come from and I leave. There are 5 passengers on board and everyone looks at me cross-eyed because I'm really far from sparing gas.
Shortly after, however, their expressions change and everyone has to admit that the sensations coming the hull are more than positive: the boat cuts through the waves gently and, when jumping out of the water, landing is always soft. The particular feeling I detect, thanks to the contact I have with the helm, is that everything is always under control. The boat structure seems to be very sturdy.
Now, it's time to test turns: the Karnic SL 800 is responsive, trajectories are stable and the stern never looses its contact with the water surface. I perform my maneuvers faster and faster and, adjusting the trim progressively, the result is always the same. This is a further confirmation of the high quality of the hull project that, with this "exuberant" propulsion, encourages experienced pilots to fully exploit its potential.
The sea trial in numbers
Test Conditions: cross sea – 5 passengers on board – fuel tank at 60%
| | | |
| --- | --- | --- |
| RPM | Speed (knots) | Total Consumption (l/h) |
| 600 | 2.7 | 4.3 |
| 1,000 | 4.3 | 8.3 |
| 1,500 | 6.2 | 13.3 |
| 2,000 | 7.7 | 21.4 |
| 2,500 | 9 | 30 |
| 3,000 | 14.5 | 39 |
| 3,500 | 20.3 | 44.6 |
| 4,000 | 26.3 | 68.3 |
| 4,500 | 28.7 | 70.3 |
| 5,000 | 35.8 | 101 |
| 5,500 | 41.4 | 135 |
| 6,000 | 45.3 | 175 |
| | |
| --- | --- |
| Acceleration (kn) | Time (s) |
| 0-20 | 7 |
| 0-30 | 10.12 |
| 0-40 | 16.89 |
Conclusions
With her two cabins, the Karnis SL 800 by Selva offers unthinkable volumes for a boat of just 9 meters. The wide convertible spaces on the deck and comfort at sea make her an excellent option for big families that want to enjoy medium- and long-range cruises without sacrificing comfort.
The surprising performance, in terms of navigation and fuel efficiency, is a further confirmation that this boat is an excellent option with a really affordable price.
Finally, we're certain that even a less powerful 200HP engine option is enough for the Karnic SL 800. Indeed, it would contribute to make fuel consumption be even lower at cruising speed without never compromising performance.
Karnic SL 800 by Selva – Technical Specs
| | |
| --- | --- |
| LOA | 9.20 m |
| Width | 2.96 m |
| Draft | 0.43 m |
| Weight | 2,600 kg |
| Fuel Tank Capacity | 400 l |
| Water Tank Capacity | 80 l |
| People Capacity/ CE Certification | 10 / C |
| Engine Type | outboard |