Kufner 54 : exclusive sea trial of a sailboat with a capital S

If you think you're about to read the sea trail of a conventional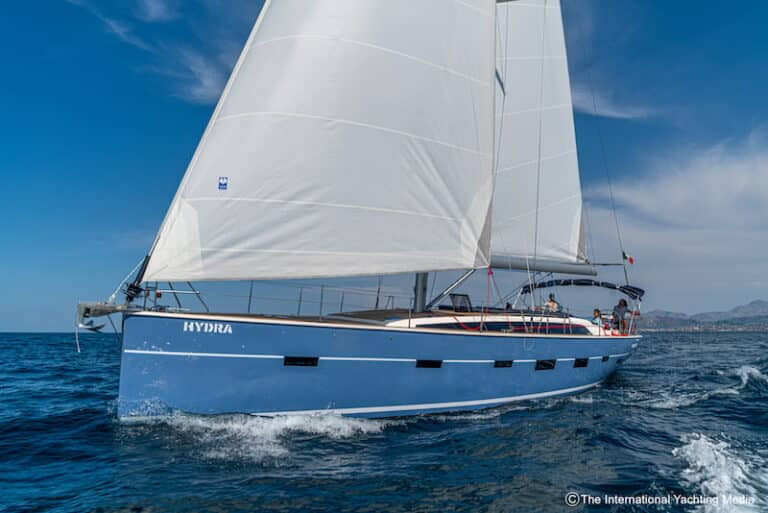 charter boat, you're very wrong. The Kufner 54 is a sailboat with a capital S.
Built with extreme care and in semi-custom mode, she offers great liveability and unsuspected sailing performance, placing herself (I mean no offence to French shipyards), one step (if not two) above the market standard.
Offered for sale at a base price of 299 thousand euros, including an excellent standard equipment (bow thruster, sails and many other accessories) and with the possibility to choose from a wide range of layout, engine and material options, this boat is a good option for anyone looking for a good sailboat with a definitively interesting quality/price ratio.
The shipyard was originally established to satisfy its internal demand for charter boats, which it builds without skimbing on quality standards, and then developed over the years with the creation of sailboats which quickly conquered the market. Intrigued by this phenomenon, we asked the Italian importer to test one of these boats. So, we flew to Palermo, where a unit was just arrived. The following is the report of our sea trial.
Kufner 54 Sea Trial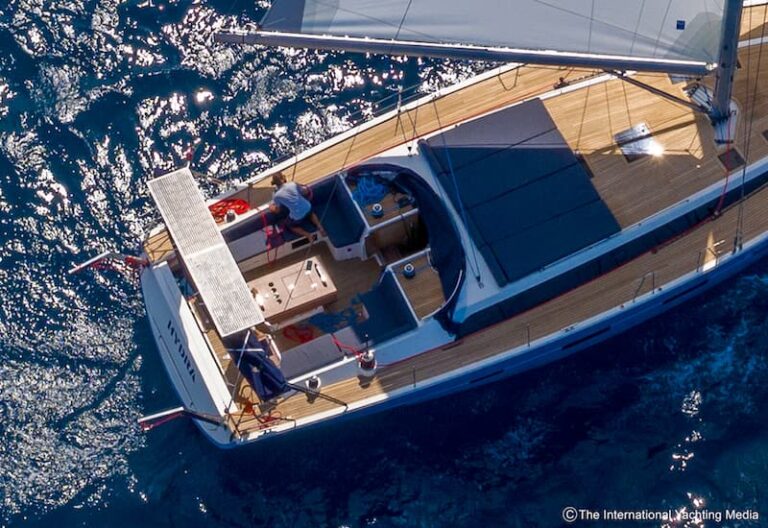 Climbing on board the Kufner 54 is easy, the folding stern makes everything very simple. More difficult, instead, is to get your eyes used to the amount of space available not only in the cockpit, where a dozen people can have dinner while respecting the social distancing rules, but throughout the boat, whose abundant spaces give the feeling of being on board a 60-footer.
The deck plan is a masterpiece of space rationalization. The shipyard, in fact, has managed to find a solution to make the sunbathing areas (passengers can enjoy two sundecks) coexist with those necessary for sailing. It's an endless expanse of teak which, in addition to being extraordinarily functional, is also beautiful.
But it's time to cast off, the breeze is blowing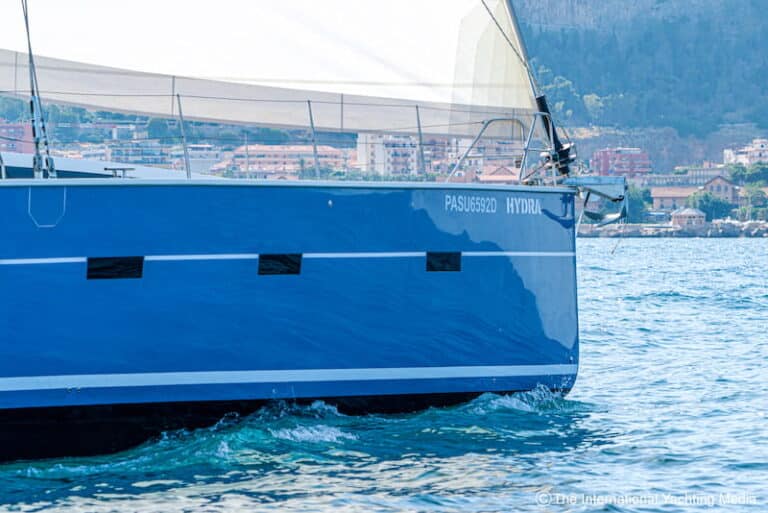 and I don't want to miss it.
Manoeuvring in confined waters is not a problem, the bow thruster is a standard feature and, in no time, we leave our berth. Under power, the Kufner 54 begins to make us foresee the quality of her hull. We slide on the water, with a wonderful clean wake. At 2,000 rpm, the boat sails at 7.4 knots and, at 2,500 rpm, it reaches almost 9 knots. These excellent cruising speeds, economical and maximum, allow to travel many miles with no wind.
In the Gulf of Palermo, a 10/12-knot true wind and a slightly rough sea offer us the ideal conditions to test this boat. I unfurl, single-handed and manually, the mainsail and the 105% genoa and, in less than 2 minutes, we are ready to sail.
I bear away and the Kufner 54 takes off like a rocket. But… are not we on board a pure 20-ton cruiser with furling sails?
Surprised, I trim the mainsail and the genoa and, in a true wind angle of 60 degrees, the boat reaches 8 knots!
I try to hug the wind, assuming the boat will slow down and stop instead…instead, it doesn't stop and continues to hug the wind. In a 30-degree angle, we are still sailing at around 7 knots while the Kufner 54 quietly navigates with a great course stability and a limited heeling.
Davide Casilli, the skipper, tells me that, with a little more wind, it is easy to sail between 9 and 10 knots, especially upwind. Intrigued by his words, I bear away. I just want to see how this boat behaves on a beam wind. The heel decreases and the boat, despite the small genoa, accelerates. At 110 degrees, we sail at 8.4 knots, which, in a 12-knot true wind, is nod bad!
I try a couple of tackings, the Kufner 54 performs them almost without slowing down. The wind is now blowing at 15-16 knots that the boat immediately converts into speed, making us sail at almost 10 knots.
What a boat, guys…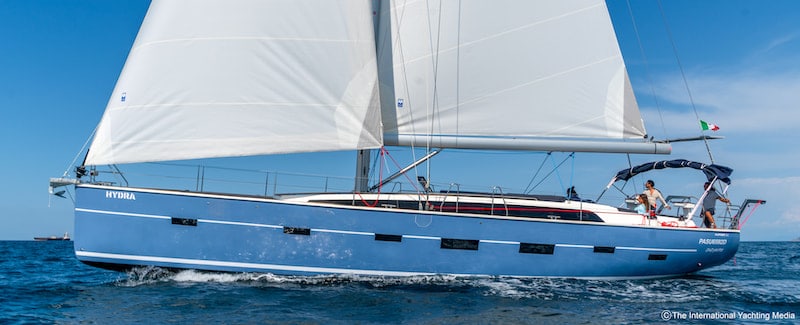 Sailing Performance
10/12-knot true wind
Performance under power
Apparent Wind Angle
Speed in knots
Rpm
Speed in knots
30
6.9
600
3.2
40
7.3
1,000
3.6
50
7.7
1,250
4.8
60
7.9
1,500
5.1
70
8.1
1,750
6.3
80
8.1
2,000
7.4
90
8.2
2,250
8.1
100
8.3
2,500
8.8
110
8.4
2,750
9.2
120
7.9
3,000
9.4
130
7.7
3,100
9.6
140
7.6
Kufner 54 Interiors
If you had the possiblity to visit her at the boat show (it was not easy, since the boat was literally packed with people), you will certainly have been impressed as I was by the dimensions, quality and layout of the interiors.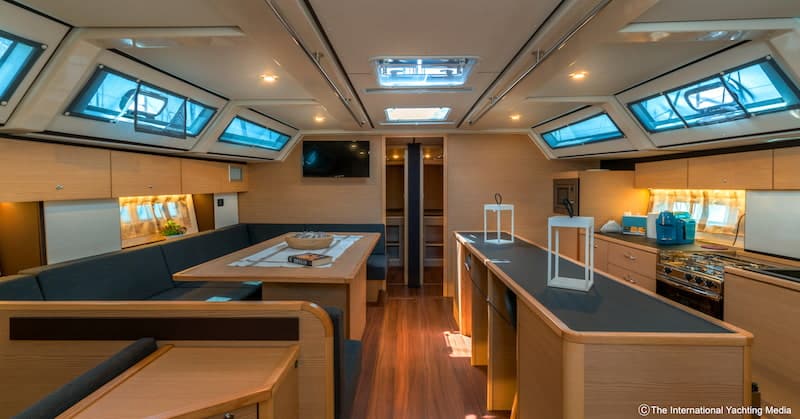 The model we're analyzing is the 4-cabin version (plus crew cabin) but Kufner Yachts also produces the Kufner 54 in a 3- (my favourite one) and 5-cabin version, depeding on the owner's needs.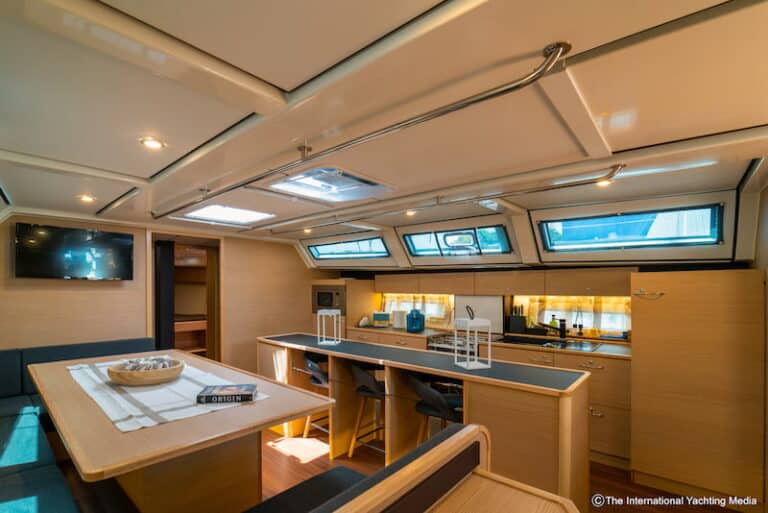 On the lower deck, the visitor is immediately impressed by the layout of spaces which, again with a touch of genius, creates a clever, beautiful and safe on-board circulation.
On the starboard side, a huge linear galley offers an incredible storage space and is able to house all the appliances you can think of. Behind the galley, a straight peninsula accommodates three additional chairs, a refrigerated wine cellar and additional storage space. This piece of furniture also defines the central corridor that leads from the stern to the bow, making it safe in any sea condition.
I love this solution, I love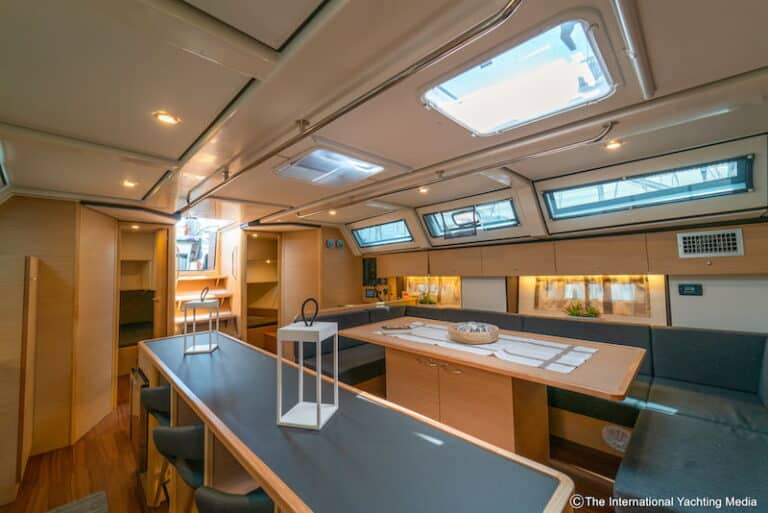 it at least as much as I hate the boats that don't have it. The large living rooms without grips are a real danger in navigation.
On the left, the salon is furnished with a large U-shaped sofa which, when equipped with the three additional chairs, can seat up to 10 people in total comfort.
The sleeping area consists of four cabins, all equipped with en-suite bathroom, separate shower, large storage compartments and good headroom.
The beds are large, more than enough for two people. The crew cabin is equally equipped with private toilet and is accessible from the bow hatch.
However, what is most surprising about the Kufner 54 is not spaces but her building quality. The furniture and the materials are both of the highest quality and the accessories installed are all branded. All components, essences and fabrics are Made in Italy, even if the shipyard is Croatian.
This Kufner 54 is a really interesting boat…
Dimensions and Technical Specs
| | |
| --- | --- |
| LOA | 16.6 m |
| Max beam | 4.97 m |
| Draft | 2.5 m |
| Empty Displacement | 20,400 Kg |
| Mainsail | 71.6 m2 |
| Genoa | 69.2 m2 |
| Fuel Tank | 270 l |
| Water Tank | 860 l |
| Engine | Yanmar 110 kW |
| CE Design Category | A |