It is certainly no coincidence that the Mar-Co R-Evolution X36 was chosen to be powered by the new Mercury Verado V10 400 engines. The iconic shipyard is in fact famous for the proverbial hull performance of its boats, so it's no surprise that the (incredible) data recorded comes directly from the Brunswick Italia test office.
The 'SKYFALL' nickname that the Italian shipyard has chosen to distinguish this 'full black' version of its flagship is also unusual. It explicitly refers to the blockbuster film starring the famous 007 and, in all likelihood, to the sporty vocation of all the vehicles, land and maritime, that the intriguing spy has always used.
In short, a decidedly intriguing and aggressive maxi RIB that, as you will see, has many surprises in store.
Mar-Co

R-Evolution X36 and Mercury Verado V10 400
Whoever chooses a boat like this has clear ideas, wants breathtaking performance combined with a high level of safety. This is the feature which the design of this Mar-Co R-Evolution X36 is based on. Starting from a structural bracket, the boat accommodates and accurately transmits all the power, a good 1,200 horsepower, that these exuberant three Mercury Verado V10 400 delivers. A raging thrust, which is discharged into the water by the new 25′ RevX thrusters, which Brunswick designed specifically for these new engines.
Only a few months ago I was in America, at the launch of these new outboards, and I was lucky enough to test them on many other boats that, although excellent, are still far away from the hull qualities of this boat, which is definitely out of the ordinary.
When turning, it literally crushes you inside the seat and when accelerating from a standstill, it raises adrenaline levels to dizzying heights: from 0 to 50 knots in less than 15 seconds. The top speed, 61.5 knots, however high and important it may be, is only second to the astonishing feeling of stability that the Mar-Co R-Evolution X36 conveys.


Equally impressive is the efficiency of this hull and these new outboards, which, when traveling at 20 knots, i.e. an economical cruising speed, manage to consume a total of just 60 litres per hour – 20 litres per hour at engine speed is an insane performance!
The Mar-Co R-Evolution X36 also allows for an infinite range of cruising speeds. Weather and sea conditions permitting, in fact, the boat can reach around 4,500 rpm, or 43 knots, without stressing the engines, while consuming even less than 60 litres per hour per engine.
In short, this is a wonderful boat that, as well as offering unforgettable emotions, also lends itself effortlessly to excellent medium or long range tourism.
| | | | | |
| --- | --- | --- | --- | --- |
| RPM | knots | L/h | L/h (single engine) | L/nm |
| 2000 | 13 | 50.1 | 16.7 | 3.9 |
| 2500 | 20 | 62 | 20.7 | 3.1 |
| 3000 | 26.3 | 82.9 | 27.6 | 3.2 |
| 3500 | 32 | 109.6 | 36.5 | 3.4 |
| 4000 | 37,8 | 138.5 | 46.2 | 3.7 |
| 4500 | 43 | 173.8 | 57.9 | 4.0 |
| 5000 | 47.3 | 253.4 | 84.5 | 5.4 |
| 5500 | 51.8 | 330.9 | 110.3 | 6.4 |
| 6000 | 57.3 | 375.1 | 125.0 | 6.5 |
| 6400 | 61.5 | 385.6 | 128.5 | 6.3 |
The Mar-Co R-Evolution X36 in detail
Let's start right away by saying that the MAR-CO MARINE R-Evolution X36 is a really well built boat. The quality is perceptible, and not only because the beauty of the colour combinations is dazzling, but precisely because, wherever you look, there is not a single imperfection to be found. The surfaces are flawless, the woods are exquisite and the components are always first-class.
On the other hand,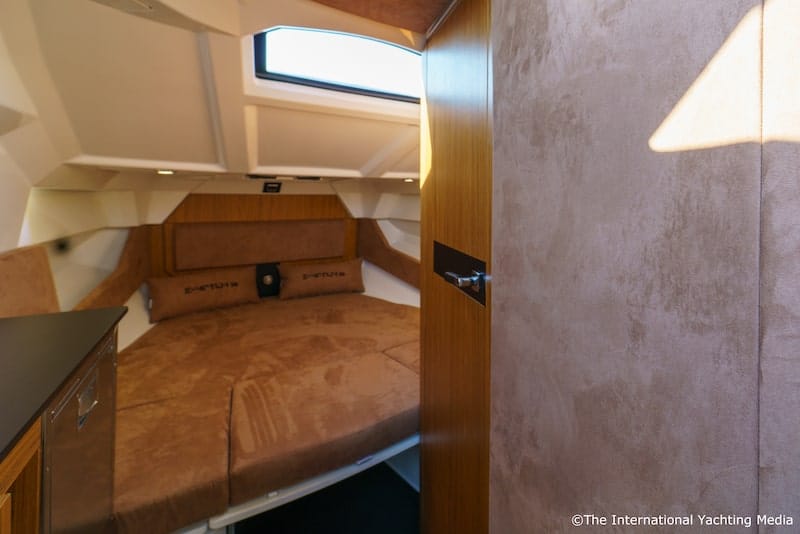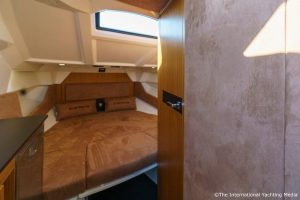 we are talking about yachts built exclusively upon order, leaving a very high degree of customization to the taste of their fortunate owners who, justifiably, draw on it to the full to create unique maxi-ribs.
A clear example of this care and attention to detail is the black gelcoat that characterizes this edition, which, with no expense spared, is stretched and baked twice. The cell-closed cushions, which are elegantly upholstered, cover the sundecks and sofas on the main deck.
But it is descending below deck that we remain speechless. Going down the two steps we arrive in a real owner's suite, equipped with an enormous bed and a head containing a separate shower, volumes normally impossible for a boat of this size.
In conclusion
The MAR-CO R-Evolution X36 is a craft dedicated to the most discerning palates, to owners able to appreciate what is seen, but also, and above all, what is not seen, in other words, a construction quality and attention to performance that is unique.
Perhaps this is one of the reasons why the shipyard has nicknamed this version Skyfall. On the other hand, if 007 has always had an Aston Martin at his side, a timeless symbol of beauty and performance, there must be a reason…
Technical Specs
| | |
| --- | --- |
| LOA | 10.73 m  |
| LH | 9.49 m  |
| Max Beam | 3.64 m  |
| Tubular Diameter | 50-64 cm  |
| Compartments | 7  |
| Dery Weight (Infusion System)  | 2,400 kg  |
| Max Passengers Capacity | 16  |
| Fuel Tank Capacity | 750 l |
| Fresh Water Tank Capacity | 150 l |
| Max Power | 1,200 HP – 882 Kw  |
| Design Category | B  |
This article is also available in:

German

Portuguese (Brazil)