The Principality of Monaco confirms itself as the absolute protagonist in the yachting revolution. This is the conclusion of the 9th Monaco Energy Boat Challenge, the event dedicated to innovation and sustainability in the yachting industry organized by the Yacht Club of Monaco that our editorial staff followed from 4 to 7 July. The rich calendar of round tables and workshops, involving hundreds of engineers from over 20 countries around the globe, analyzed every aspect related to alternative propulsion systems for boats, from wind to batteries, from hydrogen to solar, focusing on the potential and problems of green energy applied to yachting. In addition, the numerous regattas and competitions were an opportunity to apply the innovations and evaluate their effectiveness in the field, in order to demonstrate that the themes of the Monaco Energy Boat Challenge were not talk out of thin air and concerning a distant future, but rather technologies that already exist today and are efficient, which can and must be marketed so that yachting too contributes to reducing pollutant emissions at this time of serious climate crisis.
"If Monaco wants to position itself at the forefront of yachting, the Principality must support its transformation. It is by uniting our efforts and sharing technological advances that we will achieve our goal," said Prince Albert II, President of the Yacht Club of Monaco, emphasizing the value of the Monaco Energy Boat Challenge in creating synergies between engineers, designers and builders from around the planet. The event, moreover, falls under the broader umbrella of 'Monaco, Capital of Advanced Yachting', the project initiated by the Yacht Club of Monaco to consolidate the Principality's position as an international centre of excellence in zero-impact yachting.
YCM Vice-President Pierre Casiraghi, sailor and founder of Team Malizia, also recalled the importance of hosting this type of meeting in Monaco as "essential for the future of yachting as it allows us all to develop and exchange ideas". A sentiment shared by YCM General Secretary Bernard d'Alessandri: "The Monaco Energy Boat Challenge is quite a rare opportunity as it brings professionals and engineering students from all over the world together, with everyone exchanging knowledge. It is without doubt one of the best ways to contribute to the coming transition. Monaco has been a yachting mecca since the start. We have a responsibility to strive towards a more eco-responsible approach: for our planet, for the oceans and for the new generation".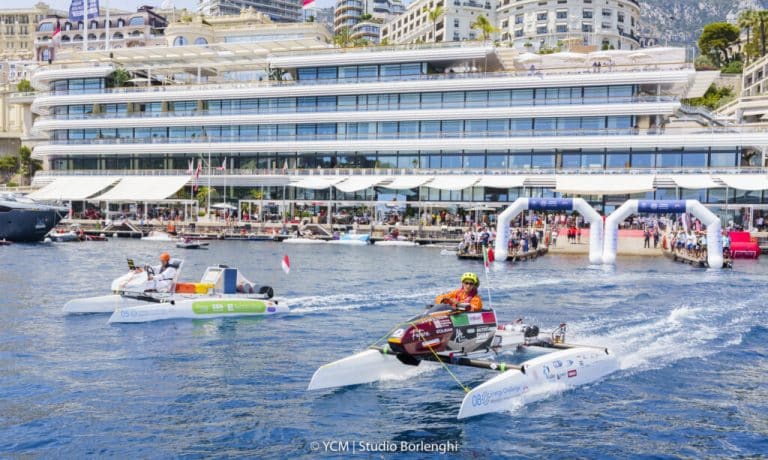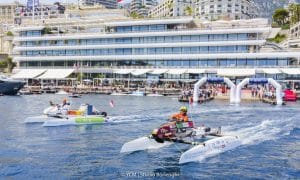 International presences
38 teams from 21 countries including 27 universities divided into three categories (Solar, Energy and Open Sea Class) were here this year, including newcomers like the Indians (Sea Sakhti) from Kumaraguru College of Technology, supported by the Indian sailor, Commander Abhilash Tomy: "I'm so proud to see my country represented at this meeting. India supports new energy sources, particularly mobility-related. Many initiatives focus on the automobile industry but not yet in the yachting domain. I hope these students will return to India with their heads full of ideas because at least 10% of fishing boats in India could use electric propulsion for example". It was also the first time an Indian team had taken part in an international powerboat event. Peru, Greece, China, Indonesia and Canada also made the trip, each determined to present their solution and prototype. All had a chance to compete against each other on the sea and share knowledge every day at the Tech Talks in open source.
Teams awarded at the Monaco Energy Boat Challenge 2022
There were three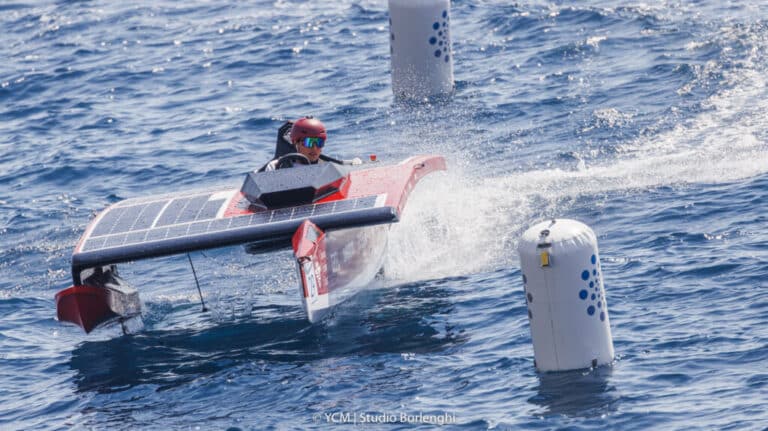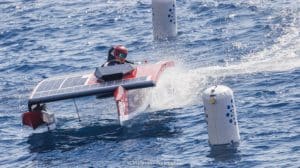 competitions at the 9th Monaco Energy Boat Challenge: "Solar Class" (a challenge between solar-powered boats), "Energy Class" (a competition in which the Yacht Club of Monaco provided the same hull to all registered teams, challenging the young engineers, in collaboration with partner builders, to design the most efficient and durable cockpit and propulsion system, using only zero-emission energy sources) and "Open Sea Class" (an open competition reserved for electrically-powered boats already finished being built and about to enter the market, consisting of an endurance test designed to highlight the autonomy of electrically-powered boats by racing them over a distance of around 30 kilometres from Ventimiglia to Monaco).
Italy triumphed in the 'Energy Class' with the UniBoat team, while in the 'Solar Class' the Dutch Sunflare Solar Team repeated its 2021 victory. The 'Open Sea Class' saw Great Britain triumph with the Vita Lion team. The 'Innovation Award' went to the Portuguese team Técnico Solar Boat. Jérémie Lagarrigue, CEO of EODev, chairman of the international jury, gave the following reasons: "As a result of work on hydrogen, we saw real innovations in this field, notably with Técnico Solar Boat who have developed a system for dehumidifying hydrogen and gases that pass through the fuel cell," says International Jury President, Jérémie Lagarrigue, CEO of EODev. "Other striking innovations highlight eco-design using bamboo, linen fibre and recycled PET on engines that are still packed with technology. Students are therefore developing skills required for tomorrow's yachting with life cycle analyses that will guide the design of future vessels".
Many other awards were given at the Monaco Energy Boat Challenge, summarized in the following infographic.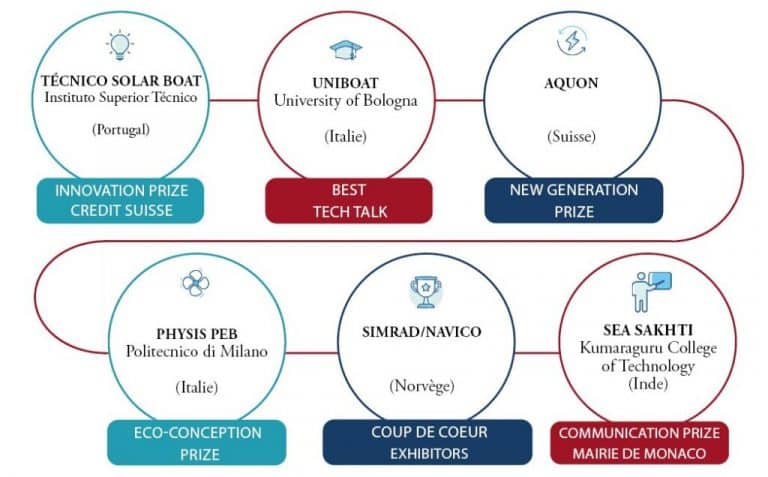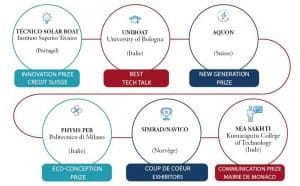 Looking at hydrogen in yachting
The conferences and talks held at the Monaco Energy Boat Challenge 2022 were also very interesting. In addition to the panel discussion on 'Energy Transition in Yachting', which we have already reported on in our previous article, the third meeting of the Monaco Hydrogen Working Group, entitled 'Unlocking the Barriers to Hydrogen in the Maritime Sector: Port Regulations and Economic Viability of Projects', was very inspiring, during which fifteen speakers gathered to take stock of progress in the hydrogen sector, its regulation and economics.
"Maritime transport accounts for 2 to 3 per cent of global CO2 emissions and there are several ways to decarbonize it," said Anne-Marie Perez, Director General of the Capenergies Cluster. "We have hydrogen-based solutions with different vectors: hydrogen gas, e-methane, methanol in liquid form and even ammonia. Europe has also recently relaxed the criteria for linking electricity production and carbon-free hydrogen: this is a step in the right direction for carbon-free hydrogen production, as projects will be developed more quickly and easily. On the other hand, however, regulations for ports are not really in place and this situation needs to be improved".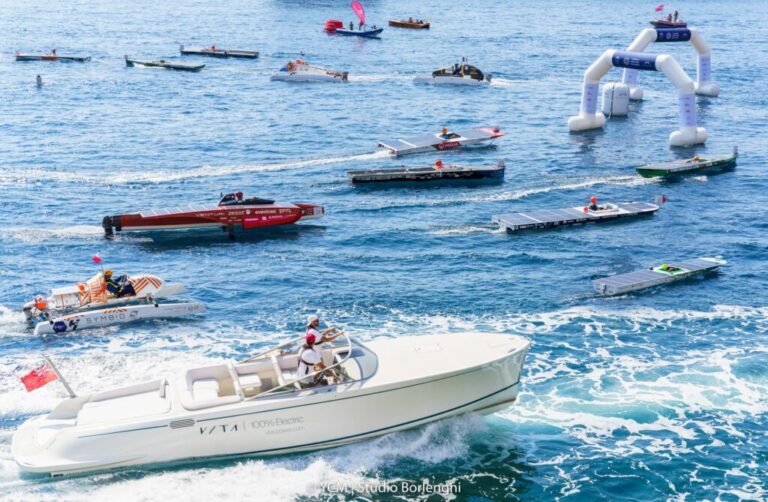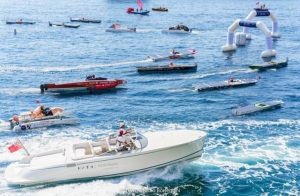 As far as project implementation is concerned, discussions on building business models are progressing well: "Monaco and nearby cities are among the destinations that could see the installation of hydrogen stations," said Adrien Zanoto, managing director of Hydrogen Infrastructure at Hype. And given the growing demand, there are projects that could become reality: "At the moment, some 800 owners are waiting to switch to hydrogen solutions. But what is holding back the final signature on the orders is the possibility of obtaining supplies", explained Jérémie Lagarrigue, CEO of EODev. "The infrastructure is therefore crucial if we want to expand this ecosystem, particularly in terms of delivery. We have proposed a floating station and we will soon announce a facility that will be able to store hydrogen at almost 700 bars, with which we will be able to connect our generators, produce electricity and give hydrogen a boost in yachting".
"Although the road may seem well on the way, warned Maud Augeai of Lhyfe, "many technologies already exist and are on the market, but now we have to move on to the industrialization phase'. In conclusion, said Ivan Pavlovic, Executive Director and energy transition expert at Natixis, 'hydrogen is rightly considered a pillar of the energy transition in yachting, but it is still largely in the maturation phase. The challenges today are twofold: we have to promote its use in those first eligible segments of the economy and work to bring down the costs, which are still too high".