Nimbus T9 X Edition
The Nimbus T9 X Edition is the comfortable and upgraded version of the original T9. A boat that presents itself as a multi-faceted craft, with alcantara cushions and steering wheel, a T-Top fitted with materials that insulate against heat and cold, and powered by two 225 hp Mercury V6s.
At 9.35 metres long, the Nimbus T9 X Edition is a compact and versatile boat that can adapt to any situation. It can therefore be used for a holiday, for a sports outing (thanks to the possibility of transporting a sup, canoe or wind surf on the t top), for a fishing trip or, more simply, to enjoy a day of sun and sea. The boatyard has in fact already taken all these needs into account during the design phase by studying the different areas according to their use, and has developed the T9 precisely with this versatility in mind.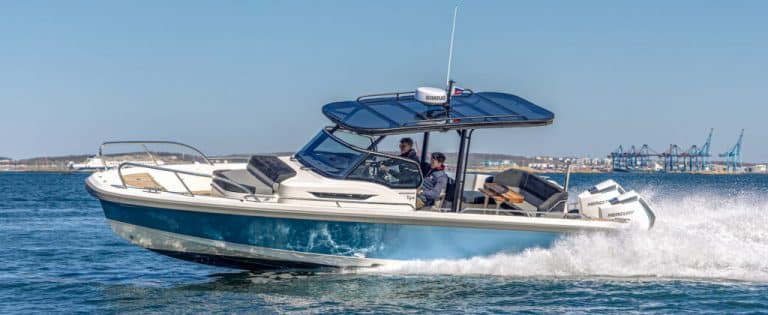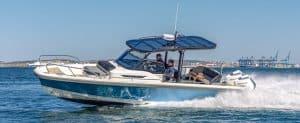 Nimbus T9 X Edition – Exteriors
The deck of the Nimbus T9 X Edition is "walk-around", a very up-to-date solution today, allowing the entire perimeter of the boat to be covered easily and safely. The stern cushions frame a rectangular table in high-quality solid wood, which can be removed if necessary to create a single sunbathing area, comfortable for two people. 

In the central console a worktop hides the concealed sink while, a little further down, a capacious fridge allows to stow plenty of food and drink.
There is a central cushioning area in the bow, where passengers can sit in total comfort and safety while underway or simply chat while at anchor with other guests, seated opposite on the clever shelf that conceals the chain locker.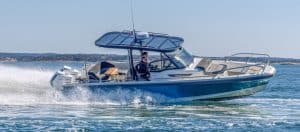 On this version, the T-Top provides perfect protection from the sun thanks to the reflective material that lets light through while creating a very useful heat barrier on hot days. Equally interesting is the possibility of closing the entire central dinette thanks to the hinges at the ends of the large T-top, which connect with the windscreen and also enable the winter use of this boat, which cleverly provides complete protection from wind and weather. The helm console offers plenty of space, even for taller people such as Niclas Augustin, manager and technician of the yard, who will be testing the boat with us today.
Interior
Despite its small size, the interior is very pleasant and offers an adequately sized sleeping area, even for taller people. There is also a small separate head which, in case of a weekend at anchor, is functional and very useful.

 The finishes are beautifully designed and the materials used are carefully chosen, the yard is Finnish and is used to dealing with certainly difficult and demanding weather conditions, here nothing is left to chance.
Nimbus T9 X Edition Sea Trial
We go out for a test with the T9 X from the port of Cannes, in magnificent weather and with a lot of south-easterly swell.  At idle, the boat cruises at around 3 knots and 500 rpm with a consumption of 4.7 litres /h . 
Niclas leaves me to drive and just to feel some adrenalin, I immediately push the engines to maximum, immediately feeling all their power.
The two Mercury 225s don't make a fuss and immediately push the boat to a good 36 knots, which I reach at 5000 rpm, consuming only 68 l/h. 

The hull is very narrow, so it behaves very well and, despite there being a lot of sea, I can control the manoeuvres precisely. 
I reduce speed and, at 3500 rpm, I read 20 knots of speed on the instrument with consumption of 50 l/h. The most surprising thing for me is that, even with this wave of more than a metre, we go well, without crashing and above all without sprays entering the boat. I'm only sorry that I can't test the top speed but I think that with this engine, given that we still have some gas left, we shouldn't have any difficulty in exceeding 40/45 knots.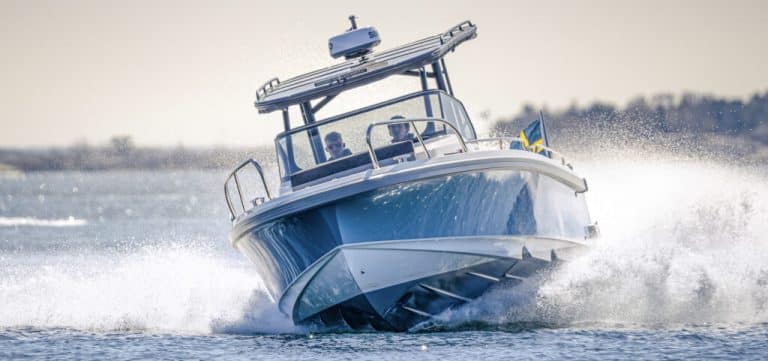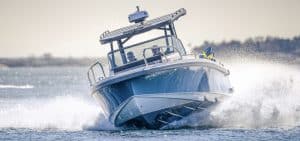 The Nimbus T9 X Edition is behaving well, so much so that I push on the throttles again and begin a series of tight turns to try to get her into trouble but, despite my attempts, she continues to remain very stable, I can clearly feel her balance in my hands.
I reduce speed again to 3000 rpm, around 15/16 knots, and here everything becomes even easier. This speed makes for very relaxed cruising, with very low consumption, around 36 litres per hour.
Test Data
| | | |
| --- | --- | --- |
| RPM | Speed in kn | Overall Consumption in l/h |
| 500 | 3 | 4.7 |
| 1500 | 6.8 | 13 |
| 2000 | 8 | 23 |
| 3000 | 15 | 36 |
| 3500 | 20 | 50 |
| 4000 | 29 | 59 |
| 5000 | 36 | 68 |
Technical Specs
| | |
| --- | --- |
| Length | 9.35 m |
| Beam | 2.95 m |
| Weight | 2800 kg |
| Fuel | 320 l |
| Water | 56 l |
| Propulsion | Inboard or outboard |
| Power | fro 250 to 450HP |
This article is also available in:

German