Nimbus is synonymous with Swedish nautical quality and a long tradition of shipbuilding that has its origins in the distant past, precisely to the times of Vikings. Bella Center, based in the Rimini area, is the "official importer for the entire Nimbus Group" and, explains CEO Giampiero Manzi, "also has dealers working throughout Italy for the Flipper, Bella and Aquador groups, while for the Nimbus Group in the future there will be dedicated dealers for each area". Such a diversified fleet offers an infinite number of choice opportunities for owners looking for boats with "quality, comfort, safety and, above all, care for the environment". Bella Center participated in the Genoa Boat Show with two boats, the (brand-new) 900DC and the 900ST, both day-boats of the Flipper brand. The aim is to offer the best possible service and, as Giampiero Manzi points out, "the boats for 2022 have all been sold by now, but we still have the latest prices that can be customized".
How do you want to penetrate the Italian market with Nimbus?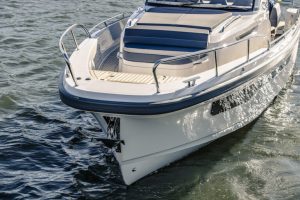 The most suitable range for the Italian market could be the T series, with outboard and sterndrive propulsion. We want to become the leader in this segment in Italy. And we want to be the dealer of Scandinavian brands with the most presence in Italy, among those of the whole group represented by Nimbus.
What about the boats you import?
They are built in Sweden, they are high quality boats, specifically designed to sail the northern seas. High-performance, they don't need any presentation in terms of finishings, starting with the cushions and ending with the smallest details. Another important thing is that there are handrails in every part of the boat to ensure maximum safety. This means that polished steel can be found at every point, for extra safety on board.
What kind of boats are we talking about?
Cruisers, cabin cruisers, commuters. In short, different models for every need. Engine options range from inboard, sterndrive, outboard and thruster. Every boat has its own features and you can choose between many models.
How are design and interiors?
Design is innovative. Nimbus has a special department that takes care of it. Innovative and spacious, the interiors make the most of every space on board.
What are your sales figures and targets?
We only import a few high-quality boats, and we don't have much availability at the moment. So customers have to wait a while to get their boats, as with all luxury and quality items.
Why did you get involved with Scandinavian boats?
I like their way of building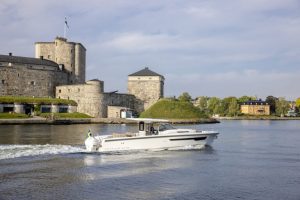 and doing things. Their ability to build boats that comes from the Vikings combined with modern technology means that these boats have a kind of very deep history in sailing. And since I'm a seafaring enthusiast, to go and sell boats that have a tradition that comes from the past – they were the first sailors in the world – is great. Secondly, they have very few problems, in the sense that if there's a problem it's solved immediately, but it's very rare, in two years I think I've had two problems.
Are these boats as sturdy as old Volvo?
Yes, they are sturdy boats with finishes and details that have nothing to add.
What's your strength in approaching customers?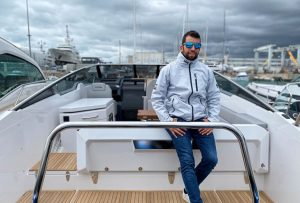 We let our customers see the boats on water. Because that's the best way to let them see first-hand the quality of the boats, and because they all look good on stands at boat shows. We're building a test centre in the province of Rimini, where we'll have a few models available for sea trials for people who are seriously interested for a fee and then we'll reimburse double if they buy any of our models.
The idea is to create a showroom that looks as much like an indoor harbour as possible. So we'll keep as many boats as possible, when production allows us to, because now we don't have any stock, everything is sold.
What are the waiting times for these projects at Porto Verde?
A couple of years for the indoor showroom. But the test centre is already up and running with two boats. Now there's the 900 DC and soon the T11 and the 900 ST. Virtual reality glasses for viewing the boats from home will be available soon.
For further details and boat visits, please write to: Info@bellacenteritalia.it