Noomi Yachting, the test.
Easy saying that a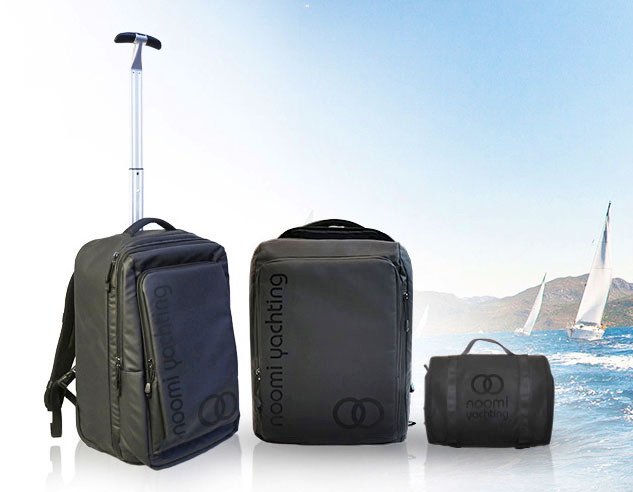 bag is specially designed for boats but, as unfortunately it often happens, we tend to associate the capacity to be suitable for boats with a (often famous) brand.
But, in practice, which features should bags and trolleys have to be really "nautical"?
We've tested the first three models that Noomi, a historic Italian brand specialized in leather goods, has just launched and incorporated in its new Yachting line. And when we talk of "test", we mean that we've really put them through the mill. But, let's go step by step:
Noomi Yachting Backpack
It's a waterproof backpack,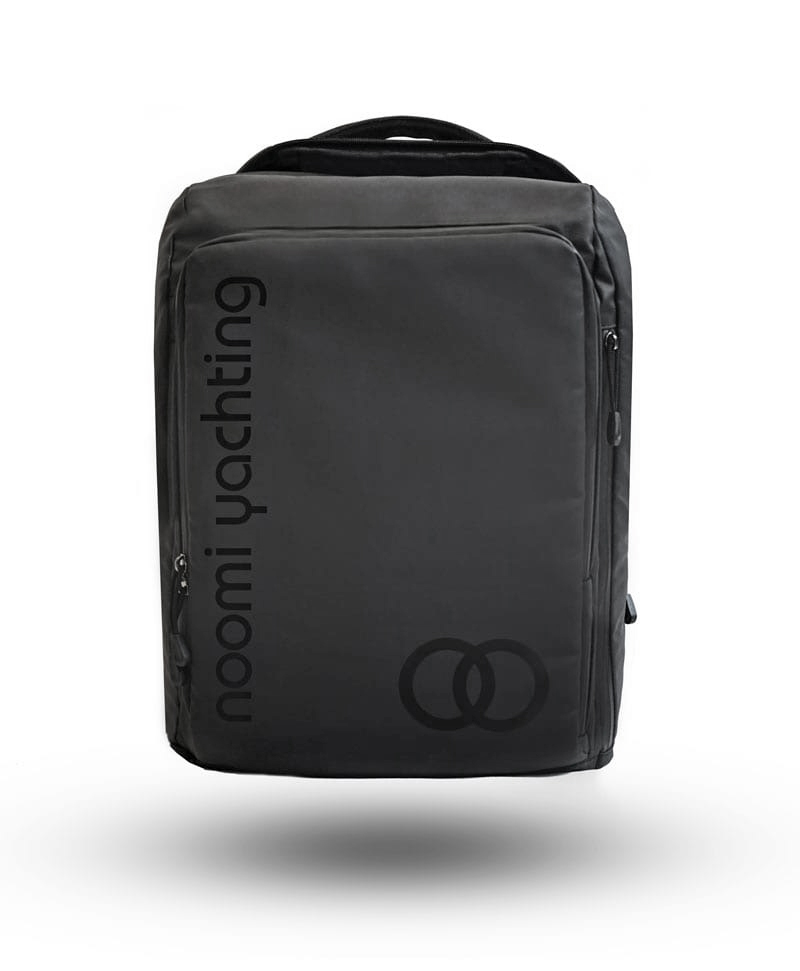 which does not mean that it is watertight. All zips are indeed waterproof and the product is made of a special waterproof technical fabric. Equipped with adjustable straps, it features a front padded pocket and a central padded pocket where you can put a 15-inch laptop. Moreover, the backpack has a side pocket and two rear padded anti-bag-snatching pockets.
Dimensions: h.44 x 31 x 22 cm. Capacity 30 L. Weight 0.9 Kg.
Noomi Yachting Trolley
It's a waterproof trolley and its dimensions comply with  standard cabin baggage size restrictions. Made of technical fabric, it features an extensible handle and extractable straps which allow to convert it into a backrest, when necessary. It is equipped with two front pockets and a rear one with padded compartment for a 15-inch laptop. Noteworthy is the extractable fabric covering the wheels which prevents the trolley from damaging or dirtying our boat's interiors and surfaces. The characteristics of the fabric indeed make the trolley expansible and usable even in the cockpit.
Dimensions: h.52 x 35 x 20 cm. Volume 60 L Peso 2,3 Kg.
Noomi Yachting Beauty Case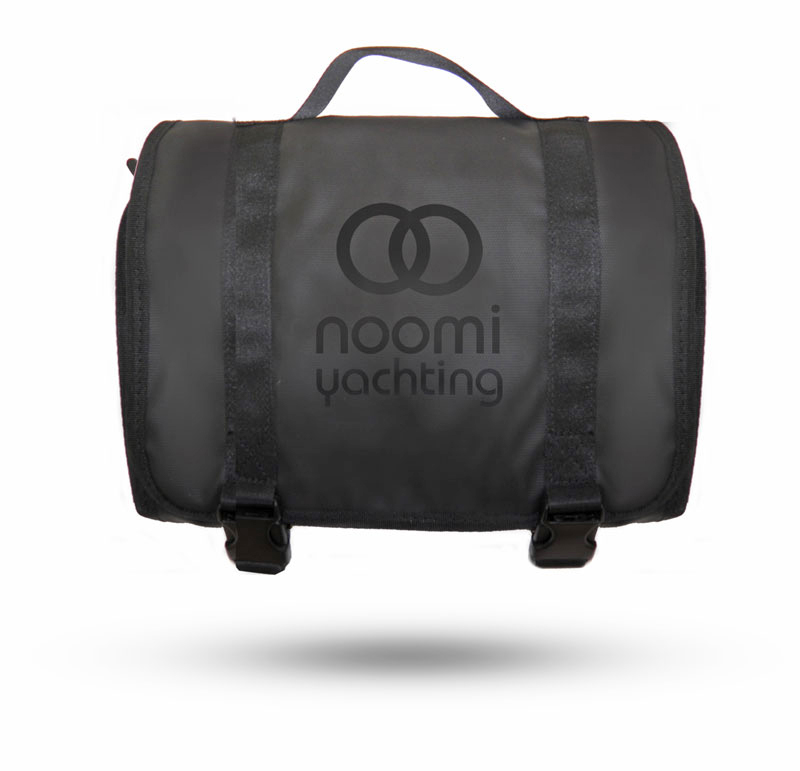 Equipped with a triple pocket, this beauty case can fold in three and, thanks to the hook which it is equipped of, it can be hung everywhere, on a boat or in a hotel room. It is made of the same waterproof technical fabric than the trolley and the backrest.
Dimensions h.22 x 28 x 7 cm.
Test of Noomi Yachting backrest and trolley

Test n.1: What about a bath?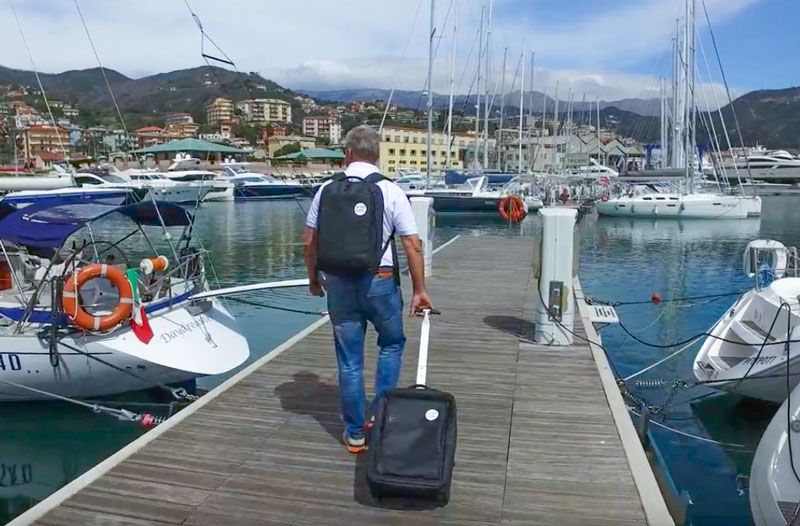 Since the bags arrived in our offices, there were lots of discussions on the meaning of the adjective "waterproof". Of course, we cannot ask a backrest or a trolley we use everyday to be watertight but, I assure you, I have had the opportunity to see that most of the products which declare themselves to be "nautical" don't resist moisture.
With this personal skepticism and after the above-mentioned discussions, I informed Dr. Fabbri ( the owner of Noomi Yachting) that I would wear out and even "shower" his products and I took them.
Before loading and testing them with a real (and expensive) equipment, we took them to the Marina di Varazze on board our lab-boat, where we subjected them to the first, very hard test.
With the zips open,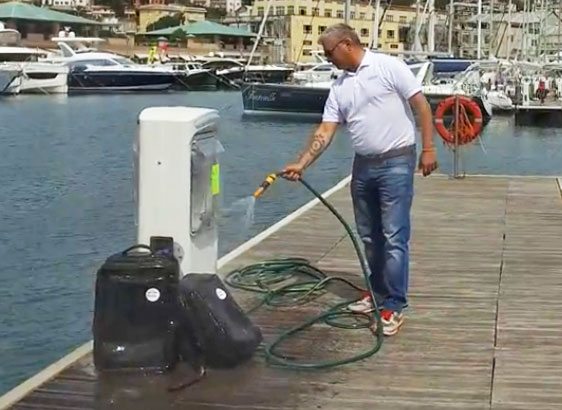 we put some paper napkins in every single pocket of both the trolley and the backrest. Napkins were absorbent and had the task of detecting any possible traces of water or moisture infiltration. So, I took and put them on the jetty, just next to the water and charging columns, where I had prepared my faithful water pump.
After adjusting the spray nozzle in order to simulate a fine heavy rain, I enjoyed watering both the trolley and the backrest. Then, I beat them a little to make them drip and, moved by a certain curiosity, I opened pockets. To my great surprise, I saw that there was no trace of water or moisture inside: all napkins were absolutely dry!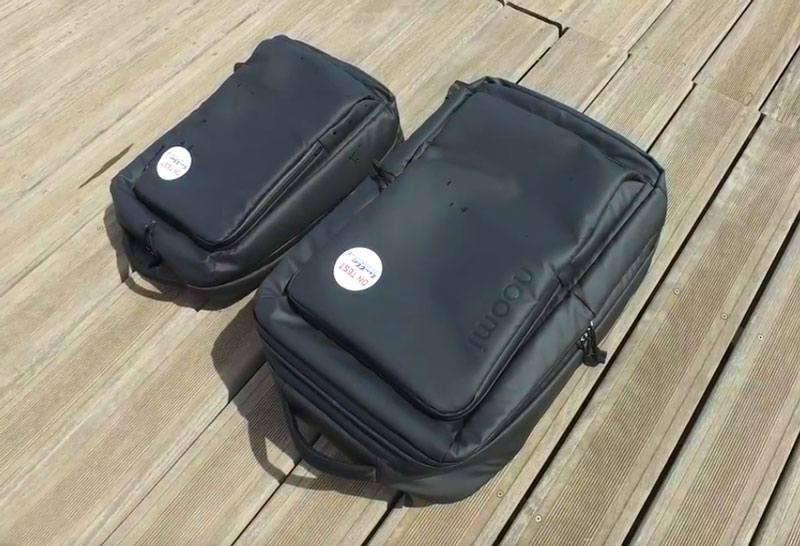 As soon as I laid out the trolley and the backrest on the jetty to dry them, I found out another quality of this fabric: within just a few minutes, also thanks to the contribution of both sun and wind, the external fabric was already dry.
I was a little disappointed, I felt a little defeated and I was about to give up when I had an amazing idea…What about a fall overboard?
Sure, this is a thing that should not happen and these two items are not certainly designed for this but the temptation to see how "waterproof" these products are was too strong.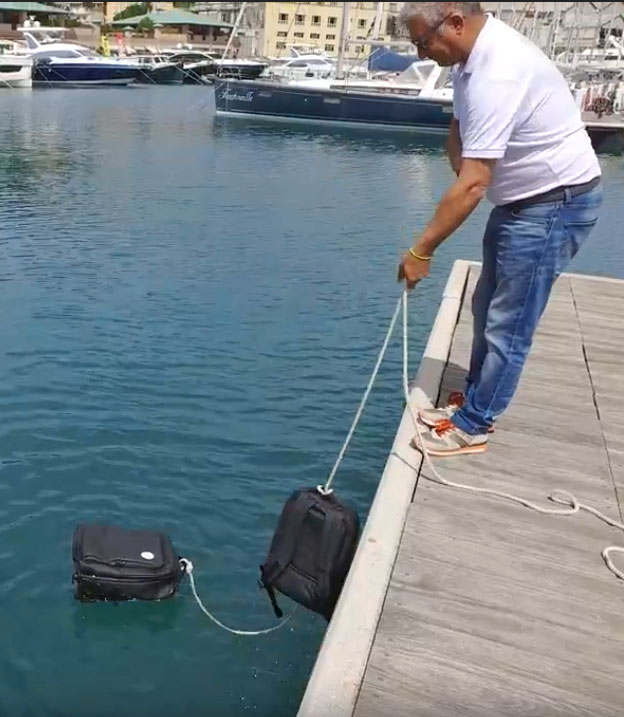 So, after securing the two handles with a line, I threw everything into the water. After 30 seconds, I recovered them. I hung the two bags and, then, I put them on the dock: " they've fallen into the sea, I have to wash them, haven't I?", I thought with a smile on my face.
Again, I subjected them to an abundant shower in order to remove sea and port water and finally, this time with trepidation, I opened the zips and….nothing, napkins were always there, perfectly dry, they seemed to look at me derisively and I started to get attached to these two items which, as you can see in the video below, successfully passed the first test.
Test n.2 : the (hard) work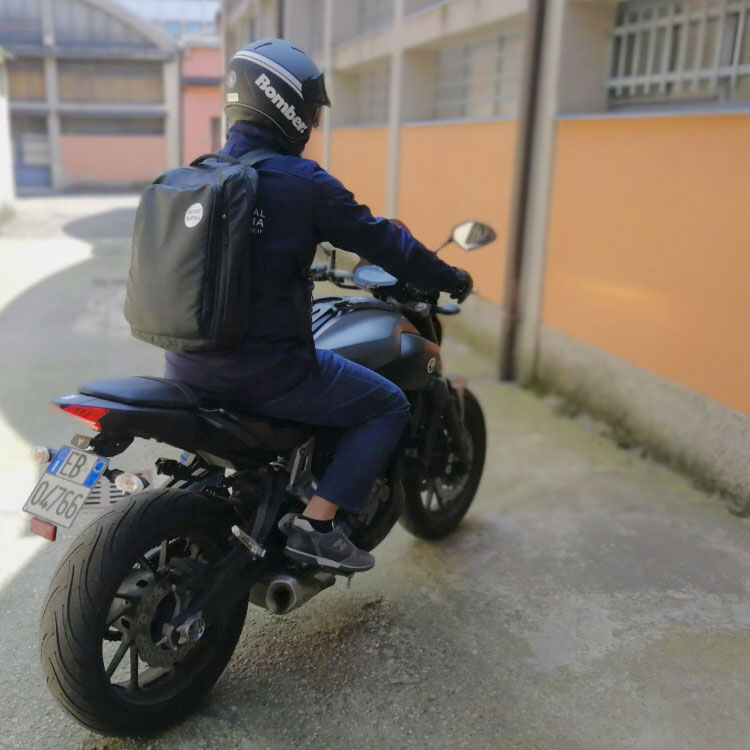 This second test proved to be really simple to put into practice and, in fact, all we had to do was to use the three items in the conditions our team is used to work, that is overloaded, heavy and littered all over the boat.
Usually, I put my laptop, my portable drone (a Mavic Pro), a stabilizer, a camera and an endless amount of chargers and backup batteries in my bag. With a weight which often exceeds 9-10 kg, my bag follows me everywhere, in my motorbike, car or boat.
I replaced my usual travel (boat) bag with a Noomi Yachting trolley to which I gave the same treatment than the backpack. The test allowed me to find out that wheels are significantly more convenient than a backpack. Moreover, I found out that things are even easier when the backrest is leaned on the trolley. In addition, the trolley is very soft and easy to stow.
In order to make my test as complete as possible,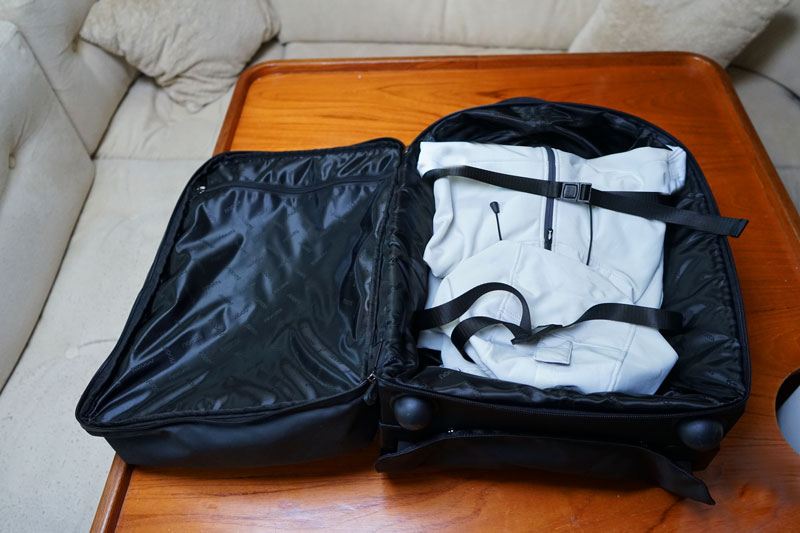 I flew to Palma de Mallorca and I embarked my trolley containing a sailing jacket, a pair of boots, enough clothes for my 4/5-day trip, backup batteries and additional equipment for a total weight of 19 kg.
The beauty case, on the contrary, was given no hard treatments and I used it just to avoid some embarrassing situations. It can be hung everywhere, which means that it can be put even where you wouldn't like to put anything, it disappears behind doors freeing up a lot of space and, above all, it never falls, not even when the boat lists.
The second test has gone on for more than three times and our Noomi Yaching "triptych" is still as intact as the day it was born, with no scratches or signs of wear.
Do you think that I got angry for not having damaged them?
Not even a little bit, I've called the company and, dismissive of their complaints, I told them that I would never give them back neither the beauty case nor the trolley or the backpack that, seriously, is the only one to have resisted so long my life style that, those who know me usually define as "crazy".
Ah, I forgot to say, the three objects of desire – the trolley, the backpack and the beauty case, cost € 159, 119  and 39 respectively but, of course, they are all sold out. Noomi Yachting is re-stocking them and, if you want to take advantage of pre-sale and receive them in late June, they're on sale!