NJ 700 XL : a new great RIB by Nuova Jolly Marine
Space, the final frontier. That's how the world's most notorious science fiction serial was translated by the narrator's voice and it's exactly what I think of when I see this boat that, within just 7 meters, is not only trailerable (when tubes are deflated) but also establishes itself as the widest 7-meter RIB never built.
On board, the first sensation you can perceive is that of being on board a bigger boat that, thanks to a width of 3.14 meters, looks like a 8-meter RIB.
However, it would be simplistic to attribute the innovative value of this project only to its width because, based on a completely new hull, the new creation is also intended to offer excellent performance with low-power engines, containing costs and making the boat eligible to enter a broader market segment.
Looking at the hull lines, you can notice a 20-degree deadrise angle that, as you can read below, provides the boat with great lift and excellent planing performance. Equally noteworthy are bow angles, characterized by a very deep V-shaped outline and a 55-degree angle. Consistent with Nuova Jolly's tradition, all these features make the new NJ 700 XL a boat capable of sailing very well, in any situation.
Despite their importance, all these features, however,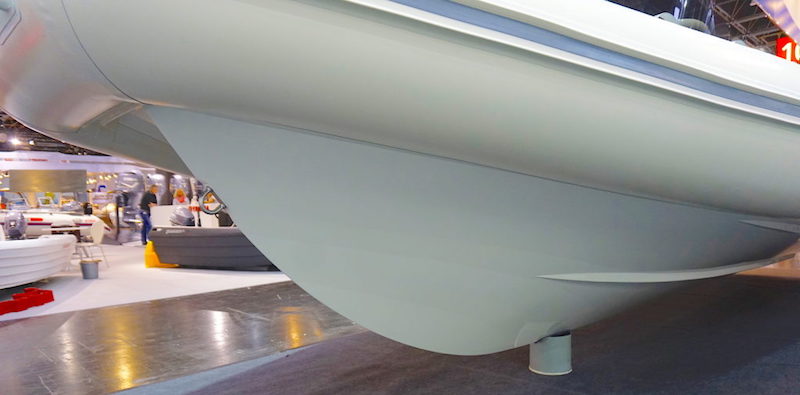 only supplement what is the first quality of Nuova Jolly Marine's latest creation where width and overall design, combined with interesting colour combinations, make the NJ 700 XL an inflatable boat of rare beauty.
NJ 700 XL – Sea Trial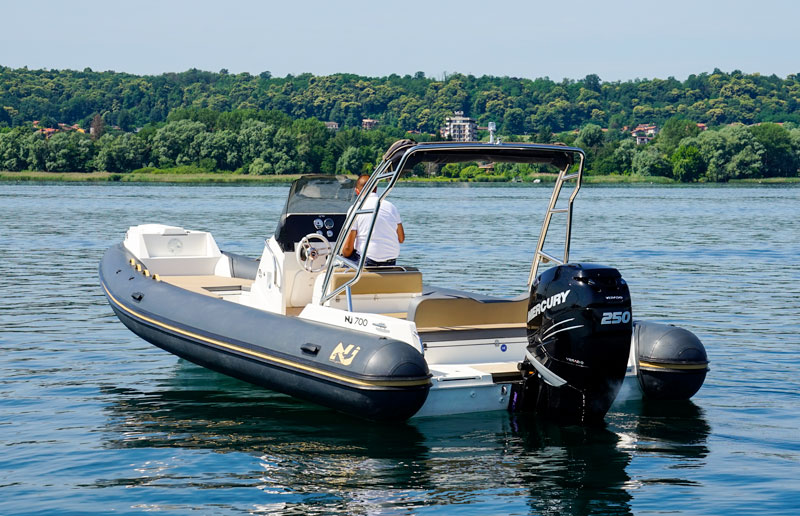 Today, we have the opportunity to test the NJ 700 XL in a version equipped with the most powerful engine option available. In the stern, indeed, we find a Mercury Verado 250 that, in its black guise, perfectly matches the colour of tubes.
Claudio, a member of the third Aiello's generation in the company, gives me the RIB after showing me every single detail. It is very nice to see how the manufacturer is so attached to his product, it's something I perceive every time I talk with a member of the family and, in my opinion, it's also one of the main reasons that justify the worldwide success of this brand.
I release the mooring lines and I slowly go out of the port;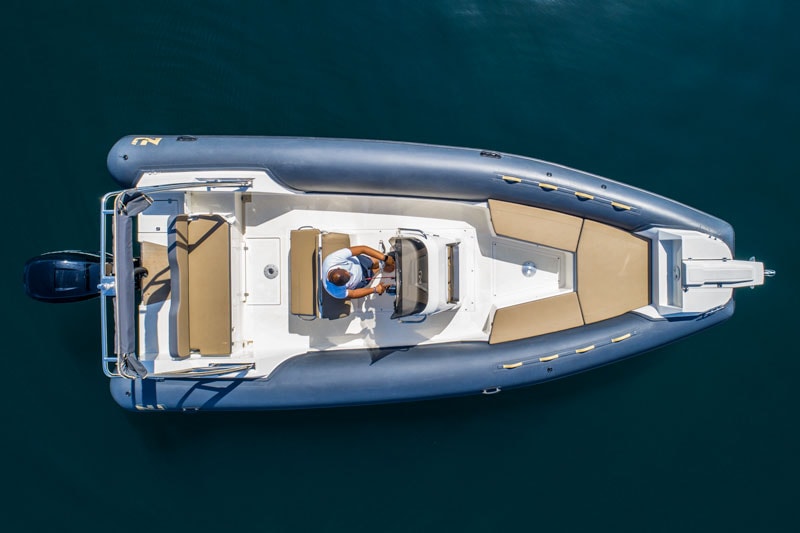 then, I stop and I wait another boat to transit. Waves reach the NJ 700 XL that remains perfectly stable and unperturbed. Her reaction is soft and moderate, stability is really amazing.
Many times, people forget that RIBs spend much time at anchor and, under this condition, comfort is essential. With only one outboard on board, the space offered by the astern boarding platforms is abundant.
The combination of these two characteristics make this boat a real " fun machine", perfect for roadstead time.
I accelerate progressively and, at over 2,000 rps, planing starts, with a very clean wake and the bow low on the water. I goes on accelerating and the log rattles off interesting numbers, speeds finally come and the new hull slides gently on the water.
I stop and test accelerations; it takes only 14 seconds to reach 40 knots and, in little less than 20 seconds, I travel at the top speed – 47.3 knots! – while the boat gives me a sense of absolute safety and stability.
I slow down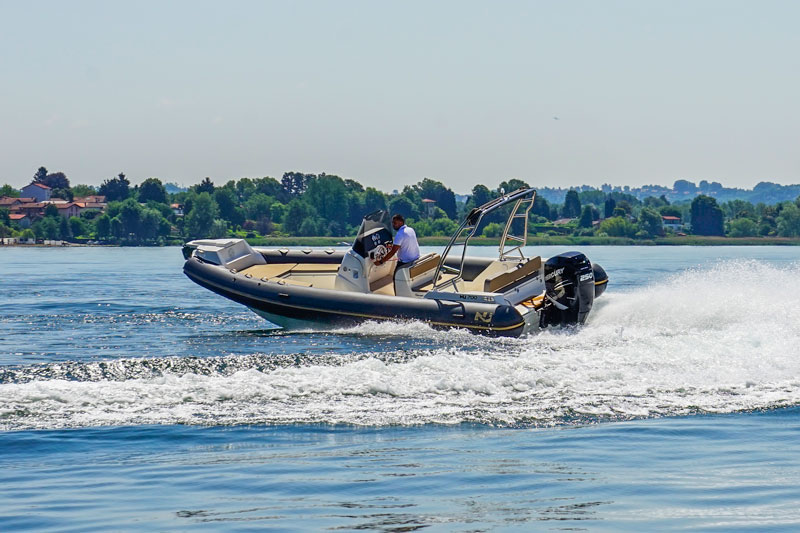 and, at about 30-35 knots, I start turning: the hull is literally bolted to its trajectory. I perform increasingly tighter turns and I try to get the boat into trouble but… even in the tightest turns, the NJ 700 XL barely slows down, always going on planing.
I accelerate again but the only thing that I notice is an increase in the centrifugal force; the RIB is always perfectly stable and doesn't change its trajectory; I feel like I'm being on a flight simulator.
I see a large motorboat planing about 400-500 meters away, I pull throttles down and, in one second, I reach it and, without slowing down, I cross its wake while the NJ 700 XL penetrates the 1-meter wave without crashing it. She simply crosses the wake, totally unperturbed. I try again from the outside of the wake, where waves are more threatening and, at 35 knots, I jump and, again, I land on the water with no problems: it's really astonishing!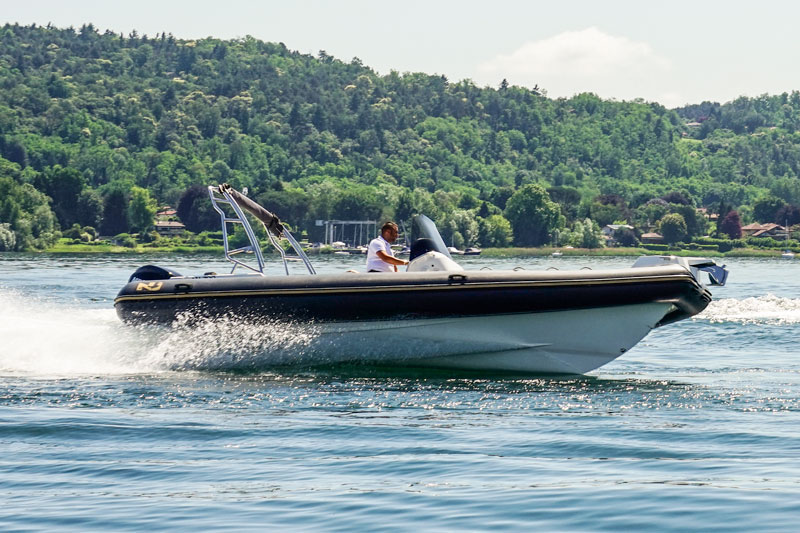 While planing, at 35 knots, I head for Marina di Verbella, our sea trial is over and it is time to come back. At this speed, comfort is absolute, you can run miles and miles almost without realizing it.
Finally, I enter the port, I moor and I get off. One last look at the NJ 700 XL confirms that, even though I've just tested one of the best RIBs of the shipyard, the beauty of this boat will be the first reason why people will buy it.
Conclusions
A great RIB,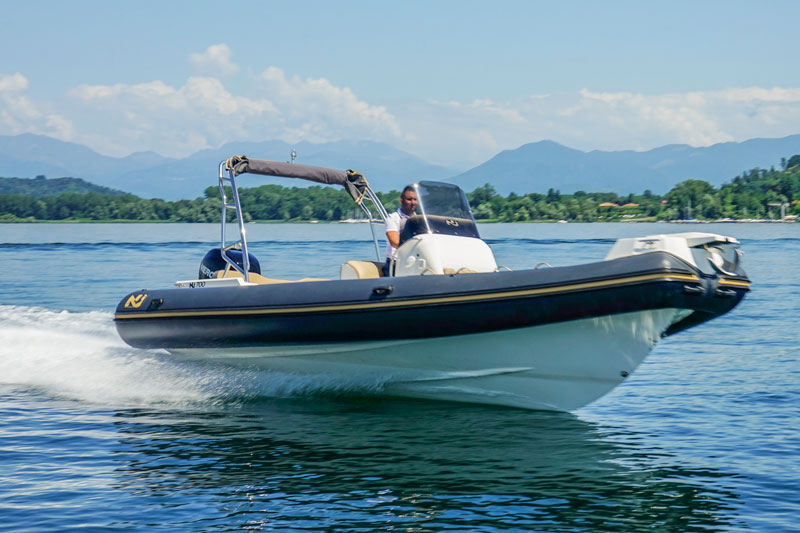 in every way. Performance, easy handling and abundant spaces make the NJ 700 XL a perfect fun machine.
Offered for sale from about € 30,000, this RIB is real multi-purpose boat, perfect for daily trips, nautical camping and medium-rage cruising.
The purchase promises to be uneventful even in the future because Nuova Jolly used-boats always guarantee a good value over time.
Nuova Jolly NJ 700 XL – Performance
| | | | |
| --- | --- | --- | --- |
| rpm | Speed in knots | Acceleration | Seconds |
| 600 | 3.2 | 0 – 20 knots | 4.9 |
| 1,000 | 5.1 | 0 – 30 knots | 9.3 |
| 1,500 | 7.6 | 0 – 40 knots | 14.1 |
| 2,000 | 10.6 | 0 – Max speed | 19.2 |
| 2,500 | 18.1 | | |
| 3,000 | 24.3 | | |
| 3,500 | 26.4 | | |
| 4,000 | 32.4 | | |
| 4,500 | 38.2 | | |
| 5,000 | 43.6 | | |
| 5,500 | 47.3 | | |
Nuova Jolly NJ 700 XL – Description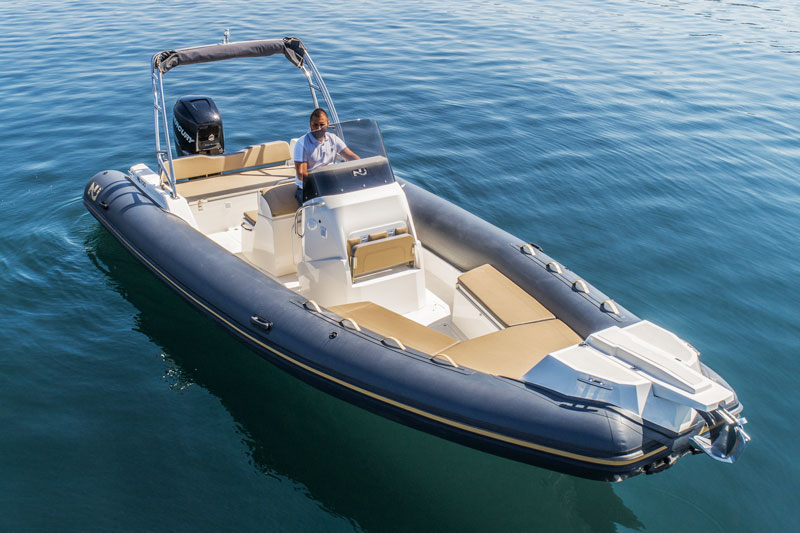 The innovation introduced by this model starts from the bow where, in addition to the traditional sun pad, designers have created a real dinette that, benefiting from the V-shaped seat placed just in front of the console seat, can seat 6 adults around the central dinner table.
When the table is moved away, this space turns into a large relaxation area that, of course, offers the largest sunbathing platform of the boat.
The console is centrally-located and walk-around. It is equipped with a double stand-up seat that, in the event you want to drive sitting down, can rely on a deep sturdy toe-clip. View is perfect, in any driving condition.
Just behind the pilot station, there is an additional convivial area. The seat closest to the pilot's one houses an insulated compartment that works as freezer or, if you prefer, can be complemented by a grill and a compressor in order to have a real refrigerator on board.
The transom accommodates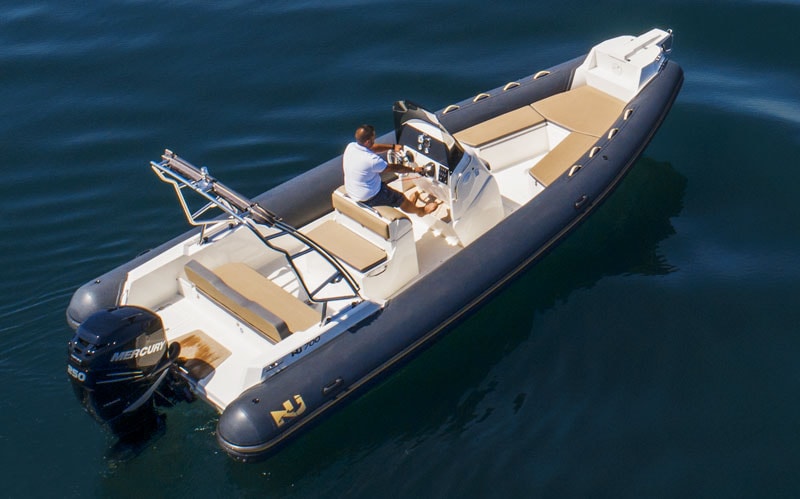 a second forward-seeing seat. This way, we have an additional  large central space, below which a huge locker opens up, with a demountable table and a convertible sun pad.
That's how, within just 7 meters, this boat offers two dinettes and two sunbathing platforms.
In the stern, on the left of the engine, a folding bathing ladder disappears when not in use, providing guests with a large unencumbered space from the dock to the cockpit.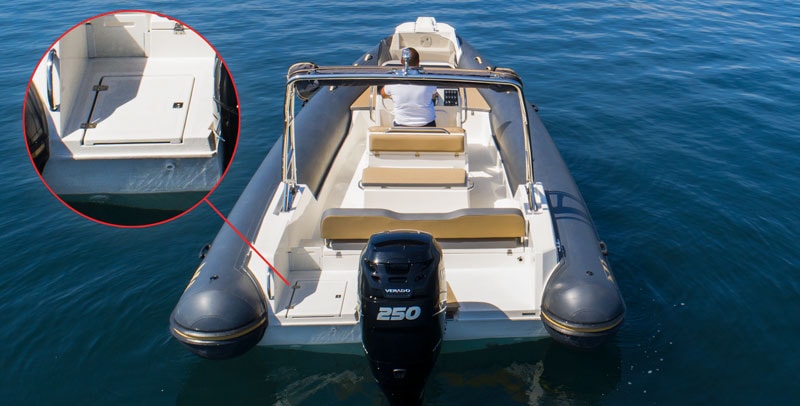 Nuova Jolly Marine NJ 700 XL – Technical Specs

Length                                   6.99 m
Width                                     3.14 m
Compartments                      6
Dry Displacement                900 kg
Number of persons               14
Max Powet                             250 hp
Price                                       € 30,200, VAT excluded
Nuova Jolly Marine Srl
Via Bologna 3/5 – Bussero – MI