Ranieri Next 370 Sea Trial in Miam

The setting of the bay surrounding the picturesque American metropolis was perfect as a background for the Ranieri Next 370, a spacious cruiser which, fitted with two powerful 350HP outboards, proved to be equally very exciting at sea.
Characterized by the presence of internal volumes unthinkable for this length, the Next 370 also has excellent outdoor living spaces, which we profited from during our test in the waters of Miami.

Sea Trial
The morning chosen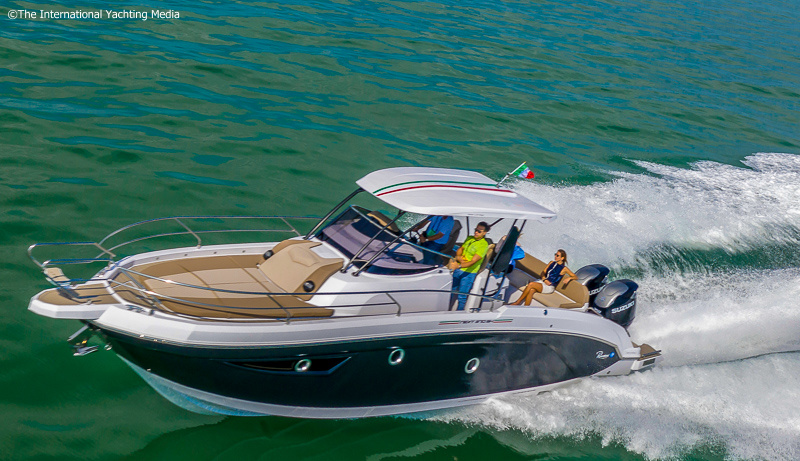 for our test is fine, the sun shines warm in the sky and a light breeze slightly ripples the sea, perturbed by the waves provoked by transiting boats. We seize the moment, hop in the boat, start engines and cast off.
We're seven on board, maybe too many for a sea trial but I realize that, leaving the port, everyone takes a seat comfortably. Salvatore Ranieri and I stand at the double wheels while the others are divided between the seats of the forward cockpit and the large aft sun pad. A clear signal that guests, too, are welcome on a boat with two cabins.
Over the bridge that delimits the traffic zone and at low speed, we're ready to start our speed and consumption tests.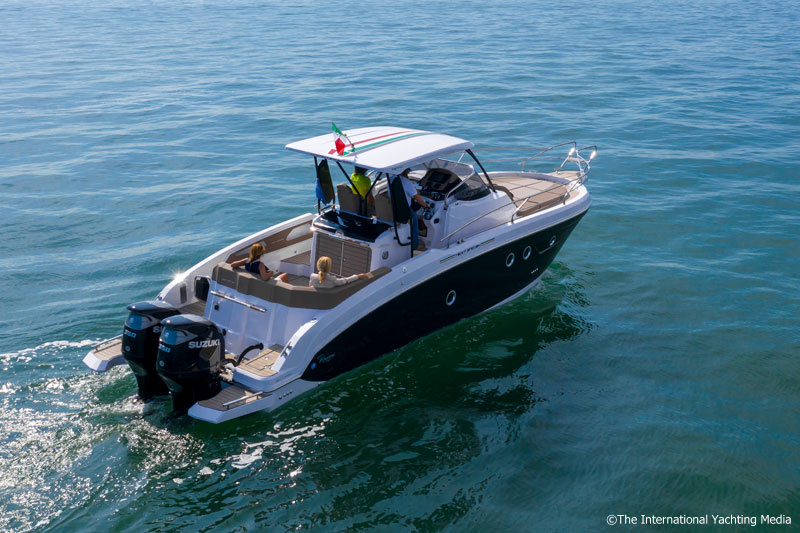 I push throttles down and, at 13 knots and 3,000 rpm, I get the boat on plane. The Next 370 SH America is docile in acceleration and seems to be very stable and safe.
I build the revs up to complete my data collection and, at 4,000 rpm and over 25 knots, I start to adjust engine trim.
Raising it up a little and keeping revs constant, I clearly see that the dual steps on the hull have become fully operational.
The boat gets lighter, the hull works more efficiently and speed becomes a few knots faster without never touching the accelerator.
Reaching the perfect boat trim is really simple and user-friendly. According to our data, the most advantageous cruising speed is that one the boat develops at about 25 knots and 4,500 rpm. The fuel consumption I detect at this speed is equal to 3.44 l/nm, that is 110 l/h.
With throttles all down,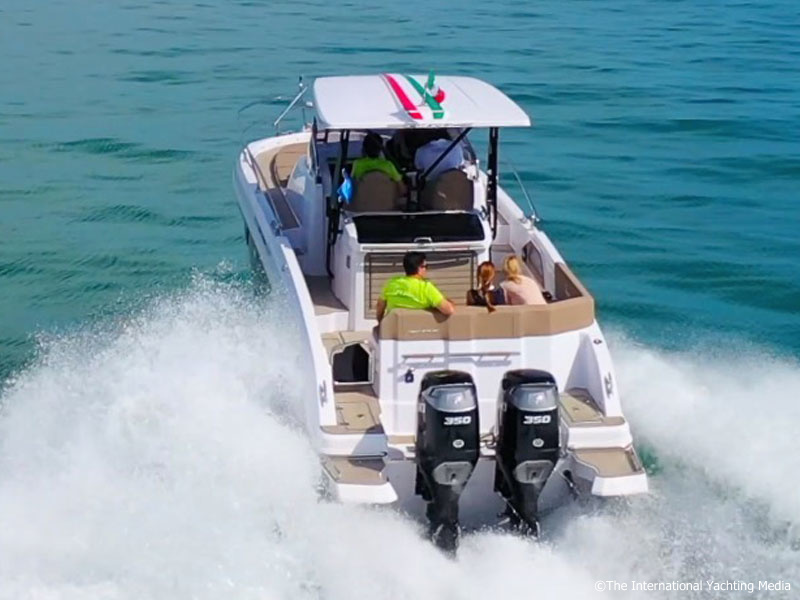 we reach a top speed of 44 knots, not bad for such a fully-equipped heavy yacht. The two Suzuki DF350 which this boat is equipped of seem to be a well-balanced choice; the power available is considerable but not exaggerated. The feeling you get on board the Next 370 SH America, even at very high speed, is one of stability and comfort.
Now, it's time for us to enjoy the funniest moment of our sea trial, that is the maneuvering test. As we perform our first turns, I immediately realize that the boat is even more agile than I expected.
I go on maneuvering in increasingly tighter spaces and my intuition becomes certainty: the Next 370 SH America performs all route changes in a very fluid precise way at high speed.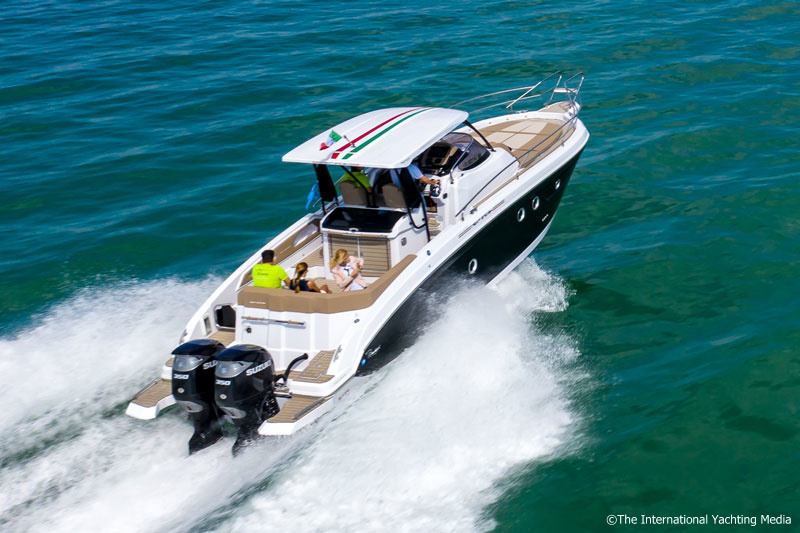 I try to take my hands off the helm while turning and, at 30 knots, the boat keeps itself on track. I notice that all passengers, even those seating far from the central console, are not affected by our maneuvers. Instead, they seem to be comfortable and sheltered by water sprays. The hull is therefore excellent and surprisingly sportier than expected.
The Ranieri Next 370 is an excellent boat. The less experienced drivers will not have any steering problems with her. The most experienced ones, instead, will find her very funny at sea. Featuring a large loading capacity and two cabins, it's certainly the ideal medium- and long-range cruiser.

RPM
Speed MPH
Speed

KNOTS

Cons. Nm/G
Cons. Nm/L
Cons. L/Nm
Cons. L/H
600
2.8
2.4
2
0.52
1.89
5.29
1,000
4.7
4.1
2.1
0.55
1.80
8.47
1,500
6
5.2
1.6
0.42
2.36
14.19
2,000
8.5
7.4
1.4
0.36
2.7
22.98
2,500
8.9
7.7
1.1
0.29
3.44
30.62
3,000
11.6
10.1
0.7
0.18
5.4
62.73
3,500
21
18.3
1.1
0.29
3.44
72.26
4,000
24
20.8
0.9
0.23
4.2
100.94
4,500
32.2
28
1.1
0.29
3.44
110.81
5,000
37.6
32.7
1.1
0.29
3.44
129.,39
5,500
43.3
37.7
0.9
0.29
3.44
149.01
6,000
48
41.7
0.9
0.23
4.2
201.89
| | |
| --- | --- |
| Acceleration knots | Seconds |
| 0-10 | 2.32 |
| 0-20 | 5.37 |
| 0-30 | 9.4 |
| 0-40 | 19.19 |
Ranieri Next 370
The flagship of the Ranieri International Next range is a well-designed boat, equipped with anything you need during your medium- and long-range cruises.
The new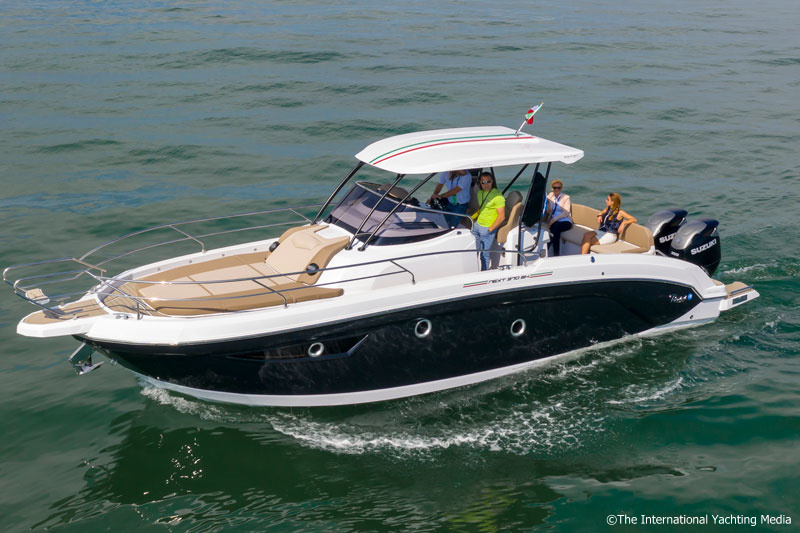 version America is fitted with a T-Top that efficiently shelters the steering console.
With CE Class A certification, she has an overall length of 11.50 meters.
The Next 370 SH America is a walk-around model. Circulation, indeed, is excellent throughout the boat. In particular, walkways around the steering console are very wide and therefore highly comfortable.
Starting from exteriors, the aft cockpit is a particularly living environment with a L-shaped seat that envelops a large dinner table. The cockpit overlooks an opening cabinet that serves as a kitchenette.
Opening the upper door of the cabinet, we find two burners and a sink. A refrigerator is positioned under them.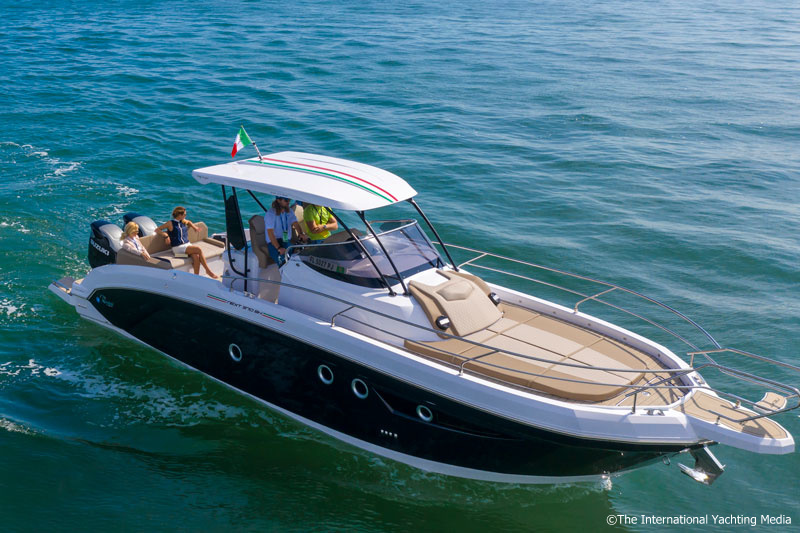 Sheltered by the new T-top, the central console has two comfortable seats. Here, passengers can enjoy navigation in the shadow, seating or simply leaning against seats, thanks to the possibility to open the latter totally or partially.
Moving forward, we find a large sunbathing platform with speakers on both sides. This environment is perfect to host two solidly built or three medium/small-built people. Below deck, a ladder positioned on the left of the console leads to a particular space with three doors. The forward one leads to a cabin equipped with double bed.

The dimensions of this cabin are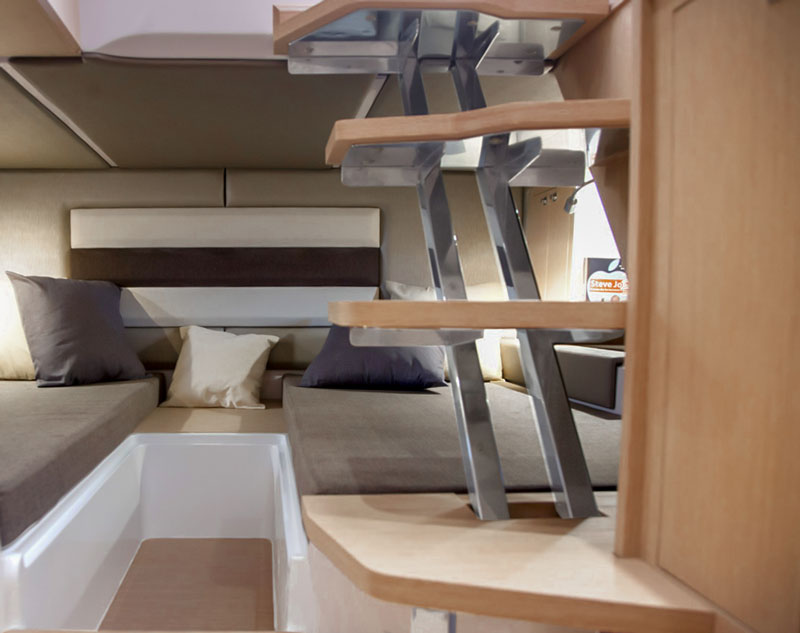 excellent and, raising the table placed under the central pillow of the bed, the environment becomes a dinette, which is a considerable advantage on rainy days.
On the starboard side, instead, there are two other doors. They lead to what is  very interesting element of the Next SH 370 America. The bathroom, in fact, consists of two separate environments in order to provide passengers with more privacy.
The forward door gives instant access to a compartment with washbasin and shower while the aft door leads to the toilet.
The second cabin is positioned aft. It is equipped with twin beds that can be put together and become a double bed.
The feeling of space offered by this cabin is remarkable, definitely greater than what can be found on other boats of the same size.
In conclusion, this Ranieri Next 370 is a truly excellent boat, in all respects.
https://www.facebook.com/todoslosbarcos/videos/570642296783413/
Technical Specs
| | |
| --- | --- |
| LOA | 11.50 m |
| Max Length | 3.00 m |
| Berths | 5 |
| Displacement | 4,500 kg |
| CE Certification |  12 (A) – 14 (B) |
| Engines | 2 Suzuki Df 350 hp |
| Fuel Tank Capacity | 1000 l |
| Water Tank Capacity | 200 l |