In C
ô

te d'Azur to sea trial the Rio Yachts Espera 34

There are boats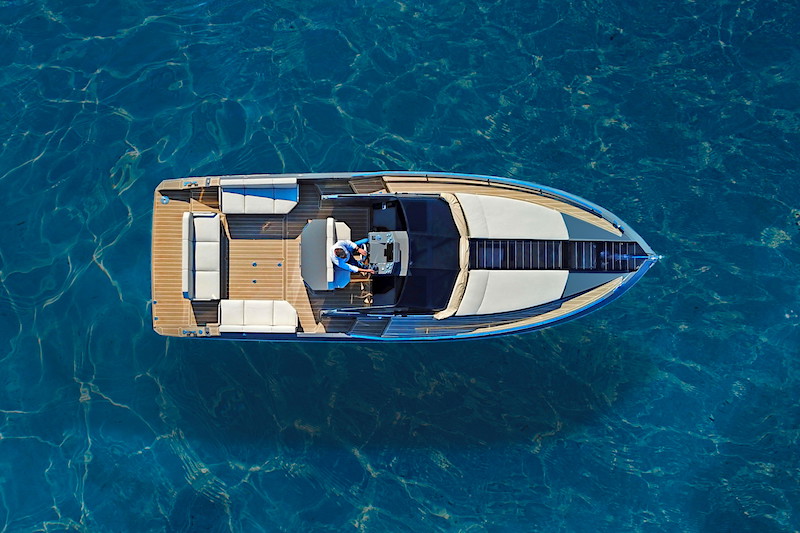 that, despite their sizes, don't go unnoticed and make you turn and look at them when you run into them. There are others that are fast, very fast, and are able to make you fell free and give you adrenaline rushes when you pull your throttle down.
And there are some –  far fewer as a matter of fact –  that are defined as "seaworthy" because they can sail with unparalleled safety and comfort levels.
The following is the sea trial of the Espera 34, one among the very few boats that actually express the sum of the above-mentioned three qualities and that, as you will have understood from this long preface, we have liked very much.
https://www.facebook.com/tuttobarche/videos/1902340079785010/
Rio Yachts Espera 34 – Sea Trial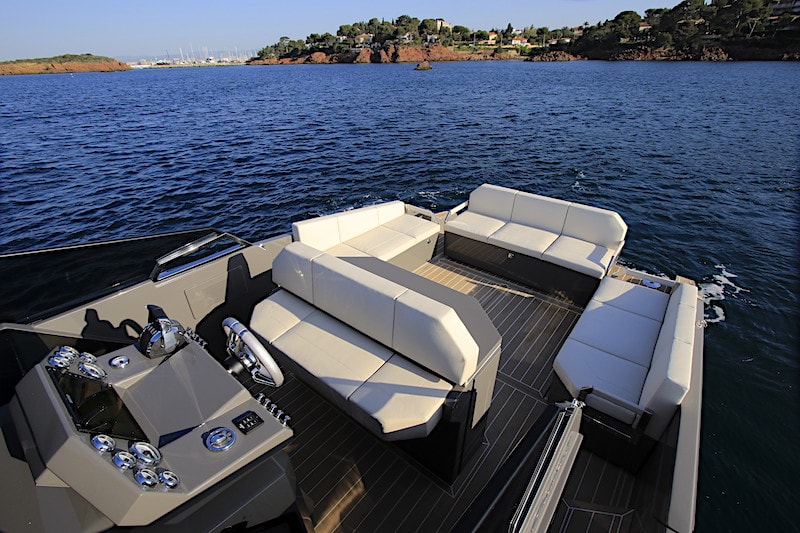 As soon as I was informed of the launch of this special version of the Rio Yachts Espera 34, I asked the shipyard if they could give me the opportunity to sea trial this boat. I don't like "hit-and-run" sea trials because, even though a couple of hours can be enough to test boat performances, as boat owners know, boats have their own soul and this is the most important thing to report. And to do that, we need time.
Taking advantage of a great transfer to Côte d'Azur, we were allowed to climb on board for a day. The shipyard had to make a photo shooting and the inevitable distances we had to cover in order to help photographers finding the best coves for their service offered us the ideal conditions to simulate the intended use of this motorboat. The final destination was Saint Tropez, it was out of season (as far as this concept can be applied to this city) and we could not believe that we were allowed to run around without the usual mess.
The appointment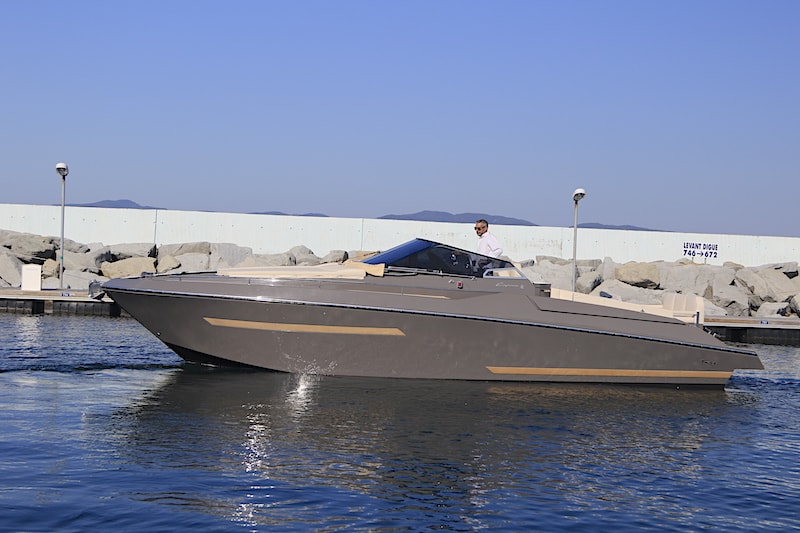 had been set up for early in the morning, in Port Saint-Raphael. At the dock, we were waiting for the Espera 34. Light was still low on the water when we finally spotted the motorboat advancing towards us with the engines idling in the calm water of the morning. It slightly rippled the water surface while the just risen sun played making the particular livrey of this boat change.
We climbed on board and we went out of the port while sitting in a cockpit that, thanks to the extensive use of teak and colour contrasts, made us feel like we were in the open air section of a five-star hotel rather than in the stern of a sporty yacht.
As soon as we left the port, I was allowed to take controls and I sat in the central pilot station: rudder, wheels and all instruments were where they should be, everything was easy to reach and I could steer the boat in total comfort. Front view was perfect and two comfortable seats, positioned on the starboard and the port side respectively, could seat two guests without impeding handling.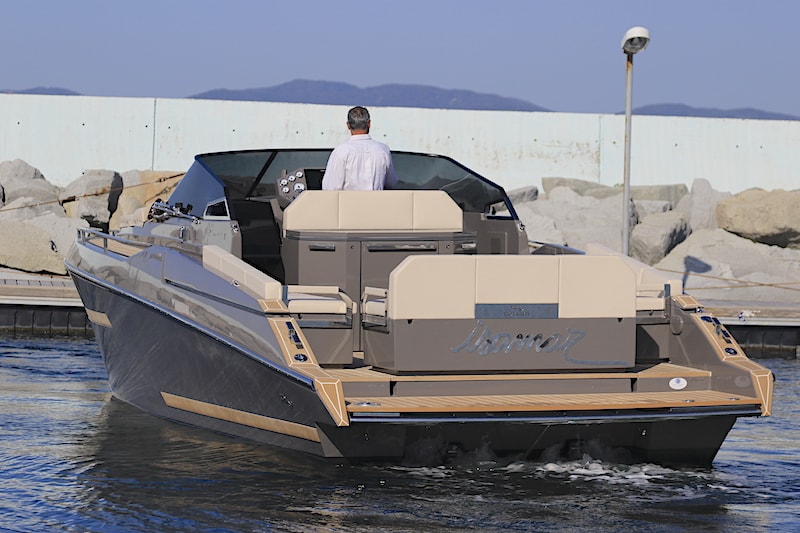 I started to speed up slowly. At the request of her owner,  this Espera 34 was fitted with twin Mercury Mercruiser 6.2 engines, 300 HP each. We're talking of V8 engines with gearbox and a digital accelerator (DTS). In my opinion, they are the best option for this yacht. Long- and medium-range cruising considers next-gen petrol engines, characterized by low consumption levels, a good way to enjoy excellent torque, unparalleled power, light weight and easy maintenance.
The Espera 34 proved to be highly responsive and every little pressure on the electronic throttles translated into a proportional immediate speed increase, which was the best way to carry out the most "annoying" work: speed and consumption data collection. Once all data were collected, I finally took my time to really test this boat. So, I invited all passengers to sit down and I started to buckle down.
First of all, I wanted to test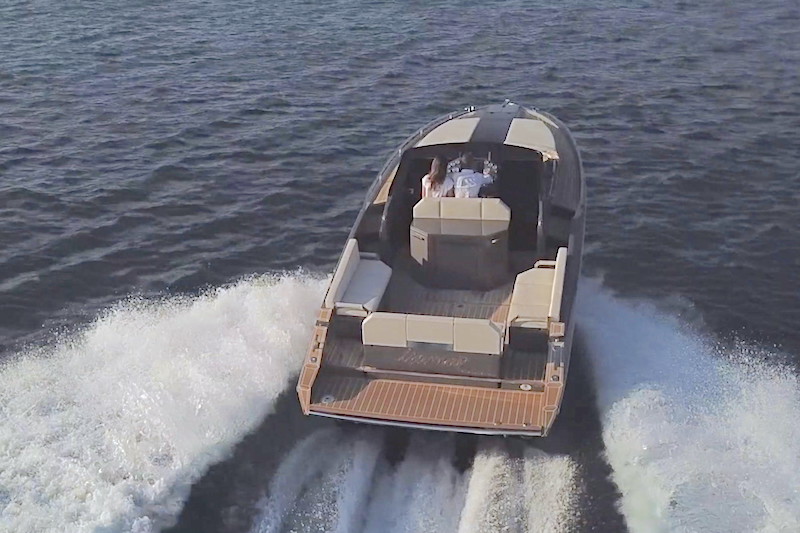 acceleration, so I put my hands on throttles and I pulled them down. The subsequent push crushed me against the seat while the increasing sound of the two Mercruiser engines put adrenaline in circulation, the bow raised until we sailed at 11/12 knots, then it lowered and never raised any more.
Within 4.6 seconds, the boat planed, reaching 20 knots within just 10.6 seconds; when the chronometer displayed the 14th seconds, I read 30 knots on the GPS: really not bad for a yacht of almost 6 tons!
Excited by these performances, I got on power in order to test the top speed. Even at this speed, acceleration was perceivable and pushed me back. The GPS quickly exceeded 40 knots and stopped at around 44. I adjusted the trim and, at the end, I read 46.2 knots while the rev counter displayed 5,050 rpm and the Espera 34 was advancing straight as a narrow, totally undisturbed by the slightly rough sea. I slowed down and I looked at the other passengers: they were all smiling and relaxed. The feeling of safety on this boat, even at high speed, is really high.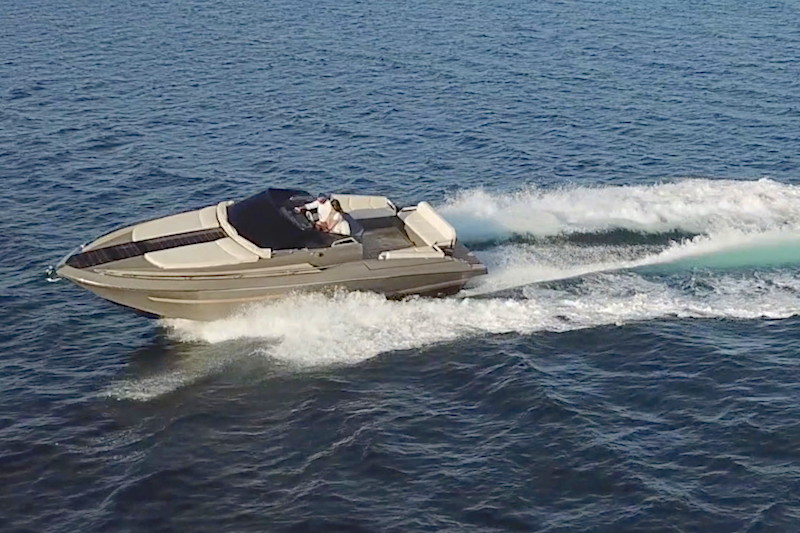 It was time to test some turns; so, at 30 knots, I enjoyed a series of increasingly tighter turns. The Espera did never get disturbed and, instead, indulged turns. Intrigued by all this, I performed some sudden changes of direction, I turned and counter-turned without never succeeding in putting this motorboat in trouble. I tried to trace a tight eight, re-crossing our wake, but the waves we bumped into only managed to make us jump a little: with no blow or alarming noise, the hull penetrated waves by crossing them.
I slowed down again and, with all flaps down, I tested the minimum planing speed. At 11/12 knots the boat sailed well but it was only at 17-18 knots that the trim was really perfect. I really liked performances at cruising speed: at 4,000 rpm, the boat ran at 35 knots, with a fuel consumption of just 2.7 l/nm.
A quick check on board confirmed what I expected: no spray of water had entered on board, neither on the windscreen nor in the cockpit.
There's no doubt: this boat is designed to stay at sea.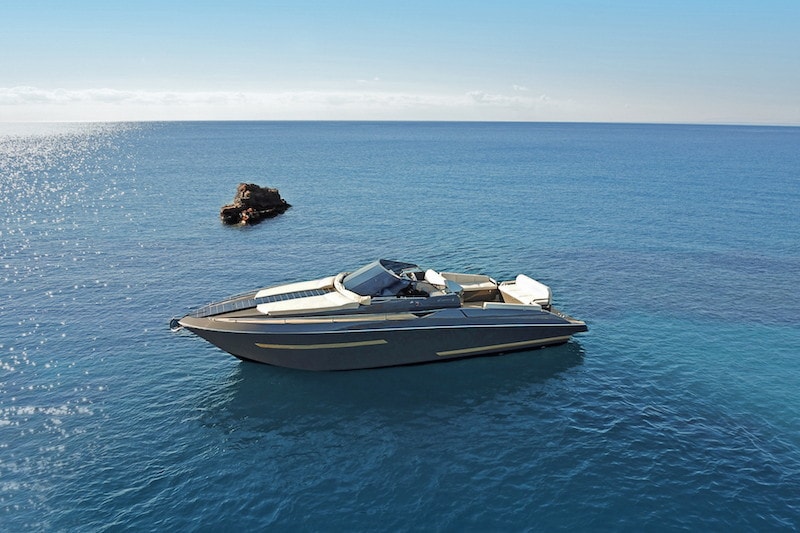 Reluctantly, I stopped having fun with my speed tests since we had to go look for bays and coves so that photographers could make their work. From that moment on, our Espera 34 turned into a "quiet" day cruiser sailing in enchanting spots.
In the space of about 5 hours, we alternated stops, transfers at 25-30 knots and sprints at over 40 knots, simulating the real intended use of this craft. Sailing about 40 miles, we had the opportunity to appreciate all the other qualities of this boat, including comfort. The Espera 34 is indeed a very comfortable boat, backrests are all high enough and postures are, consequently, always correct.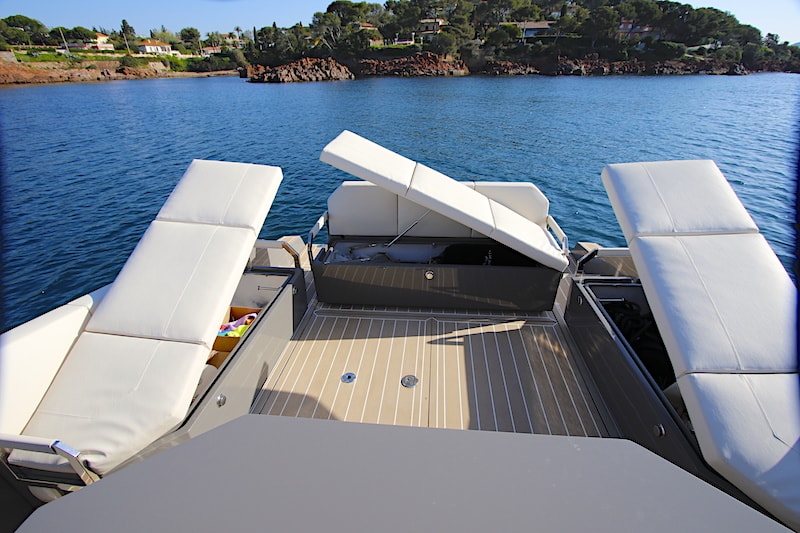 Equally noteworthy is the amazing storage capacity of this yacht: there's plenty of lockers everywhere and you can stow anything underneath the seats. The central console serves the whole cockpit efficiently while navigation stability allows passengers to go to get something to drink while the boat runs at high speed.
When photographers finished their work, we sailed to our final destination, Saint-Tropez, where a small Yacht Show was taking place. After a quick stop in an anchorage located in the surroundings of the city for the last shots, we slowly sailed to the port, in a chaotic marine traffic.
Our yacht slowly entered the basin of the city made famous by Brigitte Bardot with the movie "And God created the woman" in 1957 and we could not fail to compare the "wow" effect of our boat with that one that the famous actress caused when, in the same years, the first wooden model of the Espera 34 was being launched.
I thought of this while, with a heavy heart and a sense of jealousy, I left the Espera 34 to her parades, in Saint-Tropez.
Espera 34 di Rio Yachts – Sea Trial results
rpm
speed
Fuel Consumption (l/h)
Fuel Consumption

(l/nm)

600
4
8
2.0
1,000
5.2
11
2.1
1,500
8.1
18
2.2
2,000
9.9
27
2.7
2,500
11.8
42
3.6
3,000
17.6
51
2.9
3,500
26.4
73
2.8
4,000
35.3
96
2.7
4,500
40.8
138
3.4
5,050
46.2
167
3.6
Engines : 2 x Mercruiser 6.2 BIII 300 HP DTS
Test Conditions : slightly rough sea, 4 passengers on board, 50% water capacity, 80%  fuel capacity.
Espera 34 – Description
The choice of the name for this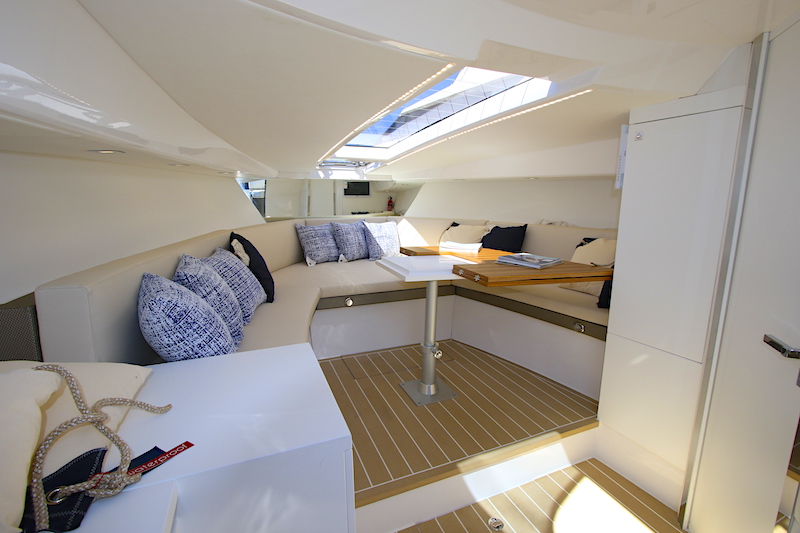 yacht is not random. Espera 34 is indeed the same name as the first wood motorboat built by Rio Yachts in 1961. The original elegance of the first unit is unequivocally reflected in this new model which has the unquestionable ability to make a modern version of this important heritage. Among the nominees for the ADI Golden Compass Award, the most authoritative global design award, the Espera 34 is able to magnetize looks with shameless, elegant and refined beauty.
The model we tested is a very special version of the Espera 34 since it is a custom edition built for a very particular customer, Mrs Caveng, a demading Swiss boat owner with very refined tastes.  Rio Yachts, indeed, builds its boats with a very high level of customization, unusual for the yachting market. The livery of this Espera is characterized by a solid, slightly shimmering colour called Esthec. The black-coloured windscreen and clear upholstery frame a high-class overview.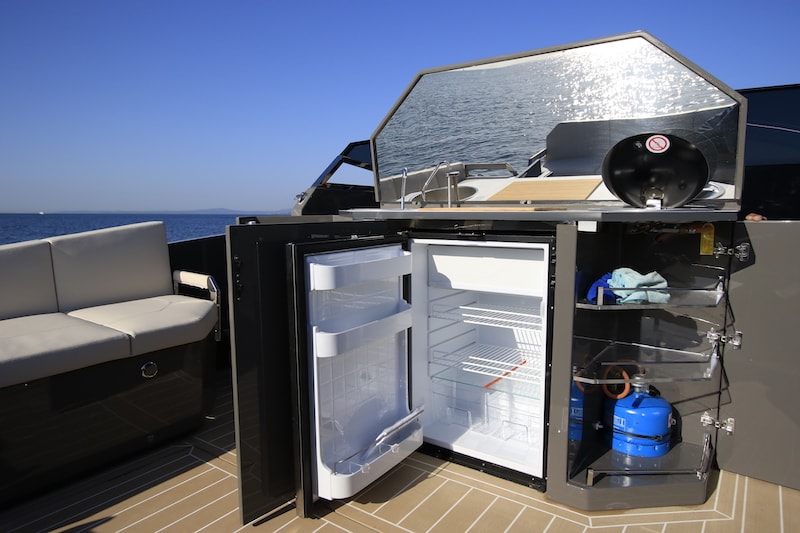 Moving from the stern to the bow, you can find a wide cockpit, whose seats can convert into a large sunbathing/relaxation area or, if you prefer, into a dinner zone sheltered by a folding awning. The fiberglass compartment positioned just behind the wheelhouse, accommodates a sink, a fridge, a cooking plate and a work top, while separating the guest zone from the driving console.
Below deck, there are a small bathroom, a C-shaped dinette which can turn into an additional bed and, underneath the pilot station, a second cabin equipped with a small double bed. All these details make the boat perfect not only for weekends but also for short- and long-range cruises.
Espera 34 – Technical Specs
| | |
| --- | --- |
| LOA | 9,99 m |
| Max beam | 3,40 m |
| Unladen Displacement | 5.500 kg |
| Total Crew Capacity | 12 |
| Fuel Tank Capacity | 700 |
| Water Tank Capacity | 170 |
| Bathrooms | 1 |
| CE Category | B |
| Designer | Marino Alfani |
Article also available in:

English