With several boats and outboard engines on display at the recent Boot in Düsseldorf, Selva Marine also exhibited the largest boat in its fibreglass range: the C.7.1 Cabin Plus.
The flagship of the Cruiser line encompasses the ultimate in dynamism, thanks to a 225 HP engine, and comfort, managing to make the most of the dimensions of this boat, which is 7 metres long and 2.53 metres wide. This propulsion system comes as standard with the boat, but the shipyard offers the possibility to choose the power of your choice in the recommended range from 150 to 225 HP.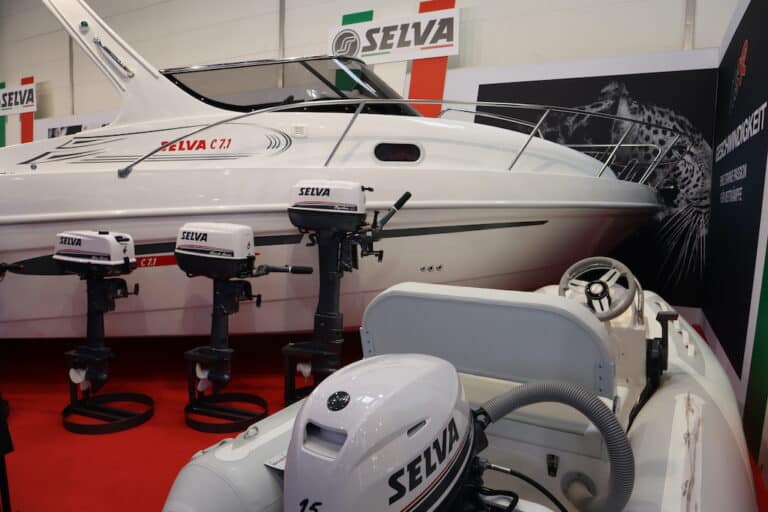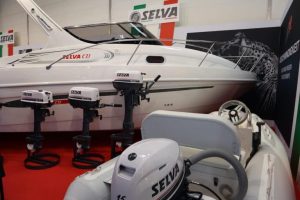 The clean, sporty lines combine perfectly with the livery of this model, which is completely white and decorated with grey and red stripes that echo the brand's iconic colours.
The cockpit consists of an L-shaped sofa that can be converted into a large sundeck thanks to the cushion extensions, which can also be used as a dinette if the wooden table on the standard version is used. Here is also a kitchen unit with sink, convenient for preparing food and enjoying days at sea with family or friends.
Forward, there is the pilot's seat, which, being tilting, can be used either in a seated or semi-erect position, very comfortable when covering a few miles. Opposite, the helm station consists of a steering wheel, helm, single-lever controls, compass and fuel gauges.
This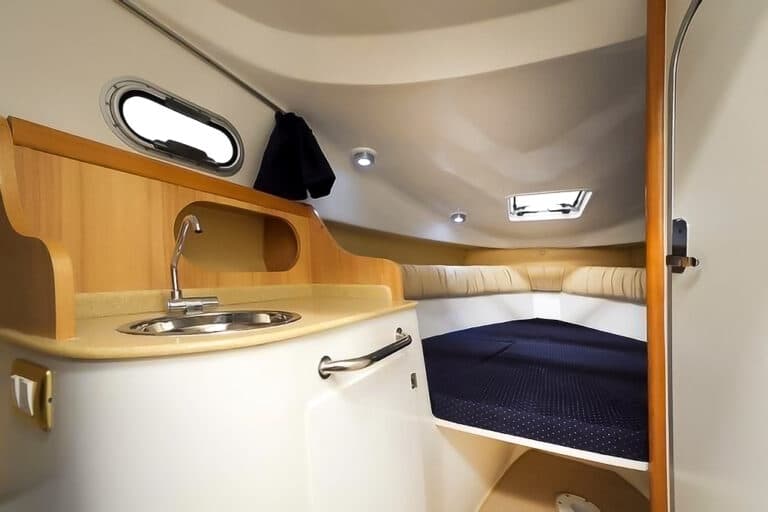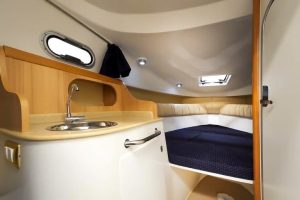 Selva C.7.1 Cabin Plus also has a very wraparound windscreen; the fibreglass roll-bar rises from the height of the pilot's seat, to which the optional cockpit enclosure can be added. In front, on the other hand, another sunbathing platform covers the entire bow triangle, creating a very comfortable and welcoming relaxation area.
The sleeping zone below deck, on the other hand, is accessed to the left of the console, where there are two cabins: the owner's cabin in the bow, where the dinette converts into a comfortable double bed, and the aft cabin dedicated to guests, who can rest on a queen-size bed.
The head is located in the main cabin and is separate: on one side the electric marine toilet, which can be replaced with a chemical nautical toilet on request, and on the other side of the corridor, a cabinet with lockers and washbasin.
In this Selva C.7.1 Cabin Plus, power and performance make it possible to enjoy cruising to the full and comfortably, with all the comforts needed to spend a day, or more, in the middle of the sea.
This article is also available in:

German