At the recent Cannes Yachting Festival, Absolute Yachts introduced another new addition to its Flybridge Generation 2022, the 56 FLY. "This is the latest project signed by the Piacenza-based shipyard and is called 56 FLY "The Absolute Charisma"", explained Cesare Mastroianni, Vice President Sales & CCO of Absolute Yachts, at a press conference in Cannes. "Charisma" like the strength of personality and magnetism expressed by the shipyard's brand-new project. And "Charisma" like the influence this prestigious yacht has over others. Not surprisingly, the announcement of the new 56 FLY is already persuading owners. While we wait to see her in the water, here are some impressions based on what we've seen of the FLY series (to which the market has responded very well) and on the renderings we've received.
Charisma
The 56 FLY was created not to go unnoticed with a rare harmony of advantages: comfort, accurate design, avant-garde and modular environments. The design of the 56 FLY is then the result of intense research and enhancement of the features of the latest models. A study aimed at giving the yachts fitted out by Absolute Yachts an additional "versatility and liveability of environments".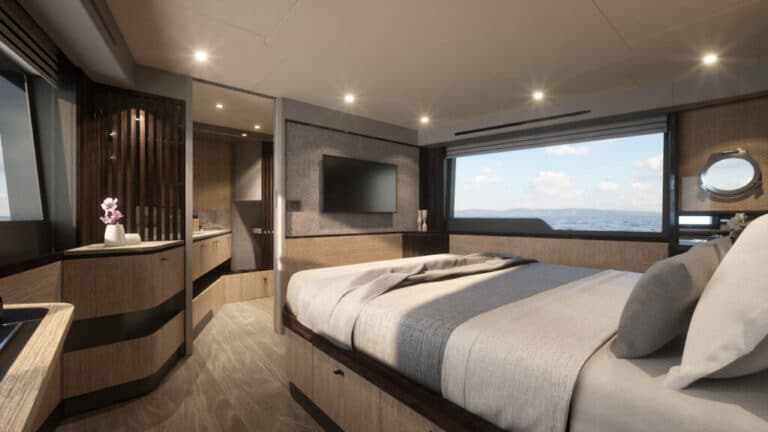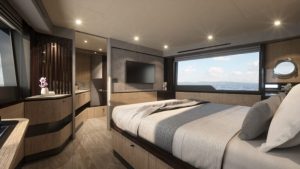 On board the 56 FLY the prestigious interiors, including the lower deck, are the main proof of this. Here, the full-beam forward master cabin offers an authentic emotion at first sight. Large volumes and flush-fitting windows guarantee a seascape worthy of a living picture. And the scene is repeated in the VIP cabin, also full beam, but located aft. Privacy and comfort. With plenty of natural light to illuminate the luxurious spaces. The guest cabin, equipped with full-feature single beds, has the same headroom as the other cabins.
56 FLY : play of transparency and freedom of movement
The 56 FLY continues to open up to the sea through a play of transparency. This is also the case in the cockpit, where the windows disappear electrically to encourage the circulation of the breeze, which runs along with the panoramic sea views with which the 56 FLY lives in complete symbiosis. Then there's the freedom of movement. Looking at the stern area, this is free of fixed elements and leaves room for the owner's imagination, who can furnish it as he likes. This is why Absolute Yachts offers a modular furnishing solution, adaptable to requirements.
The flybridge is covered by a discreet hardtop, which perfectly marks the height of the boat with a harmony of rare lines. Aesthetically, the 56 FLY is well-proportioned. The profiles are characterized by the tubular handrails, which continue from the central part of the yacht and then surround the foredeck. Here the sundeck and sofa give life to the relaxation area. Also in the bow is space for mooring and anchor rigging, located at the end and clearly visible in its typical marine elegance.