Ampermarine presents the new WUWLED spotlights at the Cannes Yachting Festival 2022, attracting great interest from the shipbuilding industry. Thanks to their special feature of obtaining underwater lights through electrical induction, without perforating the hull, they enable shipyards to install these accessories much more easily and, above all, they allow less invasive refitting of boats, excluding holes in the hull and thus reducing the risk of saltwater infiltration and continuous maintenance. For this reason, Lomac, an important Milan-based shipyard with 60 years of experience in the sector, has chosen to install Ampermarine's WUWLED spotlights, following the owner's request, on its latest 7-metre tender.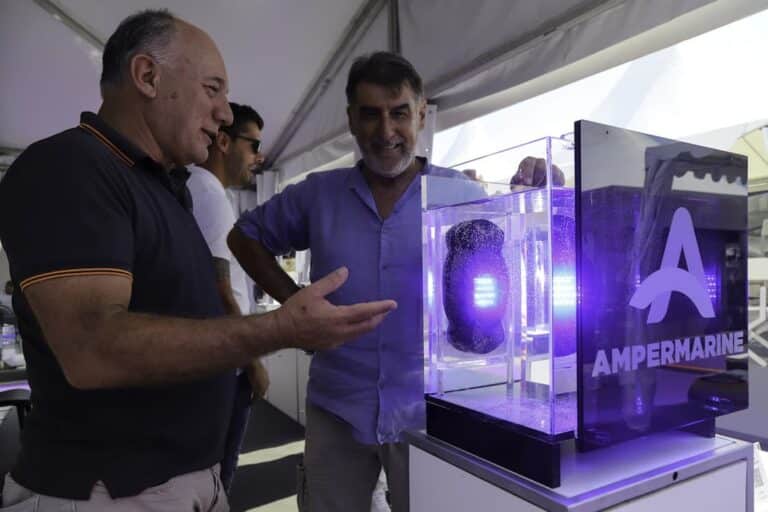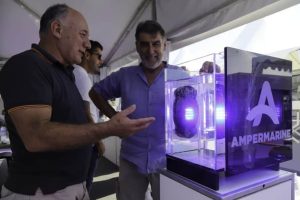 During the Cannes Yachting Festival, we met Paolo Lo Manto, Lomac's Development Director, who explained the reasons for this choice: "Beyond the LED's performance, the most obvious benefit is avoiding holes in the hull where the water pressures generated in the area are important. Furthermore, when maintenance work has to be carried out, it is essential that the product is practical in order to intervene more easily in the future. In any case, you don't run the risk of having to dismantle and create yet another infiltration route for the water," Paolo continued. "I have perceived a practicality and peace of mind, both for myself and at the shipyard: it is the peace of mind that there is no risk of inconvenience on a product that has to work and be fixed, if necessary, as quickly as possible. I don't even see the risk of failure; there are structural adhesives with which we fix the T-Tops and if my roof can withstand 50 knots of wind, I don't see why the spotlight shouldn't withstand the pressures of water".
Ampermarine continues to research and design accessories dedicated to marine lighting and control panels thanks to an in-house research laboratory where the company's technicians continue to develop new innovative products. Thanks also to the Italian distributor Supeyacht, Ampermarine intends to offer a wide range of advanced products by expanding its presence in the yachting world. In fact, the group will also participate in the Ibex in Tampa Bay, Florida, from 27 to 29 September at booth 3-335.
For more information on Ampermarine products, please visit the following LINK