On November 19th, Benetti celebrated the delivery of the new Benetti Megayacht "Spectre" to its American owners, John and Jeanette Staluppi, in an exclusive ceremony at its Livorno shipyard. The new creation is a full-custom 69-meter boat that can accommodate up to 12 passengers and that took 750,000 working hours to be built.
Spectre takes her name from the passion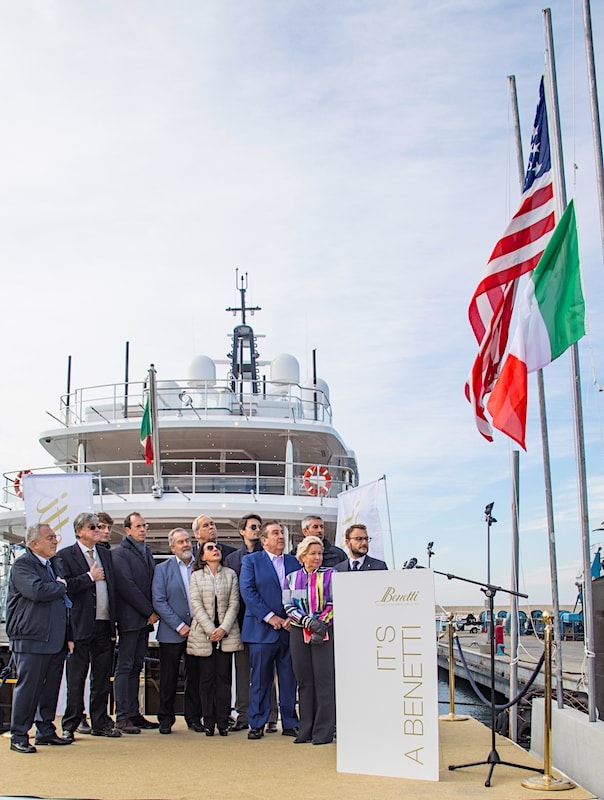 that the couple of owners have for James Bond filmography. Designed thanks to Benetti's most modern engineering technologies, she features an aluminium superstructure and 4 decks.
The hope of the couple, who adores 50s sports cars and Made in Italy, was to feel the same emotions on board the new megayacht as they did in a motorcar on the racetrack.
Sporty appearance, comfort and elegance have therefore become the key elements around which the megayacht was built. This was made possible also thanks to the collaboration of exterior design Giorgio M. Cassetta, whose main goal was to create a highly dynamic boat with great volumes and high performance.
Naval architecture and hull lines, instead, were done by the Dutch studio Mulder Design. The clever measures adopted by Franke Mulder's group have contributed to make Spectre a yacht equal in performance to an aluminium yacht.
The 69-meter yacht can, in fact, reach a top speed of 21.2 knots and has a range of 6,500 nautical miles when traveling at 12 knots.
All these achievements haven't sacrificed navigation stability, of course. The yacht, indeed, features Naiad Dynamics Total Ride Control technology, installed for the first time on a yacht of this type and originally developed for commercial ships.
The active system guarantees absolute comfort thanks to two roll stabilizing fins, two forward pitch control canards and three independently controlled stern interceptor blades.
"We are proud to have participated in the creation of this spectacular yacht. The High Speed Cruising Hull not only makes Spectre approximately 30% faster than traditional displacing yachts with similar power but also reduces fuel consumption at long range speed. The introduction of the innovative Total Ride Control® will also improve on-board comfort when cruising at 20 knots".
These were the words of Frank Mulder about his new yacht which is also the ninth work commissioned by Saluppi's couple to his studio.
The modern interior design recalls the Liberty stile of late-'800 French hotels and boutiques and is elegantly combined with more contemporary details. The American couple has actively participated in the creation of the yacht, collaborating with Benetti's Interior Style Department that took care of furniture. Moreover, Spectre is equipped with a spa area, a glass cylindrical lift, a VIP area and a 90-square-meter panoramic saloon.
The exclusivity of this yacht that is the result of the most advanced technologies represents a further evidence of the competence of Benetti's team as well as Made in Italy excellence in the sector of naval industry.