Sessa Marine will be presenting the world premiere of its new C3X EFB at the Venice Boat Show. The Italian shipyard will take advantage of the showcase offered by the Venetian event, scheduled to take place from 28 May to 5 June, to unveil its revolutionary model, which promises to be a surprise for the yachting sector, above all thanks to its promising dynamism: from a single project, in fact, Sessa Marine has created no less than three different models, each with a well-defined and precise personality, namely a cruiser, an open, and a t-top. All three models share an elegant design and refined styling that follows the shipyard's main concept.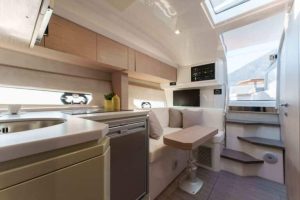 In the C3X EFB, the cockpit has been completely redesigned with a modular backrest that makes it possible to create a large sundeck with folding table, while the stern platform has a hydraulic lifter to facilitate access to the sea and to make use of more space during the day. As far as the interior is concerned, on the other hand, the owner can choose between a galley version with a smaller dinette or a lounge version with a large L-shaped sofa that can be converted into an additional bed.
The boat also boasts two separate cabins: the master cabin aft with a sofa, table, wall wardrobe and en-suite head, and the VIP cabin forward with a double bed and wardrobe. Everywhere the materials chosen pursue an idea of elegance and warmth, thanks above all to the warm colours that evoke long stretches of white beach in Caribbean seas.
At the Venice Boat Show, Sessa Marine will also bring other models on display. These include the Key Largo 34, a restyling of the Key Largo 40, with a new panoramic window that provides stunning natural light below deck and a refined interior. The lines of this boat stand out for the new shape of the hull towards the stern, which has a higher bulwark, and for the backrest of the stern sofa, which in the FB version can be folded down to become a single large sun pad. Coming towards the bow, the console area features the new t-top which, hooked onto the deck at the bow, has an integrated windscreen that can be partial or full.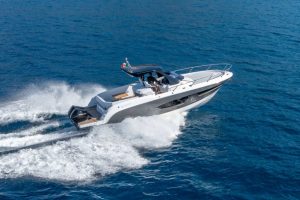 Also not to be missed at the Sessa Marine booth at the Venice Boat Show are the recent F42, a consolidated and winning mix of functionality, aesthetics and optimization of space, which has also won over many overseas customers; and the C48, a yacht with sweet and graceful lines without sacrificing sportiness.
For more information:www.sessamarine.com