Cannes Yachting Festival reopens from 6 to 11 September to present, as has been customary for the past 45 years, the best of the international offer of motor yachts and sailing boats, monohull or multihull. The inaugural event of the boating season and Europe's largest in-water show, the Cannes Yachting Festival will be staged from the Vieux Port to Port Canto, i.e. from one end to the other of the famous Croisette in the French yachting capital.
Launched in 1977, the Cannes Yachting Festival has over time become an unmissable appointment for luxury yachting, reaching staggering numbers: last year there were 620 yachts present and almost 600 exhibitors, in an eclectic selection that attracted to the French coastal resort the main yachting players from all over the world, who gathered to open the boating season and display their novelties and world premières.
This year too, our editorial staff will be present at the show to report on it in every detail through articles, interviews, photos, videos and sea trials.
The new visual identity of the Cannes Yachting Festival 2022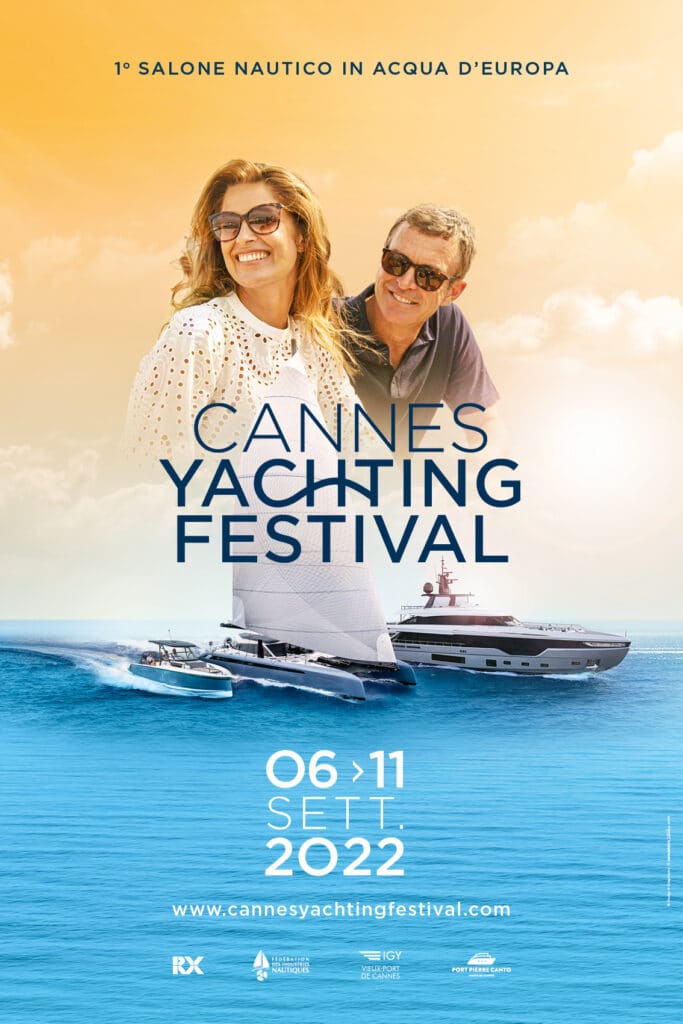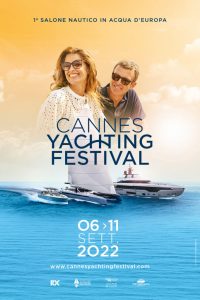 "For the 2022 edition, the Cannes Yachting Festival will be dressed in a new visual identity imbued with glamour that is part of the continuity, emphasizing the plurality of the offer with three representative boats of the show: a super yacht, a sailing catamaran and a dayboat," unveil the organizers of the show. "This new creation retains the main characteristics of the show's DNA: elegance, clean lines, calm sea, horizon and luxury lifestyle that all inspire navigation. A new image that also represents a couple coming to share an exceptional moment in an incredible setting. In fact, Cannes Yachting Festival is a showcase for some of the largest yachts in the world, highlighting unique skills and the craftsmen of shipbuilding. It enables everyone – sea lovers, yachting fans, seasoned visitors and those who are simply curious – to discover the superyacht world, in an idyllic setting on the French Riviera".
Sylvie Ernoult, director of Cannes Yachting Festival, said, "We are delighted to unveil our new image and to have successfully illustrated both the countless assets of the Yachting Festival and the atmosphere of the show, which I feel is nothing short of magical. The exhibitors and visitors here alongside us last year could sense this special atmosphere as much as we could. Despite a difficult public health context, we all took real pleasure in coming together and seeing boats 'in the flesh' rather than online! 2021 saw record visitor numbers, with over 54,000 visitors coming to admire 110 new boats between 10 and 35 metres (32 and 114 feet) in the Sailing Area, over 480 motor boats between 5 and 45 metres (16 and 147 feet) in the Vieux Port, and of course the second-hand boats over 22 metres (72 feet) exhibited in-water in the Yacht Brokerage Area. They were also able to discover the new Innovation Area for the 'smart' start-ups of the nautical sector, as well as over 50 exhibitors presenting an environmentally friendly concept with the new 'Green Route'.Our goal for 2022 is to both expand the offer of the show and to give greater visibility to eco-friendly approaches, new technologies and luxury in the noblest possible way."
Find our more at: www.cannesyachtingfestival.com