Ranieri International: here are the first exclusive pictures of the Cayman 26 Sport
The Cayman 26.0 Sport, launched these days at Ranieri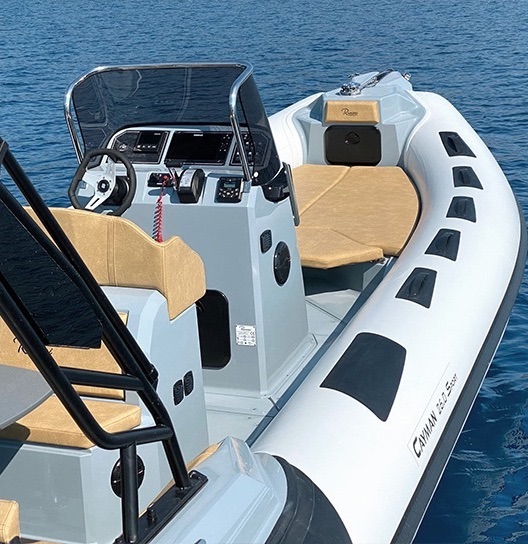 International nautical headquarter in Soverato, has an overall length of 7.80 meters and a maximum beam of 2.80 meters, with inflated tubes. The maximum power installable is 300HP and the dry displacement is 1,150 kg.
For the launch, Ranieri International has fitted the Cayman 26 Sport with the new Honda BF 250 D Sporty White 3,.583 cc in order to have the most balanced weight/power ratio to better enhance the performance delivered by the new hull lines.
The deck has been completely redesigned to offer better comfort on board. Positioned amidships, the steering console is very large and guarantees excellent protection for both the driver and the passenger, while the spacious dashboard accommodates all the technical equipment you need, always easily legible and accessible in all conditions. The side-decks are comfortable and a welcoming seat has been created in front of the console.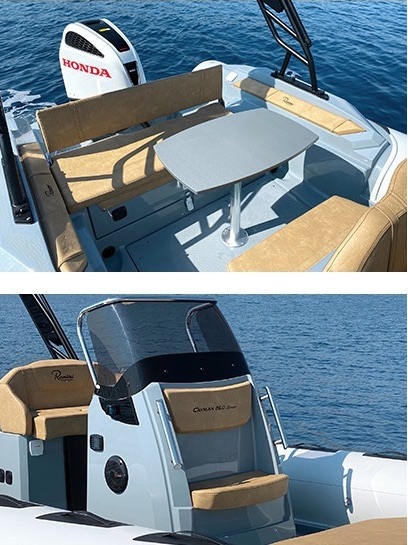 Both the pilot and the co-pilot can sit comfortably in the two elegant boolster seats positioned in the new stand-up, thus guaranteeing the possibility of navigating seated, in total safety thanks to the enveloping armrests, or using them as practical lumbar supports, very useful in standing navigation.
Just behind the stand-up, a comfortable seat and an optional table complete a spacious dinette that can accommodate up to 5 people.
In short, all interesting ingredients, which make us look forward to trying it at sea.
For further information, please read the pages dedicated to Ranieri International boats in the Ranieri International Motor Yachts (click here) and Inflatable Boats (click here) sections on our Virtual Boat Show