Cayman 28.0 Executive, the jewel by Ranieri International: comfort, technology and elegance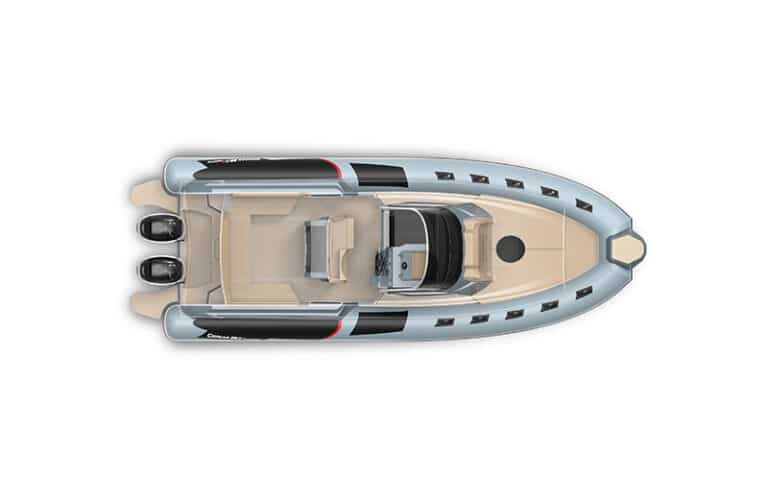 A sundeck destined to leave a mark thanks to its innovative, elegant and sophisticated lines. We're talking about the Cayman 28.0 Executive, the new "bijou" by Ranieri International and latest addition to the Cayman Executive collection.
Featuring a length of little more than 8.60 meters and a width of 3.30 meters, this RIB of modern design makes the generous volumes its greatest weapons and, despite its remarkable dimensions, is easily transportable when the tubes are deflated.
Like the other models of the Cayman Executive range, the 28.0 Executive was designed and built with the Fully – Developed Cockpit System by Ranieri International, a construction system that, in addition to optimizing production processes, allows to create a one-piece deck, where the deck, the bottom of the cabin, the fuel and water tank bed and storage lockers are grouped in a single mold.
Furthermore, thanks to this system, the maximum beam of the boat has been maintained for about 2/3 of its maximum length, thus increasing comfort on board.
Cayman 28.0 Executive: generous volumes below deck
The exterior layout is synonymous with comfort. First of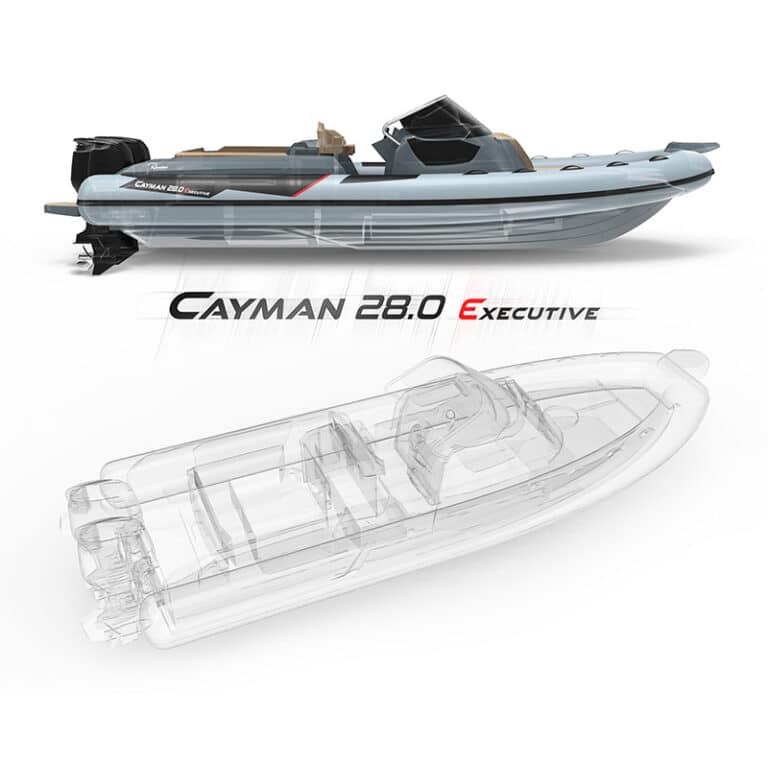 all, it is distinguished by a large rear C-shaped dinette with lateral protections. Moreover, the owner can install a table for 6 people, a stand-up cabinet with sink, fridge and stove, and a large central console where, in addition to the driving station, there is also a sliding door that leads below deck.
The lower deck fully expresses the design effort of this resourceful RIB. The cabin, in fact, features a maximum headroom of 1.65 meters and houses a comfortable double bed and a large separate bathroom.
The hull of the Cayman 28.0 Executive was built with the second-generation H.I.S (Hull Innovative Generation II by Ranieri International) system. The assembly of the hull with the deck uses the C.S.A. (Cockpit Shock Absorber) technology. Engine options include single- or twin-engined outboards up to 600HP.
In conclusion, the Cayman 28.0 Executive is a new masterpiece by Ranieri International. A RIB with great personality and extraordinary performance that combines elegance, technology and speed. The first sea trials will be carried out in late August. Then, along with other new models, the Cayman 28.0 Executive will be officially presented at the next boat shows in autumn. In the meantime, enjoy the following video.