CMC Marine climbs on board the new Benetti Oasis 40M with its fin stabilizers and equipment

CMC Marine meets My Rebecca. In other words, technology gets glamorous. The brand,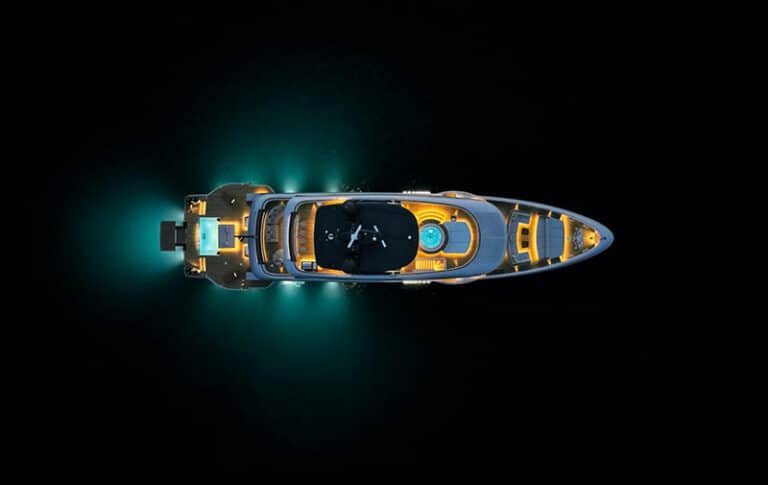 leader in the sector of yacht and superyacht's electrically-operated stabilization systems, climbs on board the Oasis 40M, the latest creation by Benetti Yachts and forerunner of a new collection that reflects the more "lifestyle" soul of the Italian shipyard, thanks to its style, dynamic and adventurous but also glamorous and elegant at the same time. A true floating oasis inspired by the idea of well-being and complete independence from the rest of the world.
My Rebecca Oasis 40 M boasts the best of technological innovation currently available on the market. An added value in terms of functionality, safety and comfort signed by CMC Marine.
"Oasis 40 M is a revolutionary boat and being part of such an innovative project is a source of pride for CMC Marine, which has always collaborated with the best international shipyards – explains Alessandro Cappiello, CEO of CMC Marine – In this case, working with Benetti was involving because the boat is not only equipped with our Stabilis Electra LR90 fin stabilizers and bow thrusters but also has a special control panel for simultaneous control of all CMC systems onboard, including fin stabilizers, rudders and bow thrusters". The following video shows the Oasis 40M sailing with CMC fins: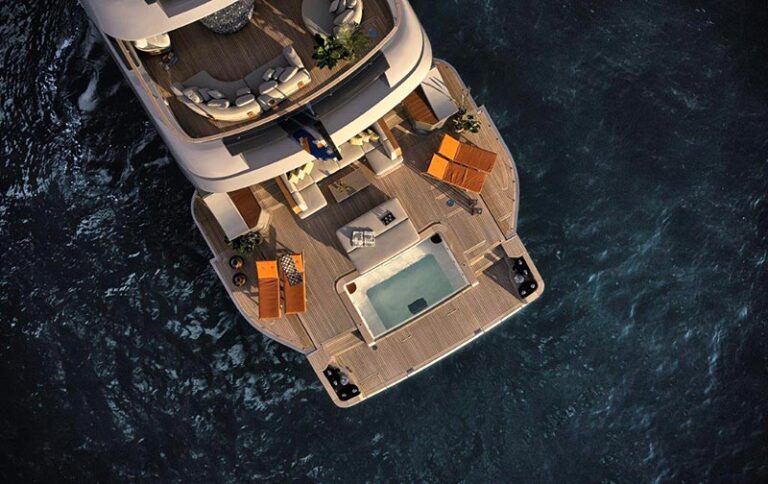 Once again, CMC Marine gives the owner the possibility to integrate more stabilisation systems: the combined use of fins, bow thrusters and intruders controlled by a single platform is the hallmark of CMC Marine, which has held a fixed course towards the future for 15 years.
In 40 meters of length, Rebecca boasts a spectacular multifunction beach area: 90 square meters in direct contact with the sea, just a few centimeters from the water level. The exterior lines are designed by the famous UK firm RWD while the interiors are by the New York firm Bonetti/Kozerski Architecture which, at its debut in the yachting world, introduces new civil architecture-inspired solutions.
Made in fiberglass and powered by twin MAN V12 engines,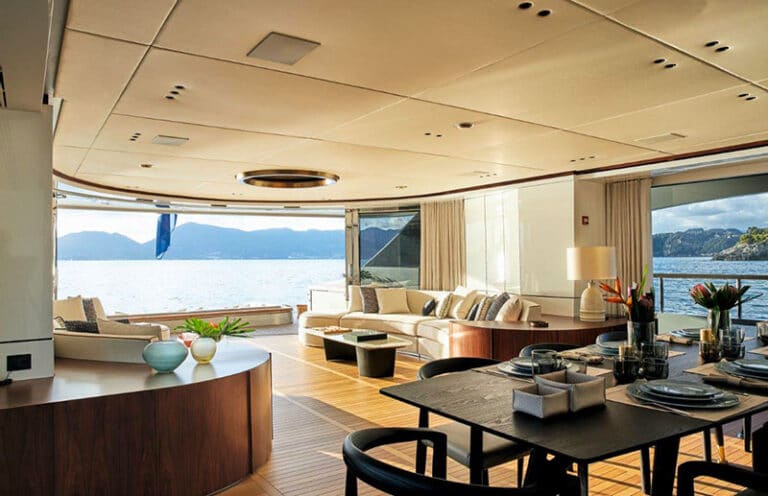 the Oasis 40M has four decks, with 5 cabins for 10 guests and 4 cabins for 7 crew members included the comfy Captain's cabin. The yacht can reach a top speed of 18 knots. At 11 knots it consumes just over 100 l/h, with a range greater than the necessary to cross the Atlantic.
With the Oasis 40M, Benetti breaks the mold of the superyachts world, while maintaining the Made in Italy tradition and enhancing technology and cruising comfort. All thanks to the collaboration with CMC Marine, synonymous with innovation and reliability.