Sergio Cutolo signs the new Columbus Classic 50M
The new Columbus Classic 50 is a brand-new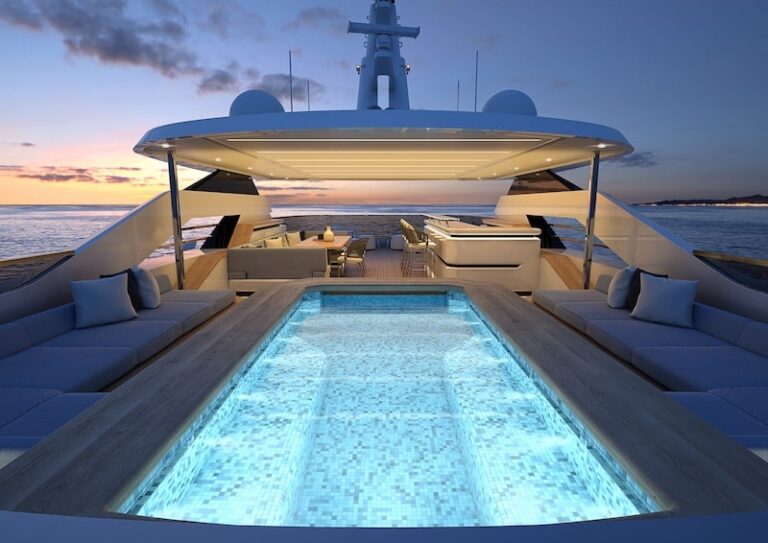 displacement motor yacht of 50 meters with steel hull and aluminium superstructure that fall into the less than 500 Gross Tons category.
"Her timeless exterior lines remind those of the bigger sisters of the Columbus Classic range, including the renowned 80-meter motoryacht Dragon delivered in 2019." commented Sergio Cutolo, founder of Hydro Tec, who has pencilled the project.
Despite her classic feel, the superstructures are designed to allow large windows to always maintain contact with the sea and the external environment.
The hull, characterized by flared and slender bow shapes, is designed to obtain very low levels of drag together with excellent qualities of manoeuvrability and seaworthiness.

The large outdoor spaces are spread over three levels and allow different configurations that include lounge, bar with dining area, swimming pool and large sunbathing areas.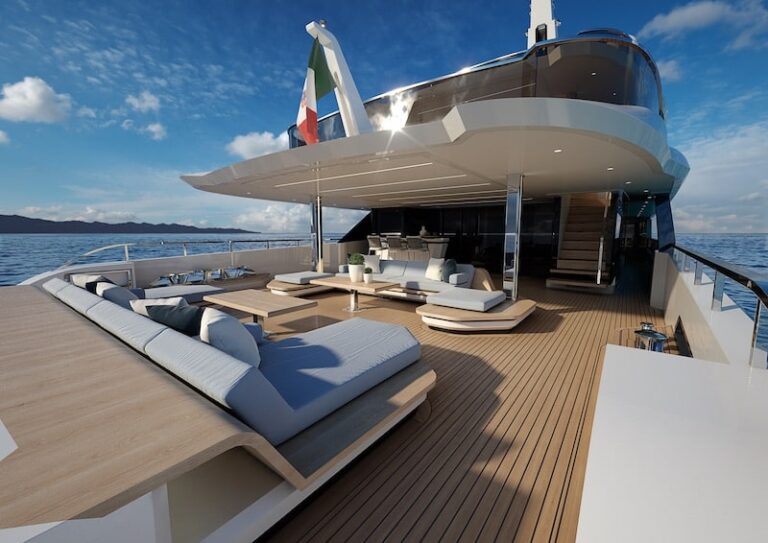 The interiors are characterized by the arrangement that allows to have four guest cabins, a VIP cabin and an owner's cabin, the latter arranged on the deck. The two lounges, one on the main deck and the other on the upper deck, offer multiple combinations for the arrangement of guests' common living areas.
The main tender is housed in a garage below deck while, at the far stern, a large beach club has been created with a cantilevered hydraulic platform.
The Columbus 50 Classic cruising speed will be around 14 knots with a range exceeding 4,000 nautical miles. The Columbus Classic Line comprises also the 80M, 100M and a 120M megayachts.
COLUMBUS YACHTS
Palumbo Superyachts began to take root in 2008, when the Columbus Yachts brand was established, and in 2011 launched its first 54-meter superyacht, emblematically christened "Prima" ("The First"). In early 2019, the shipyard launched the new flagship Columbus Classic 80 metri M/Y Dragon which joined in the Columbus star-studded fleet with the award-winning Sport Hybrid 40 MY Divine, the 57-meter MY Taiba and the 40-meter MY Eleonora III. The Columbus range offers three different lines: Sport, Classic and Explorer.
HYDRO TEC
HydroTec was founded in 1995 by naval architect and marine engineer Sergio Cutolo after his vibrant career with some of the leading shipyards of the world. Born as an engineering company, in the early 2000s HydroTec made a natural move into design with instant success which has been acknowledged by its peers and rewarded with multiple awards.
Over the last 25 years, Hydro Tec has engineered and designed more than 2,000 meters of yachts, creating boats that range from Explorers to Superyachts, from small tenders to fast planing boats.