Sporty and lightweight like a racing car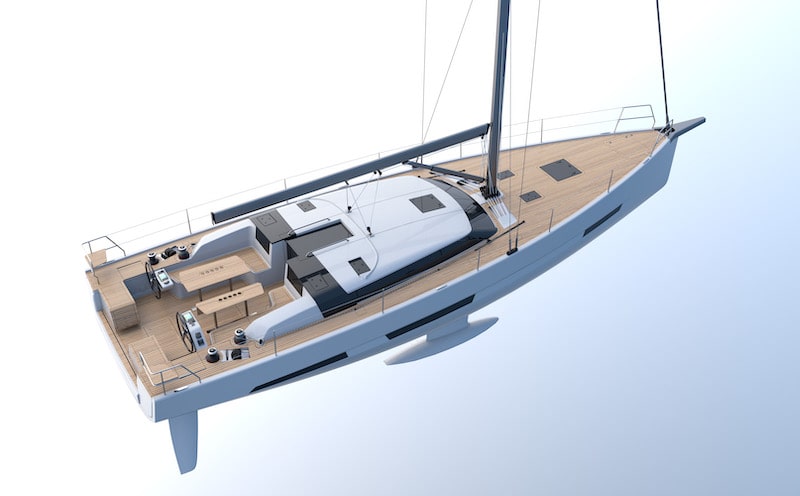 Make way, let's set sail! It may sounds as an oxymoron but is in a sense the result of an unprecedented union between sea and road. The new Elan GT6, in fact, is the result of a joint collaboration between Elan Yachts and Studio F.A. Porsche as well as the elder sister of the very successful Elan GT5 and forerunner of Elan Yachts' crossover collection. Presented not physically but through a highly advanced virtual reality system during the last Düsseldorf boat show, the Elan GT6 is the first yacht in its class to feature a flush deck. A sinuous performing hull and a ground-breaking sail plan make the Elan GT6 (49 feet long, that is 15.2 m) a fast and stylish yacht.
"Our powerful new flagship model offers all the benefits of Elan building quality and Humphreys Yacht Design ( another historic partner of Elan Yachts) performance with the design flair of Studio F. A. Porsche,' said Marko Škrbin, Director of Elan Marine Division. " With the GT6 you can sail further, faster, cruise in comfort and arrive in style".
" The fundamental

idea behind the design of the new Elan Yachts GT6 is to create a modern and unique sailing experience that unifies nature and technology while traveling the high seas" – said Studio F. A. Porsche spokesman –  " The yacht's exterior design focuses on combining minimalism with dynamics. The result is a stunning sailboat with an aft deck composed of sculptured volumes inspired by the aerodynamic elements used in sports cars".
When classic style is cutting-edge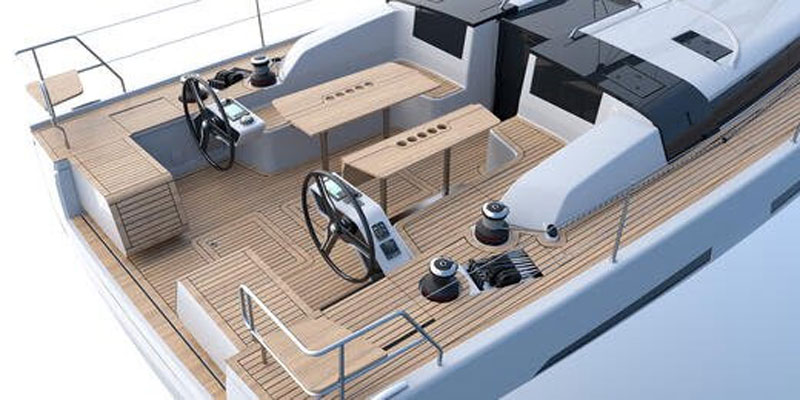 The prototype of the new GT6 is currently under construction at Elan's shipyard in Slovenia, expected to be launched next sprint. Marko Škrbin hosted a launch party at the show and unveiled an ultra-rare 1973 Porsche 911 RS from the Porsche Museum in Stuttgart. Like the interior and exterior of the Elan GT6, this iconic classic sports car was designed and styled by Studio F. A. Porsche.
Also at the launch party, the renown naval architect Rob Humphreys spoke about his 26-year design partnership with Elan, which spans three generations of yachts leading up to the new GT6, which is destined to become the flagship of the range. Working closely with Studio F. A. Porsche and Elan's in-house team, Humphreys Yacht Design has designed a lightweight hull and a high-performance sail plan to give the GT6 a unique combination of performance, comfort and style.
Sinuous lines and soft surfaces, like a sculpture
" The yacht's exterior focus is on combining minimalism with dynamics, while bringing water sports closer to nature. The result is a stunning cockpit composed of sculptured volumes inspired by aerodynamic elements used in sports cars. The elaborately curved surfaces allow for beautiful flares of light as well as the reflections of sky and sea", said  Christian Schwamkrug, design director at Studio F. A. Porsche.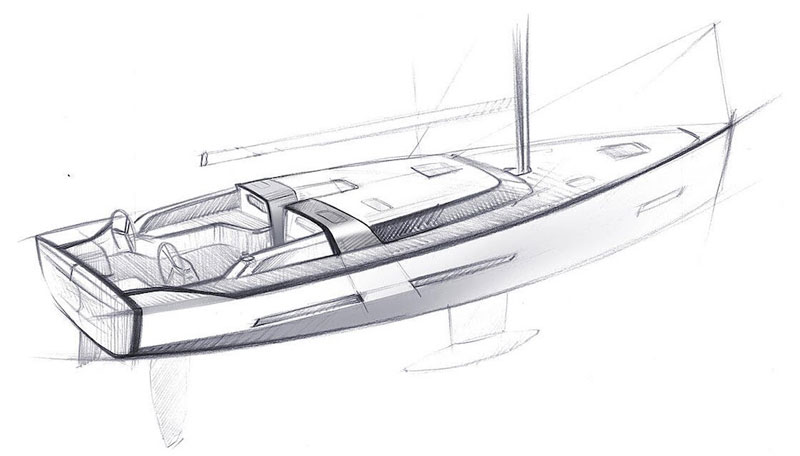 One notable feature, rarely seen on a yacht of this size, is the deck profile: completely flush forward of the mast with a subtle, elegantly streamlined deck saloon further aft. The cockpit layout is a blend of Studio F. A. Porsche's minimalist style and renowned ergonomics with Elan's 70 years of craftsmanship and boatbuilding know-how. " The twin wheels are inspired by the shape and lightness of a Formula 1 car's suspension,' Mr. Schwamkrug explained. ' The steering pillars and the floating stern of the yacht  resemble spread seagull wings or stingray fins. The design of the hull represents a well-balanced combination of sharp and distinctive lines and soft, almost sculptured surfaces". A true work of art, now ready to be revealed.

Adria Ship Srl
Testata Mosconi, 1 34073 Grado
Phone + 39 0431 83504
adriaship@adriaship.it