The countdown to date zero, where the innovative Wedgeline Hybrid 77 by Fabiani Yacht will become a reality, has officially begun. The shipyard, which was present at the fourth Venice Boat Show held from May 31 to June 04 in the beautiful setting of the Arsenale, announced the boat will be launched in summer 2024.
Having started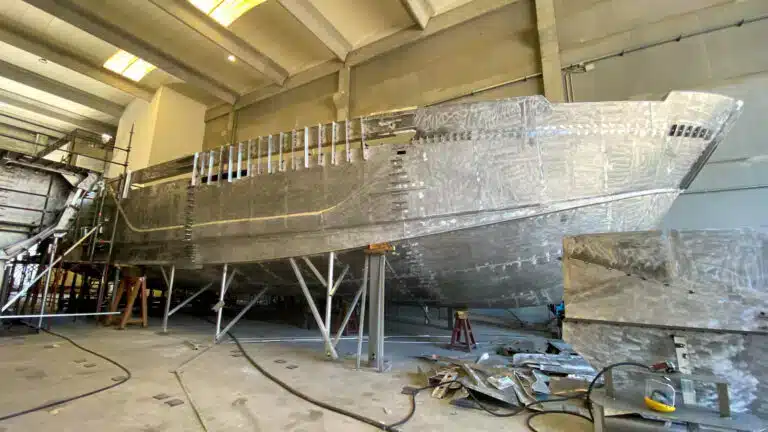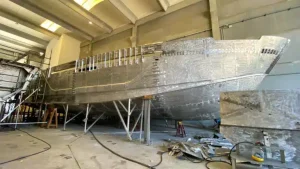 a year ago now, the new project is about to complete some important steps: in fact, rudders, propellers and drive axles are being assembled right these weeks. In about a month the engines will be delivered, and then, once the particular battery pack is also installed, the road to project closure will be all downhill.
Just on the occasion of the Venice Boat Show, Maurizio Fabiani, owner of Fabiani Yacht, said that a number of customers have already expressed interest in the solar panel-equipped Wedgeline Hybrid 77: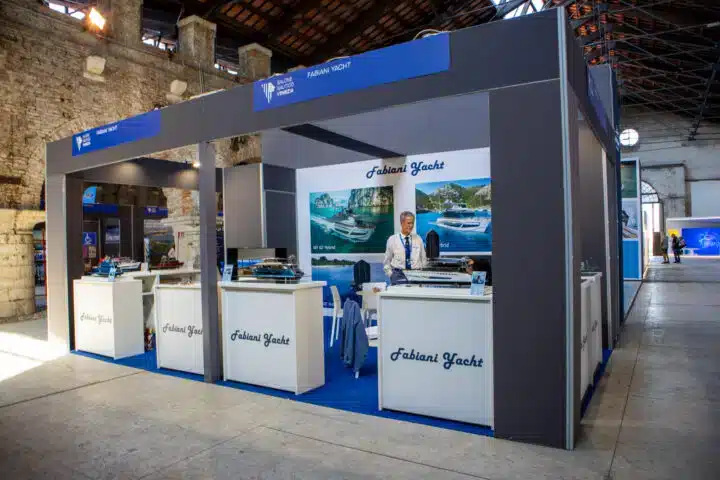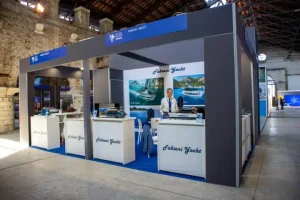 "We have witnessed some real interest and received some requests from customers already. Ours is a truly innovative product, the retractable solar system is really something that no one has ever imagined and will be difficult to find on a boat, except for our Wedgeline Hybrid 77. We pride ourselves on having somewhat unique boats that sail at zero cost, and it's not something that's easy to imagine, now we just have to wait to get it on the water."
The revolutionary (and even somewhat futuristic) technology that Fabiani Yacht has envisioned is truly impressive; this shipyard's first yacht is a true gem of ecological engineering. The retractable photovoltaic system that hides below the decking, thanks to a millimeter-accurate interlocking solution, will allow owners of Wedgeline Hybrid 77 to sail in Marine Protected Areas 100% electrically at a maximum speed of 8 knots, perfect for enjoying the view in places otherwise inaccessible with a boat.
This pioneering system involving two electric motors mounted before the two diesel propulsion systems in the axis line, through the dedicated inverter, will allow a quick switch from the "traditional" fuel system, to the electric one, managing to sail at zero cost with a significant reduction of all cruising costs and then, above all, of marine pollution.
The shipyard, a constant presence at the major European boat shows, has been participating to the Venice Boat Show for 3 years and is now getting prepared for the Genoa and Cannes international boat shows next September.
" The Venice Boat Show has improved from year to year and it's good to see this great turnout, we hope that the number of visitors will grow more and more, in any case we see that a lot of people have already stopped by our booth," says Gabriella Dell'Agnello, Fabiani Yacht Product Manager – This confirms to us that the strategy of the shipyard, which has always invested in environmentally sustainable technologies for the prevention of environmental health, is on the right track to meet the needs of the ecosystem-conscious Fabiani owner."
The technology used by Fabiani Yacht is amazing, something maybe comparable to science fiction, but increasingly closer to turn into reality. All certainties we have had so far about boating will soon change, becoming something that is not only feasible, but is also the real revolution of green boating.
This article is also available in:

German

Portuguese (Brazil)