In 2015, Alex Simonis from Simonis Voogd Yacht Design, was approached by Peter Jacops of Disabled Sailing Thailand, to design a safe, modern, sporty and most of all affordable boat for the para-sailing community. As a pro-bono project, the design was made available for free to "do-it-yourself" builders, and several boats have been built to date around the world.
During the summer of 2018, Alex Simonis and Ms. Demolar DU , CEO of Fareast Boats, came together to discuss series production of the S/V14. As Fareast is a company devoted to sailing, it liked the idea behind the S/V14 project and committed itself to produce the first 1000 boats at a subsidized price for those sailors with a disability. The Standard model will only cost 3000 USD !
This price is merely symbolic representing the cost of material kit of the S/V14.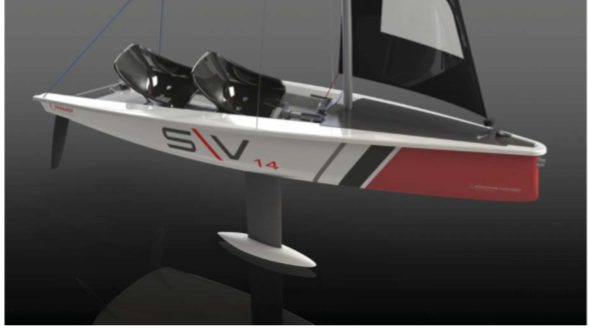 There are 6 different versions of the S/V 14, to allow the boat to be used over the widest possible range of requirements for adaptive sailing, allowing even those with a more severe level of disability to compete in the class by making use of the electric actuator controlled tilting seats.
As with all models from Fareast Boats, the S/V 14, comes with a vacuum infused hull with a sandwich shell. The rudders and lifting keel fin are made in carbon, and the cast iron bulb is encapsulated in glass.
Fareast Boats is one of the fastest growing companies in China within the dinghy and leisure yacht market. Founded
in 2002, Fareast Yachts has been expanding rapidly and is now the biggest Optimist producer in the world with
nearly 1000 boats a year, and 250 keel boats all designed by Simonis & Voogd Yacht Design.
In 2015, the FAREAST 28R was the first keel boat brand from Asia to become an World Sailing OneDesign class.
Untill today, over 400 boats are built.

Data of S/V 14: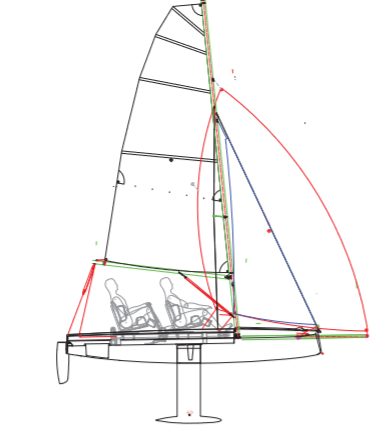 LENGTH OVERALL 4,39mt
LENGTH W.L 4,36mt
BEAM 1,59mt
DRAFT 1,20mt
DISPLACEMENT 650kg
Ballast (T-keel) 130kg
SAIL AREA total Upwind 9m2
SAIL AREA total Downwind 16m2
I 3,68 mt
J 1,37 mt
P 4,65 mt
E 2,15 mt
Design: Simonis & Voogd Yacht Design
Base Price "Standard Model": 3.000 USD excl VAT Including 2 fixed seats, Main sail + Jib in ZZ Polyester.