Beautiful, innovative and decidedly out-of-the-ordinary, the Fiart P54 was the undisputed queen of its segment at the autumn boat shows where, at every sea outing, she immediately managed to catch everyone's attention. The brainchild of the renowned Stefano Pastrovich, the P54 brings with her a design that manages to perfectly combine aesthetics and function in a definitively sensual and captivating mix. It's a design we couldn't ignore, so as soon as the chance came up we climbed aboard to see how it goes.
Fiart P54 Sea Trial
It's a cold and drizzly day in Genoa today. A gloomy day, where the sea adds to the overall annoyance with a short, steep wave of about a metre that seems to have been made on purpose to annoy us. We are idling, but the P54 is not affected by the swells, she stays in the water like a super yacht and simply doesn't care what happens around her.
I accelerate a little and reach around 10 knots, a gentle cruising speed where most boats would have some difficulty in today's conditions; yet our Fiart P54 goes steadily, without even lowering her stern which, to my amazement, she continues to do even as she gets up on plane at just 12 knots. Aboard this yacht you can appreciate a behaviour at sea very similar to that of a large super yacht, the boat is planted in the water and moves with an incredible cruising comfort, an irrefutable sign of an excellently designed hull.
I push on the throttles and reach about 25 knots at just over 2,000 rpm. It has started to rain and the sea is now even rougher than before but, under the shelter of the huge windscreen which, only on this boat is full beam, we stay warm and dry. At this speed the Fiart P54 has a respectable range of around 400 nautical miles, so there is no need to plan our routes with the anxiety of stopping for fuel: a great advantage.
I speed up to 28/30 knots, a considerable cruising speed, and to further stress the boat, I set the bow perpendicular to the wave direction. Clearly the waves can be felt, but our boat has the ability to dampen any stress. In short, even in today's unfortunate conditions, we could cruise comfortably, without disturbing the guests, in absolute safety.
I pull the throttles down and easily reach 34 knots, then, without slowing down, I turn to the left. The boat reacts without hesitation, leaning a little and still eliminating the effects of this short, steep sea, not bad at all. A yacht like this makes you want to go cruising …
Test Data
| | | | | |
| --- | --- | --- | --- | --- |
|  RPM | Speed in knots | Overall Consumption in l/h | L/nm | Range in miles |
|          600 |                        3.8 |                                          6 |                    1.5 |                             1,933 |
|      1000 |                        8.9 |                                        33 |                    3.8 |                                773 |
|      1200 |                      10.7 |                                        63 |                    5.9 |                                491 |
|      1400 |                      12.5 |                                        92 |                    7.3 |                                395 |
|      1600 |                      16.4 |                                      116 |                    7.1 |                                410 |
|      1800 |                      20.0 |                                      147 |                    7.4 |                                395 |
|      2000 |                      23.7 |                                      175 |                    7.4 |                                393 |
|      2200 |                      27.2 |                                      213 |                    7.8 |                                370 |
|      2400 |                      32.4 |                                      264 |                    8.1 |                                356 |
|      2450 |                      34.6 |                                      284 |                    8.2 |                                353 |
Test Conditions: rough sea, 14-knot wind, 5 people on board, water 50%, fuel 75%
The Fiart P54 in detail
Defining the Fiart P54 as "stylish" and innovative would be an understatement. This yacht is a veritable distillation of stylistic innovations that are not limited to aesthetics but, and this is not to be taken for granted, all have a precise purpose. You only have to look at the boat to realize that: a wide bow that tapers down to become very thin at water level, an inverted stern, an unbalanced sheer profile and a full-beam windscreen with direct access to the bow. These elements, combined with a simply stunning deck plan, outline the contours of a yacht devoted to comfort and summer life in the open air.
Four usable areas on deck, whose boundaries do not exist, create the feeling of being on the terrace of a splendid villa overlooking the sea. At the stern there is an area dedicated to sunbathing and relaxation that, in continuity, flows into the outdoor dinette, perfectly equipped to host large evening cocktails. Further forward is the navigation area, which is very spacious, allows 4/5 people to take part in the excitement of cruising.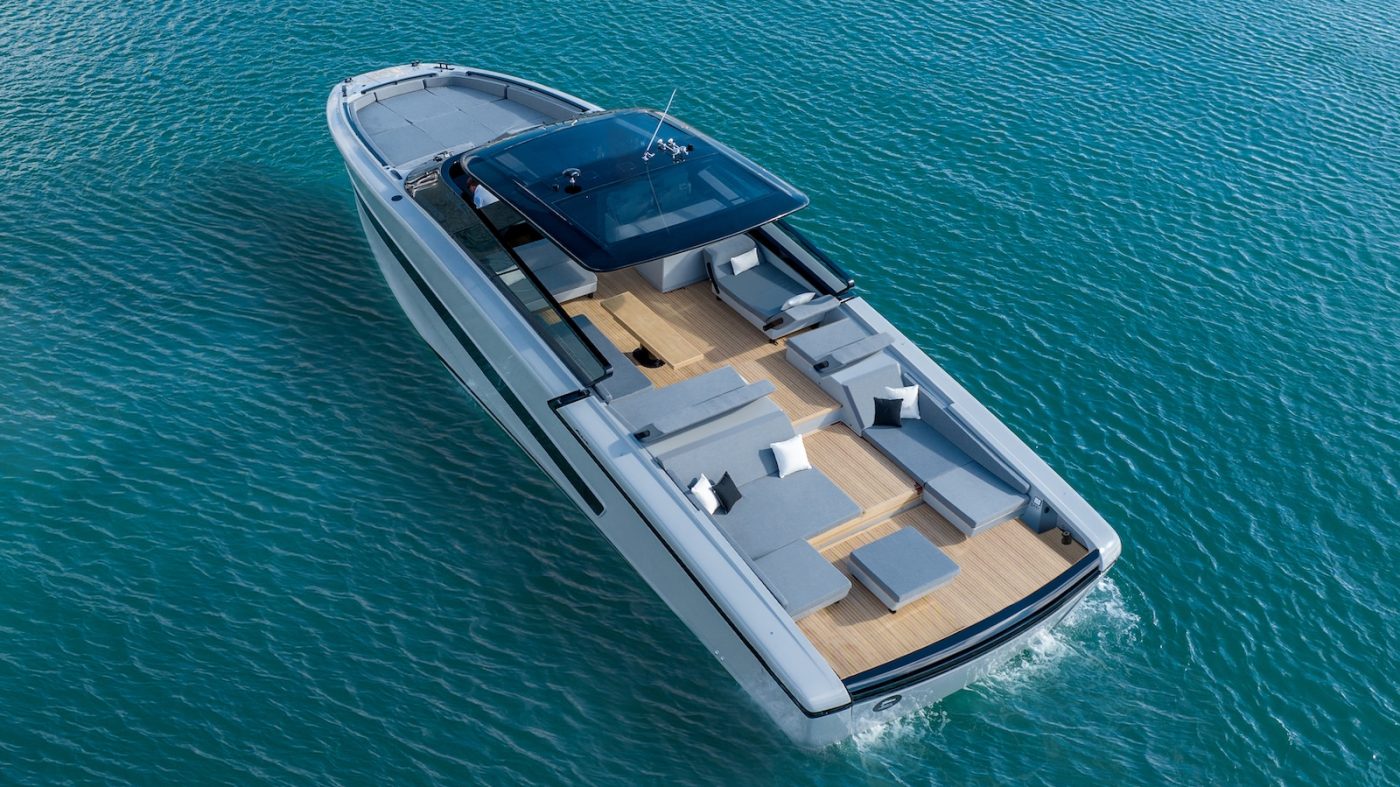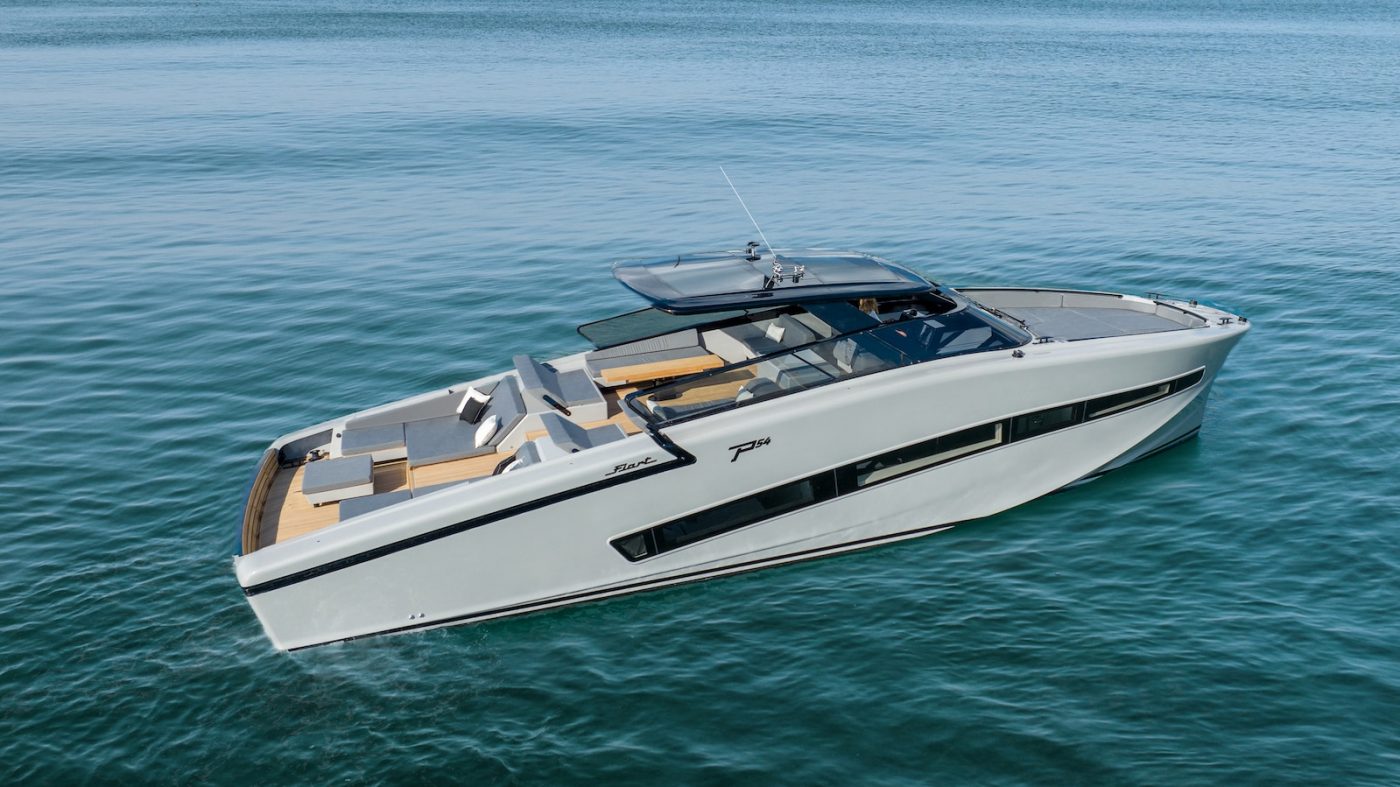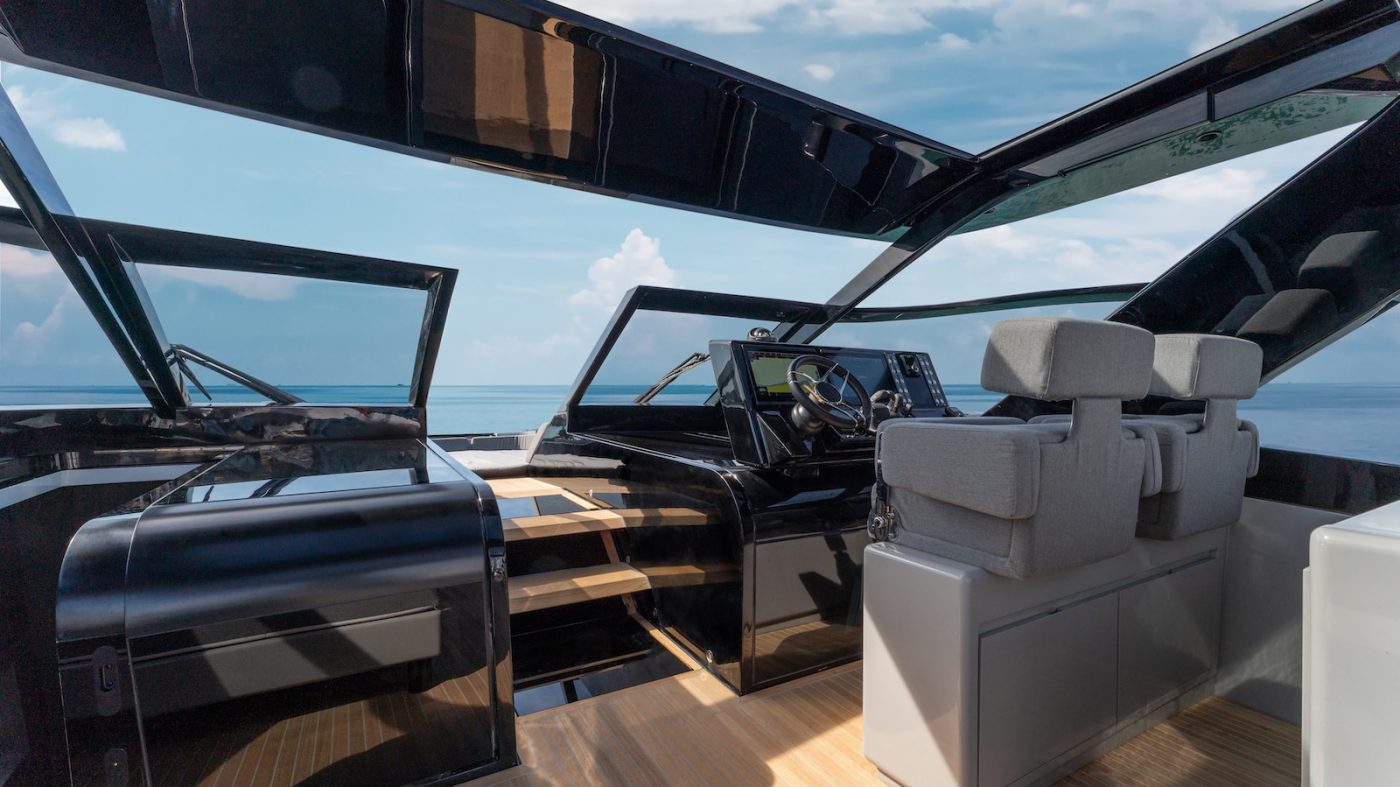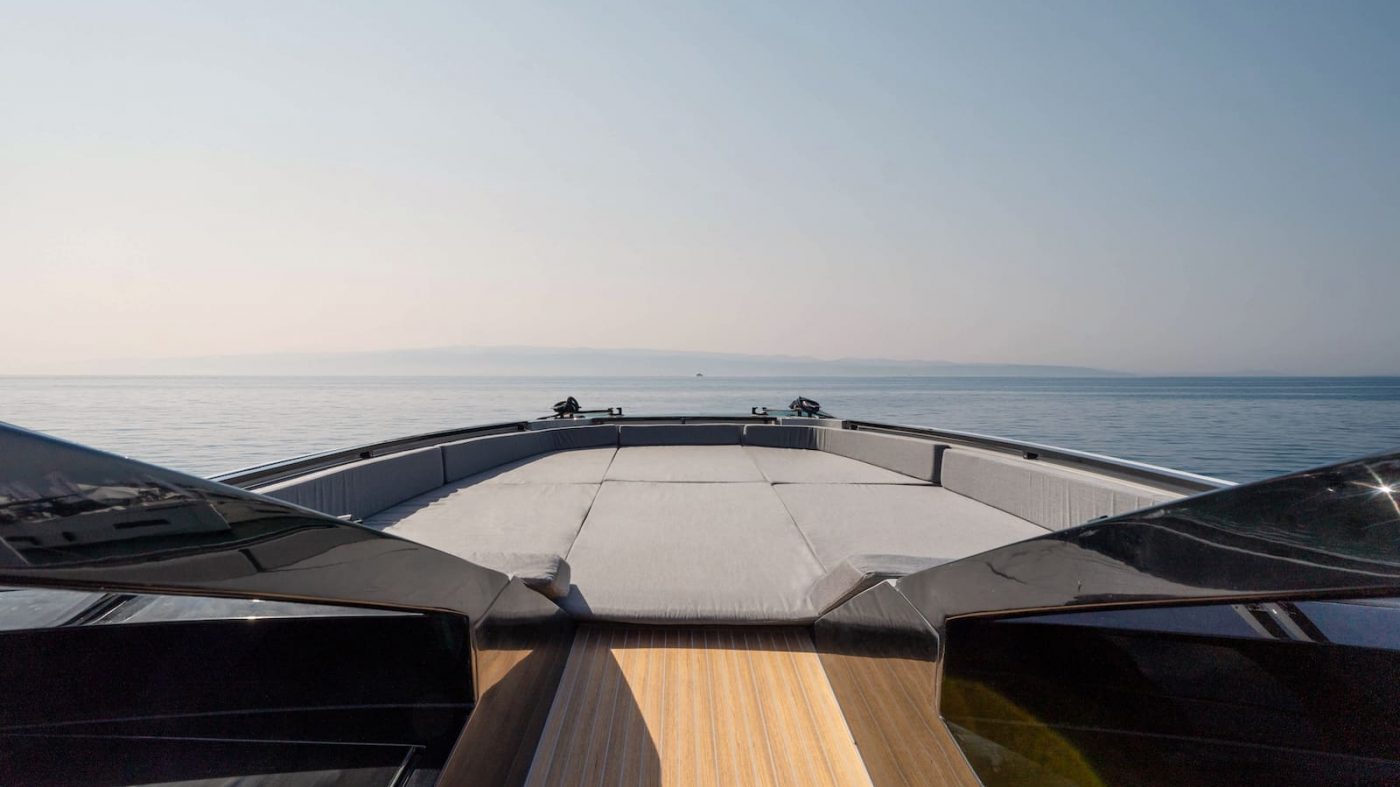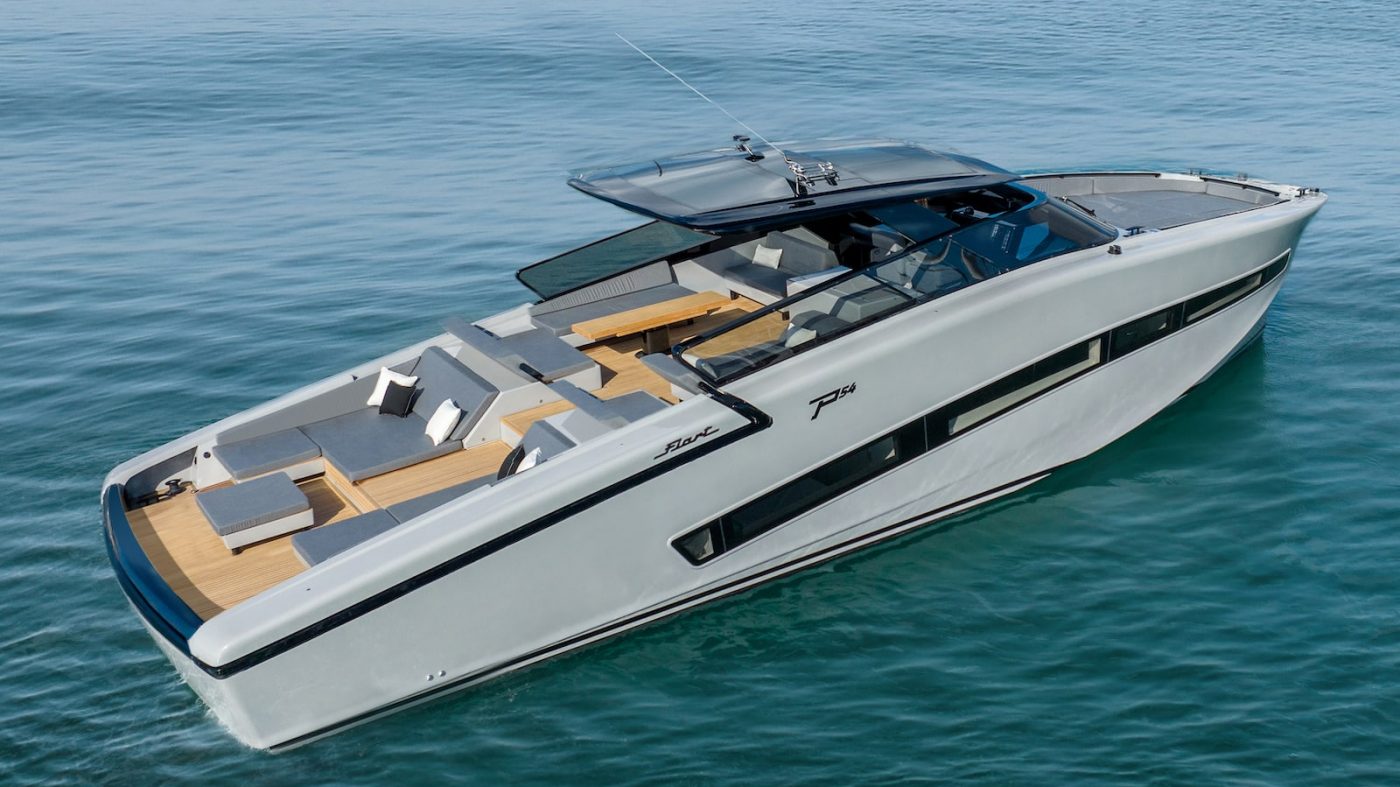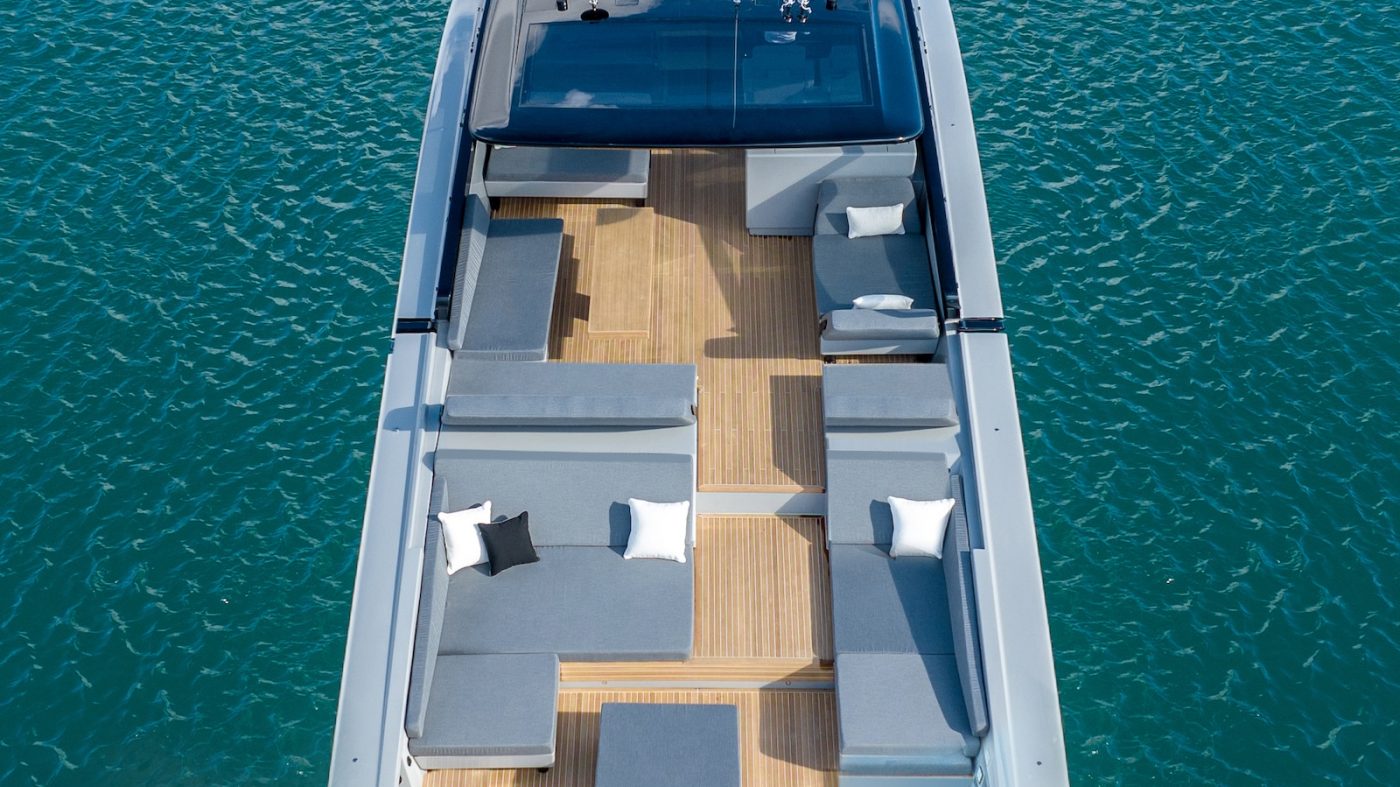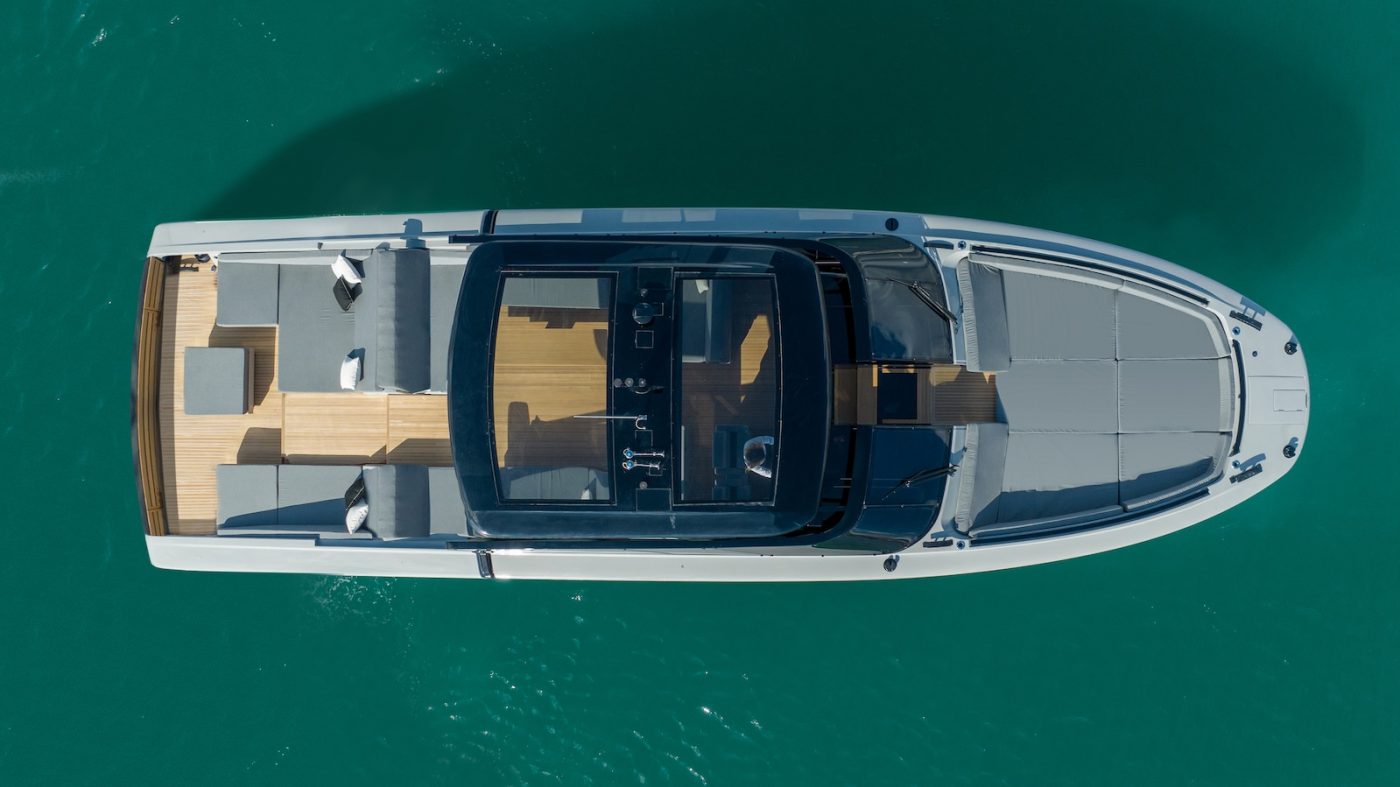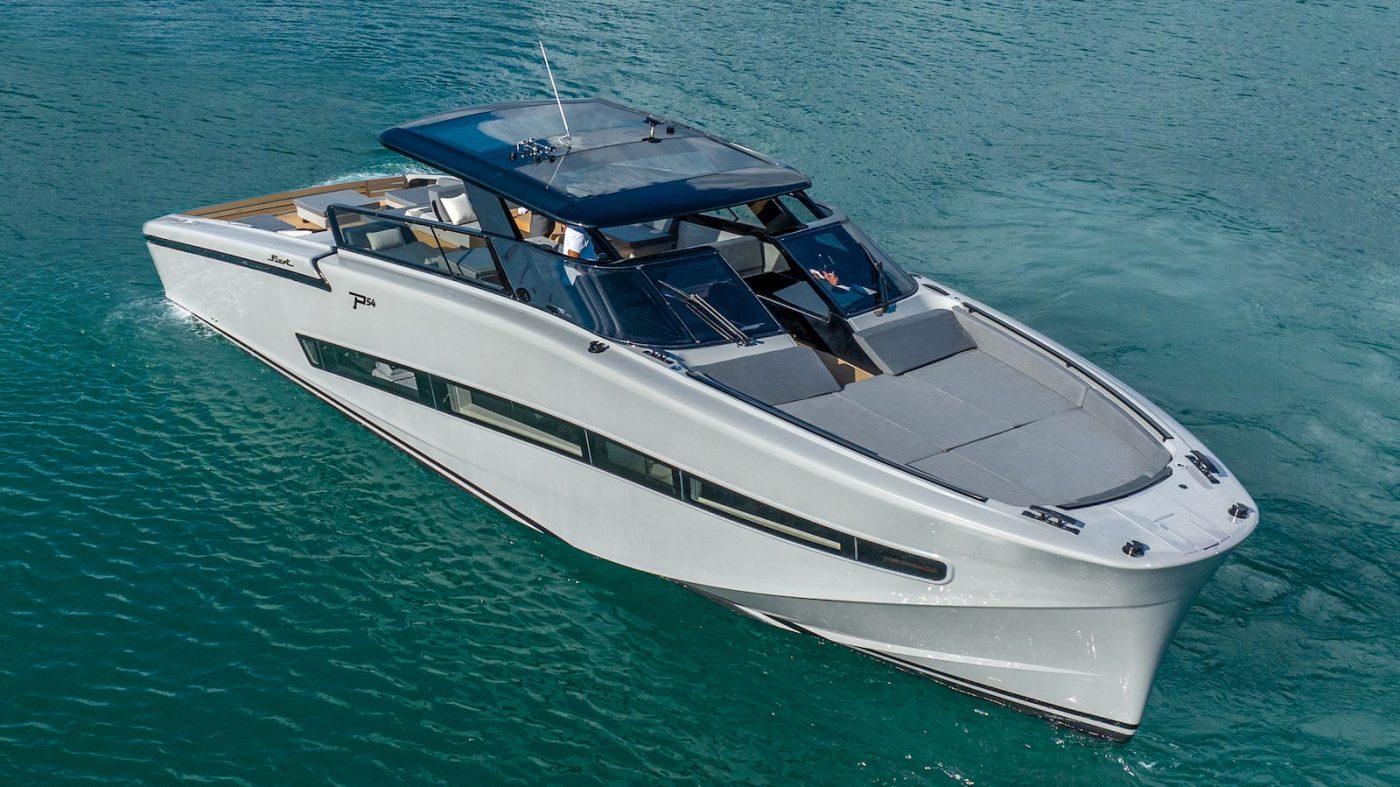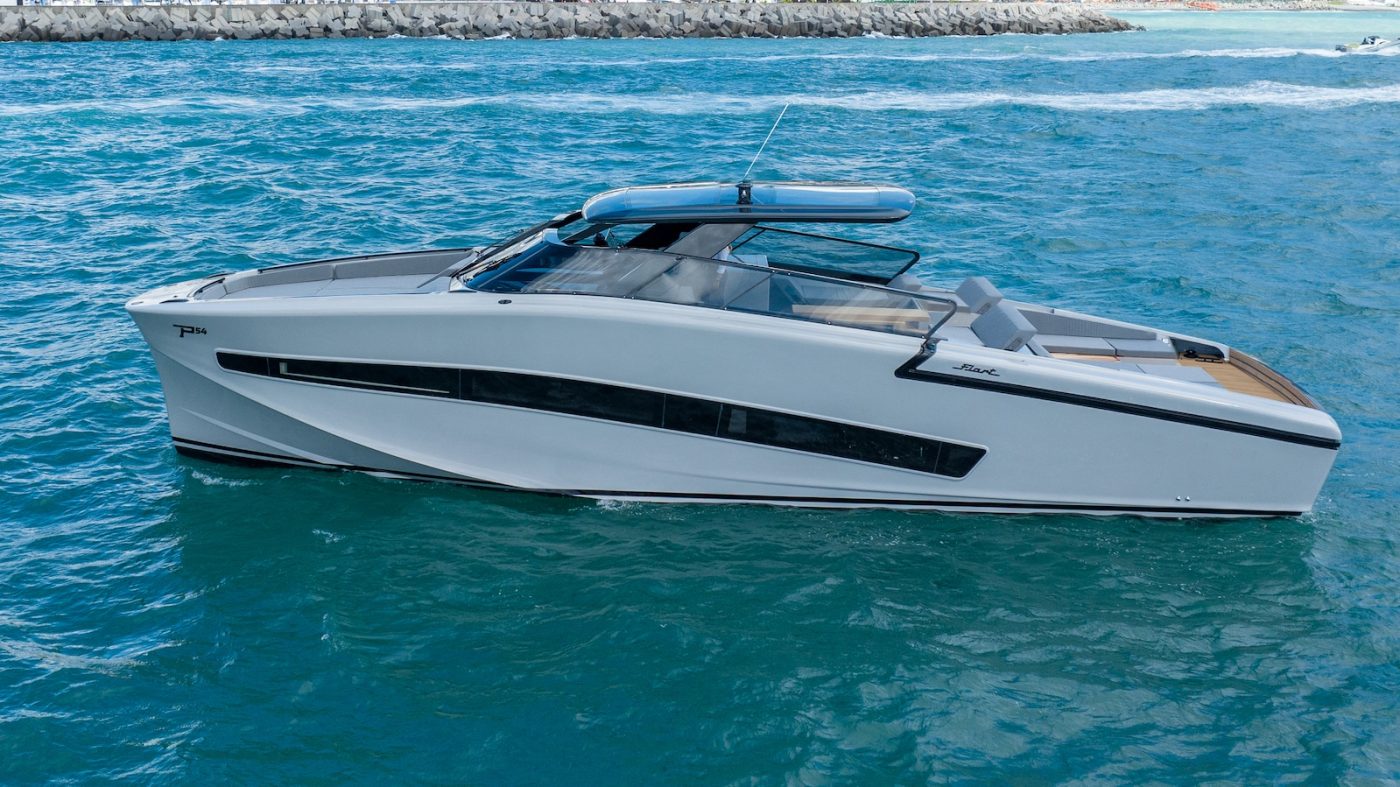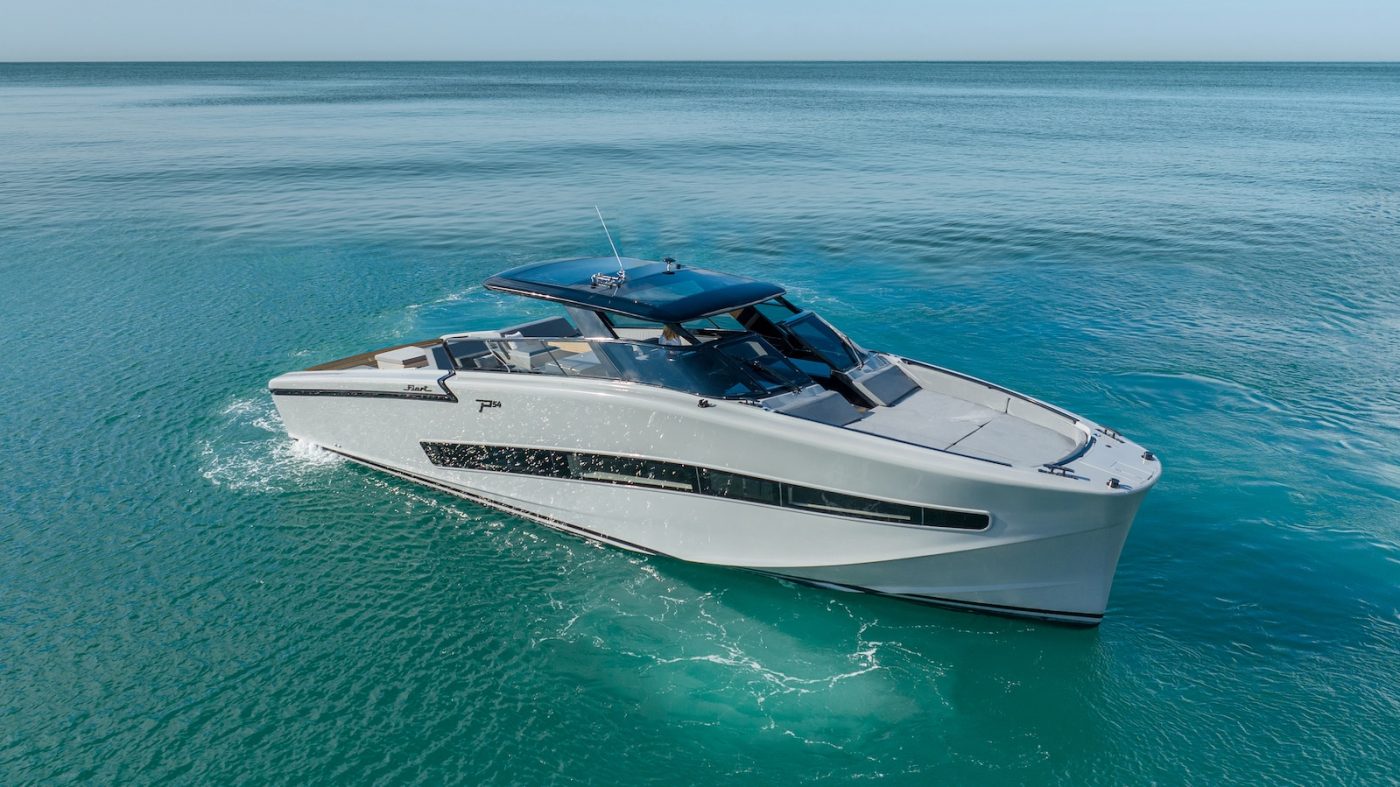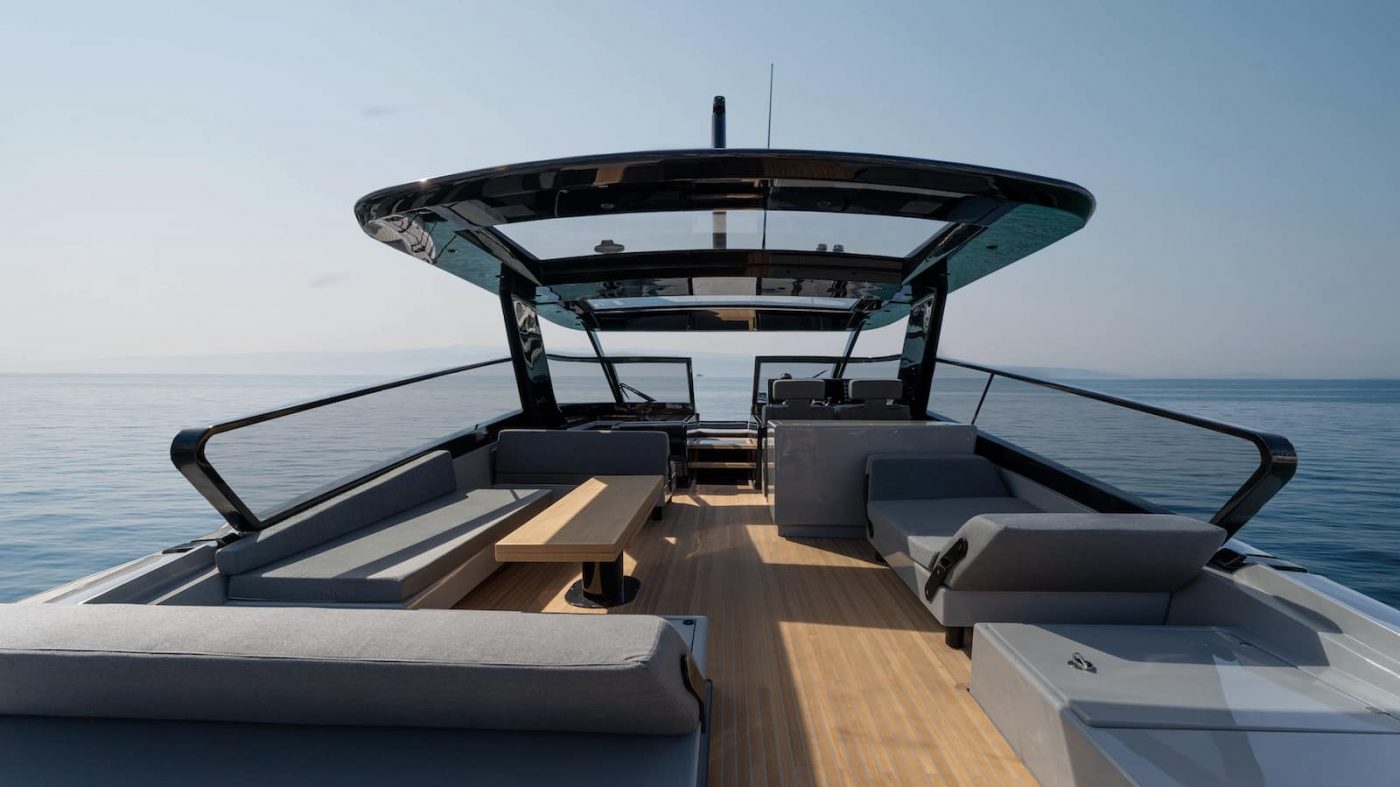 By electrically opening the hatch that divides the windscreen, you can access the enormous bow sunbathing area which, another great innovation, being recessed downwards not only allows a considerable number of people to lie down but, being equipped with backrests, can be enjoyed as a large convivial area where 7/8 guests can sit, rest their backs and chat while looking at each other.
Going below deck, a huge saloon features an L-shaped sofa to port and a long linear galley to starboard. In the middle, a coffee table conceals a mechanism that allows it to rise, petal open and become a square dining table for eight. This is a beautiful and functional space, where the design succeeds admirably in highlighting the great work of cabinet-making and the incredible quality of the woods and leathers.
The sleeping area can be made up of two or three cabins, depending on one's needs. The two-cabin version (my personal favourite) of the Fiart P54 has two huge masters, one forward and one aft, both with large en-suite bathrooms. The version of the test model, on the other hand, has three cabins and in the bow there is a VIP with a queen-size bed on the port side, while on the starboard side there is a double with superimposed beds. In this configuration, the wardrobe that acts as a separator between the two cabins is sliding and, if necessary, allows the forward cabin to be transformed into one large room.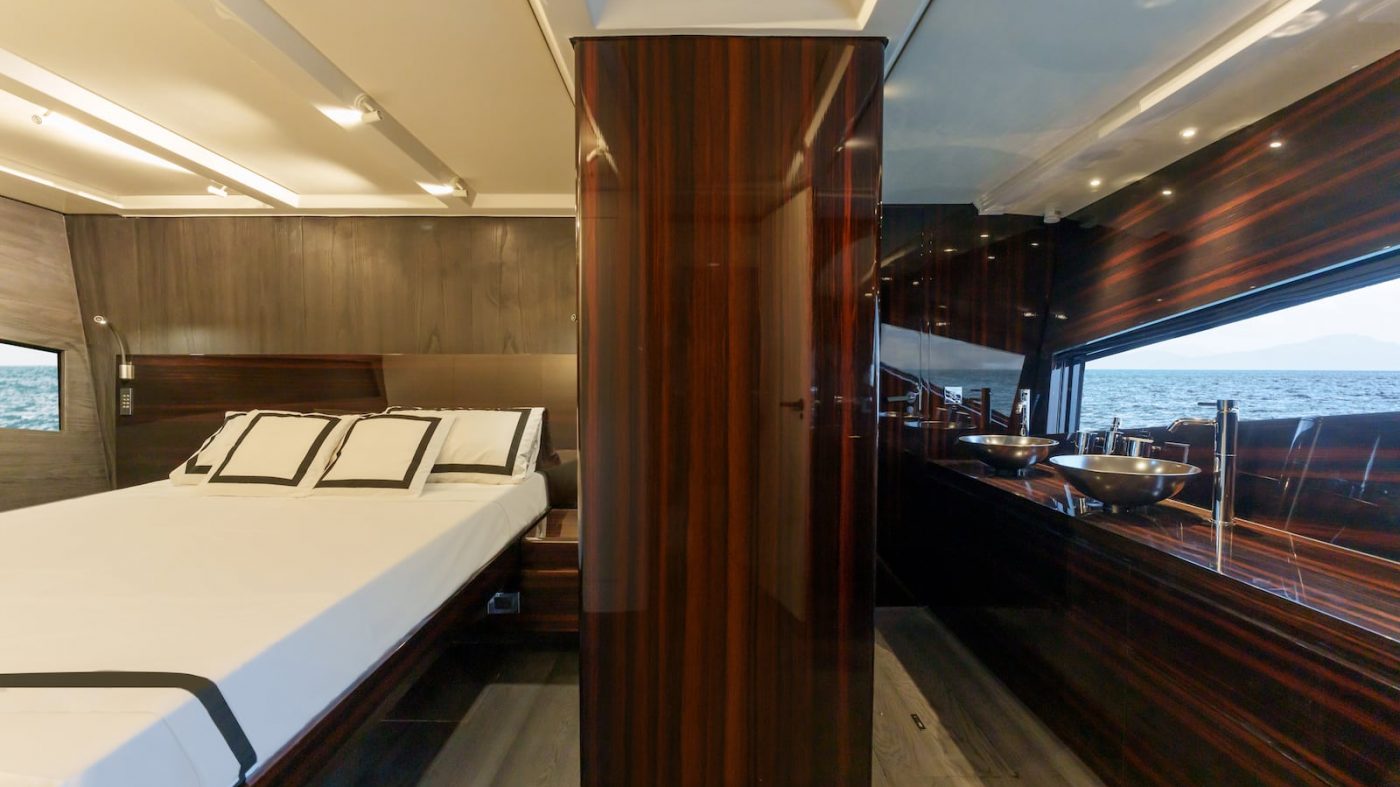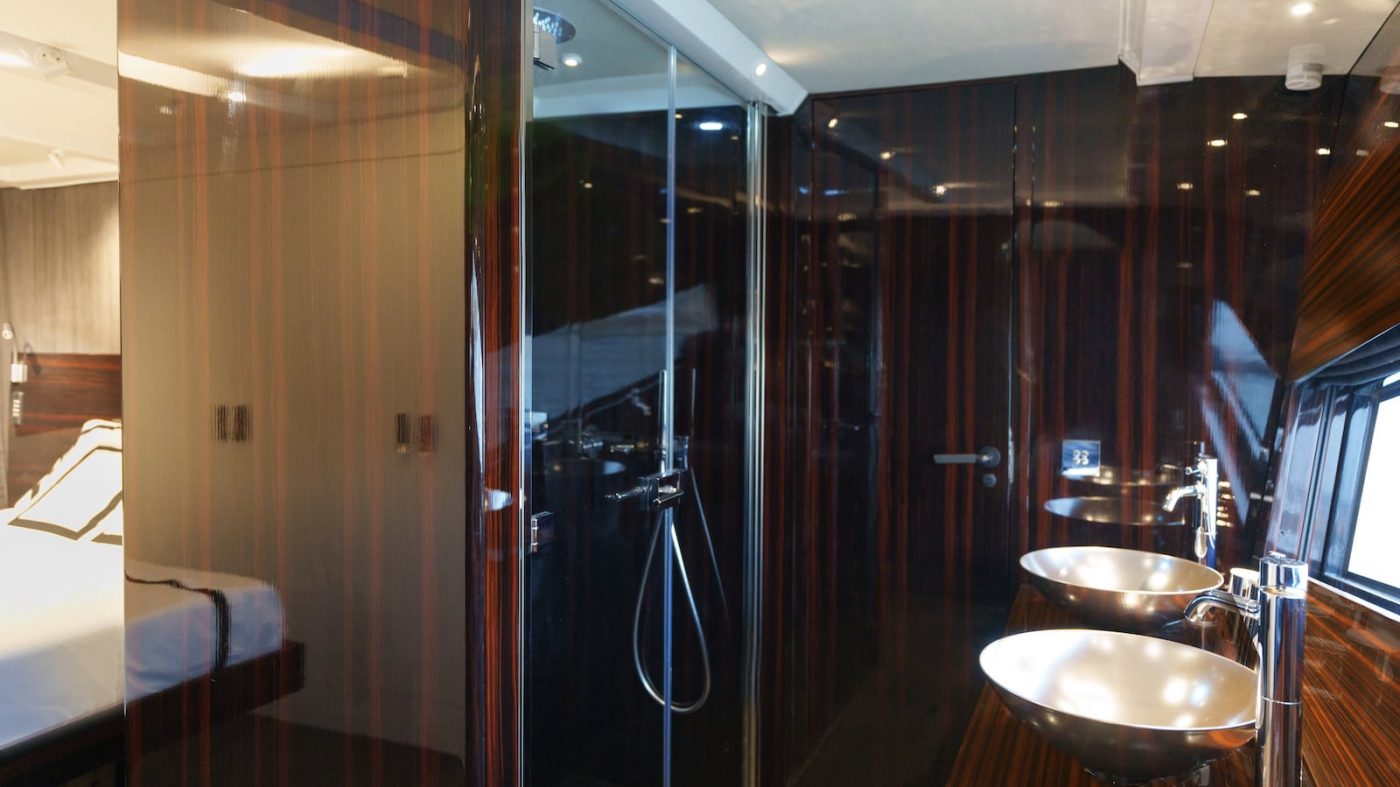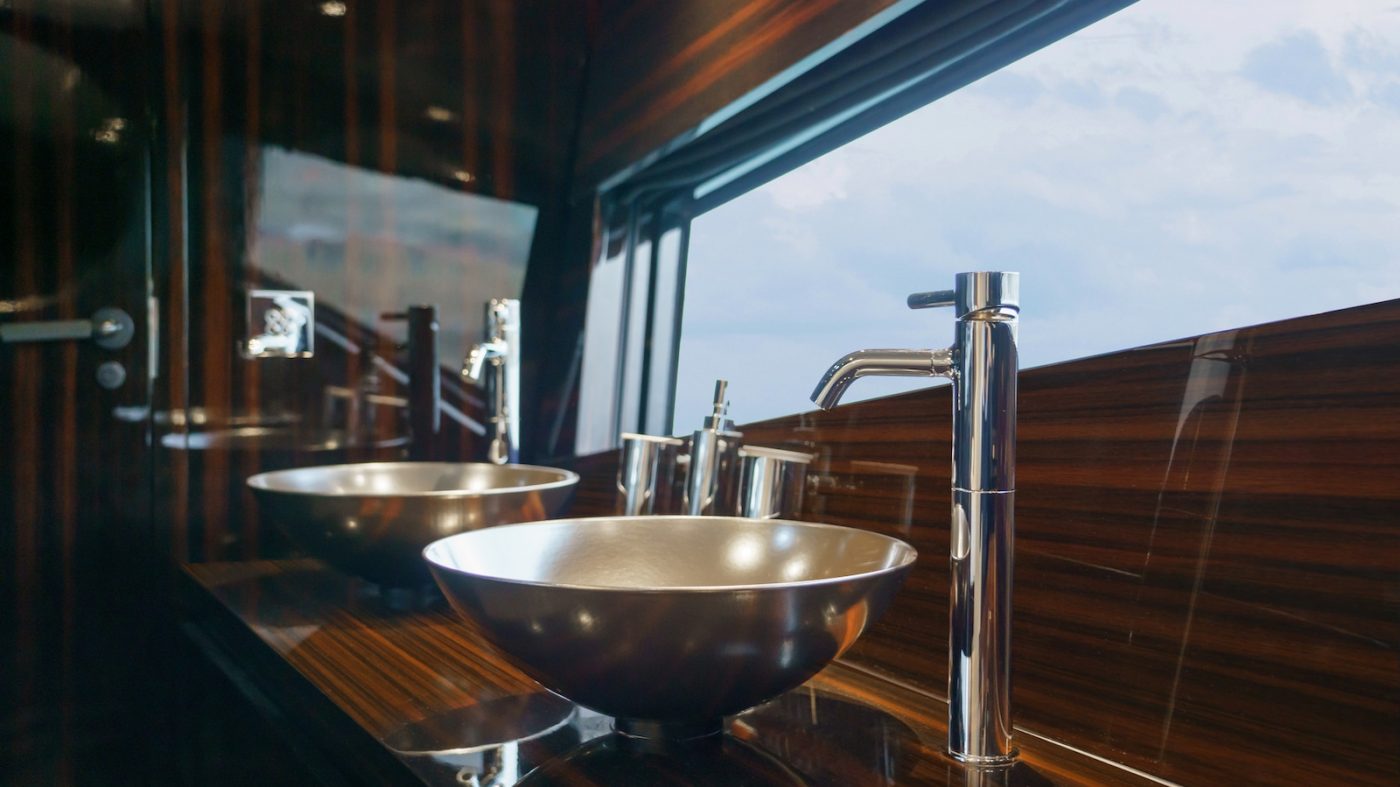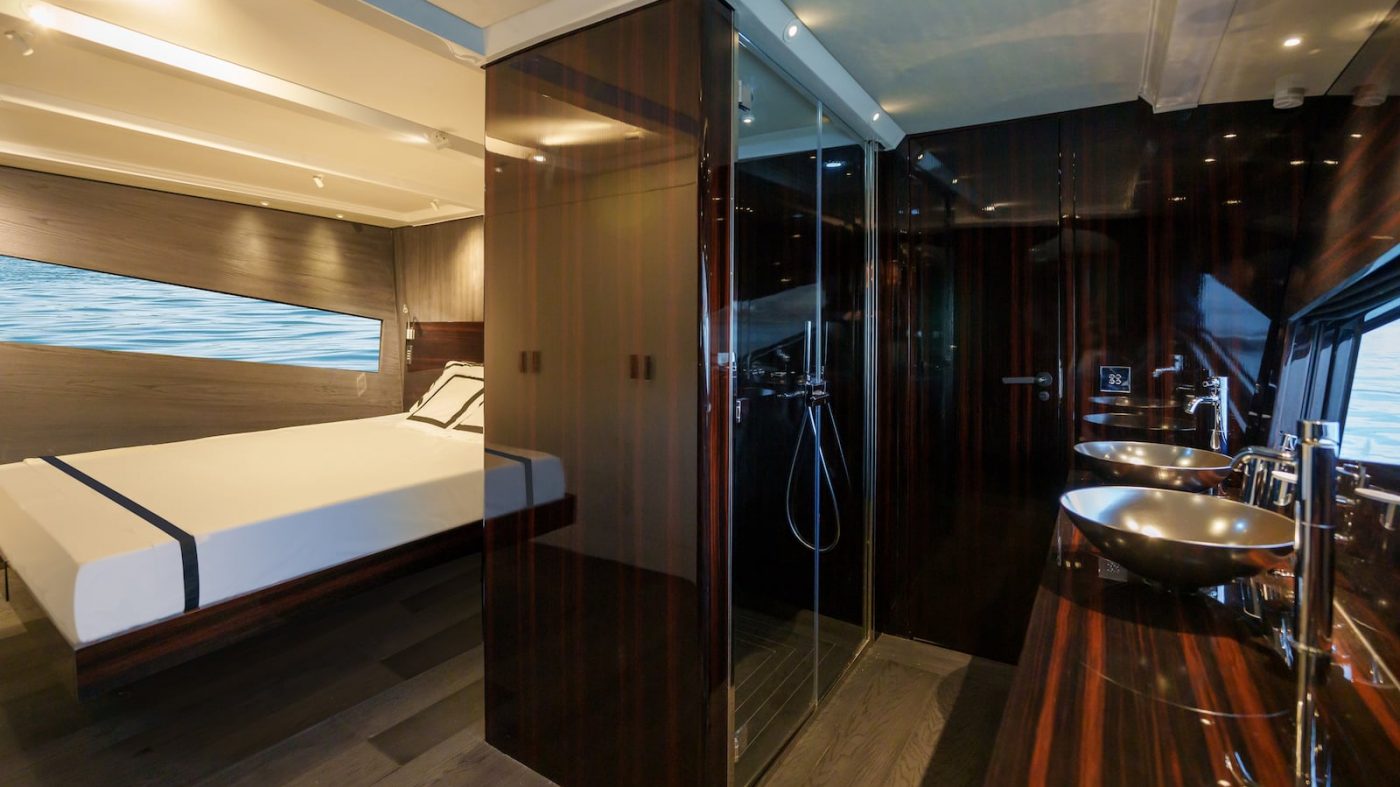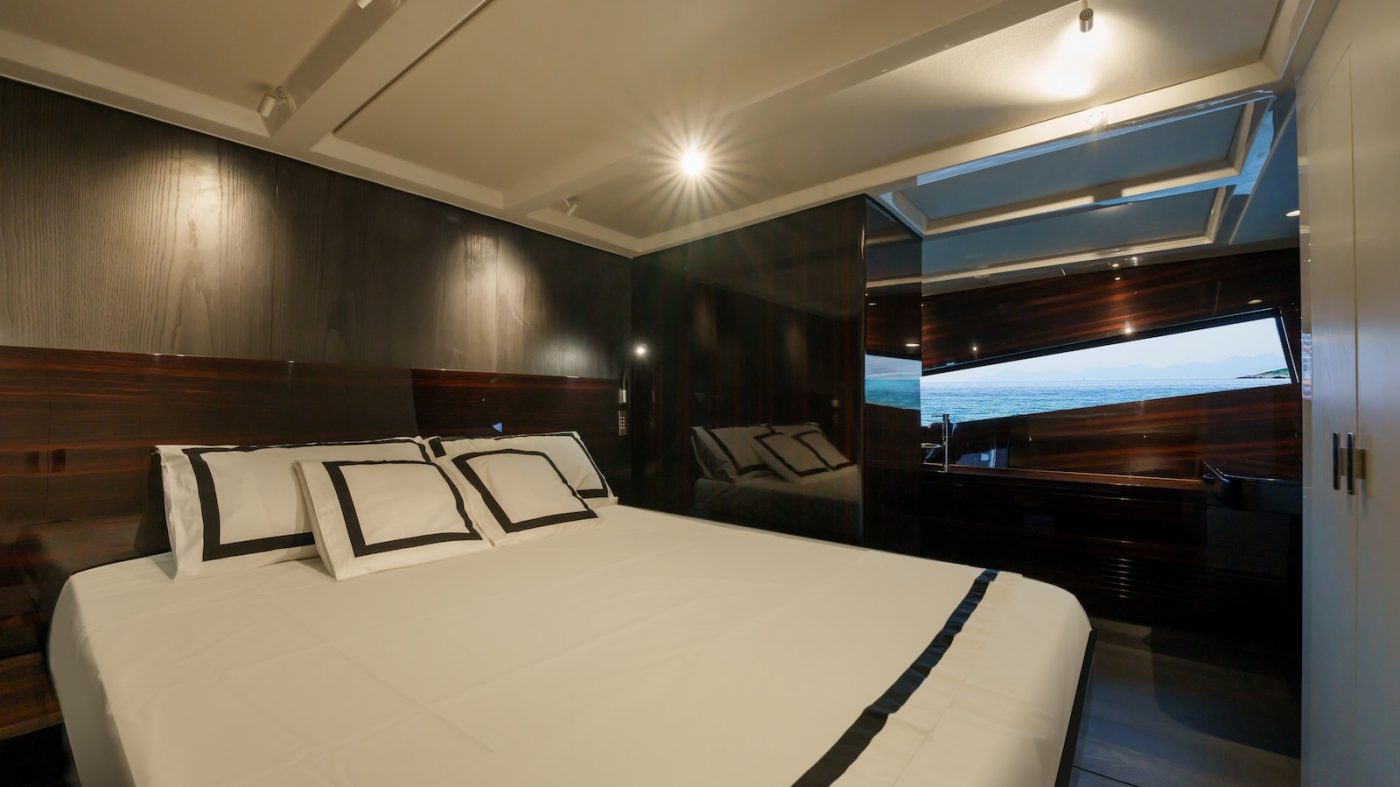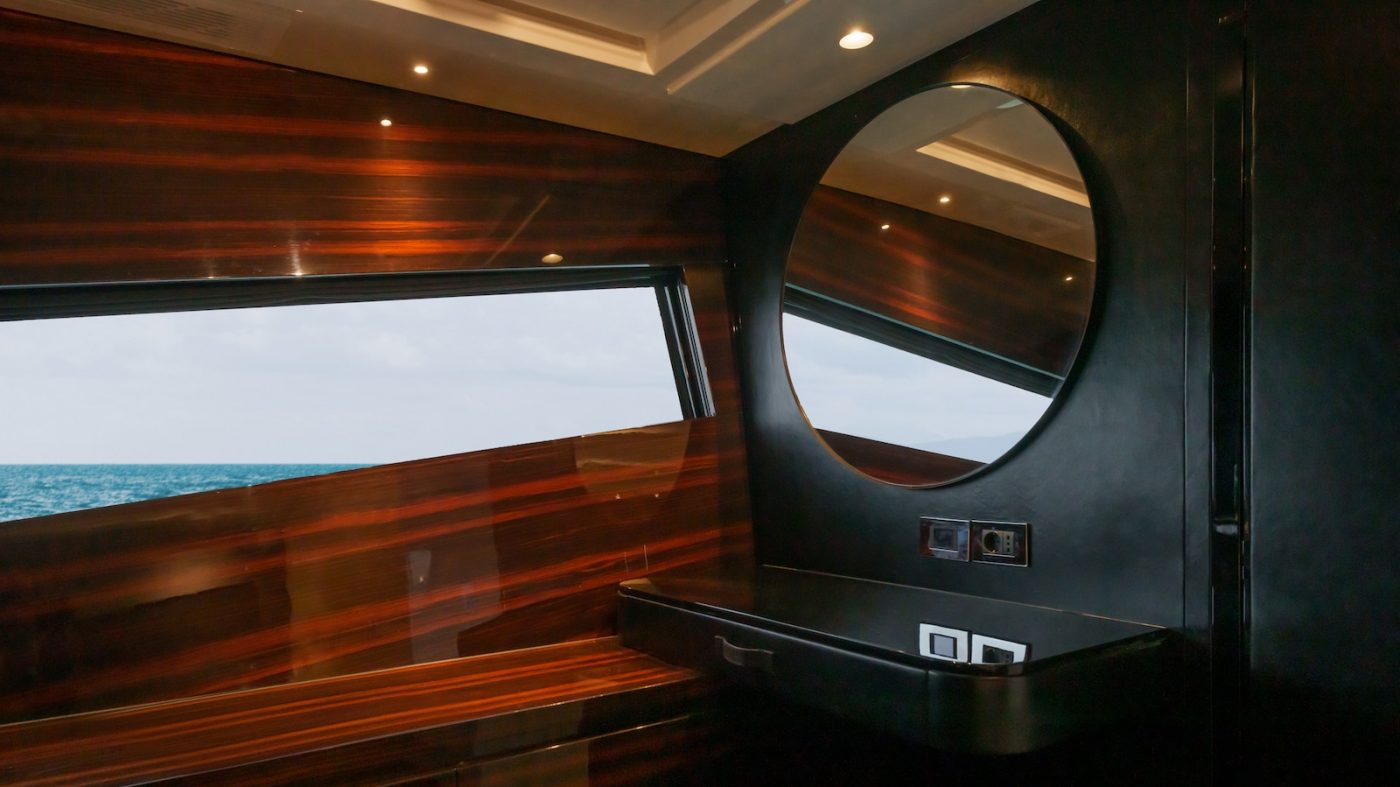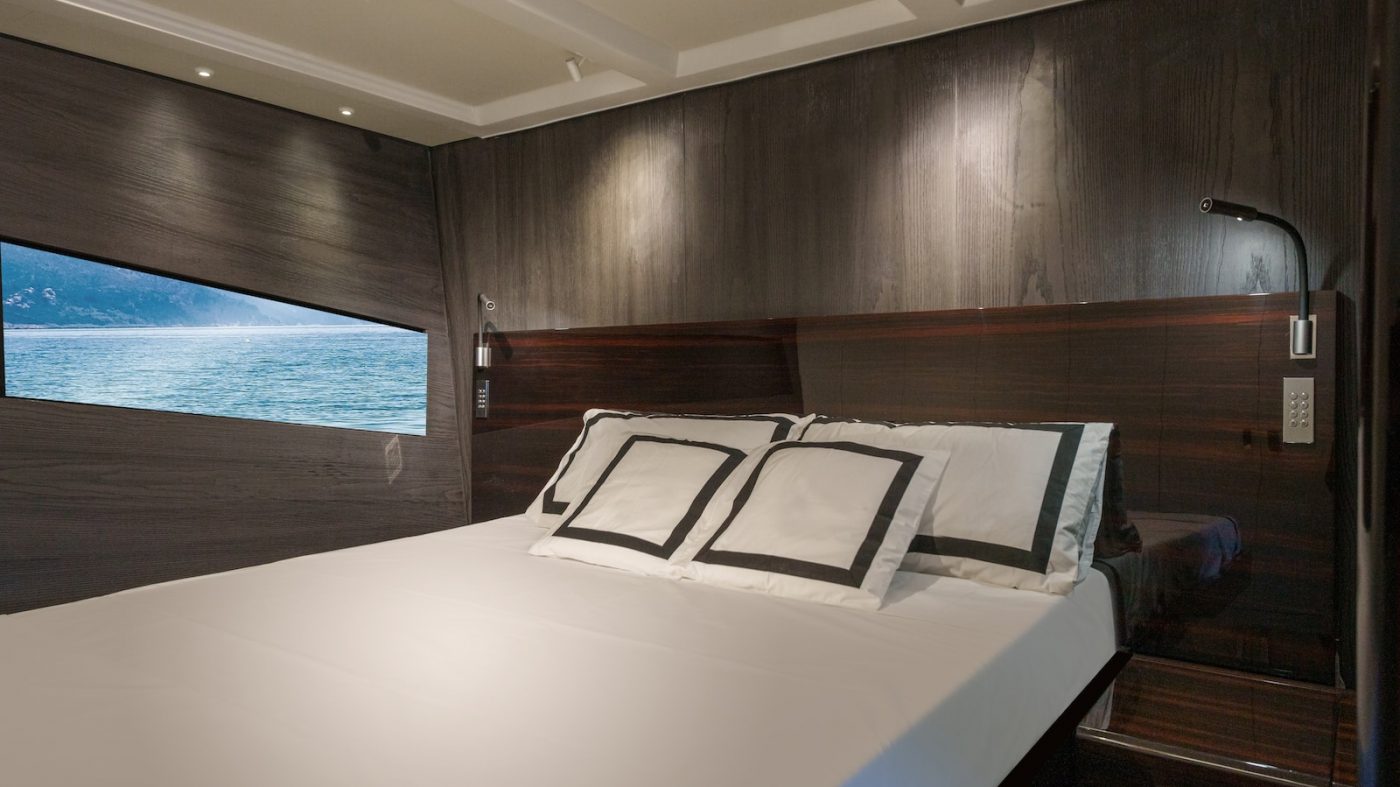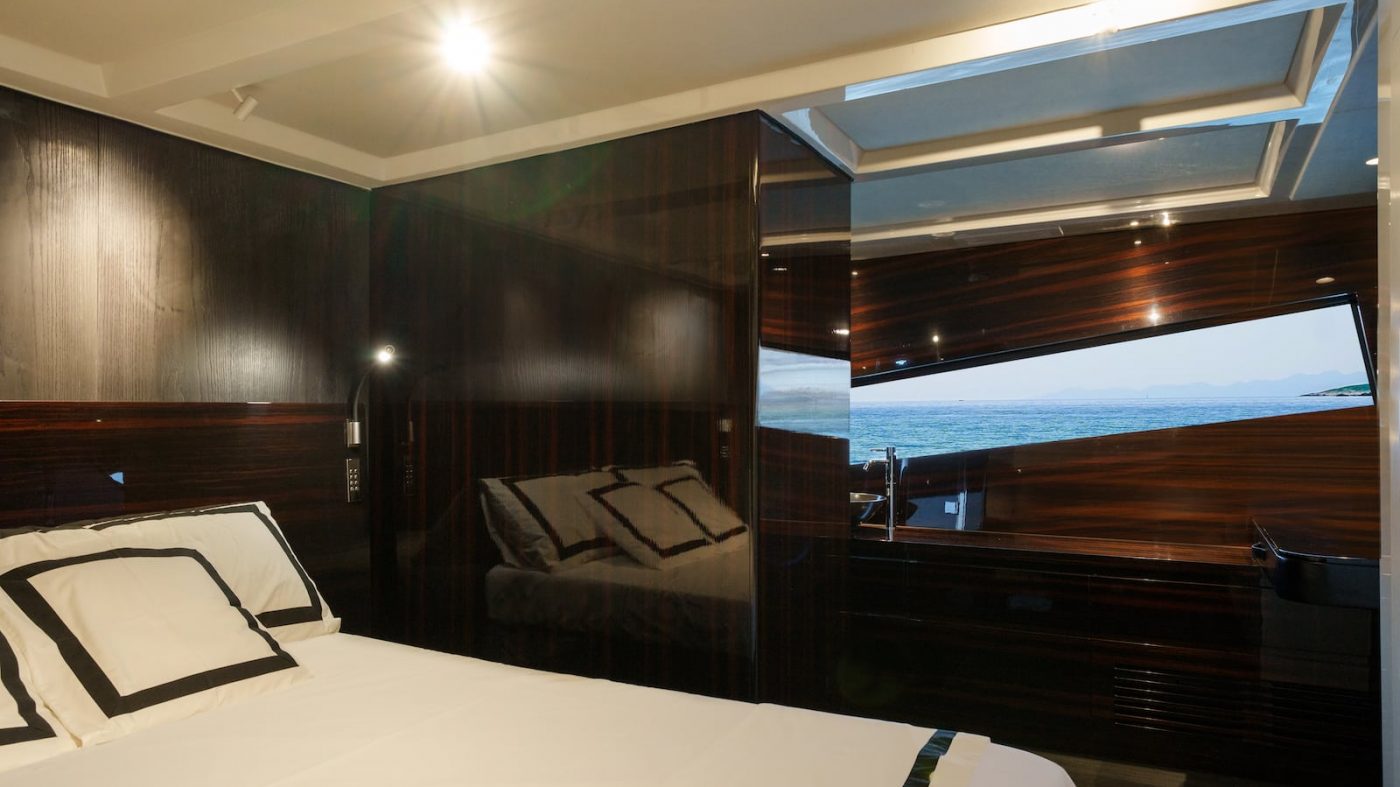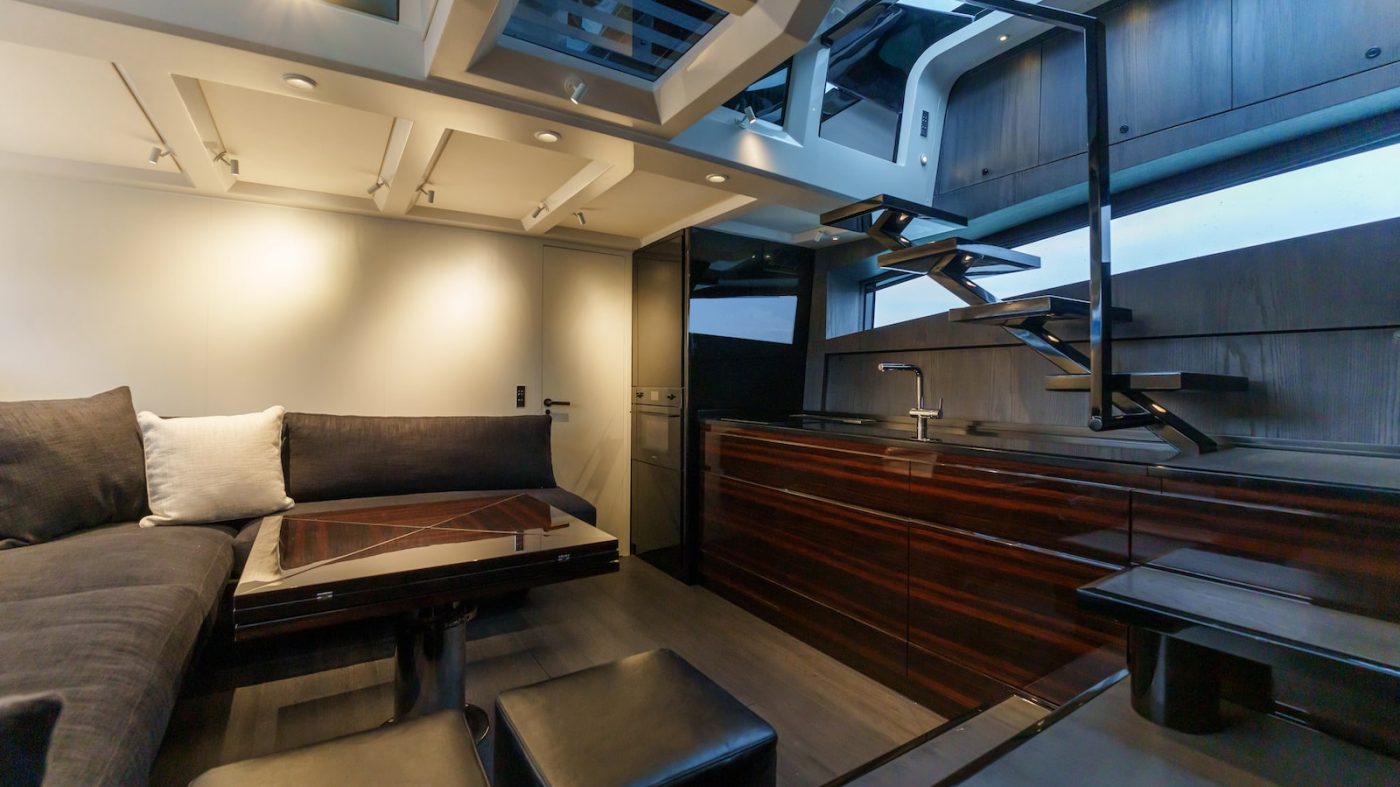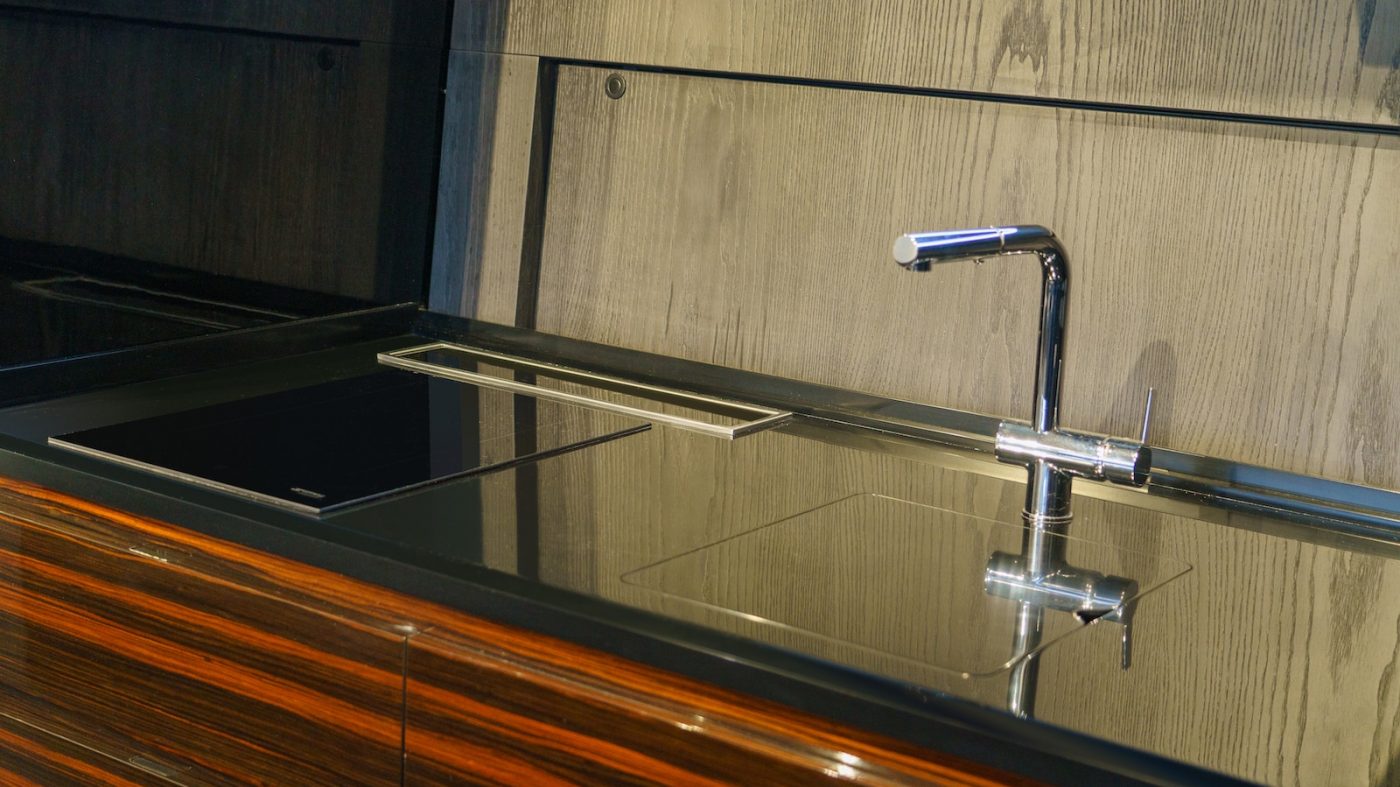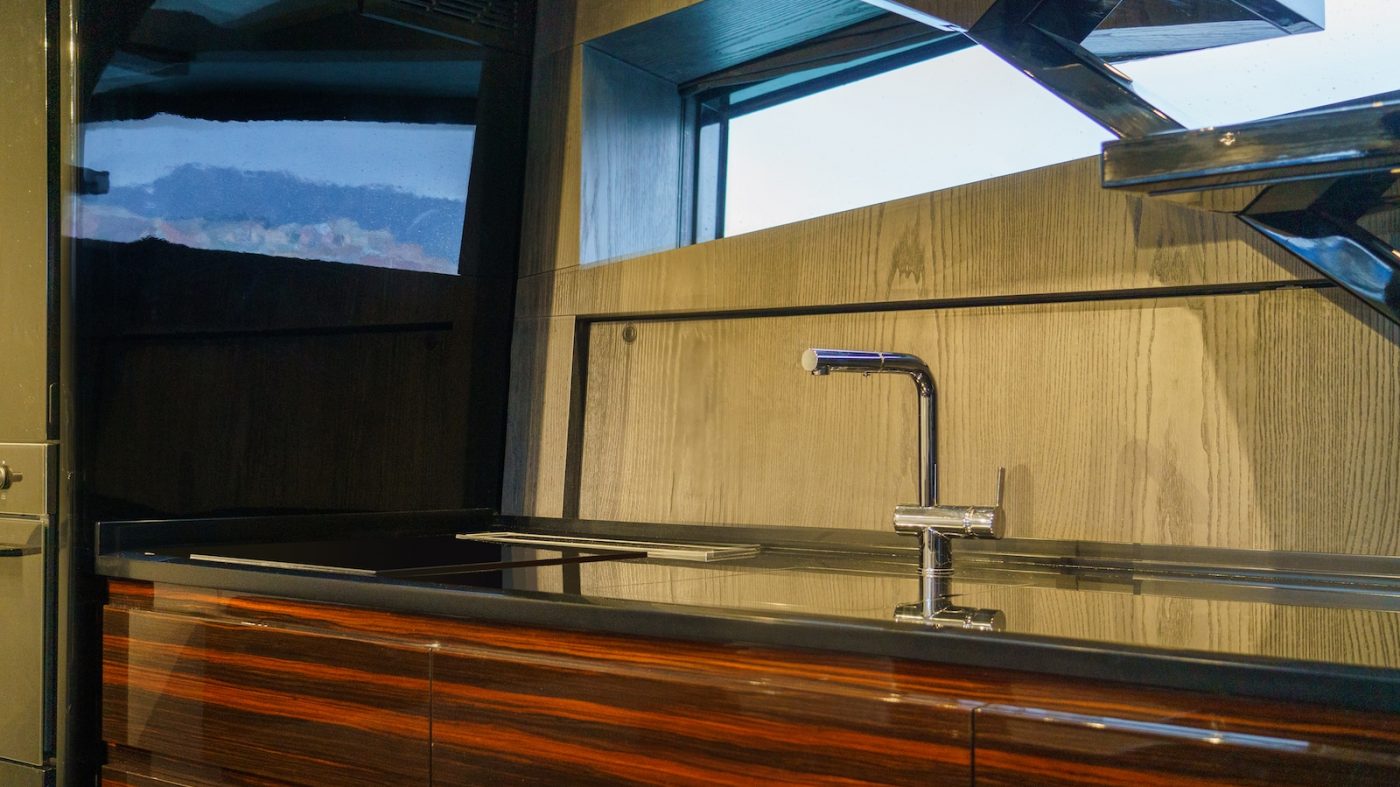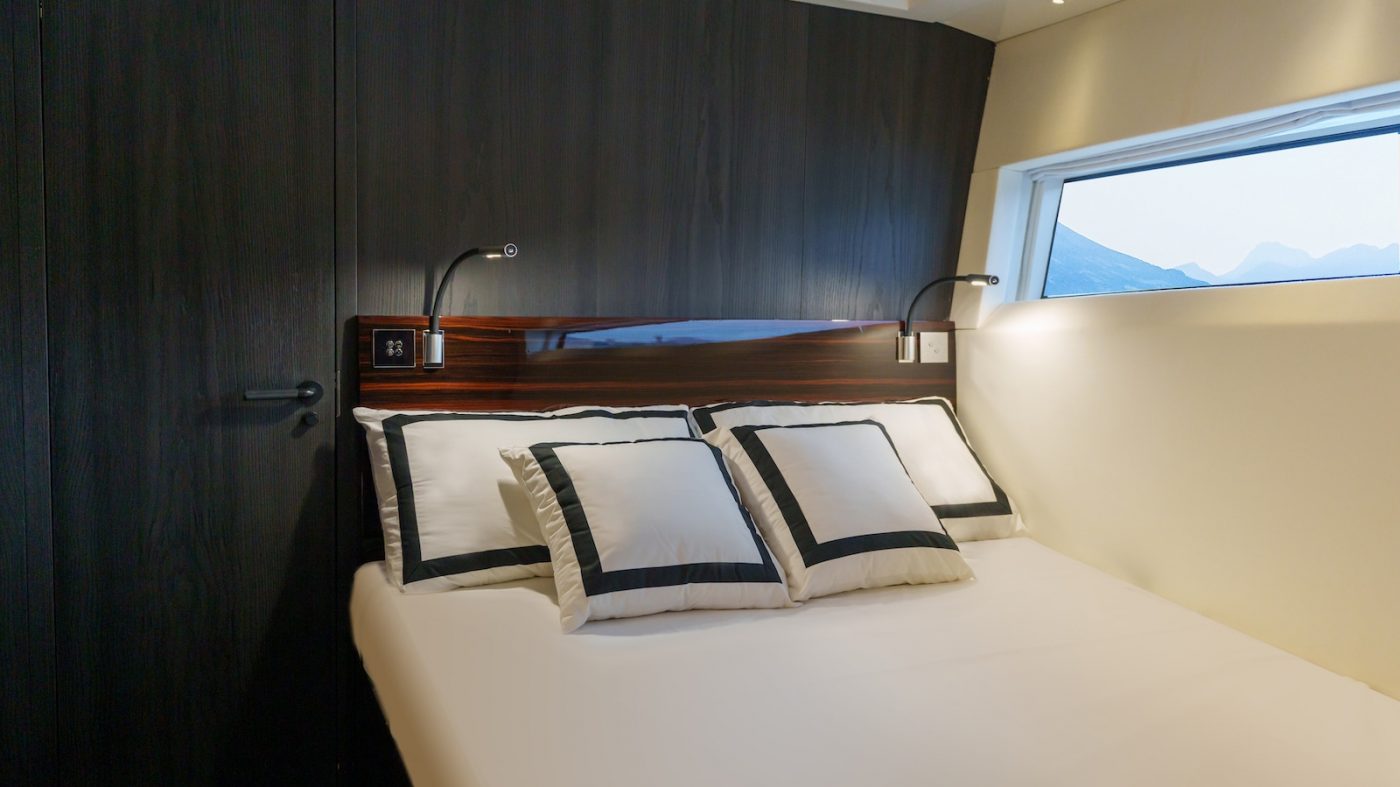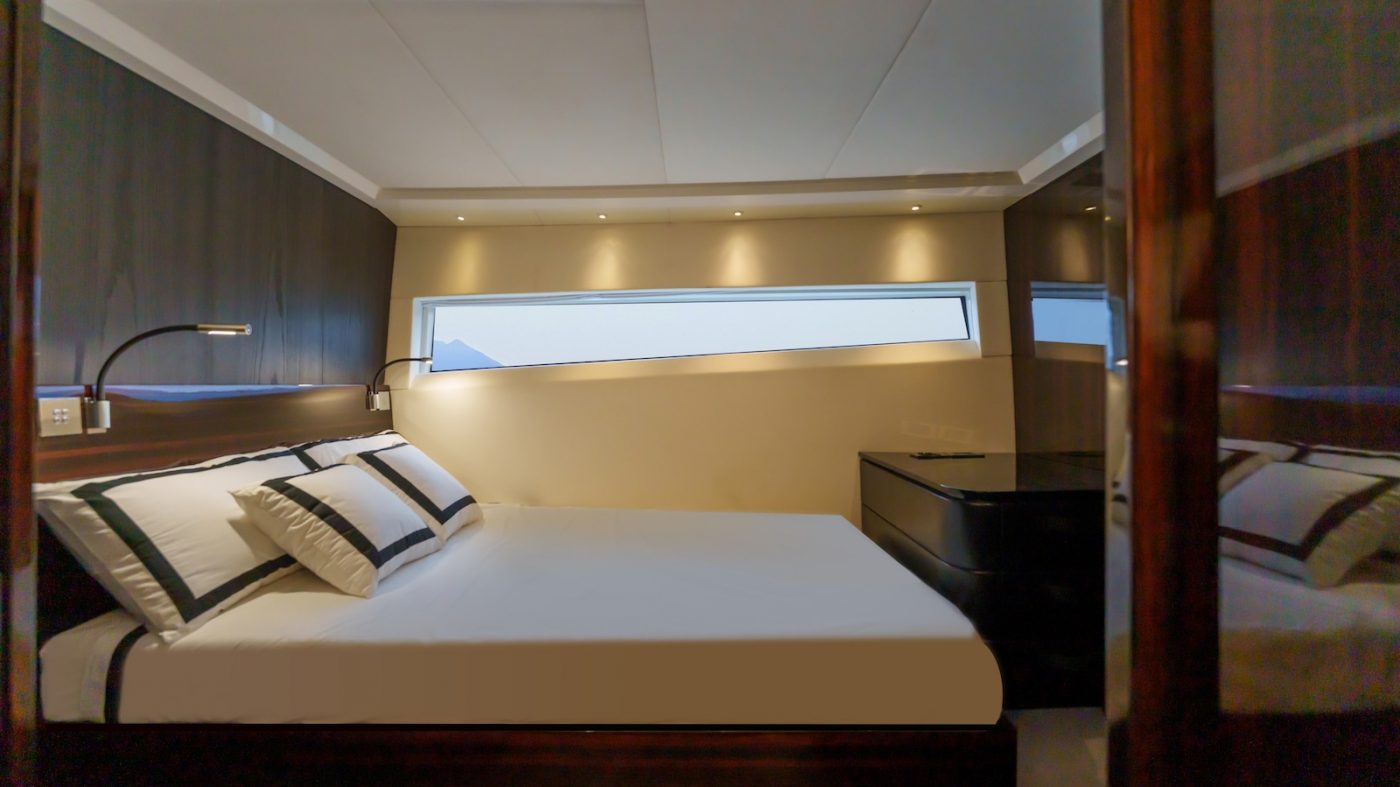 The aft Master Cabin is common to both versions and, full-beam, uses the full five metres of width to create what is practically a five-star hotel suite. We are talking about more than fifteen square metres of surface area which, elegantly furnished, can accommodate a king-size island bed, an enormous central shower, a very long cabinet where two designer sinks are set, a boiserie and a separate toilet room.
But the most striking thing is the feeling of luxury and elegance that pervades all the rooms. Fiart P54 is a boat for the few, conceptually very similar to a super yacht, both in terms of its range of uses and the unique design that she brings with her.
Technical Specs
| | |
| --- | --- |
| Length | 16.65 m |
| Beam | 5.1 m |
| Weight | 25 ton |
| Fuel | 2900 l |
| Water | 1000 l |
| Engine | Volvo D11 IPS 950 |
| Passengers Capacity | 14 |
| Design category | CE-B |