Internationalization is moving with great strides at Fiart. The shipyard puts one foot in Vietnam thanks to a partnership with Saigon Yacht and Marina.
Fiart's expansion process goes on relentlessly. The well-known Baia-based shipyard has just signed a partnership agreement with Saigon Yacht and Marina, thus conquering the Vietnamese yachting market. The object of the agreement is the sale and assistance of Fiart yachts on the spot.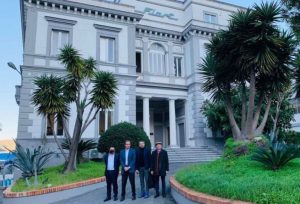 Vietnam closed a positive year in the yachting industry, with a substantial increase in sales and rentals. According to the figures, 2022 will bring further growth to the Southeast Asian country, which boasts a GDP (2020) of $841.678 billion.
The agreement was reached thanks to a series of diplomatic synergies, which developed following the opening of the Vietnam Consulate in Naples, headed by Consul Silvio Vecchione, who has been active in this operation to strengthen agreements between Italy and Vietnam.
The Consulate in Naples covers the agreements between the two countries for the regional area of Campania and southern Italy. Advisor to the operation between Fiart and Saigon Yacht Marina is Marius Camber, an expert in the export of Italian products to the Socialist Republic of Vietnam and administrator of One Up Level.
Fiart Seawalkers in Vietnam
The partnership between the two realities favours the sale in the Asian market of the prestigious yachts between 10 and 30 meters built by Fiart, with reference to the famous Seawalker and Classic ranges, to which are added the boats of Cetera, a brand created in 2019 by Fiart Mare and other industry players.
This is an important signal from Fiart, which, following the expansion of its sales network in the European Union, begun in 2020, is adding another flag to its extensive network of international partners covering the entire EMEA and APAC area. To date, Fiart has a total of 37 partners worldwide.
Fiart in Vietnam: the effects of agreements
This partnership is good for the Made in Italy boating industry and will foster bilateral relations with Vietnam, which are constantly evolving on several fronts. Vietnam, not only as far as the boating sector is concerned, is a country full of potential to be assessed. The 3,260 kilometre-long coastline is attractive from a yachting point of view. The resorts of Mui Ne and the paradise island of Phu Quoc are particularly appealing, with new marinas and yacht clubs opening in the area, which is growing in popularity.
Saigon Yacht and Marina JSC (SYMC), as a Fiart dealer, will offer bespoke services for the purchase and maintenance of high-end yachts and aims to maximize the yachting experience in Vietnam.
On the occasion of the agreements signed between Fiart and Saigon Yacht and Marina, the diplomatic mission, composed of Nguyễn Đức THANH (Minister Councillor), Silvio Vecchione and Marius Camber, visited the Fiart shipyard in Baia and was welcomed by the General Manager, Simone Lorenzano; also present were the Managing Director, Marco Vertecchi, and the Foreign Sales Manager, Paolo Varini.