This is a season of great success for Franchini Yachts, the boatyard that has shaken up the market with the innovative Mia 63, set to repeat the success of the previous models from the historic Italian brand, famous worldwide for its Emozione collection. Not surprisingly, Franchini has just announced a new dealership which, based in Alicante and with branches throughout the Mediterranean and the Middle East, is aimed at developing the internationalisation of the brand's sales network.
A strategic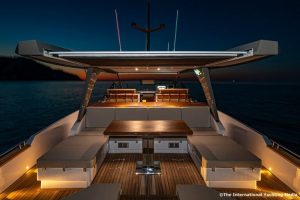 collaboration that, starting from the enchanting setting of the Balearic islands, will allow the Mia 63 to join the large fleet Franchini Yachts fleet present in the most prestigious Mediterranean ports. "We are proud to see another Mia 63 sailing in the Balearic islands. After the stop imposed by the Covid-19 pandemic – says Massimo Franchini – the boatyard is back on track and production is running non-stop". Currently under construction is a new Mia 63 in the SportFly version which, while retaining the attractive design that characterized the entire range, manages to add an elevated driving position and give the boat an additional enclosed main deck.
Meanwhile, Franchini Yachts is getting ready for the newt autumn boat shows, confirming its presence at both Cannes Yachting Festival and Genoa Boat Show, two unmissable opportunities to see first-hand the building quality that this boatyard expresses,which we were lucky enough to test in preview last year.
Franchini Yachts and Mia 63: technology and sustainability
The Franchini Yachts Mia 63 is not just about beauty and design. All yachts are built with the utmost respect for the environment and use cutting-edge materials and solutions that allow for very high sustainability levels. Thanks to a patented process using nanotechnology, the formulation of resins results in sturdier and lighter structures with a considerable reduction in vibrations.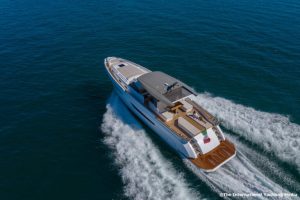 Furthermore, IPS propulsion results not only into perfect manoeuvrability but also into a considerable reduction in emissions while guaranteeing excellent performance. The implementation of the new Hard Top and Fly versions in the production line demonstrates the shipyard's ability to modulate the yacht according to the owner's needs, making each Mia 63 different from the other, according to the "tailor-made" philosophy that has always characterized Franchini production and is usually reserved for much larger yachts.