Garcia is fearless in its path; its distinctive aluminium cruising yachts have gained a strong reputation over the past 50 years. The latest model, the Garcia 60 Exploration, is a shoal-draught expedition yacht that will take you anywhere around the globe. As I discovered, sailing in more confined waters, she is also responsive and incredibly fun.
"Nowhere you can't go" is the philosophy of the French shipyard Garcia. Jean Pierre and Jean Louis Garcia in 1974 founded the brand for bluewater aluminium yachts. In 2011 the new Exploration yacht was the result and influence of a long-distance navigator Jimmy Cornell and the passion of the Garcia team.
Jimmy Cornell, Yachtsman and bestselling author of World Cruising Routes, said, "I was looking for a sailing boat adapted to my trips that combined sailing at high latitudes and in the tropics, but was unable to find a solution on the market. I decided to design a new boat that would come close to being the perfect cruising sailboat. I was immediately very enthusiastic; they were the best builders of aluminium yachts in France, and they had with them one of the greatest naval architects Olivier Racoupeau. Without a doupt they were going to build the boat of my dreams."
Discovering the Garcia 60 Exploration
It's mid-March, and a few storms have hit France, so when Grand Large Yachting invited us to test the Garcia Exploration 60, we were excited; it's not often you get to try a sailboat in moderate wind.
We arrived bright and early in Cherbourg, France, jumping at the gate to climb aboard and get underway. What struck me first was the size of this aluminium beast; she's 19.5 meters long by 5.4m in the beam, an absolute monster and by far the most significant sailboat I have tested to date.
I spent some time with the skipper familiarising myself with the technical workings of this Garcia 60 Exploration before we set off; it is something I like to do on all sailboats. It's an excellent task, but Garcia has made this easy with its intelligent systems and ergonomic cockpit design.
All systems can be operated from both port and starboard helm pedestals. The central hydraulic servo system runs your forward sails fullers, windlass, centre board, genset, and vang. Time to go; we expect winds from the southeast between 15-20kn gusting to 28kn, so a good breeze to get this 33T lady moving. Manoeuvring out of a marina with twin rudders is not my favourite sport. Still, with the bow and stern thrusters, my five-year-old would make it look easy. If you're worried, The aluminium hull is 5 to 12 mm thick. It is charitably dimensioned right down to its ribs and stringers, assuring foolproof impact resistance. For even more peace of mind, the structure includes a watertight bulkhead at the front and the rear, upstream of the steering system. A fin protects the shaft. The rudders are made of aluminium and preceded by a protective skeg; They also have a composite sacrificial zone in their upper part. In case of a violent shock, if the rudder stock should bend, the hull is protected, and the rudder remains functional. you don't pierce your hull if you hit anything, don't forget this is a first-class blue water sailboat, after all.
With a full main and genoa, we pass the outer harbour wall. Into the English Channel, 15kn on the beam, we steadily move forward at 6.5 kn. The Boat feels balanced with plenty of sensation through the helm, solid and ready to take on any challenge or destination. The aft cockpit is ergonomically set out with three harken 2-speed self-tailing winches for all your sheets and halyards, which have been brought back to the cockpit area to keep your deck free from any lines and trip hazards. The wind started to pick up to around 21Kn, so we put in a reef in the main, changed course and settled her down onto a broad reach. The Garcia 60 Exploration picked up her skirts, and in no time, we were cruising at a constant 10Kn. To reduce drag, we lifted the centre board and let her settle;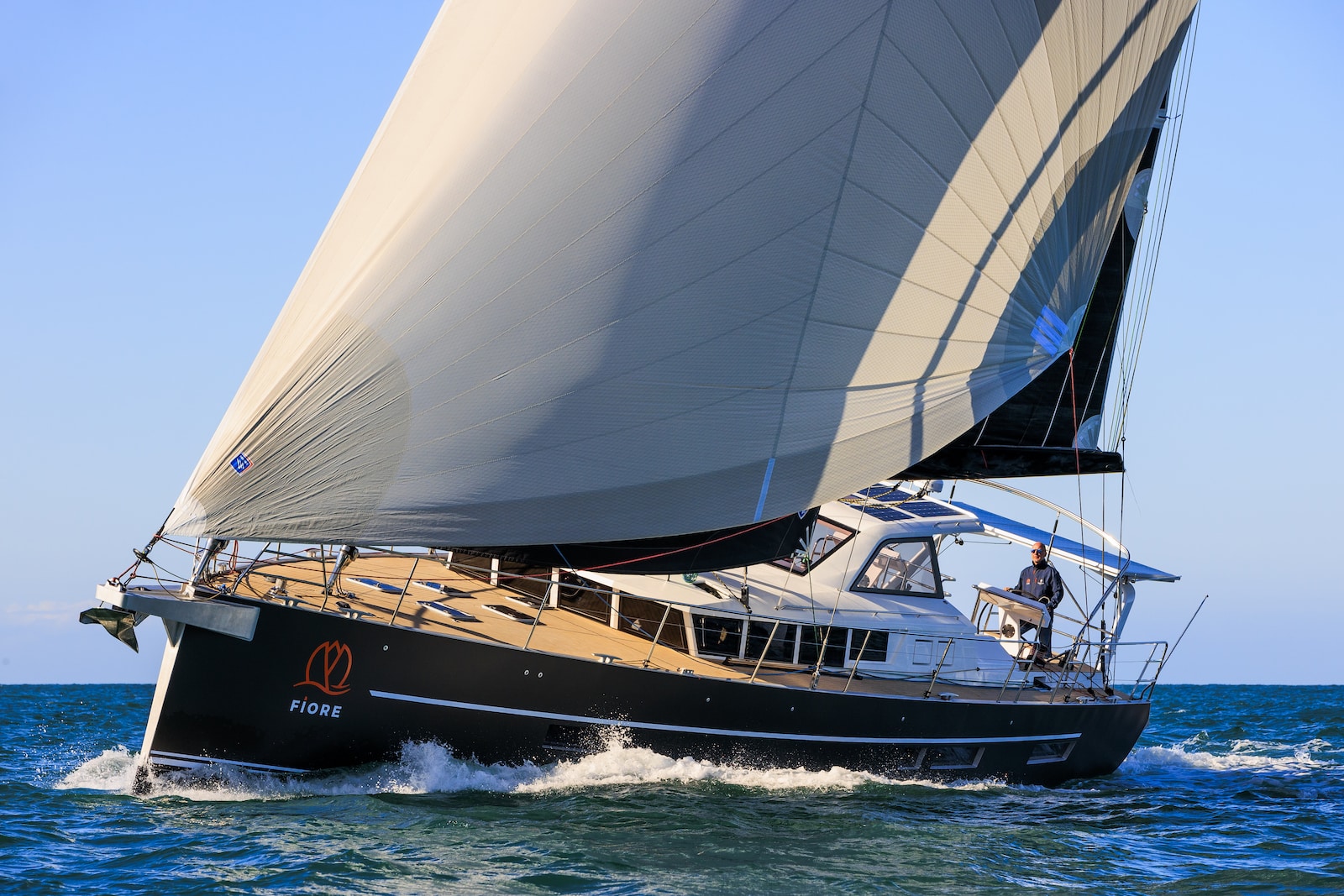 I appreciate with a potential shallow draft of 1.50 m; shallow anchorages stay accessible to such a sailboat. Moving away from tourist areas and choosing less frequented zones is possible. Going up rivers or rias is also likely. And most explorers will also be able to adventure into areas that still need to be appropriately mapped. It is reassuring the possibility of being able to reach shelter zones. With its modern and stable hull – designed by "Olivier Racoupeau" – and its generous sail plan, the Exploration 60 has high average speeds that shorten distances. The centring of the weights (chain wells at the foot of the mast, centred tanks) limits the Boat's pitching and supports its seaworthiness and sailing comfort. Sailing downwind with the centreboard up, speeding up on the wave remains safe, and the movements are smoother without any hooking effect. Similarly, I expect the Boat to move freely between the waves in extreme sea conditions, less exposed to their power, but I have yet to find out.
While we are on the subject of stability, The Garcia 60 Exploration holds up to 800 litres of fresh water and 2,200 litres of diesel, and all the tanks are fixed centrally in the hull. You add 450KG of Anker chain by the mast and spare parts and copious amounts of stowage; all the technical equipment is grouped in a dedicated area, a properly Soundproofed engine room, easily accessible for maintenance and any repairs. This provides comfort for those living aboard.
The Garcia 60 Exploration also has an actual workshop. The tools and spare parts storage area is spacious enough to work in and care for the Boat. With its many interior storage spaces, large sail compartments and voluminous exterior storage spaces, the Exploration 60 has an exceptional carrying capacity of 4 tons. Water sports equipment such as paddle boards and scuba tanks can be taken on board for leisure or exploration.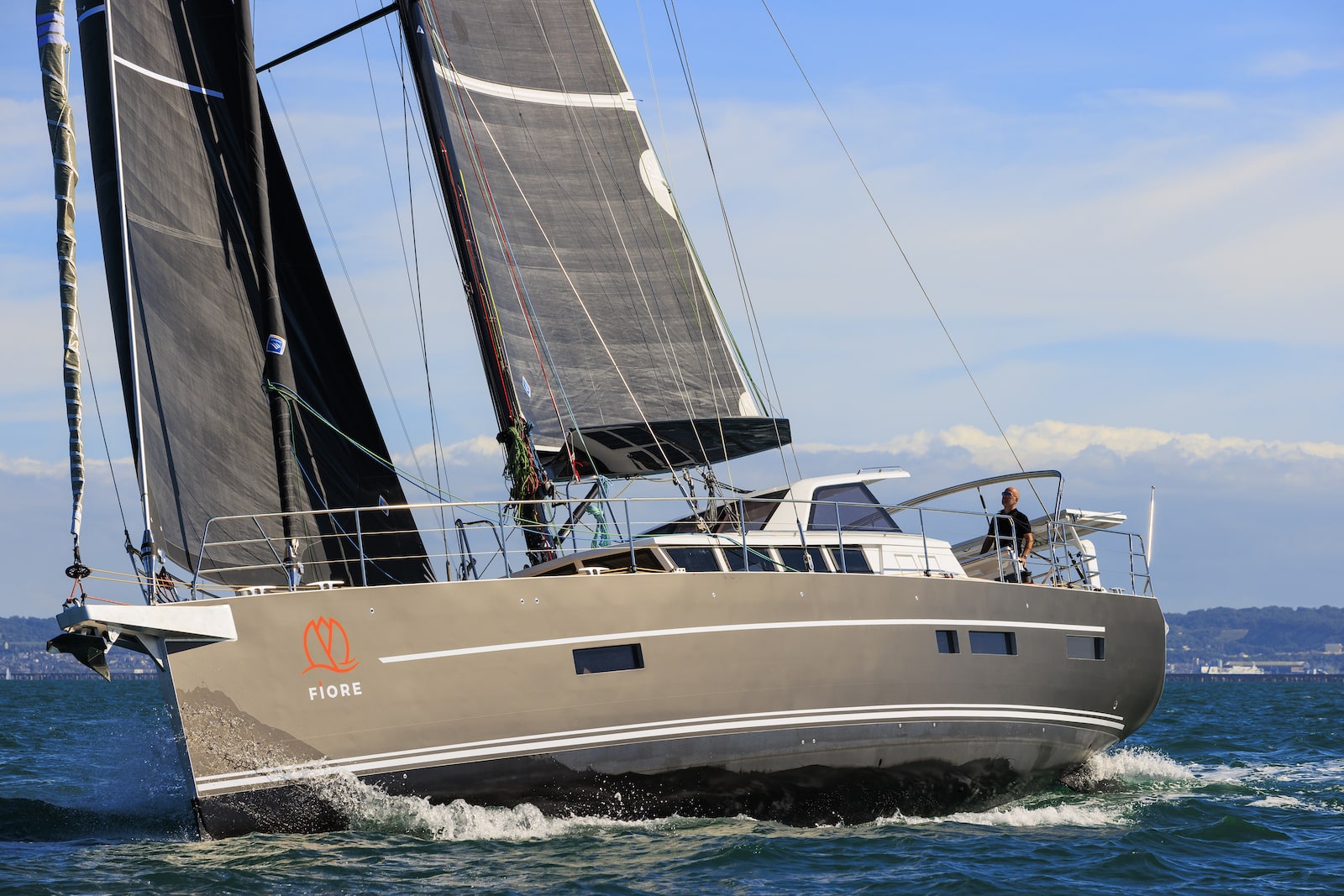 As she settled into her rhythm, it was time for a well-earned cup of tea and a little poke around below decks to see what this lady had to offer.
The impressive spacious, cosy, and functional galley is on the port side, just three steps down the companionway. Close to the raised saloon but out of the way of circulation, it contributes to the general friendliness of the interior. It is exceptionally well-equipped and offers an extensive work surface. Deep fiddles are worked into the Corian surface, so spills and moving around in big seas are fine. Its U shape makes it easy and safe to use while sailing.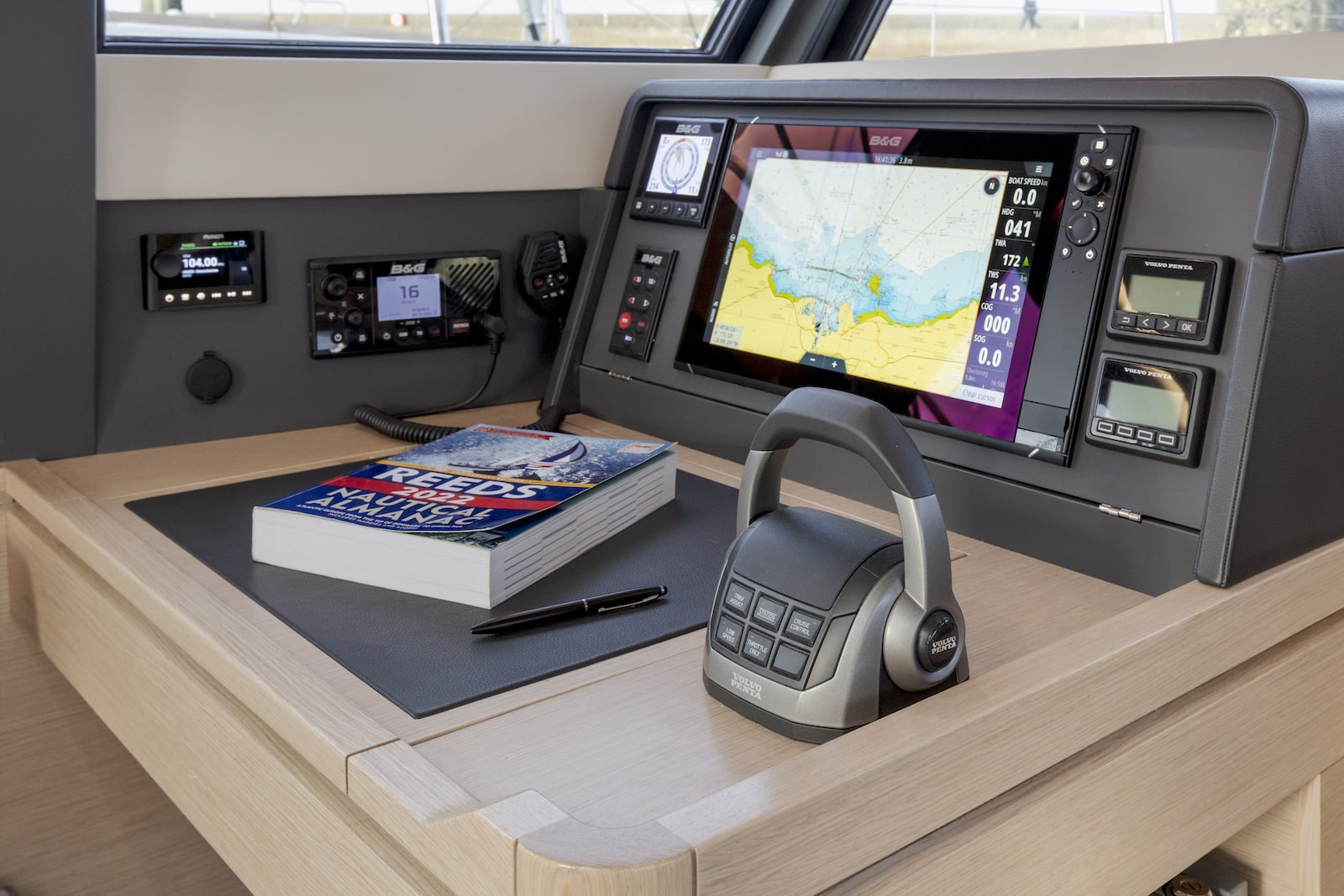 Moving forward, I found my spot for passage-making. In the raised salon (port side), you will find one of the USPs of Garcia, The chart table; it is like a wheelhouse, with all your instruments and engine controls. I have a 270° view here looking straight out the Double glazed windows. Whatever the weather conditions, the boat can be piloted from the inside, and the inverted shape of the roof prevents reflections. I can feel myself daydreaming about all the possible places we could adventure with this sailboat. I have never liked the cold, but imagining the look on my daughter's face seeing an iceberg for the first time makes me smile and think of the possibilities and destinations. 
I am beginning to warm up a little in the salon, which is no surprise. With its 74 mm hull thermal insulation, insulating floors, double glazing and large air vents, the Exploration 60 protects its crew from extreme temperatures. The boat is heated by several radiators fed by a central diesel boiler. The heat is diffused homogeneously and silently. This equipment also ensures sound insulation at sea and anchorage in solid winds. On board the Exploration 60, comfort is total and serene.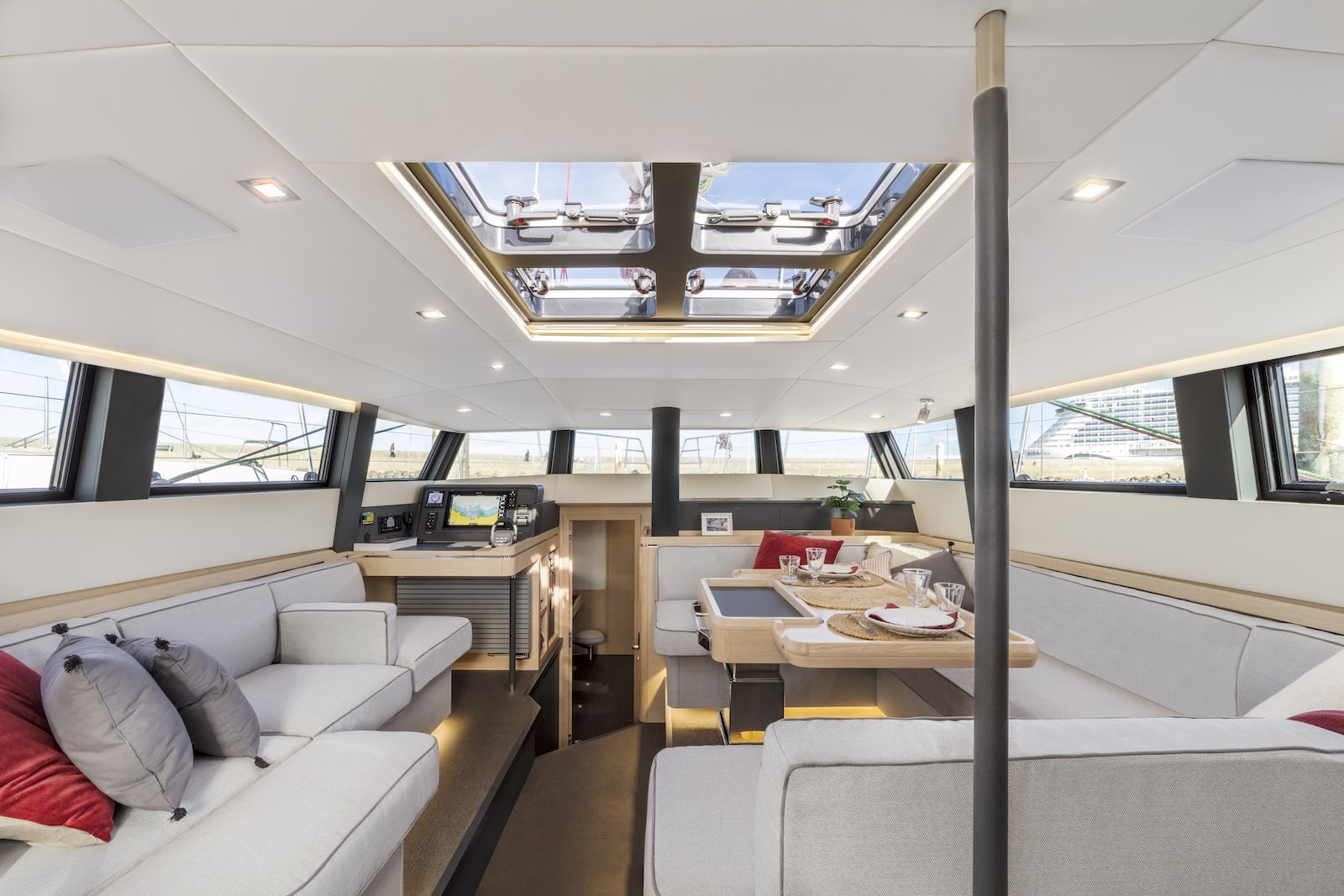 Moving forward, a large cabin with a double bed on the side and an office facing out an ample port light giving you a perfect ocean view. This is a large spacious cabin with its own heads, and a separate shower next to this is the healthy equipt workshop room. I discovered the laundry room starboard side when I returned to the salon. With a washer-dryer, freezer and an additional fridge/freezer, you are set for months on board. Passing through the raised salon moving aft, the is a day heads on your starboard a drying cupboard to port just by the companionway for all your wet gear. Then just a few more steps, you enter one of the largest aft cabins I have seen on a boat.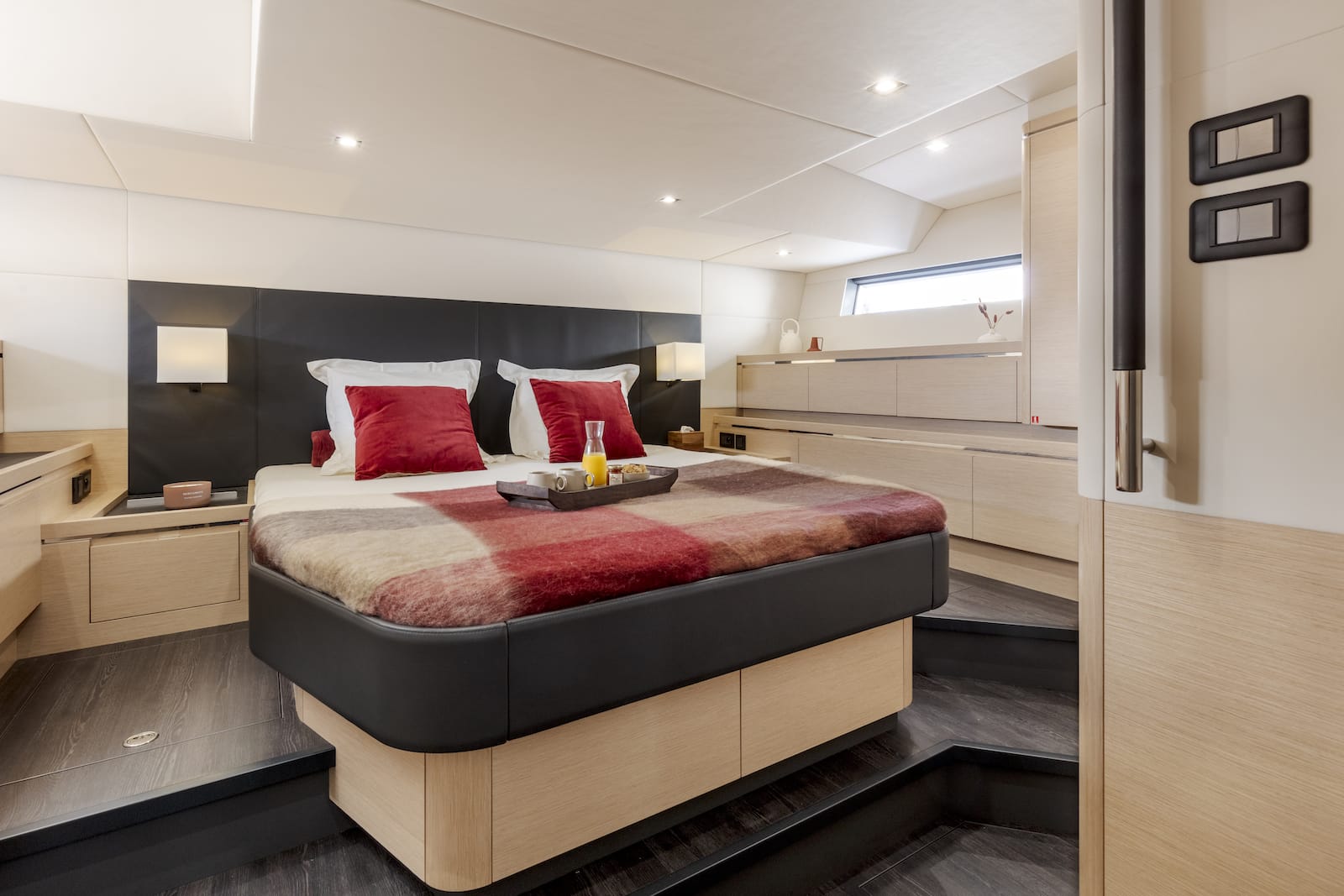 This full-width cabin can be set for two classic cabins or a double cabin and a technical area. You can customise this area as much as you like, but I would like it like this. There is more storage than you need, and every drawer has a sea bar lock so that nothing will open by itself. This owner had asked for an on-sweat head fitted to the starboard side of their cabin with a separate rain head shower. The volume of the boat is impressive, with a minimum under-ceiling height of 2 m everywhere. With portholes more than 40 cm high around the roof, light is everywhere inside the Exploration 60. The materials are chosen with taste and assembled with care.
 A fine polished aluminium border runs elegantly through the woodwork and enhances the interior design by Isabelle Racoupeau. The interior lighting is generous, with multiple LED strips. Pieces of leather complete the look on the headboards, bed surrounds, bedside tables, and handrails. Woodwork colour, upholstery, and hull adhesive are so many elements the owner can choose according to his taste.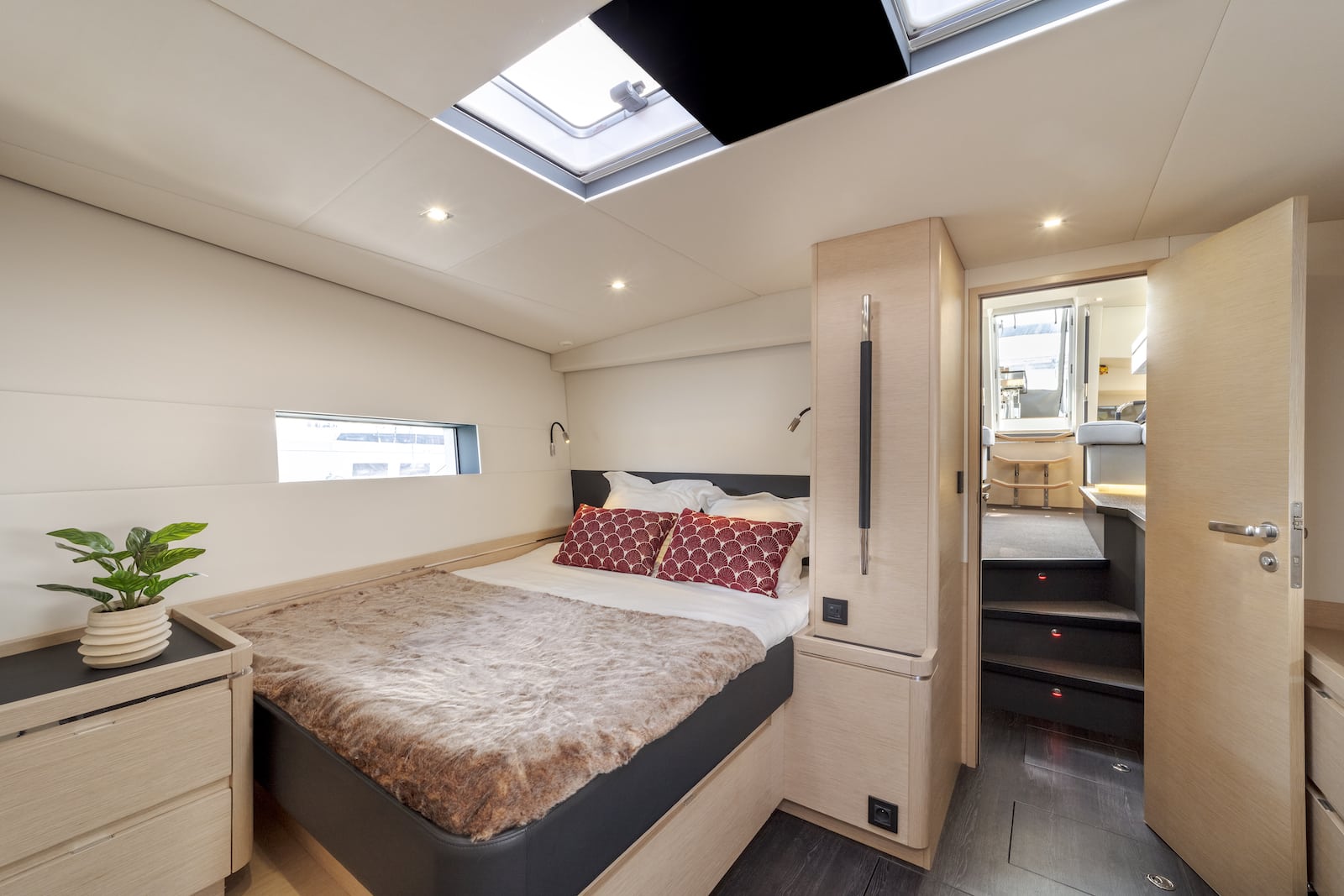 Below the saloon, a double cabin can complete the sleeping space for guests or be reserved for a crew member. The owner can thus accommodate a skipper or a crew member to accompany them on their voyages. 
Time to get some sea air again
On the outside, the cockpit is divided into two distinct areas. The aft area is dedicated to managing the boat, with two pilot stations and ergonomic manoeuvring areas where the winches are grouped.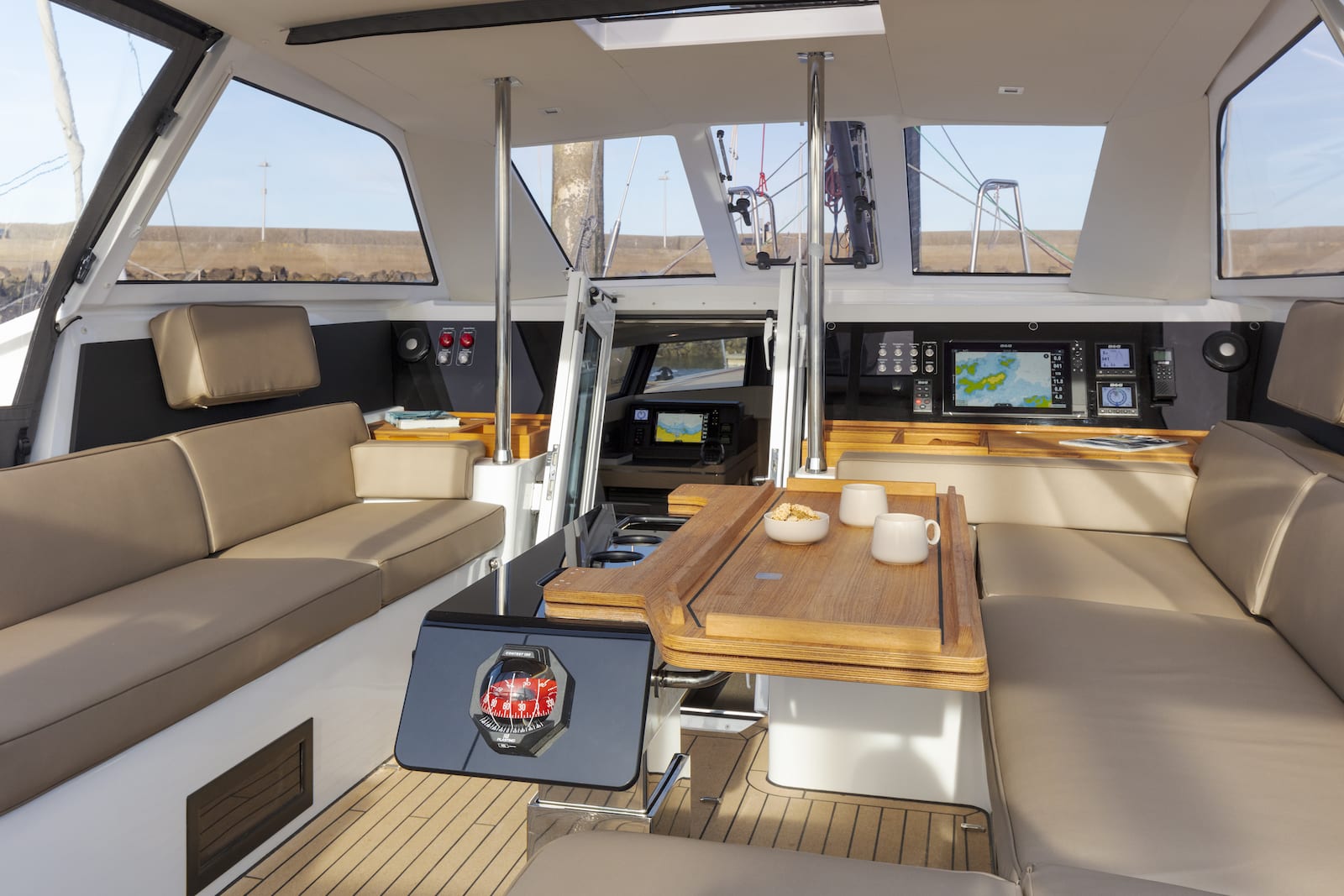 The cockpit is protected by the elegant hard-top that runs far aft, which is my second favourite spot on this boat; as it started to rain, I can tell you it was out of the weather, but you feel part of the action, especially as once again you have a dedicated area to starboard with all your instruments so keeping watch hear will be a dream for most sailors like me.
Our cockpit area was fitted with side covers for added protection and insulation, making it feel more cosey; It is an additional living space, a natural second saloon, with a neat design, accessible by only three steps from the interior space. All too soon, it was time to gybe and head back to port. I feel robbed as we change course; this boat invites you to daydream about what might be possible on your adventures through life and unlimited destinations.
Garcia 60 Exploration: in Conclusion
This is a boat-borne of considerable experience and attention to detail, taking a proven concept and refining it to a new level. There are many small but clever touches that may take time to be noticeable but make a difference to life on board. So it offers a big step forward compared to the other blue water sailboats on the market. In particular, the more significant owner's cabin makes living on board for extended periods more civilised. At the same time, the more oversized cockpit will work just as well in the tropics as at high latitudes. It's a supremely capable yacht with long legs that effortlessly puts in good daily mileage when crossing oceans. Yet, it will also be fun to sail in your home waters. However, what's unique is the combination of Garcia's Four signature features:
Rugged aluminium construction.
Shoal draught with the ability to dry out.
The protection offered by the cockpit area.
Compleat autonomy on Expeditions
This latest edition to the Garcia fleet is a credit to their passion and expertise in building ultimate explorer sailboats. I am sure other shipyards will watch Garcia closely and adapt their sailboats to catch up.
This boat has left me wanting to sell everything I own, pack my family on board and see where this magnificent blue water sailboat will take us.
| | |
| --- | --- |
| Overall lenght | 19,50 m |
| Hull lenght | 18,28 m |
| Beam | 5,40 m |
| Draft (centerboard down) | 3,65 m |
| Draft (centerboard up) | 1,50 m |
| Weight | 33 T |
| Ballast | 9,6 T |
| Gennaker/Spinnaker | 170 mq / 230 mq |
| Engine capacity | 175/230 ch |
| Fuel capacity | 2300 L |
| Water capacity | 800 L |
| Cabin number | 2-3-4 |
This article is also available in:

German