Walking around the docks at the Miami boat show, it is impossible not to stop and admire the new Greenline OceanClass 68. This yacht not only exudes great fascination but also, unquestionably, represents a quantum leap forward in the way today's boats can be used.
Imagine anchoring in a beautiful bay and then being able to stay there, for an entire weekend, with all services on, air conditioning and stabilizers included, without ever having to turn your generator on. Well, from today with the Greenline OceanClass 68 this is not only possible but absolutely normal.
Based on the boatyard's long-standing experience in hybrid propulsion, this boat features new-generation lithium batteries that provide it with an impressive 129 kW/h, enough to stay at anchor in silence and comfort for two days. Batteries are recharged by two electric motors, which, when not propelling the boat in electric mode and propulsion is entrusted to the diesel engines, act as generators producing 60kW each!
But OceanClass 68 is more than technological innovation. Built in semi-custom mode she is also able to meet the needs of the most demanding owners who, under the expert guidance of a dedicated project manager, will be able to thoroughly customize the boat.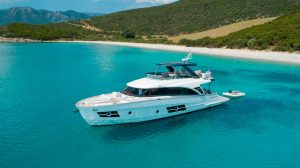 The Greenline OceanClass 68 in detail
Greenline OceanClass 68 is a yacht where "substance" is the imperative. Built to the highest quality standards, she is one of the few flybridges on the market that can boast the CE A category. A classification that irrefutably demonstrates how the yard has met and exceeded the stringent standards required, which, quoted literally, demand that the boat be able to sail in rough seas, i.e., 4-meter waves and winds greater than Beaufort 8.
But the quality expressed by this boat, which clearly puts safety first, goes further than that; just look at her to see that. The high bow and prominent freeboard give this flybridge a massive image that, while making one immediately perceive the sturdiness of the structure, still manages to convey great elegance and refinement of lines, from whatever angle you look at her.
Climbing aboard from the stern we immediately notice the large submersible platform that, using the maximum beam, can accommodate, launch and hoist aboard, tenders of any size. From this area, through watertight hatches, we access first the crew quarters and then the large engine room, which, again, reiterates how seriously boat building is taken at Greenline. Everything is perfect: electrical panels, engines and systems are all visible and accessible, built with an order and expertise that I have rarely seen.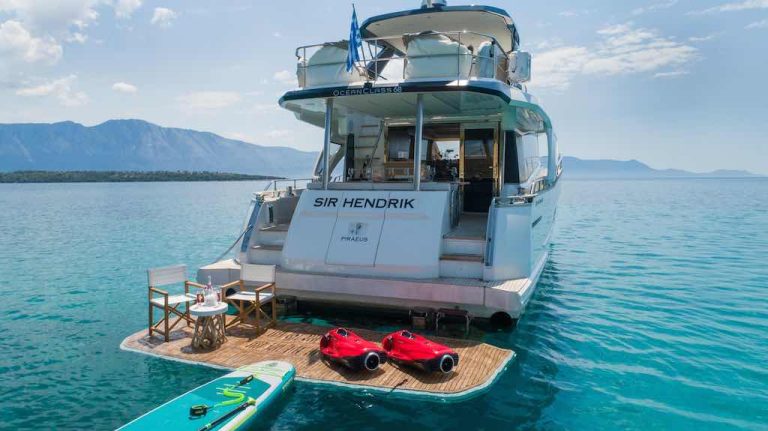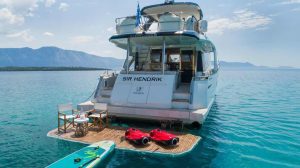 But it is when arriving at the main deck that the eyes widen in amazement, the first contact with this environment is breathtaking. Thanks to the retractable electric windows, the boundaries between interior and exterior disappear and one huge open space is created. The U-shaped galley is also large and, a touch of refinement, faces the outside with an useful and elegant bar cabinet. In this area, 4 sofas and two tables give guests multiple seating options, outdoors or indoors, to experience lifestyle moments, surrounded by the luxury and sophistication of these very classy arrangements.
Two other large lounge areas, the Portuguese deck and flybridge, overwhelmingly reiterate the beauty and functionality of this Greenline OceanClass 68. The bow, which can be shaded with carbon poles and canvas, has a large convertible-back sundeck bordering a sofa with opposing seating, the most ventilated spot on the yacht, ideal for enjoying a sunset at anchor. The flybridge is large and houses the second helm station: visibility is utmost from here, allowing the boat to be steered with a full 360-degree view of the sea. Here too, sofas, sundecks, bar furniture and a beautifully crafted galley make it possible and enjoyable to spend unforgettable days.
Below deck, the sleeping zone consists of three cabins and three bathrooms, one of which – that of the double cabin – also serves as a clever day toilet. With its space and finishing touches, the VIP Cabin is basically a second master. Equipped with en-suite bathroom, it is located at the extreme bow and enjoys large windows overlooking the sea.
The Master Cabin is in all respects the owner's private apartment. Positioned amidships, it uses the entire beam to create a high-level suite where the large king-size bed is not only surrounded by over a meter of footing but, all around, gives space to two bedside tables, a huge sofa, a boiserie/writing desk, a low cabinet and two closets that disproportionately increase storage volume. Completing the scene of this five-star environment is the private room dedicated to the bathroom, which, of course, has a separate very large shower.
Technical Specs
LOA

68'3"

20.8 m

Max Beam

17'11"

5.45 m

Dry Displacement

61,729 lbs.

28,000 kg

Draft

4'7″

1.4 m

Fuel Capacity

1,057 gallons

4,000 L

Fresh Water Capacity

264 gallons

1,000 L

 

 

Min Power

2 x 850 hp

Max Power

2 x 1200 hp
This article is also available in:

German