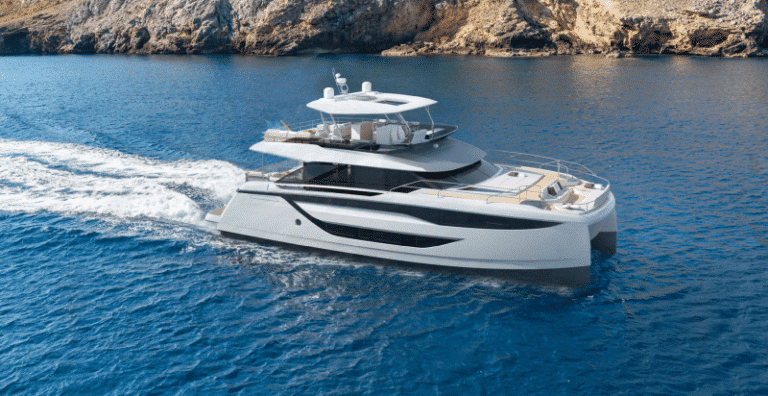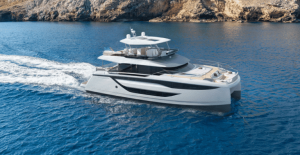 Groupe Beneteau shared its vision and mission for the future with the American market when the Miami Boat Show opened. We are talking of Bringing dreams to water, a key moment for sharing, with more than 40 journalists, the Group's strategy, its latest product news and the dedicated projects focused on innovation and sustainable development.
Groupe Beneteau has, in fact, undertaken a major transformation with the launch of the strategic Let's Go Beyond! program, which has radically changed the company's approach to its products and brands. The goal of this initiative is to create a product portfolio that provide unique and exclusive boating experiences, with a focus on sustainability and efficiency. The Group has a wide range of models ranging from 5.5 m to 24 m, covering four strategic segments, so it decided to develop a well-defined brand plan to amplify the visibility of individual brands and attract new customer
"Each brand has been treated with the same level of analysis in terms of customer profiles, competitive advantages versus the market, clear design and brand markers – explains Gianguido Girotti, Chairman of the Board and CEO of the French group – Aa well-defined customer journey in order to really amplify our community and visibility over the coming years",
New models for a unique on-board experience
First, the latest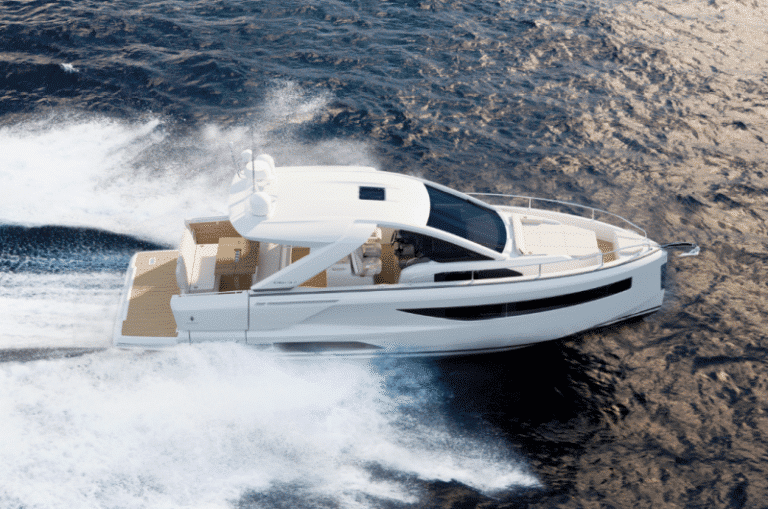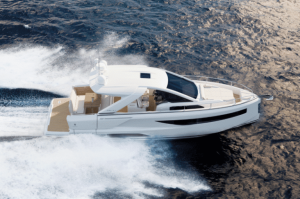 launches, for the U.S. market, of Four Winns TH36 and Wellcraft 355 presented by Erik Stromberg, Power and Motor Yacht Product Director, which set a new standard in the dayboat sector, as well as the DB Yachts by JEANNEAU range, which continues its conquest of the luxury dayboat market, thanks in particular to its new model, the DB/37:
"Launched at the Fort Lauderdale International Boat Show in 2022 with the debut of the DB/43, the DB range represents a bold positioning and a move into the luxury dayboat segment. It shows that Jeanneau can build on traditional markets, but also innovate and push the limits", explains Erik Stromberg.
Prestige, on the other hand, stands out once again through its power catamaran range, the M-Line, while confirming its promise around French Art de Vivre with its M48 and M8 models. "With its multihull configuration, this new model offers the space and comfort equivalent to that of an 85-foot monohull yacht, targeting the market for large models. With a living area that is unrivaled in its category, the M8 redefines the standards of well-being on board, offering everyone the ability to share precious moments at sea", explains Erik Stromberg.
In the multihull segment, Damien Jacob, Sailboat Product Director, presented the new EXCESS 14, with outstanding success for this latest model, which offers, on board a multihull, the same sensations of fun at the helm as a monohull.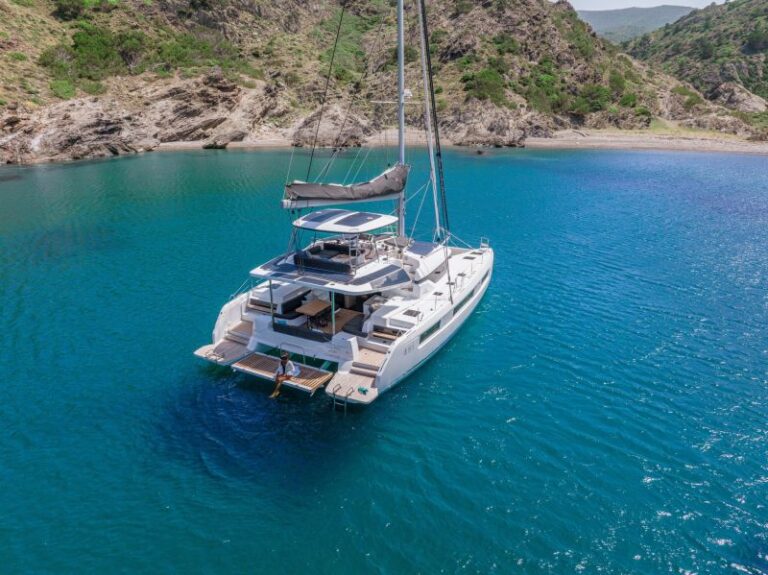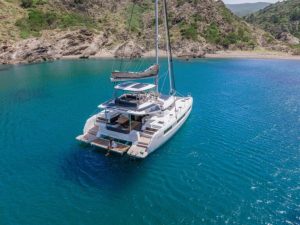 Alongside this, the LAGOON brand has brought to the market a new catamaran designed to include certain components based on more sustainable materials (natural fibers in the composites), the LAGOON 51, showing great concern for environmental protection, the cornerstone of the new group's strategy.
Finally, there could be no shortage of investment in the monohull sailing markets where the Group has successfully reinvented itself over the years by offering a wide product line "from pure racers, to comfortable cruisers".
Groupe Beneteau is expanding its range in terms of high-end cruisers, with the new Jeanneau Yachts 55 and the Beneteau Oceanis Yacht 60, as well as in terms of performance and innovation, with the new Beneteau First 44e: the first eco-design sailing yacht with a perfect blend of performance and comfort.
"As you can see, the multihull and monohull offers are strong and are being constantly reinforced with innovation that keeps on focusing around sustainability", concludes Damien Jacob.
Groupe Beneteau: sustainability first
The 2023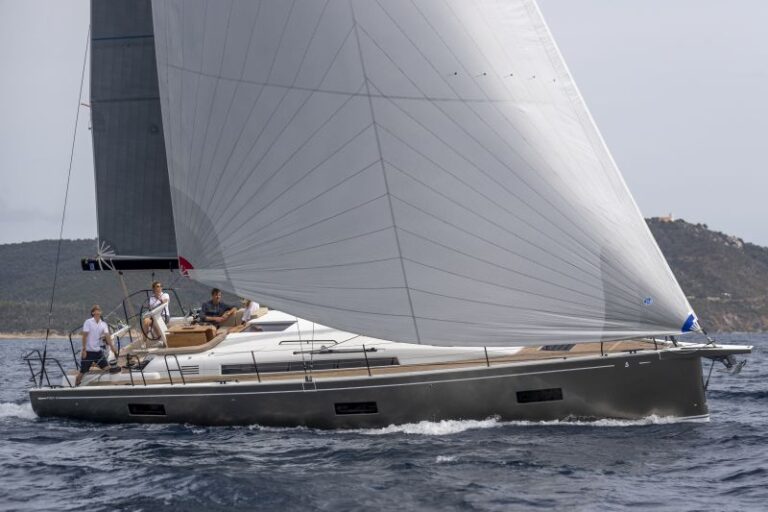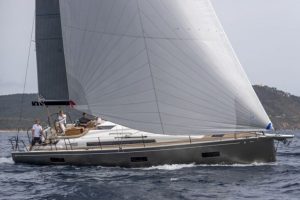 Miami Boat Show was also a unique opportunity for Groupe Beneteau to once again present its sustainability-oriented approach. Its "B-Sustainable" program is built around three pillars: Ethical Growth, Engaged Crew and Preserved Ocean, with the aim of providing more sustainable access to recreational boating. To achieve this goal, a number of partnerships have emerged to develop a more responsible approach throughout the life cycle of boats.
"At Groupe Beneteau, we believe that to be sustainable, we need to open up access to recreational boating. Our boats and yachts are the result of outstanding industrial processes, and we focus on our customers, just like we also focus on our planet, our oceans, which is why sustainable boating will increasingly become our core goal", confirms Gianguido Girotti.
One of the first development projects is the Beneteau First 44e, which was unveiled at the Nautic Paris Boat Show. Made of Elium recyclable resin and bio-based materials, the Beneteau First 44e promises to transform the marine industry with its eco-responsible innovations.
Alongside this, Groupe Beneteau and Multiplast have joined forces to develop a new accessible and environmentally responsible performance sailing yacht: the Jeanneau Sun Fast 30 One Design. This new boat will be the first production yacht built using 100% recyclable Elium resin. Meanwhile, Groupe Beneteau is working with Torqeedo, Vision Marine Technologies and Volvo Penta to offer eco-responsible alternative propulsion solutions for our customers across all of our models by 2023.
Last but not least, Groupe Beneteau also launched the Delphia 11, the first full-electric yacht, which was recognized at the 2022 Boat of the Year Awards, with plans to make Delphia, by 2025, the Group's first all-electric brand.
Digitalization and boat rental shift
Bringing dreams to water is also reflected in the development of Boating Solutions, through the Group's transition to digitalization and its development in new rental business lines.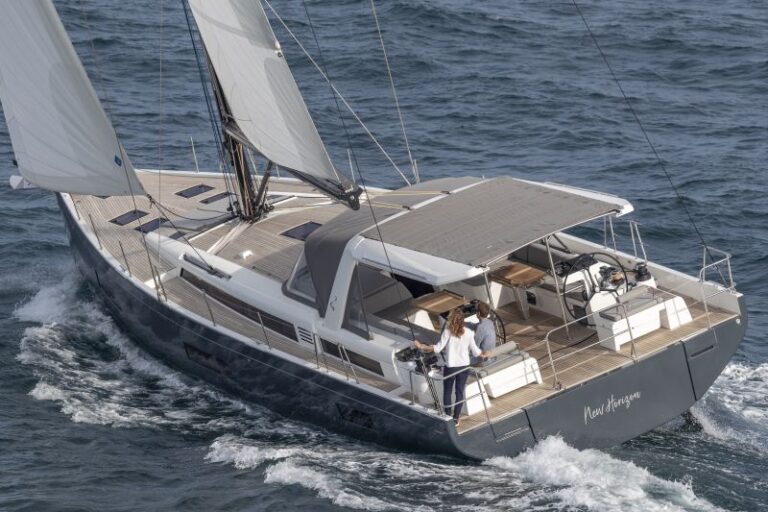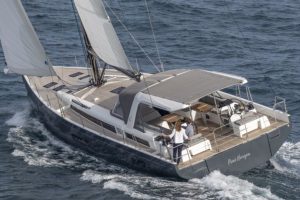 By the end of 2023, all of the Group's boats will be connected with the SEANAPPS app, the app for sailing with peace of mind, offering users a unique 360° online and offline experience. More than 2,000 boats have been equipped to date and are on the water around the world. By September 2023, all of the boats built at the various production sites will be fitted with this app.
To deliver on its promise to offer unique and sustainable boating experiences for everyone, Groupe Beneteau entered the market for new daily or weekly rental business lines in 2021 by acquiring interests in the capital of Dream Yacht Charter, Navigare Yachting and Your Boat Club.
The weekly rental activities offer sailing programs setting out from more than 50 bases around the world, with a selection of over 1,000 boats covering all market segments. The Boat Club business has developed strongly, with 10 new bases opened in the United States, taking the total number of bases in operation for this activity up to 35.
The aim is to increase the number of bases in the United States, as well as in Europe, in order to open up access to day boating as widely as possible.
"Now backed by a rational and ambitious product plan and a better performing industrial footprint, the Group is targeting profitable and sustainable growth – concludes Gianguido Girotti, CEO of Groupe Beneteau's Boat Division – Profitable, thanks to the ramping up of our premiumization, and sustainable, by incorporating alternative propulsion solutions across our entire portfolio from 2030, along with recycled and recyclable biosourced materials when building our boats".
This article is also available in:

German