Guidi Srl, the renowned nautical accessories manufacturer, meets skipper Andrea Fantini for a sailing partnership that talks about "harmony, sharing and acceptance". The slogan of the partnership is really important because it describes a much-needed experience: "A human adventure". The partnership project confirms this with its name "NodoXnodo", and does so with the intention of explaining this form of possible bonding between people. NodoXnodo is also symbolized by the project's logo: the square knot; this intertwining of ropes, which in nautical terms is also known as the 'knot of friendship'.
The boat is a Class 40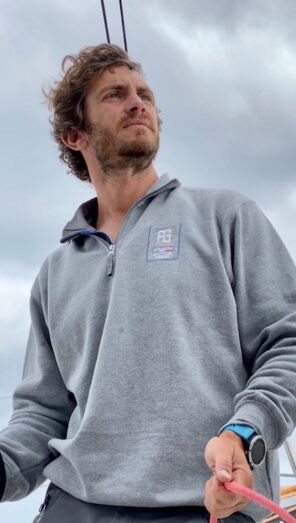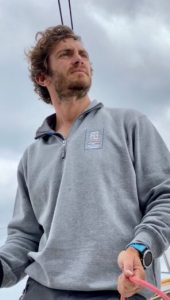 The project will involve the Italian skipper Andrea Fantini (1982) on board a Class 40. The name has been named after the company, Guidi.
Andrea Fantini has a wealth of competitive sailing experience and several ocean crossings, but he will not be alone. Accompanying him on the Class 40's turns will be Charles Louis Mourrau, an accomplished sailor. NodoXnodo is a project born in 2020 in the darkness of the lockdown, and now it finally finds the right context to start. So we set sail on 27 June with a strong desire for competition and sporting tenacity.
Legs linking the Atlantic Ocean
Skippers Fantini and Mourrau will be engaged in the first Les Sables/Horta/Les Sables summer race and they will almost do it by searching for this philosophical link – symbol of the project – in the ocean crossing from the French coast of Les Sables, joined by the ocean to the picturesque island of Horta, symbol par excellence of the magnificent archipelago of the Azores. On 8 August, they will sail from Cowes to the Isle of Wight and then land in Cherbourg, France. The autumn leg will be the Transat Jacques Vabre, following the ancient "coffee route" to Martinique.
Why has Guidi chosen Fantini?

Because his sailing experience is such that he is a real expert who can offer advice to the company itself. The advice of the skipper, who has also sailed in very demanding situations, will help Guidi Srl's to improve its products, including filters, intakes and valves. Confirming Guidi's commitment to social issues is the "race=care" project which, as we are told from the corridors of Guidi offices, consists of a "solidarity sailing team that goes to sea to "help those in need", i.e. Doctors with Africa-CUAMM (University College for Aspiring Missionary Doctors) of Padua which serves in sub-Saharan African countries. The Class 40 Guidi will therefore be sailing this logo between Europe and Central America".