Gulliver 57 Performance : aluminium is custom, safe and fast
If, when talking about aluminium sailboats, your mind tends to evoke pictures of slow heavy boats characterized by sharp-cornered unpretty lines, you're way off from now on.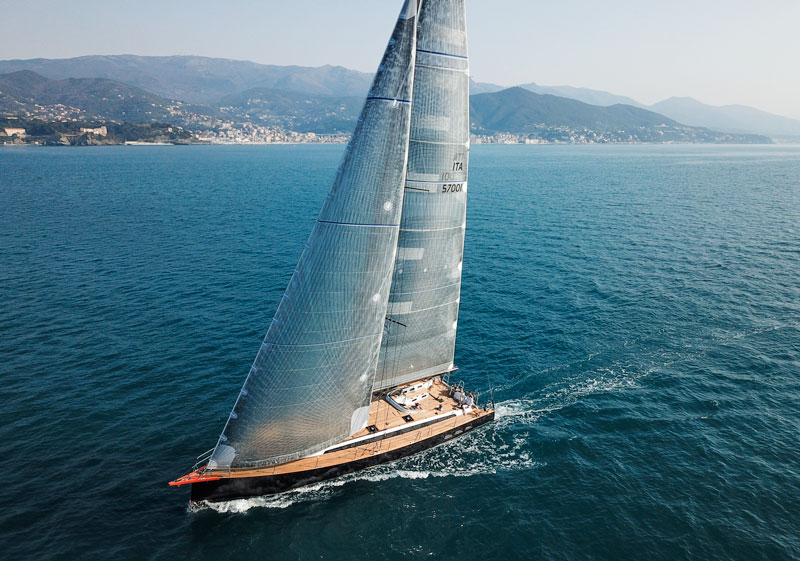 The boat, the sea trial of which is told in the following lines, is lightweight, drop-dead beautiful and very fast. So fast that carbon boats of the same light might worry about it.
However, the Gulliver 57 Performance has impressed us not only for her speed; aluminium construction, indeed, brings with it a considerable number of advantages that carbon or fiberglass can't offer.
Aluminium is, indeed, the only material that guarantees a really custom construction, free from all the constraints that impose the positioning of structural bulkheads only at specific heights; the owner can actually choose fittings and interiors designed to fully meet his needs.
The model we have tested is a proof of that and, following the specific demands of its owner, is not only extremely fast but also features an unusual huge dinette positioned in the stern.
But let's proceed step by step and let's see together how Imagination, the Gulliver 57 Performance of our test, acted at sea.
Gulliver Sail Gulliver 57 Performance – Sea Trial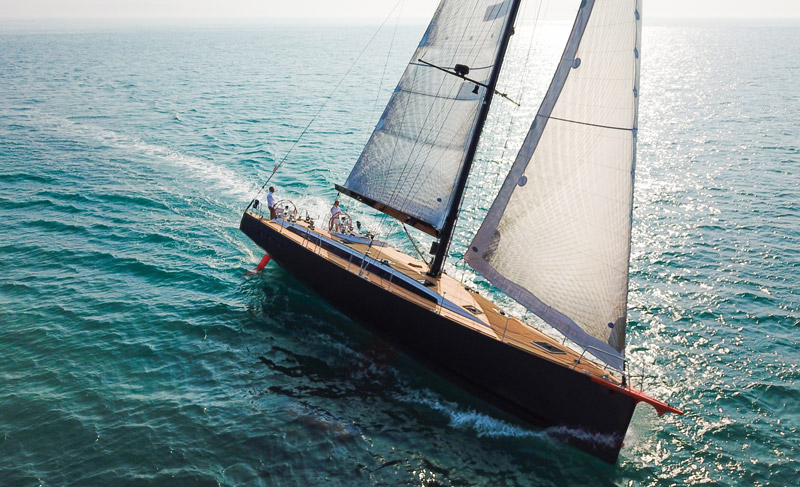 A calm sea, slightly got rough by the morning thermal breeze, welcomes our trip on board the Gulliver 57 Performance.
There are only 3-4 knots of true wind, really few for most sailboats.
Still skeptical, I attend the lifting maneuver of both the mainsail and the low-overlapping genoa. Then, I hear the engine stopping and the boat tilting slightly.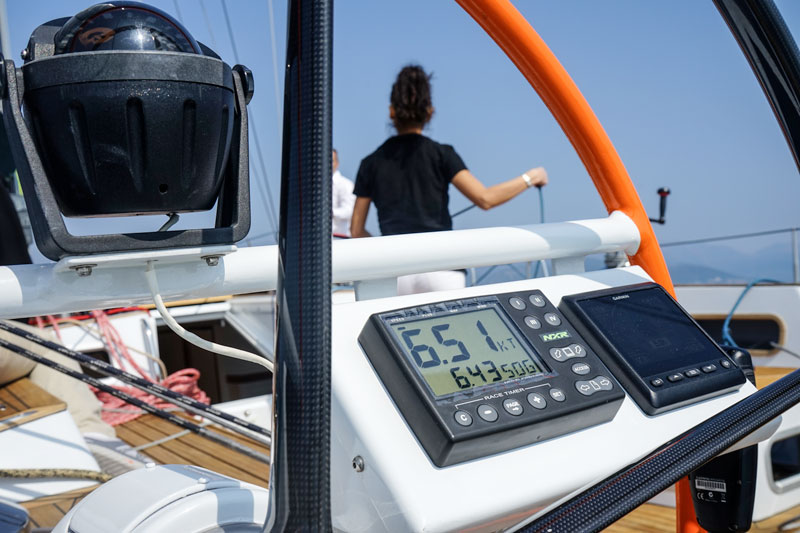 Under my feet, I perceive the boat moving, it slides on the water silently, without dragging, and accelerates. Tilt increases and, with it, the sense of speed while a look at the log confirms what my senses had realized: we're traveling as fast as wind.
The dark colour of the sea surface suggests that, opposite the port of Celle Ligure, thermal wind is stronger, which is an open invitation to us. Imagination heads for this direction and, with a apparent wind angle of 50 degrees, we run at 5 knots. It is really nice to sail this way.
Once we get in Celle, we find a stable breeze and a true wind of about 8-9 knots, the ideal to test all sailing points as well as navigation under gennaker.
https://www.facebook.com/todoslosbarcos/videos/2068472266505123/
I take the rudder and I start "feeling"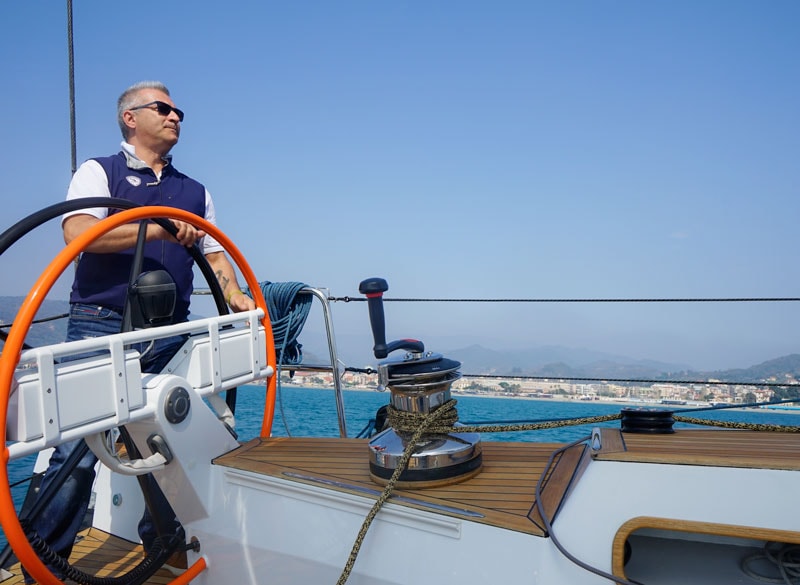 the boat. Aluminium construction, mast, boom and carbon sails transmit everything to the wheel that, direct and sincere, conveys every change in pressure. I start to perform some turns while the crew trims both the mainsail and the jib; the boat accelerates while the new apparent wind makes it heel progressively. At 50 degrees, we finally reach 10 knots while the Gulliver 57 gives us an exceptional course stability.
Turns become tighter and tighter and I reach the canonical 30 degrees. The boat runs fast, at little less than 9 knots while I think that, with a couple of barbers, we could perform even tighter turns. Then, I bear away and, with white sails (euphemistically speaking), the Gulliver 57 goes on traveling almost as fast as wind. When the apparent wind exceeds 90 degrees, speed starts to decrease progressively until about 6 knots.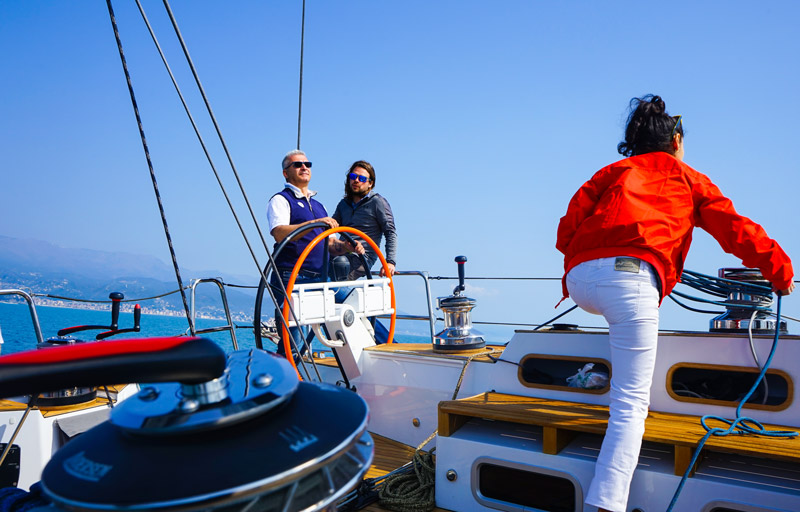 With the help of the gennaker, speed increases again; even when bearing away, the boat never slows down, at least until 120-130 degrees; then, forced by vector mathematics, it must surrender to resultants whose angles – more and more obtuse – make it slow down while maintaining excellent speed.
Navigating under sail and even under gennaker, the Gulliver 57 is always under control, with no forces opposing the wheel that, soft and light, transmits precise course variations with no effort.
This hull is exciting; the genius of Marc Lombard, whose pencil has designed these lines, has created a unique hull, capable of being very stable and fast at the same time. Fortunately, it is completely different from those hulls that compensate speed with a highly nervous behavior at sea.
To sail at 10 knots with the Gulliver 57 is a unique unrepeatable experience even for the most experienced boat owners that, perhaps more than anybody else, will appreciated the qualities of this boat.
Finally, my test time is over and, with a heavy heart, I am obliged to get off this sailing yacht that I can honestly define as one of the best boats I have never tested in my life.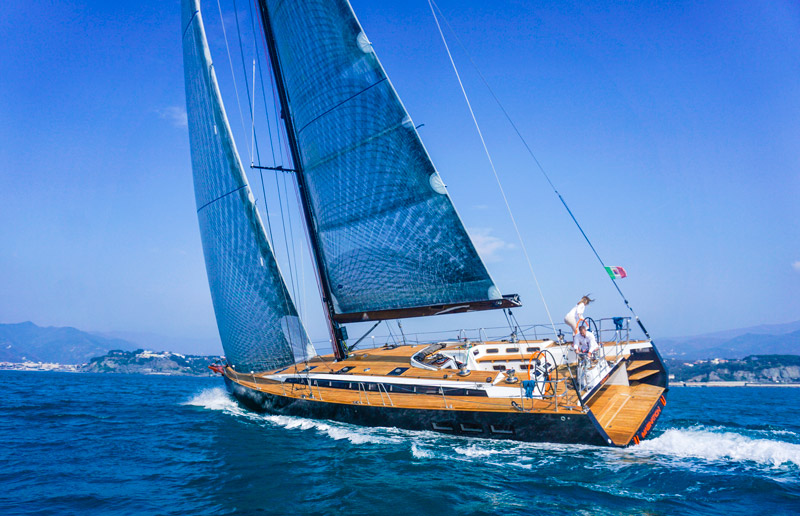 Conclusions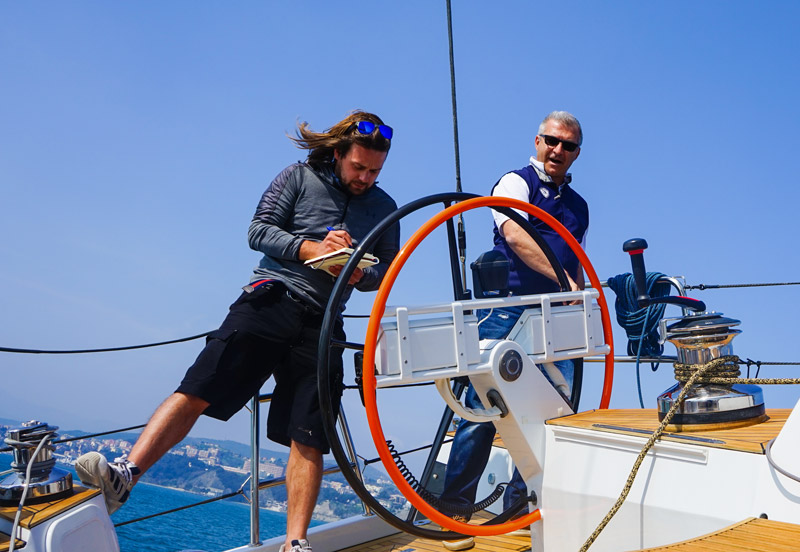 The Gulliver 57 Performance is an exceptional sailing yacht. Perfect for long-range, fast and safe travels, she is the perfect boat for the owner who exactly knows and whose needs can really come true, with no constraints.
The three versions in which the boat is offered – Performance, Classic and Open – represent indeed only three starting points, considering the custom construction of these sailboats.
Gulliver 57 – Performances
| | | | | |
| --- | --- | --- | --- | --- |
| Apparent wind angle | Speed | Gennaker | Rpm | Speed |
| 30 | 8.7 | | 900 | 2.7 |
| 40 | 9.2 | | 1,000 | 2.9 |
| 50 | 10.0 | | 1,500 | 4.5 |
| 60 | 8.6 | | 2,000 | 6.0 |
| 70 | 8.8 | | 2,250 | 6.9 |
| 80 | 8.8 | 10.2 | 2,500 | 7.6 |
| 90 | 7.1 | 9.5 | 2,750 | 7.9 |
| 100 | 6.7 | 8.7 | 3,000 | 8.2 |
| 110 | 6.7 | 8.6 | 3,250 | 8.7 |
| 120 | 6.6 | 8.3 | | |
| 130 | 6.5 | 7.7 | | |
| 160 | 5.0 | 6.2 | | |
Test Conditions: flat sea, 8/9-knot true wind, 8 passengers on board, fuel tank at 50%, fuel capacity at 50%.
Gulliver 57 Performance – Construction and deck plan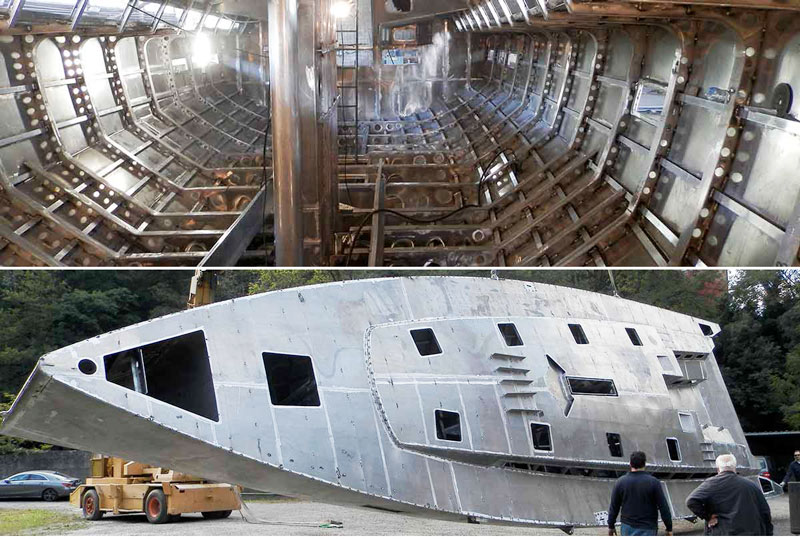 Made entirely of 5083 H111 aluminium, the Gulliver 57 is the result of a joint cooperation between Marc Lombard and Alessandro Valenti, who took care of interior design and fittings.
The project has resulted into a 17-meter yacht with a displacement of just 15 tons that, despite performances which it is capable of, has everything it needs to travel all around the world.
Two watertight bulkheads, one in the bow and the other in the stern, combined with a crash box positioned under the anchor locker, elevate the concept of safety to standards that are simply unthinkable for any other boat.
The lifting keel brings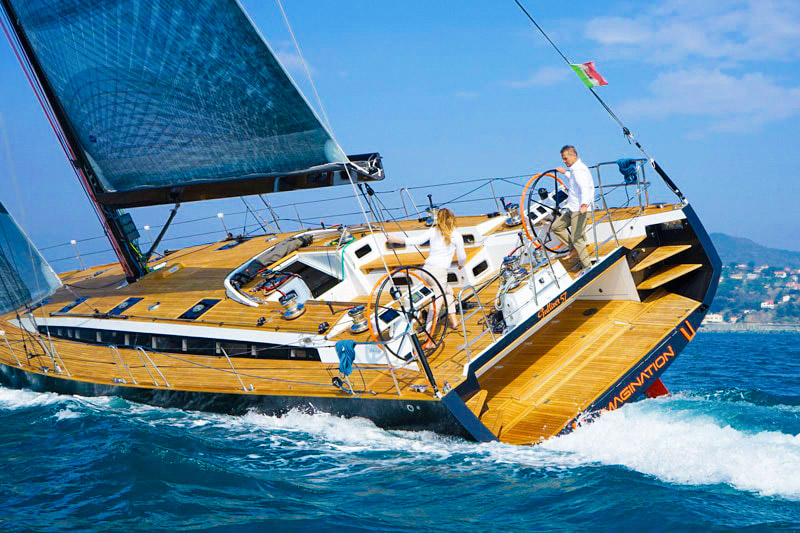 draft from 1,7 to 3.5 meters through a servomechanism that, whilst on one hand facilitates entry into ports, on the other hand reduces overall weight and improves balance.
The terminal torpedo of the keel and the two blades of the rudder complete the overall design of these high-efficiency appendixes. Moreover, the double rudder blades include a system of yoke lines that, dedicated to the single wheel, are moved in sync by a movable joining bar that makes them perfectly independent from each other, in the event of a failure.
A soundproof technical room accommodates a water-maker and a generator while the large sail store guarantees a good storage capacity for the hundreds of square meters of canvas available on board.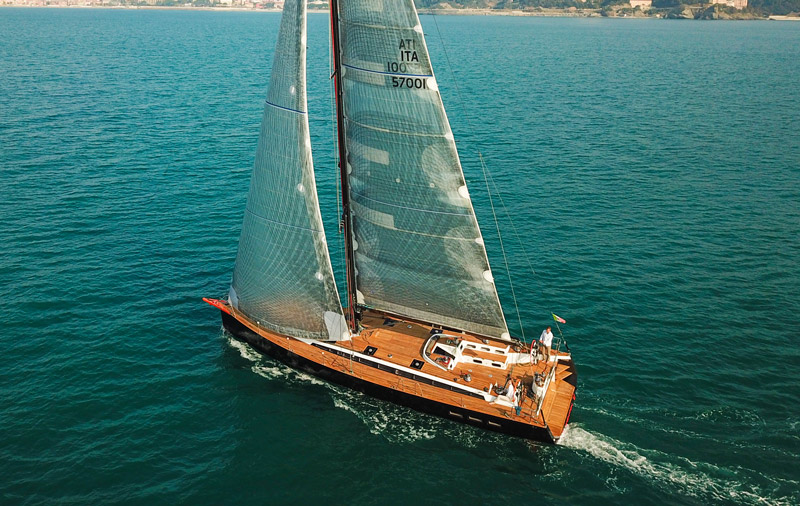 Noncombustible-energy  battery chargers are essential for long no-stop navigation and this boat offers three different options. Indeed, it features a system of hydro-generators positioned in the stern, a couple of retractable solar panels (simply genial) and a portable wind turbine. The combination of these elements makes battery recharge possible both when sailing and when at anchor.
The two orders of cathedral spreaders reduce critical points and facilitate mast trimming. The points of attachment between shrouds and chain plates are structural to the aluminium hull. The square top mainsail ( 100 square meters) is equipped with three reef bands that can all be trimmed thanks to a specific sheet circuit.
The mast and the boom are made of carbon, the sailing plan is remarkable but, despite almost 200 square meters of canvas and 330 square meters of gennaker, it can be managed easily by a couple of sailors thanks to the presence of three forestays where furling sails, increasingly smaller, can be installed.
Starting from the bow, we go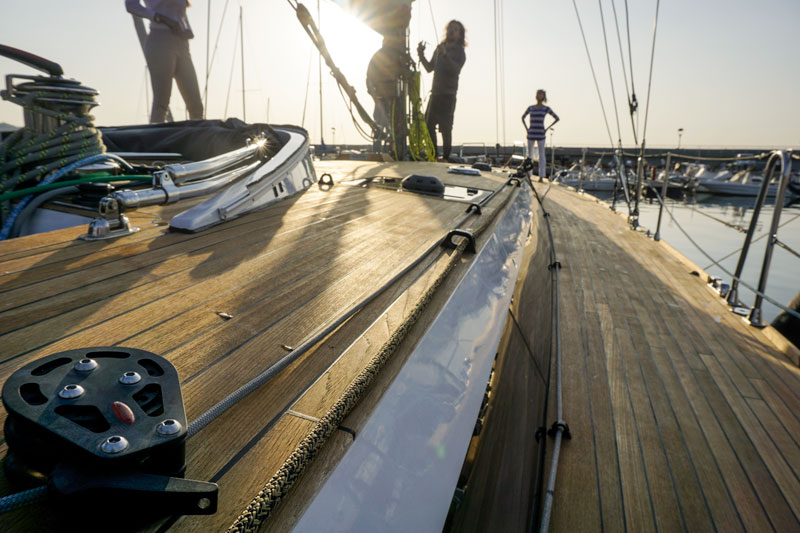 find out all the sails available on board, starting from the gennaker we've used today for our sea trial that, positioned in the stern, features a forestay and a furling system positioned under the deck line, useful to trim the large furling jib when the boat sails close-hauled in light wind.
An additional intermediate jib, located a little behind the main one, uses a portable forestay that, served by a hydraulic piston, delivers good performances when sailing in strong wind.
When things get hard, the crew can use a foresail that, thanks to a built-in forestay and a close-circuit furling system, is ready to use.
A spitfire, too, is available, movable and equipped with PBO, and must be used only in case of emergency when he crew will be certainly happy to have also a watertight hatchway on board.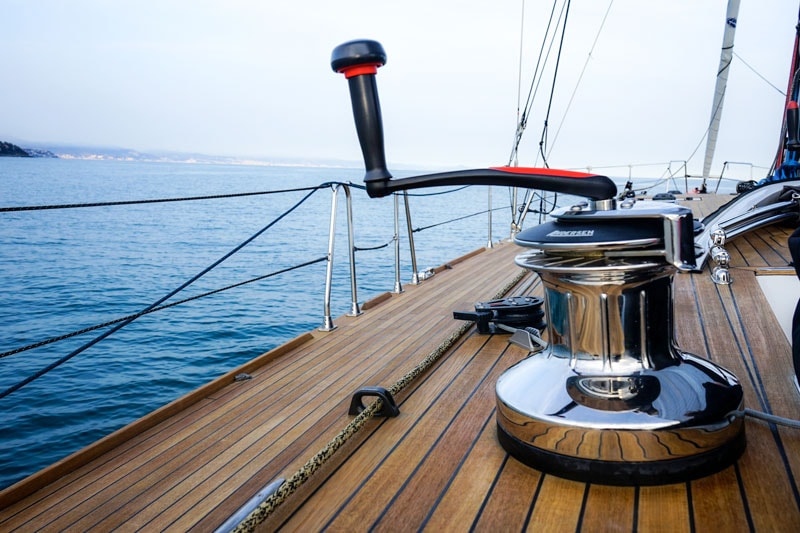 All forestays have their own halyard. The fairlead of all jibs consists of a rail that, situated at the couchroof angle, provides side-decks with enough room.
The cockpit features 9 winches that, considering the size of the boat, enable the helmsman to have all rigging within his reach. The large central winch trims the mainsail traveler while, next to the pod, a hydraulic station deals with backstay, mainsail base, vang and forward forestay trimming.
The boat also offers the possibility to benefit from a gennaker and a Code 0 located on the masthead as well as a 7/8 gennaker. All these sails are arranged on the dolphin-striker that, in addition to facilitating anchorage maneuvers, also works as an efficient structural bowsprit.
The Gulliver 57 is therefore equipped with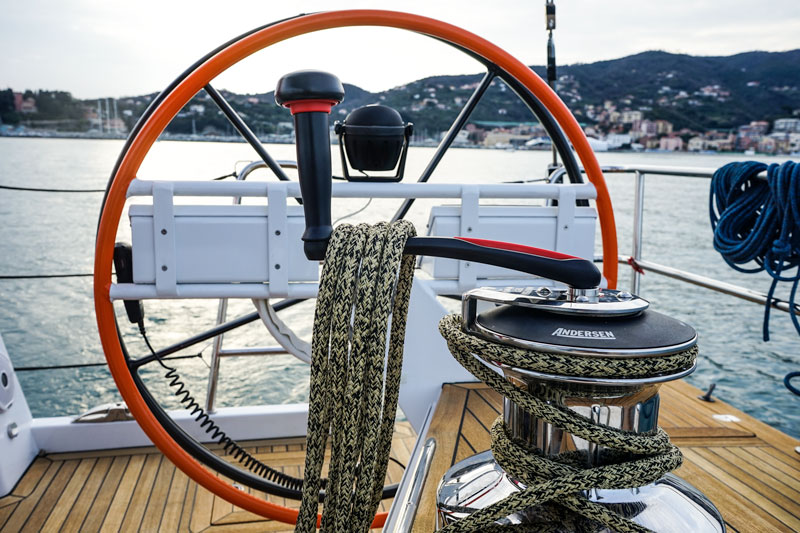 winches, snatch blocks, tackles and stoppers that, always oversized, allow to have at least one backup rig, in any condition and at any speed.
Apparently complex, this arrangement gives the possibility to sail with a light jib, a staysail and even a small gennaker (all furling and ready to use) in total comfort. This way, the boat can be managed by only two crew members with no problems.
If you want to join a funny sailing race, the deck plan and all rigging will make room for a complete numerous crew who will steer the boat without problems.
Gulliver 57 Performance – Interiors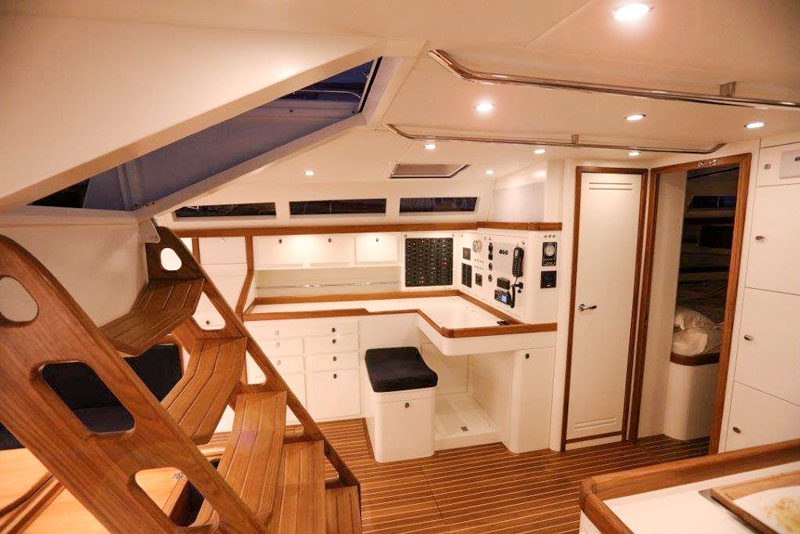 Since we are talking about a custom boat, interiors can, of course, be arranged at will. However, considering that the owner of our test boat has chosen a very particular layout, they certainly deserve a full description.
Entering the watertight hatchway, we go below deck where we immediately notice a particular detail that distinguishes the Gulliver 57 from most boats currently available on the market: the dinette is positioned in the stern and uses all the 5 meters of the maximum beam of the boat.
This solution, designed by architect Valenti following the owner's needs, allows to have a living area that measures more than 30 square meters. This large space includes a galley, a huge table (which can seat 10 guests), a chart zone and two berths on each side of seats.
The staircase that leads to the hatchway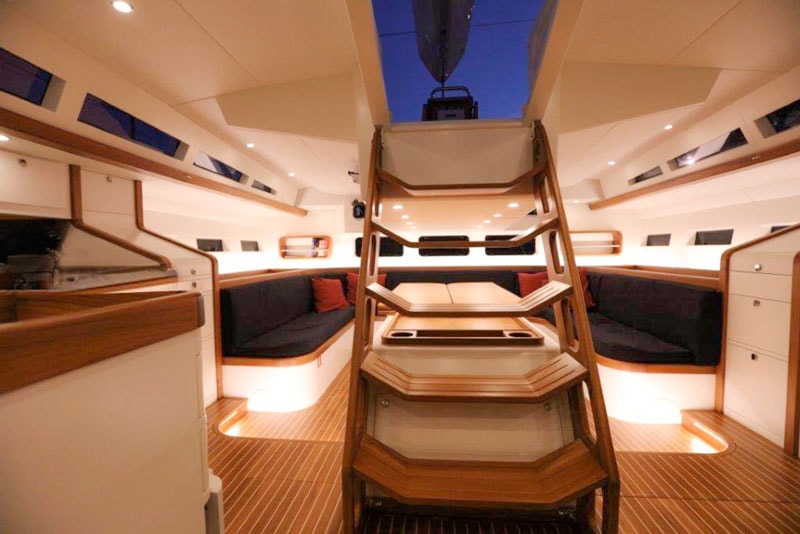 can be lifted and moves the engine cover forward, by making it completely accessible. The chart zone is situated on the left, equipped with a large L-shaped table like a real bureau. Of course, all navigational charts and electronic devices are there.
Attention to details translates in great comfort and excellent safety at sea. A clear evidence of that can be found in the total absence of sharp edges in the furniture, the handrails – that guarantee a free and safe circulation ob board even when the boat heels – boot holders in the bathrooms and anti-roll clothes in all beds.
The table uses a petal type (genial) mechanism that enables the owner to double its size at will, leaving the dinette clear when all the 10 guests don't sit around the table.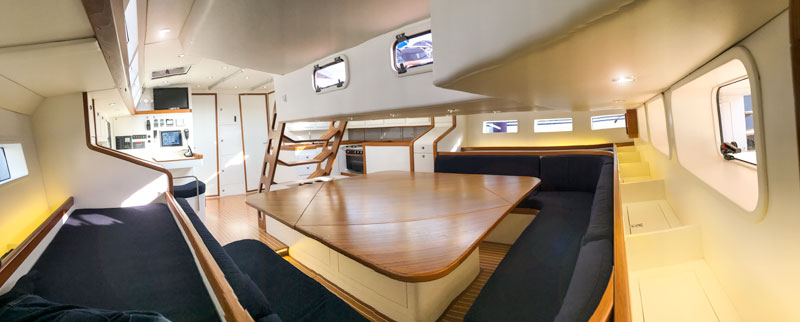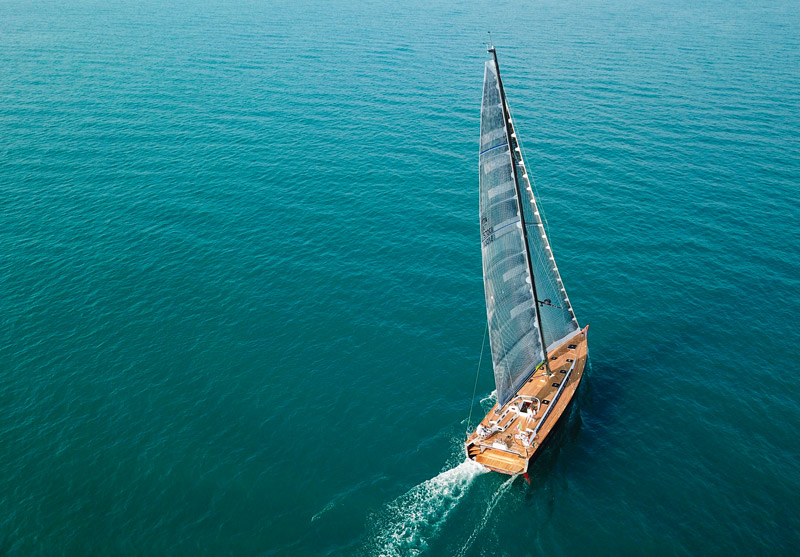 The master suite is positioned forward and, as requested by the owner, includes a large bed and a sofa that can become an additional berth. The bathroom is en-suite and equipped with a separate shower compartment. Through a watertight door, this cabin gives instant access to the large sail store that, during our test, accommodated three jibs, two gennakers, storm sails and an unspecified number of sheets and halyards.
The VIP cabin is abaft the master suite, on the port side, equipped with a second bathroom situated on the starboard side. The night area is completed by a double cabin that, equipped with bunk beds, is positioned on the corridor between the dinette and the master cabin.
The technical room, too,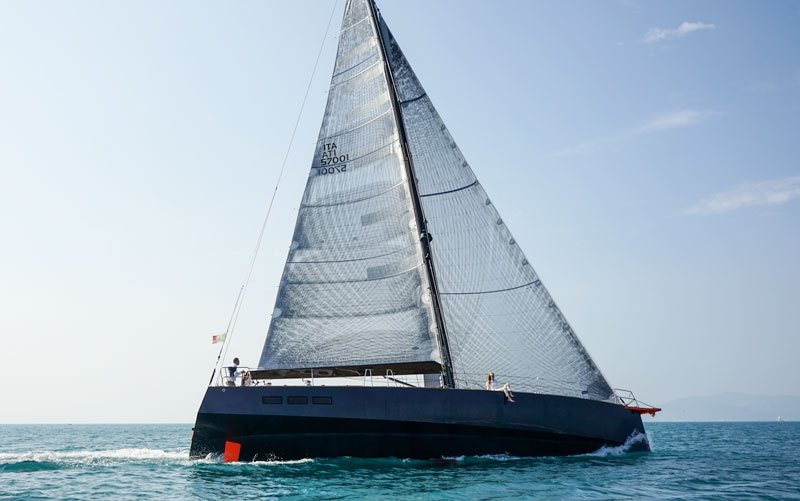 is a real cabin. It accommodates a water-maker, pumps, chargers and all the central parts of on-board systems, whose access is always very easy.
This particular layout suggests that the owner spends much time at sea but, of course, everyone can choose the best options he prefers.
In short, the Gulliver 57 is a dreamy boat, to enjoy like a tailored suit.
As for the price, it is about one million euros. Considering the quality of materials and custom options, we can say that this price is not high.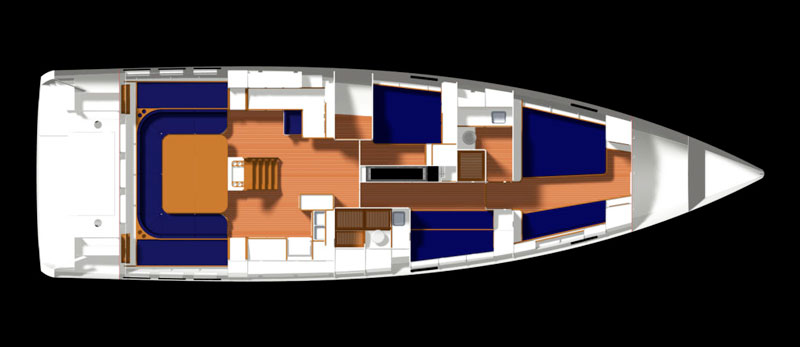 Gulliver 57 – Technical Specs
| | | | | |
| --- | --- | --- | --- | --- |
| Technical Data | | | Sailing Plan | |
| Project :  Lombard, Valenti, Gullotta | | | P: | 23.10 m |
| LOA: | 18.60m | | IG: | 22.80 m |
| Length without dolphin-striker : | 17.50m | | ISP: | 25.70 m |
| Waterline Length: | 17.41m | | E: | 7.35 m |
| Max Beam: | 5.17m | | J: | 7.14m |
| Drafr: | 1.7 – 3.5m lifting keel | | Mainsail: | 101 m2 |
| Displacement: |  15,700 Kg | | Genoa: | 92 m2 |
| Ballast: | 4,300 Kg | | Gennaker: | 330 m2 |
| Material: | 5083H111 Aluminium | | | |
| Water Tank Capacity: | 400 l | | | |
| Fuel Capacity: | 450 l+ 90 l per day | | | |