Talking about the Italyure 38 with its ideal father, engineer Maurizio Marzocca, is like looking at the fulfilment of a dream: a boat that expresses the state of the art of walkaround boats because, and this needs to be clarified, the Italyure 38 is homologated as a registration-free boat with all that this entails in terms of less bureaucracy and lower management costs.
Engineer Marzocca's dream developed in two fundamental stages: first of all, Italyure Yachts is a young shipyard which is made up of people who know boats through at least twenty years' experience: managers, engineers and specialized workers are all former long-standing subcontractors who first acquired the shipyard and then took the step of producing boats under their own brand name for a particularly demanding clientele: the charterers in the Naples area and the Amalfi Coast who use their own boats for 700-1,000 hours a year and know what they want and, more importantly, what they do not want.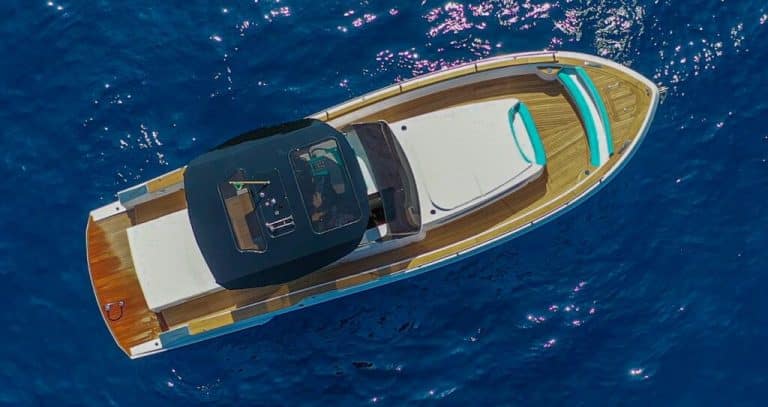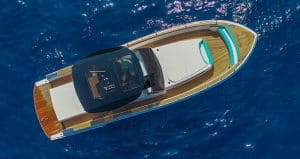 The second stage can ideally be placed in the days of the lock-down: when Italy was locked up at home and the only thing that could be done was to think and design … on the first day of the restart, the engineer Marzocca came to the yard with the scale model of the future Italyure 38 already ready and painted … a boat in which all twenty years of experience and the summa of what a well-designed 38-foot walkaround should be.
Here, 4 key characteristics come to play: seaworthiness (boats are first and foremost made to enjoy the sea in total safety), quality (because for a customer there is nothing more annoying than having to ask for work to be carried out on something they have just purchased), versatility (because the hull of the Italyure 38 is offered with three different transmission-engine options) and, last but not least, style (because true beauty is classic, timeless, not bound by bizarre or passing fashions).
Let's start with seaworthiness, i.e. the boat's ability to make enjoy the sea safely. This means getting away from aesthetic whims to let the sea "design the hull", it means being able to tackle an important crossing with a light heart (in July 2022 an Italyure 38 made the Naples – Ibiza sea transfer at an average of 29 knots, over 600 nautical miles, with a 1.10 metre wave and 25 knots of wind and on arrival it was already perfectly operational) but above all it means dealing with a boat designed to guarantee safety even in the harshest conditions.
Talking about quality, Italyure Yachts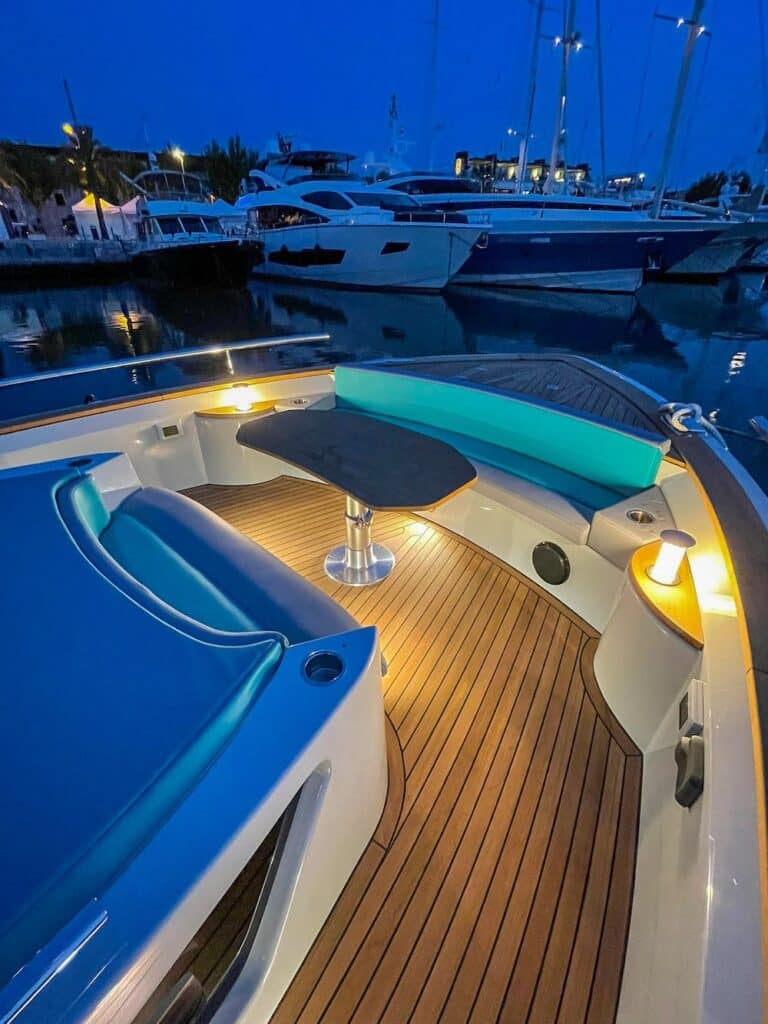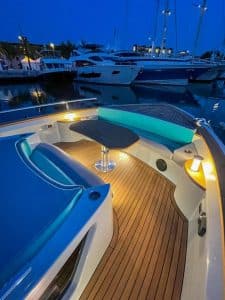 shipyard carries out the entire production work in-house, with the sole exception of the electrical systems, to ensure total quality control. What's more, there is no visible fiberglass, it is all wood and teak.
Furthermore, the Italyure 38 is built using the vacuum infusion technique and an extensive use of carbon fibre. In addition to obvious weight saving, this means certainly higher production costs and creating an efficient object that will not imply warranty work for the shipyard, in addition to the obvious satisfaction for the customer of having an object free of cracks and fissures and the consequent return in terms of image for the shipyard (a satisfied customer is the best advertisement).
Just to provide you with a tangible example of all this, consider that one of the first Italyure 38s built, sold to a charter company on the Amalfi Coast, totalled 720h in its first year of navigation without a single crack.
Another aspect to be considered is that the creation of a multi-purpose hull has led the Italyure 38 to be offered with 3 different possible transmissions – engines options calibrated to 3 different ideal users:
CLASSIC: T-top, 2×300 diesel shaftline engines, one cabin, dinette and extra-large head, designed with an eye to chartering and generally to users fond of the shaftline, so reliability and ease of handling in all sea conditions;
COMFORT: T top, inboard 2×270 or 2×300 diesel engines, designed for a user who is more attentive to roominess, with additional cabin, performance and low consumption (25 kn speed with a total consumption of 60lt/h) and a whole series of pluses that make handling the boat more comfortable, such as a virtual anchor, joystick, autopilot. In other words, agility and ease of manoeuvre, especially in port. In short, a boat for those who travel 300h/year, with less worries in driving, everything automated and 2 extra berths;
SPORT: open, 2×300 outboard or 2×350 petrol engines, suitable for a young user, more attentive to the fashion of the moment, calibrated for the American market and aimed at the amateur user, demanding low running costs and maintenance, made with an eye to those who come from the world of RIBs but appreciate the versatility of walkarounds.


As regards the new models that Italyure Yachts will soon be presenting, we can anticipate first of all a 35 footer which, already under development, will be like the 38 but easier, i.e. with an open space inside, synthetic teak on deck and 2 x 250/270 engines, available with either shaft drive or outboard; finally, a 45 footer, with 3 cabins, available with T top or hard top cover.
We end this review of the Italyure Yachts shipyard by talking about distribution: as well as in Italy, Italyure Yachts is distributed in Europe in Germany, Austria and Switzerland (remember the appeal that efb engines have in the central European markets), Spain, France, Croatia and Holland.
Curious and emblematic, given the Americans' reputation as 'discerning palates', is the number of requests from the United States: these all reached the yard without any need for advertising or promotion.
All it took was for some American tourists visiting the Gulf of Naples to hire and test the Italyure 38 and instantly fall in love with it and request a 'like-for-like' boat to use in Florida… in short, the most tangible proof of a boat's success, as expressed by the most discerning yachting user.
This is why we can certainly define the Italyure 38 as the summa of the walkaround.