In a world premiere at the Düsseldorf boat show 2023, Jeanneau unveiled the DB/37, The second model in its new range of premium Day Boats. Just a few months after the success of their DB/43.
The Similarities between the two boats are very pronounced. Like the 43, the Jeanneau DB/37 is the result of a collaboration between Camillo Garroni and Michael Peters Yacht Design and, like the 43, is expected to operate as a day boat, a party boat and a cruiser, all in one design. 
From an emotional perspective, the design reminds me of a sports car. It evokes feelings of excitement, thrill, and passion. The DB/37 hull creates a sense of movement, even though the boat is stationary; the aggressive styling gives the boat a commanding presence, inspiring a sense of adventure and freedom. I can't wait to get on board and see if this boat keeps any of its heritage from its larger sister, the DB/43
At first glance, she is a large and GENEROUS BOAT. The DB/37 benefits from her full-beam design, utilizing the entire width of the hull, 3.57m or 11.8 ft. Two side terraces that open electrically, extending the living space on board make the DB/37 a proper party boat in an instant. Together with the large aft swim platform, they create ideal areas to get access to the water for swimming, and all On one level, which is a plus so the immense exterior living space can fully open onto the sea.
In the central cockpit, you have Two bench seats that can accommodate up to eight people around a large, transversal table. One of the features that grabs me is the central island galley with its large Corian countertop.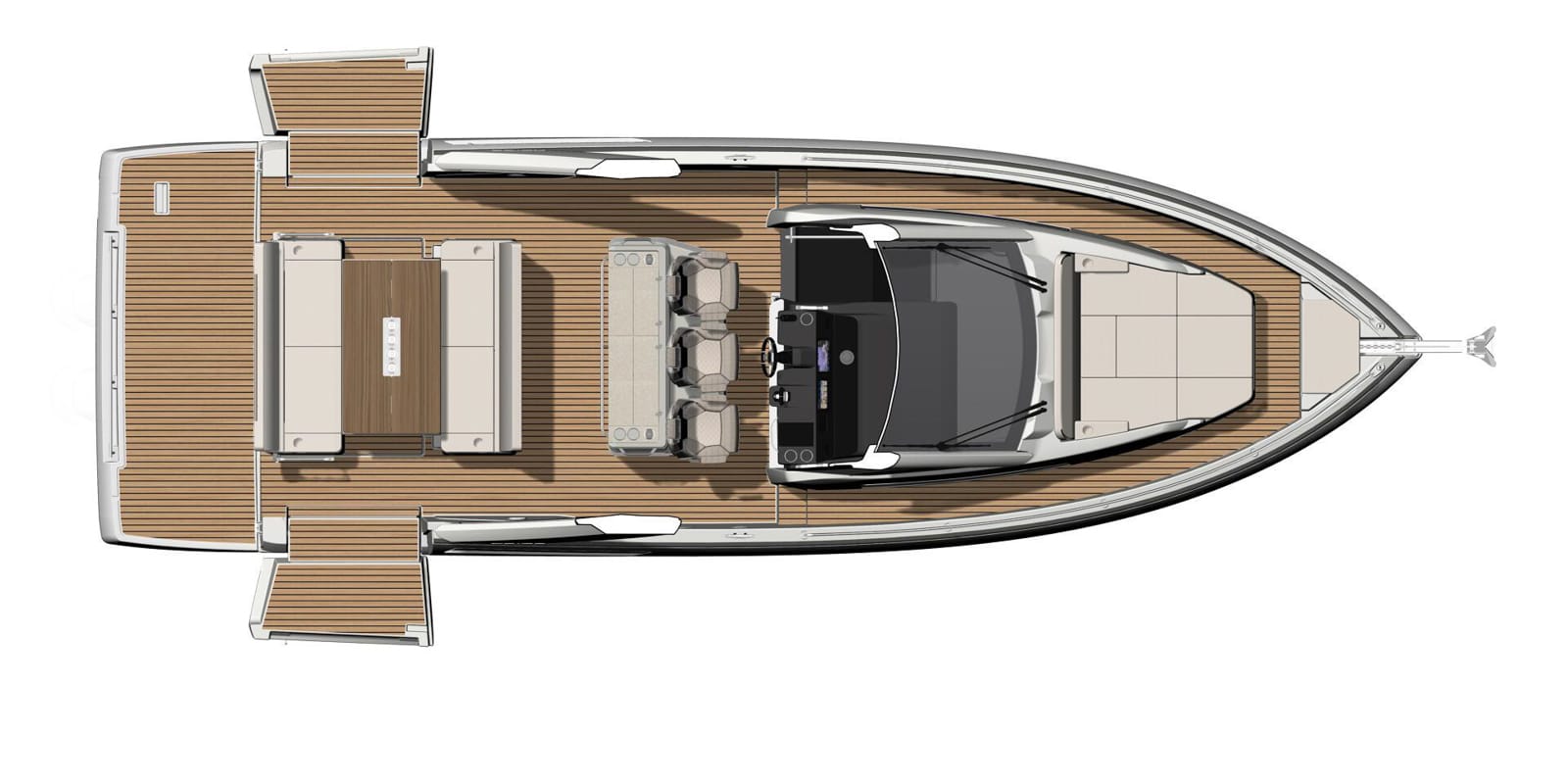 This will be a great gathering place for those all-important cocktails. It is equipped with a hob, grill, and a sink has a fridge fitted underneath so you can keep the champagne cool.
Moving forward, you have a central helm station which seems to have good visibility standing or sitting down on the three comfortable individual seats, and you have a fully integrated glass windscreen and a large hard top with the addition of an opening hatch for extra ventilation a must-have when at anchor or in the marina.
 At the helm, I have the feeling of being well-enclosed and protected. I know we are at the Dusseldorf indoor boat show, but as I say, it gives you a good sense of protection, yet I imagine being part of everything that is going on around you. We will know later in the year when we get to do a sea trial of the Jeanneau DB/37.
The entire cockpit area can be fully enclosed with a canvas to extend the cruising season and benefit from the full cockpit volume. The DB/37, like its bigger sister, the DB/43 has Two recessed side decks to enable unrestricted, secure movement about the deck, which is excellent to know if you have kids or that one friend who likes one cocktail to many. You can easily access them directly from the helm, which is handy when moving to the forward cockpit. I would be taking advantage of the copious sun loungers on the fore deck, and there is plenty of space for two.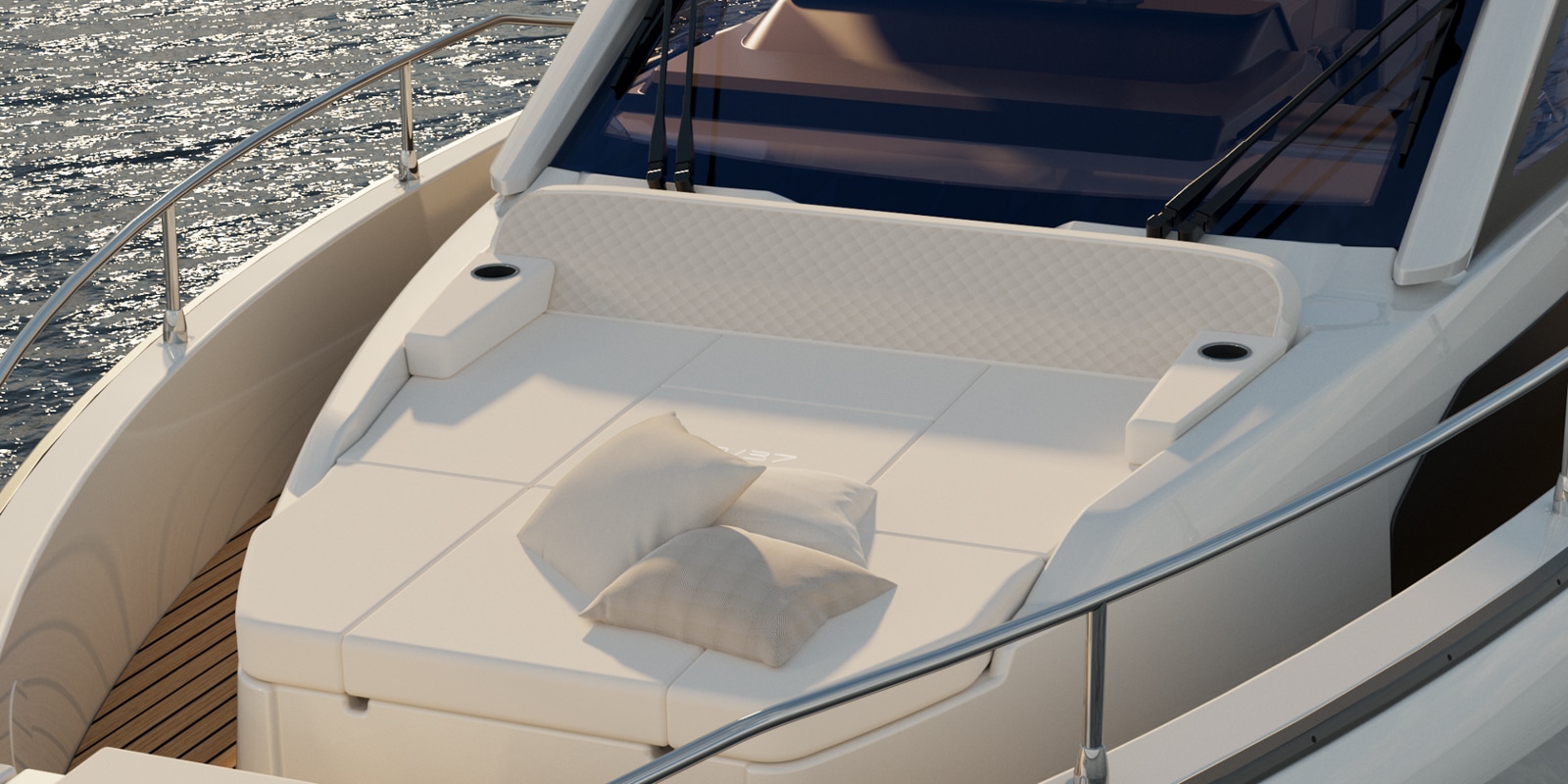 I am interested in seeing below deck because you can't cut 5ft of the boat and expect to keep the same volume as you had in the DB/43, or can you?
That fact is Jeanneau have pulled the proverbial white rabbit out of the hat with this one. It shows just how clever the designers were. As you move down the companionway, you pass what they call the breakfast counter on your left (port side); there is room for a fridge coffee machine and all your cups, glasses, plates and anything else you might need on your day boat for breakfast.
Strait ahead will take you into the owner's sweet bosting, a sizeable double semi-island bed and ample storage for your belongings. Like all modern boats, there are plenty of USB charging points and handy spots to leave your phones etc. I like it and you have to remember it's a day boat, not a go cruising and live aboard for two weeks boat.
Just in the small passageway, you have the heads and separate shower on your starboard, not bad for a 37ft boat, and with two small steps down brings you into your guest cabin, which boasts two single beds, or you can join them to make a double.
This will make a great cabin for your kids, but adults will have to duck a little to be comfortable; once again, this is a day boat, and even though you want your guests or family to be comfortable as possible, the cabins are only for sleeping in.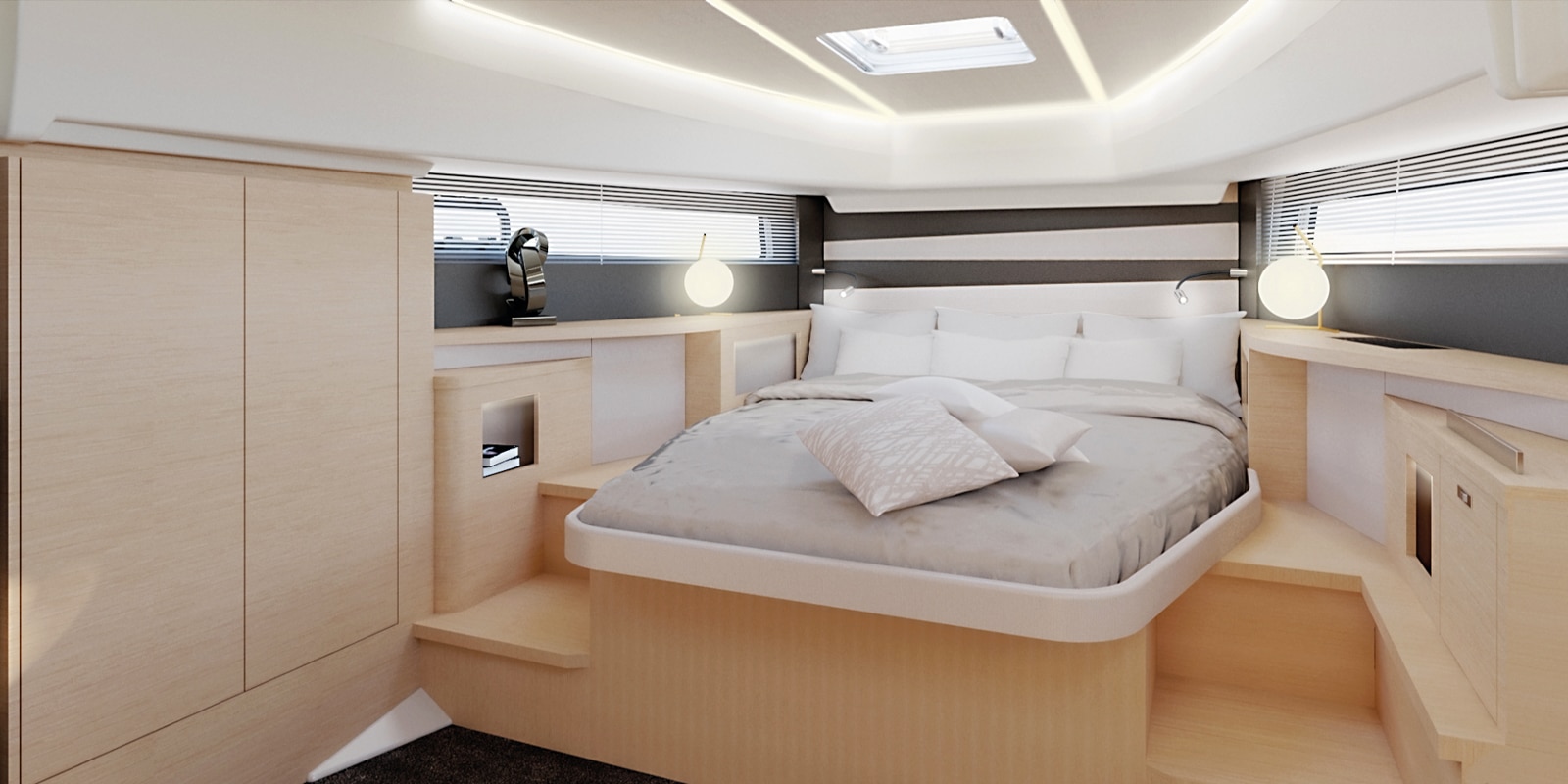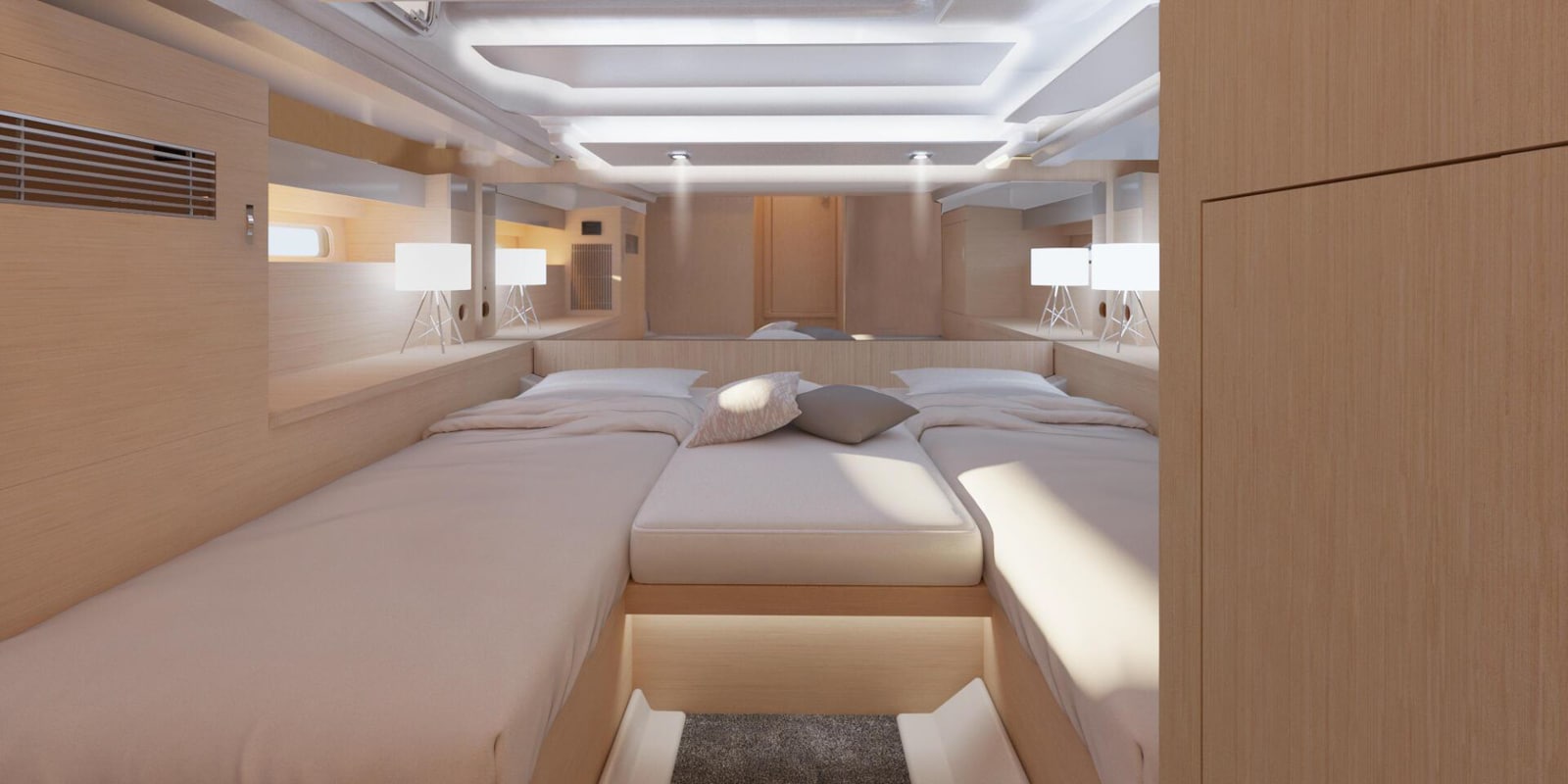 In conclusion, at first glance, The interior of the Jeanneau DB/37 fulfils all the promises of the DB Yachts line, with refined touches, fine materials, thoughtful details, and a warm atmosphere, all enhanced by natural lighting diffused through vast windows in the hull. Faithful to the promise of the DB Yachts line, "MORE THAN YOU EXPECT," the DB/37 seduce all those adept at cruising with private living spaces and a refined interior that is unique aboard a day boat. Inviting and protective, the DB/37 is designed for you to fully benefit from the sea to experience and share unforgettable moments. A proper party boat with an optimal interior layout, she also offers the possibility of extended stays onboard and all of this with the stylish allure of elegance.
Hull lenth

9.97m / 32ft

Beam

3.57m /11.8ft

Draft

1.17m/ 3.10ft

Cabins

2

Bearth

4

Heads

1

Inboard engines

x2 volvo D4 320

Outboard engines max

X2 400
This article is also available in:

German