Karnic has made yachting its strong point, and this is evident from the lines of its SL and CS series, which are designed for sporty and functional boating, but are also ideal for spending a few nights on board thanks to a comfortable cabin inside: all without investing too much. But how to make the right choice? It is a matter of taste of course, but also of specific needs, because it is the details that make the difference, as in the case of the Karnic SL702 and the Karnic CS700, which we will compare today.
Karnic SL702 and Karnic CS700: main features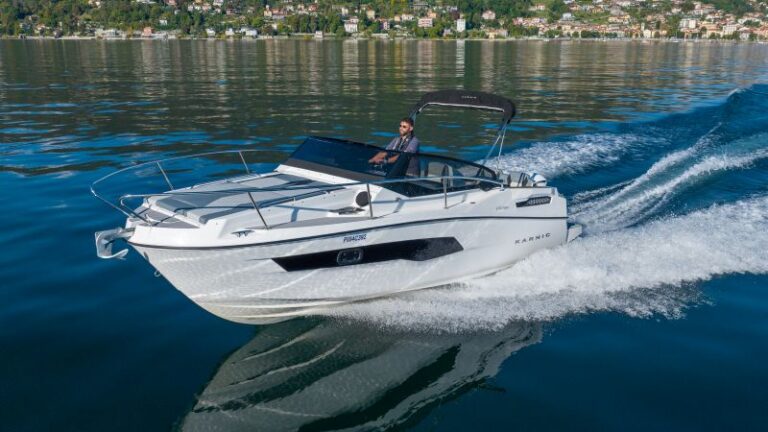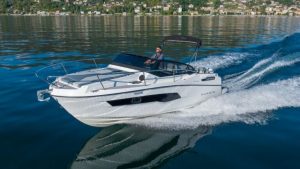 Their styling is very similar, characterized by the black and white colours interspersed with the grey of the teak and console, and their dimensions are also basically the same: both are 2.50 m wide, the SL702 is a few centimetres longer, 7.80 m compared to the 7.65 m total length of the CS700.
Both are designed to accommodate a single XL outboard with a maximum power output of 250 hp, and both have space on board to accommodate up to eight people. In short, speed and ample space are the common denominator between them.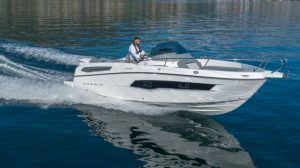 The SL702, however, is designed for extreme space flexibility with no less than four different aft layouts (open, parallel, L-shaped or U-shaped stern), a feature to which the CS700, which I also recently tested, responds with aft seats that are fully convertible with multiple seating options. One feature they have in common, however, and which I find really comfortable, is the access to the bow with a pulpit and an anchor locker for a winch, which is optional.
It is precisely at the bow that the most obvious aesthetic difference lies. While the Karnic SL702 is distinguished by a large area that can easily be transformed into a sundeck, the Karnic CS700 features a bow that can be converted into a double reclining seat, complete with a cup holder and integrated audio system: in short, a truly enviable relaxing area.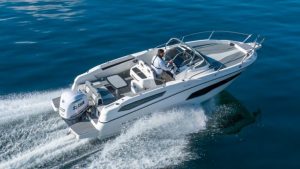 Then, arriving at the helm console, we find a few more substantial differences, but they all share a very accurate design. On the SL702 there is a double-curved windscreen with oval stainless steel handrail, while the CS700's windscreen is more enveloping and completely covers the helm station, even from the side, a very aggressive note that gives the whole context a marked sportiness.
The high edged hull is a feature of both series that aims at 'drier' navigation, as is the high railing, another feature chosen specifically for greater safety on board.
Interior and Equipment
Both models have a spacious cabin with two adult berths and an optional table that can be transferred to the cockpit, featuring a V-shaped berth in the cabin for two adults with a ventilation porthole. Again in both models the interior is made of real walnut wood.
The toilet compartment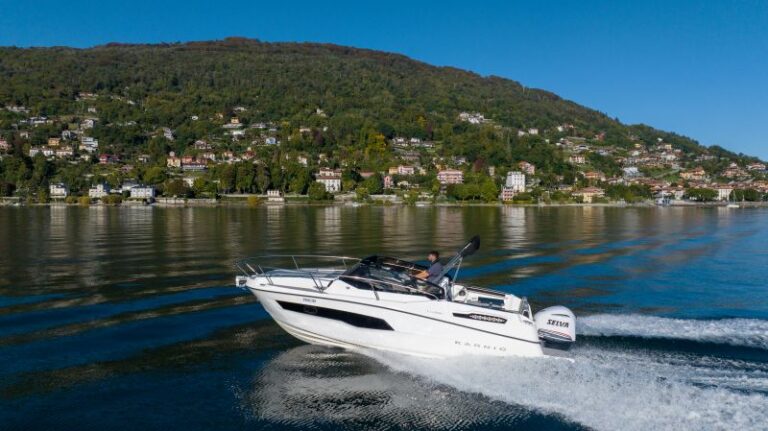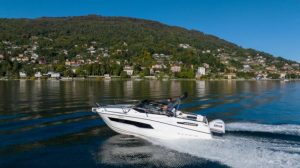 is also similar, which is separate and includes a washbasin with solid walnut cabinet and a lockable door, all with good headroom thanks to the raised deck. There is also space for a refrigerator, which can be installed as an option.
Both then have respectable standard equipment ranging from bollards to steel handrails, a freshwater system with a stern shower, electric switches, compass, media receiver, USB and 12V sockets, protected external speakers recessed in the cockpit and the beautiful Karnic Deluxe steering wheel.
Other features are also available as options, such as the customizable SeaDek trim package, bimini or even the hard top, made from a stainless steel frame that can be chosen with front or full enclosure: in short, maximum adaptability that allows the Karnic CS700 and Karnic SL702 to meet the needs and tastes of a very wide range of potential buyers.
In the end it is always a matter of details, as I have already mentioned, but the substance of these boats is the same and I would summarize it as follows: liveability and comfort, without giving up a sporty and damnably attractive style.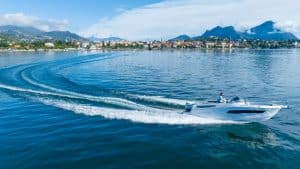 Karnic CS700 – Technical Specs
| | |
| --- | --- |
| LOA | 7.65 m |
| LH | 6.80 m |
| Width | 2.45 m |
| Weight | 1480 Kg |
| Engine Shaft | XL |
| Fuel | 200 L |
| Water | 45 L |
| Black Waters | 35 L |
| Passangers | 8 |
| Design Category | C |
| Max Power | 250 HP |
| Stern freeboard | 1.02 m |
| Bow freebord | 1.20 m |
Karnic SL702 – Technical Specs
| | |
| --- | --- |
| LOA | 7.80 m |
| LH | 6.80 m |
| Beam | 2.45 m |
| Weight | 1480 Kg |
| Engine Shaft | XL |
| Fuel | 200 L |
| Water | 45 L |
| Black Waters | 35 L |
| Passengers | 8 |
| Design Category | C |
| Max Power | 250 CV |
| Stern freeboard | 1.02 m |
| Bow freeboard | 1.20 m |
This article is also available in:

German